Features
Best British TV Comedies of the Last 15 Years
Den of Geek's contributors and readers choose the best of the best British TV comedies from the past 15 years.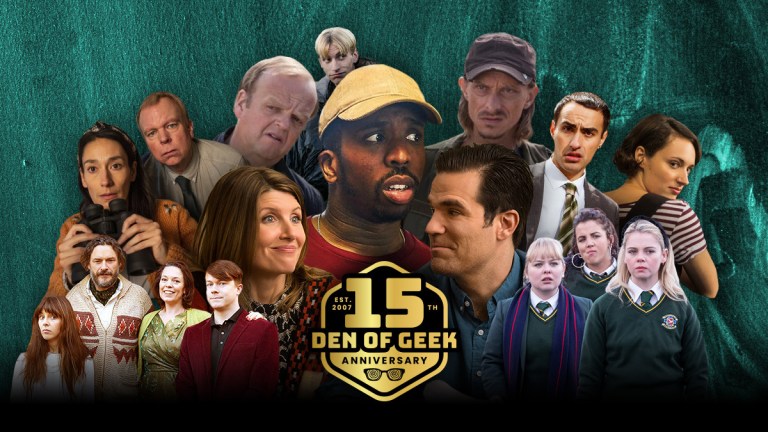 There's only one way to celebrate a geek birthday: a list-based ranking conducted through a system of point-calibrated votes! That's how Den of Geek has been marking its 15th anniversary this year anyway, and nobody's stopped us yet. Site contributors and readers have already voted for the best sci-fi video games, the best sci-fi TV shows, sci-fi movies and comedy movies of the last 15 years. It's a voting, listing hullaballoo, and we're not even finished.
This time, we're going forensic with not one but two lists of the greatest comedy TV shows of the last decade and a half – one for UK comedies, one for US comedies. That way a hat could be tipped to both the likes of 'Big Hank's Yee-Haw Rodeo Hour' and 'Mr Trimbly-Smythe and the Marchioness' without either country getting left behind. A peaceable solution.
Read on to discover your picks and ours for the most popular TV comedy shows that made their debut in the UK post-2007.
25. Rev
With excellent performances from a strong cast and great writing, Rev. is an undersung beauty. It's the story of Adam Smallbone, an Anglican vicar played by Tom Hollander (Us, The Night Manager, Taboo), who, at the beginning of the series has left leafy Suffolk for a new parish in the London borough of Hackney, where his congregation's problems extend beyond church fetes and the harvest festival. Adam's married to solicitor Alex, played by Olivia Colman (The Lost Daughter, The Crown, The Favourite) – never not a joy to discover in a cast. It's a clever, probing series that uses laughter to approach some complicated subjects and never loses sight of its lead character's comedic failures. Co-created by Hollander and chief writer James Wood (whose Victorian medical comedy Quacks is the comedian's choice for most cruelly cancelled after one run), Rev. ran for three series on BBC Two from 2010 to 2014, and is currently available to stream on Britbox. – Louisa Mellor
24. Yonderland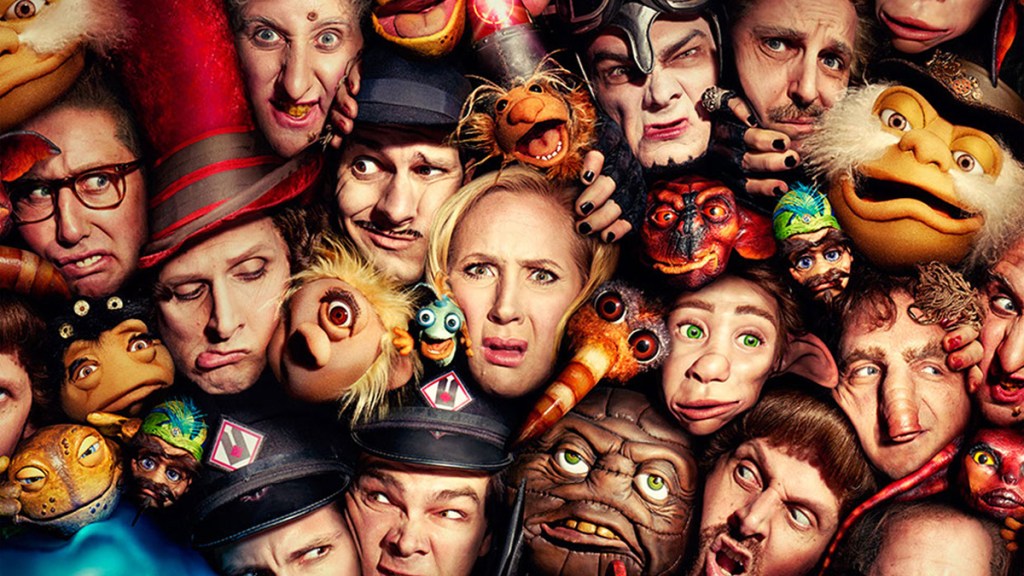 Aka: what the original cast of Horrible Histories did next, and the second entry on this list from that writing-performing team (see Ghosts, below). Yonderland is a family fantasy comedy filled with absurd fun and Python-meets-Terry Pratchett silliness. It's the story of Debbie (Martha Howe-Douglas), a suburban stay-at-home mum who's dragged into a magical realm that she alone can save from the evil overlord Negatus (Simon Farnaby). With multiple roles played and wigs donned by the rest of the team – Mathew Baynton, Jim Howick, Laurence Rickard and Ben Willbond – plus a host of fun guest stars, it's a proper family treat and one of very few comedies that can truly be enjoyed by all ages. – LM
23. Lovesick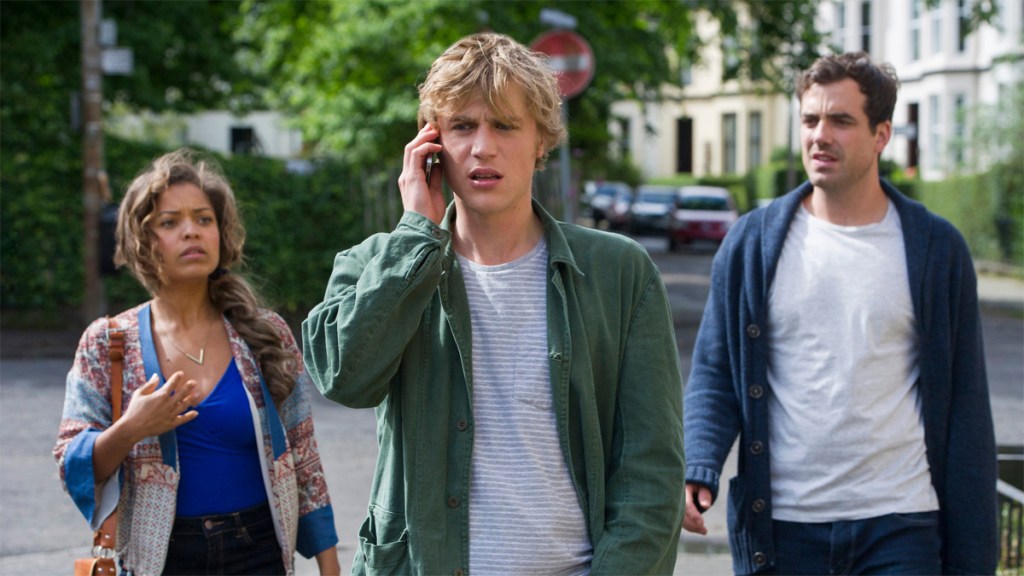 Don't let anybody tell you that "Scrotal Recall" isn't an excellent pun. It is an excellent pun, especially as the title of a sitcom in which a young man suffering from chlamydia is forced to contact all of his previous sexual partners to inform them of his diagnosis. He's literally recalling his scrot… you get it. What Scrotal Recall isn't is a title that announces all the longing, heartache and beautifully rendered emotion of said sitcom, which was moved from Channel 4 to Netflix under the title Lovesick, a more fitting moniker.
Created by Vigil and Strike's Tom Edge, Lovesick is an excellent modern rom-com led by Johnny Flynn (Beast, Emma.) Flynn plays Dylan, the aforementioned STI-afflicted lead, with Misfits' Antonia Thomas and The Crown's Daniel Ings as flatmates Evie and Luke. Each episode sees Dylan get back in touch with an ex, as a kind of comedically forensic investigation of his love life, while Evie and Luke undergo similar twenty-something ups and downs against the backdrop of hip Glasgow. – LM
22. The Goes Wrong Show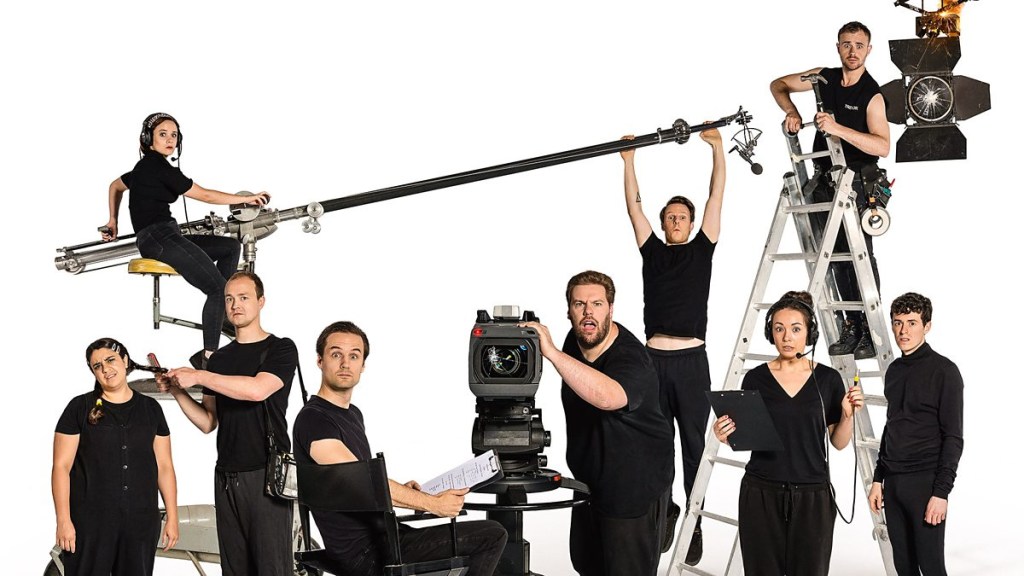 Another whole-family hit, The Goes Wrong Show is beloved by parents with young children for being a comedy series that entertains all ages. It started life as a series of theatre productions staged by the (fictional) Cornley Polytechnic Drama Society – a collection of hapless am-dram players whose sets are as shaky as their line-learning, and whose productions have a habit of going from bad to hilariously much much worse.
Following the success of the stage show, the BBC cannily snapped up two Christmas specials before commissioning two full series from the Mischief Theatre Company gang, led by Henrys Lewis and Shields, and Jonathan Sayer. Each episode sees the group tackle a different but equally pitfall-filled genre in the world of amateur dramatics, and somehow to do it even worse than the one before. Slapstick, farce and laugh-out-loud fun. Series two is currently available to stream on BBC iPlayer. – LM
21. Murder in Successville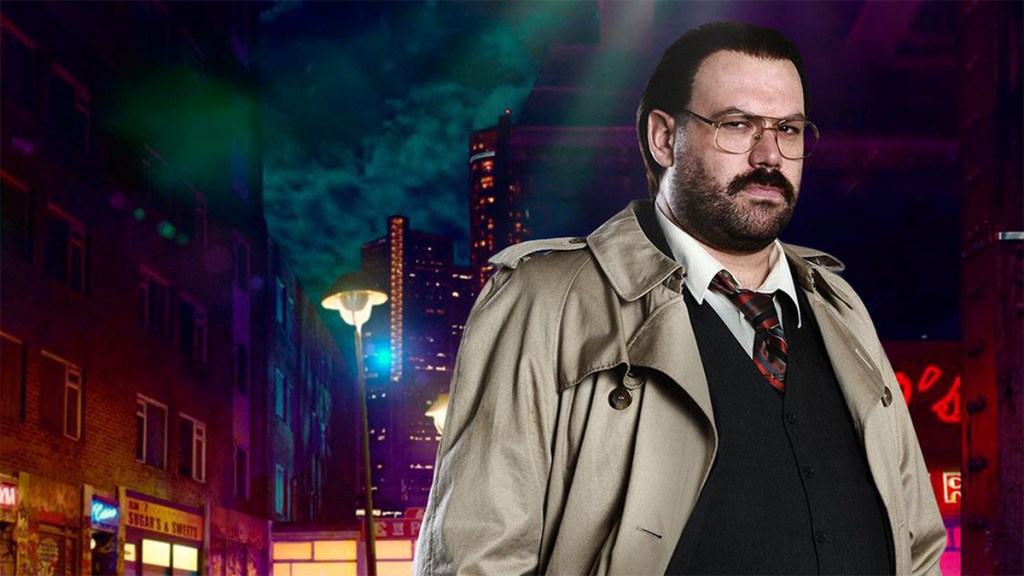 Such a great idea that Netflix has already made a US version starring Will Arnett, and it's been ripped off on stage, Murder in Successville was a BBC Three comedy by King Gary and The Curse creators Tom Davis and James de Frond. It's a partially improvised hard-boiled detective series in which DI Sleet (Davis) is teamed up each episode with a different celebrity guest and tasked with solving a murder in the sleazy city of Successville, a place populated by famous faces (or at least actors in wigs doing impressions of varying fidelity and consistently entertaining stupidity). Lord Alan Sugar runs the local sweet shop, the Italian restaurant is owned by Strictly Come Dancing judge Bruno Tonioli, the police chief is, inexplicably but brilliantly, Gordon Ramsay…. It's better experienced than explained, because Murder in Successville's unique joys are just that – unique.
Tom Davis is the engine driving a cast of increasingly well-known guest names including Neil Maskell, Paul Whitehouse, Paul Kaye, and – in a thrilling instance of art imitating art imitating life as she'd already been impersonated on a previous series – television's Lorraine Kelly. It's ridiculous, it's childish, it's ingenious and it's so British you can't believe they even attempted the American version (which is… fine). Stream it on Britbox. – LM
20. Outnumbered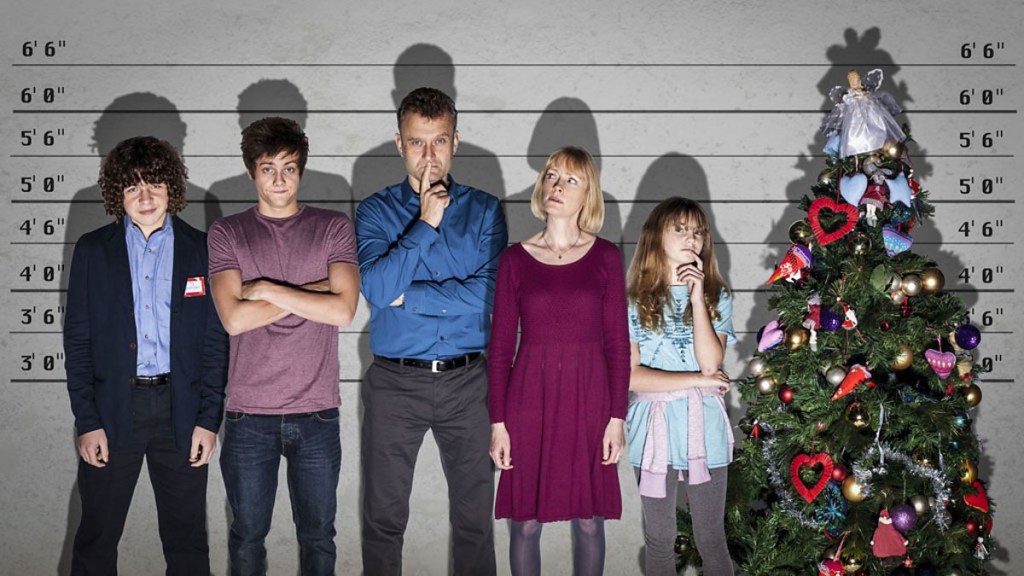 J. Alfred Prufrock measured out his life in coffee spoons; the rest of us measure it by how old the kids from Outnumbered are now. 26, 22 and 21 years old by the latest count, which makes you and me, technically, ancient. Have you made a will yet? I haven't. We should get on that.
Outnumbered ran for five series and multiple specials on BBC One. It was created by Andy Hamilton and Guy Jenkin, the creators of Channel 4 satirical news comedy Drop the Dead Donkey, and much discussion has been had about its 'improv' approach to the child actors' lines, which resulted in memorably naturalistic and genuinely funny performances. It's the story of the Brockman family and parents Pete and Sue's struggles to stay one step ahead of their children. It's also arguably the parenting sitcom that paved the way for the brilliant Motherland, Breeders (which also deserves a place on this list, but democracy prevails), Hullraisers and even Catastrophe, all of which take a less-than sentimental approach to the 'joys' of child-rearing. Stream it on Britbox. – LM
19. Man Like Mobeen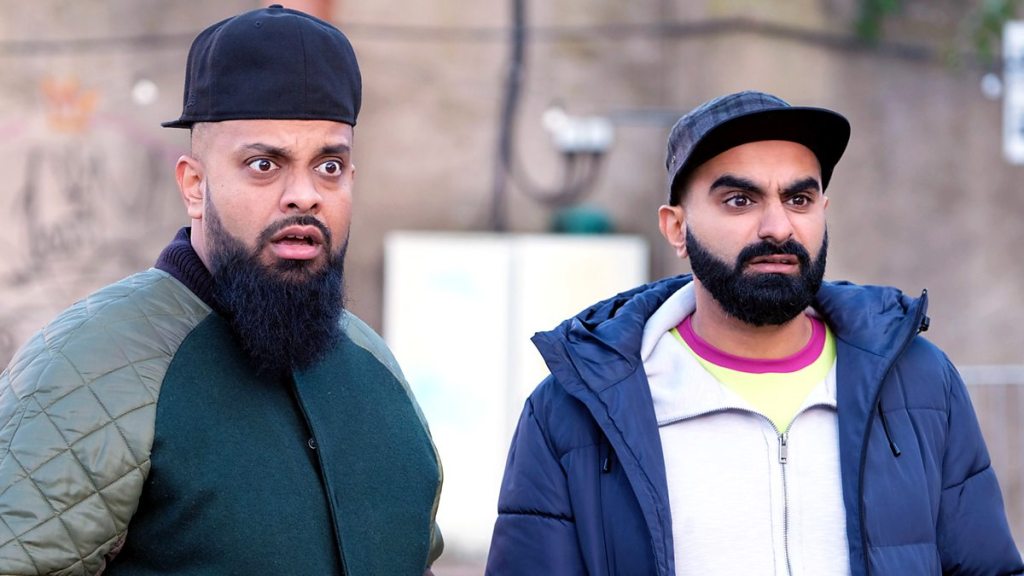 Guz Khan and Andy Milligan's Man Like Mobeen is a well-crafted comedy with a top cast who charm their way through some fairly serious subject matter without losing sight of the joke requirement. It's the story of Mobeen, a late-20s former 'road man' in Birmingham's Small Heath (also familiar to TV viewers as the home of the Shelby family in Peaky Blinders) who reforms his character in order to raise his teenage sister Aqsa (Duaa Karim). Played by Khan, Mobeen's struggle to be a good role model and a good Muslim despite constant pawing from his friends, foes, the local police and even his other family members, results not just in an entertaining sitcom, but also a proper story with actual stakes. His endearing ineptitude and ragtag group of mates make for a great three series. Stream all episodes on BBC iPlayer. – LM
18. After Life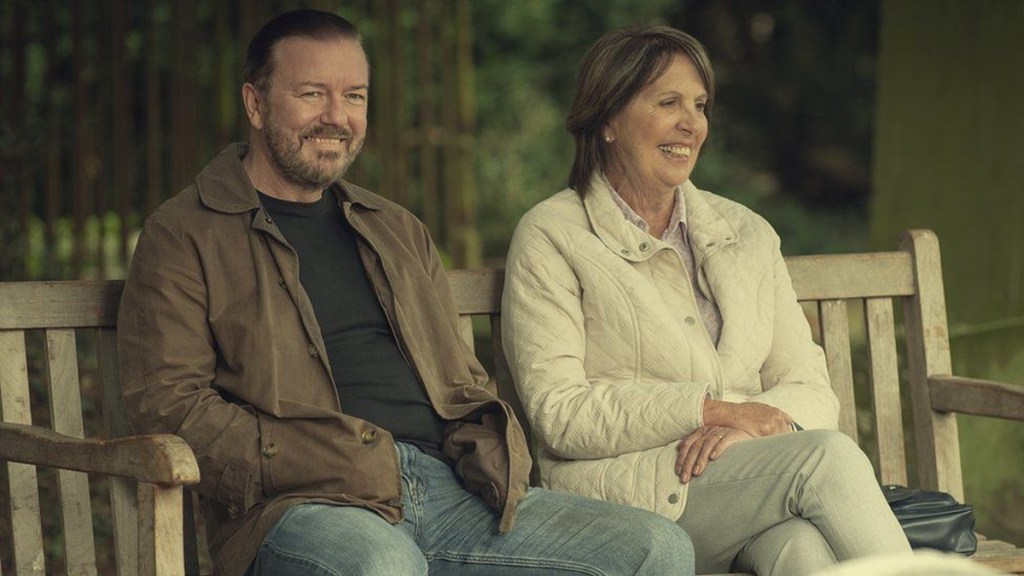 The main character in Ricky Gervais' After Life, Tony (played by Gervais) is grieving the loss of his beloved wife, Lisa (Kerry Godliman). Tony spends three series harnessing the super-power of his suicidal impulses to live his life on the very edge of tolerance, decency and propriety, always speaking his mind, never bowing to convention. The people around him regard him with a mixture of exasperation and awe, as does the audience.
After Life veers from melancholy to madcap, pathos to pant-wetting hilarity, so hard and often that it can cause tonal whiplash in the viewer. Some of its side characters seem outlandish when juxtaposed against the everyday setting and the weight of Tony's grief and depression. Some of Tony's monologues land just the wrong side of mawkish, and the character himself is often little more than a proxy for Gervais' real-life views. But do you know what? It works. Gervais has masterfully captured the full, see-sawing gamut of life's fast-switching feelings and frustrations. It's not easy to make people laugh one minute, and cry the next, and never have them forget for a second that what they're watching is, at root, a comedy, but Gervais achieves it and lets his humanity shine through the smokescreen of affected professional misanthropy as the series progresses. Confounding, beautiful and hilarious, it's one of Gervais' best works. Stream it on Netflix. – Jamie Andrew
17. Alma's Not Normal
The care system, sex work and heroin addiction are probably not what you would expect to be side-splitting topics in a comedy, but in the multi-Bafta-winning Alma's Not Normal it works. After an acclaimed 2020 pilot (which garnered this unimprovable video), a full series was released in 2021 and is available to stream on BBC iPlayer, with a second series on the way.
In someone else's hands star/creator/writer Sophie Willan's sitcom based on her own life experiences would be a bleak drama, but she has created something hilarious and life affirming. Whenever you think the sadness will win out, it will leave you crying with laughter; I challenge you not to be completely won over by Alma's charm, optimism and resilience. Fabulous! – Elizabeth Donoghue
16. Psychoville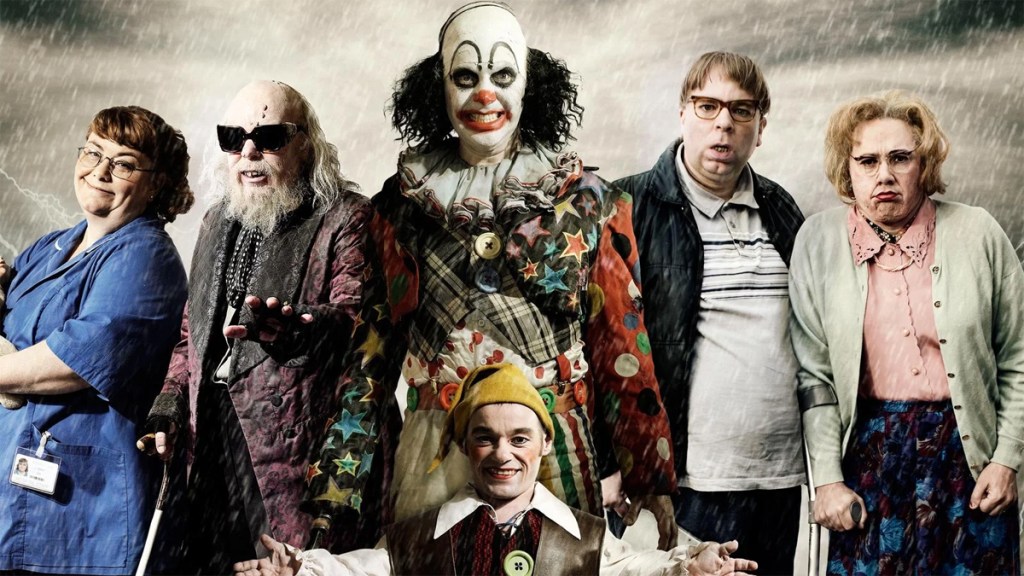 Before there was Inside No. 9, there was Psychoville, another choice collection of horror-comedy grotesques from the twisted and brilliant minds of Reece Shearsmith and Steve Pemberton. The pair followed up their work on The League of Gentlemen with two series plus specials of this darkly comic BBC Two creation. Unlike anthology series Inside No. 9, Psychoville was a continuing story about five characters connected by a dark secret from their past. It gave us fan-favourites Maureen and David Sowerby-Butts, a mother and son pair about which very little is right (and who made a brilliant surprise return in an Inside No. 9 crossover episode). There was also children's entertainer Mr Jelly, midwife Joy (played by Dawn French) and a host of uncanny creations. Glorious nastiness, currently available to stream on Britbox. Not now, silent singer! – LM
15. Fresh Meat
How do you follow up Peep Show, one of the best loved flat-share comedies of all time? By dialling back the clock to create another cast of absurd, very funny, brilliantly cast characters who all have to exist under the same roof – this time as students. Fresh Meat is Sam Bain and Jesse Armstrong's university comedy, which ran for four series on Channel 4 from 2011, before concluding in surprisingly poignant style.
The Manchester-based house-share introduced us to Kingsley, Josie, JP, Vod, Oregon, Howard and Dutch mature student Sabine, plus a revolving selection of fellow students, lecturers with boundary issues, and romantic bad ideas. The cast, including Joe Thomas, Kimberley Nixon, Jack Whitehall, Zawe Ashton, Charlotte Ritchie and Greg McHugh, was strong from the off, while the comedy walked the delicate line between cringe, caricature and heartfelt. Watch it now on All4. – LM
14. This Time with Alan Partridge
Alan Partridge is a UK comedy institution, to the point that you don't even need to have seen The One Show – the BBC weeknight magazine format This Time so brilliantly parodies – to enjoy this series from Steve Coogan and Rob and Neil Gibbons. That TV world with its wide grins, twee VTs, uncomfortable switches in tone and live cock-ups is instantly recognisable.
This Time sees Alan's triumphant return to BBC television first as the stand-in, and then permanent co-host to Jennie, Susannah Fielding's cleverly observed glossy TV presenter. Along with Tim Key as long-standing sidekick Simon, they welcome a carousel of guests and specialists against whom Alan invariably rubs up the wrong way. It's a showcase for excellent comedy performances from guests including Simon Farnaby, Katy Wix and Jamie Demetriou, but perhaps none so memorable as this Irish nationalist medley performed by Coogan himself. Stream series 2 on BBC iPlayer. – LM
13. Friday Night Dinner
Friday Night Dinner (Channel 4, 2011 – 2020) took a simple premise – brothers Adam (Simon Bird) and Jonny (Tom Rosenthal) returning to their family home for Friday night dinner with dad, Martin (Paul Ritter) and mum, Jackie (Tamsin Greig) – and imbued it with thigh-slapping tragedy. Each episode builds from the banal to the farcical, filled with hubris, horror and big, brash belly-laughs. The universe doesn't want the Goodman family to have a normal dinner, and their loss is most definitely our gain, as we're treated to endless pranks bordering on fratricide, dead foxes being smuggled through living room windows, randy renegade step-grandpas running riot through the household, and countless intrusions from creepy neighbour, Jim (Mark Heap) – a man who's afraid of his own dog. The tragic death of Paul Ritter brought Friday Night Dinner to a premature end, but he leaves behind an almost flawless comedy that's chock-full of calamity, catchphrases, heart and hilarity. – JA
12. Motherland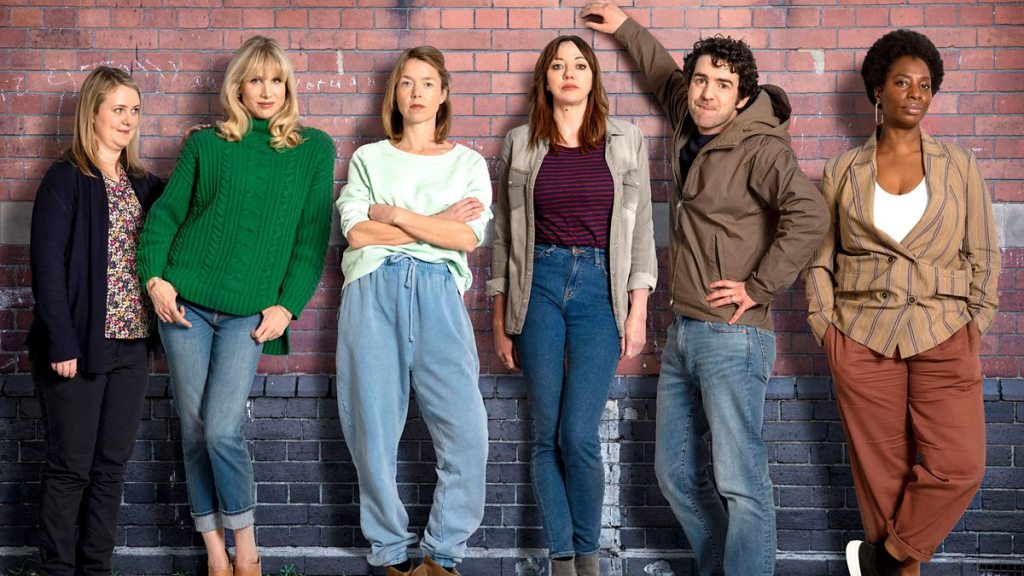 Motherland, three series of which aired on BBC (2016 – 2021) is a show about various forms of motherhood in London, from the working mum, to the single parent, to the stay-at-home-dad who's constantly surrounded by women. It's almost painfully middle-class, which is what makes it such a great subject for a sitcom. These mothers don't have the financial resources of the rich and can't just hire a nanny, which makes their problems real and their stress very authentic. But they aren't living on the breadline working three different jobs at once, which would probably be too depressing.
Much of the show is deeply cynical and lead character Julia (Anna Maxwell-Martin) can be jaw-droppingly selfish. But in amongst the biting satire, the show has enough heart to keep us invested. The moment when acerbic Liz (Diane Morgan) admits to Kevin (Paul Ready) after her toddler starts nursery that she just misses her kids, for example, is touchingly sincere. – Juliette Harrisson
11. Chewing Gum
The brilliance of Michaela Coel's I May Destroy You knocked viewers off their feet in 2020, making the writer-actor-director's next move (another BBC project) hotly anticipated. If they haven't already though, fans should also look backwards to Coel's first cult TV hit – Channel 4's Chewing Gum. A very different prospect from the BBC sexual consent drama, this two-series comedy is similarly clever, sharp and unafraid to tackle difficult subjects. Adapted from Coel's stage play Chewing Gum Dreams, it's the story of Tracey, a sheltered young woman on a Tower Hamlets estate who yearns to break out of her restrictive religious household and experience the joys of sex. It's energetic, funny and led by a show-stopping performance from Coel, ably supported by Susan Wokoma as her strait-laced sister Cynthia, and their ultra-religious mother, played by Shola Adewusi. Stream it on Netflix. – LM
10. Detectorists
UK original The Office rocketed much of its on-screen and behind-the-scenes talent – Ricky Gervais, Stephen Merchant, and Martin Freeman – to international recognition and acclaim. It led Mackenzie Crook to a recurring role in the Pirates of the Caribbean franchise, after which he forged a different path and poured himself into a resolutely – some might say quintessentially – English mould, most notably through his portrayal of the iconic and beloved scarecrow, Wurzel Gummidge. But if Englishness – at least its classic, rustic recipe – could be distilled and bottled it would taste just like Detectorists – a delightful, and delightfully funny, show three series of which aired on BBC Four between 2014 and 2017. A brand new 75-minute special is also on the way, it's just been announced.
Every element of the series – McKenzie's pitch-perfect writing; the quirky, heartfelt performances of the cast (especially McKenzie himself and co-star Toby Jones); the idyllic setting; the atmospheric soundtrack; the gentle yet incisive humour – coalesce into something that's much larger than the sum of its parts: namely a masterclass in both dialogue and characterisation. Plus it'll make you care deeply, even get excited, about the oft-mocked hobby of detectoring – and that's nothing short of miraculous. – JA
9. The Inbetweeners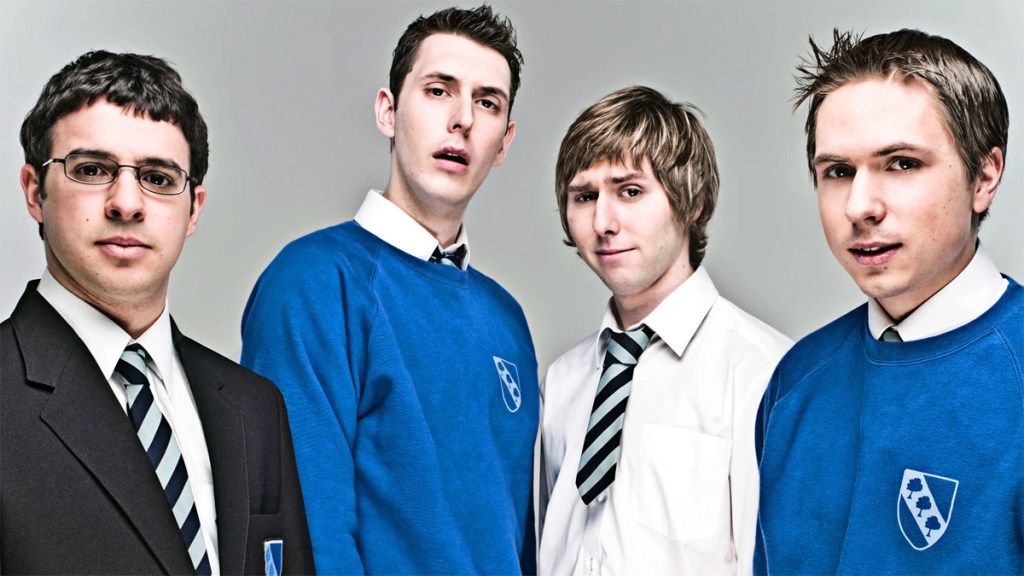 No show has captured the raw existential agony of life in the bottom strata of the British school system as perfectly, or as hilariously, as The Inbetweeners, a three-season gem helmed by Iain Morris and Damon Beesley that made us all feel fifteen again when it aired on E4 from 2008 to 2010. Four teenage losers – the precocious and pretentious brief-case wanker Will (Simon Bird); conceited cry-baby Simon (Joe Thomas); the relentlessly oblivious Neil (Blake Harrison), and insecure sex-pest, Jay (James Buckley) – try to navigate high school while retaining as much dignity and popularity as possible… and fail miserably at every turn. Rude, crude, lewd and full of truth, The Inbetweeners will make you simultaneously cringe and cry real tears of laughter, helped along by the realisation that there's a little bit of the gang inside all of us – as much as we're loathe to admit it. Stream it on All4. – JA
8. Flowers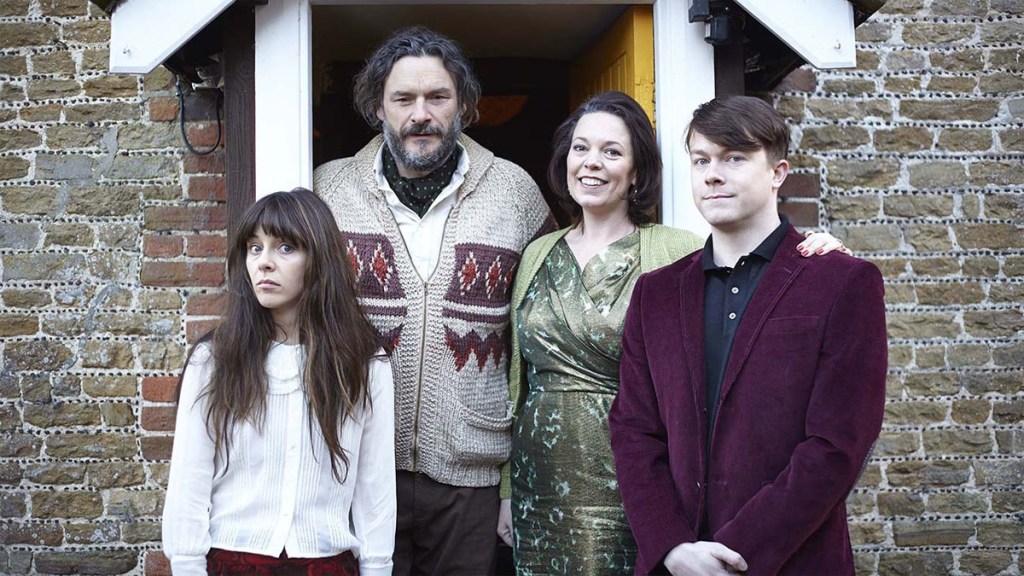 Blackest of the black tragi-comedy, this show ran for just two series on Channel 4 in 2016-2018. A study in mental health issues and familial disharmony, peppered with folk horror, magical realism and bum jokes, it follows the Flowers family. Julian Barratt stars as depressed patriarch, children's author Maurice, who lives with his long suffering wife Deborah (Olivia Colman) and their grown up twins Doland (Daniel Rigby) and Amy (Loki's Sophia Di Martino). Creator Will Sharpe also stars as Maurice Japanese illustrator Shun. The first season focuses on depression, the second on bipolar disorder, and both combine dark reality with glorious fantasy. It's moving, funny, deftly written with a top class cast – Brit dark sitcom at its best. Stream it on Netflix. – Rosie Fletcher
7. Stath Lets Flats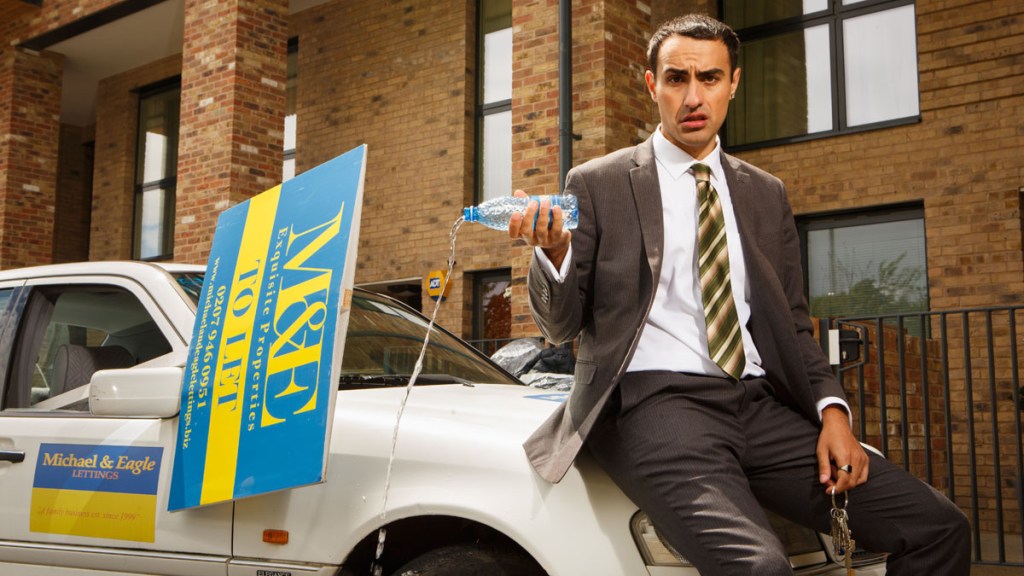 Surprise and specificity being key to what makes something funny, it's no wonder that Jamie Demetriou's highly surprising, highly specific workplace comedy is among the best around. There's ridiculous fun to be had not only in Stath, a chronically incompetent Greek-Cypriot lettings agent played by Demetriou, but also in the whole Michael Eagle Lettings ensemble. That includes Stath's gormless oddball sister Sophie (played by What We Do in the Shadows' Natasia Demetriou), their father and boss Vasos (Christos Stergioglou, who also played the dad in Dogtooth, Greek film fans) office weirdo Al (Al Roberts), terrible The Apprentice candidate Carol (Katy Wix), and Stath's on-off love interest Katia (Ellie White), a postwoman slash wannabe bad girl pop star.
Stath Lets Flats (a title that more or less ensures obscurity to non-Brits) is absurd, endlessly quotable, baffling fun that only gets weirder and more enjoyable as its three Channel 4 series went on. Much missed but perfectly formed. Stream it on Britbox. – LM
6. Catastrophe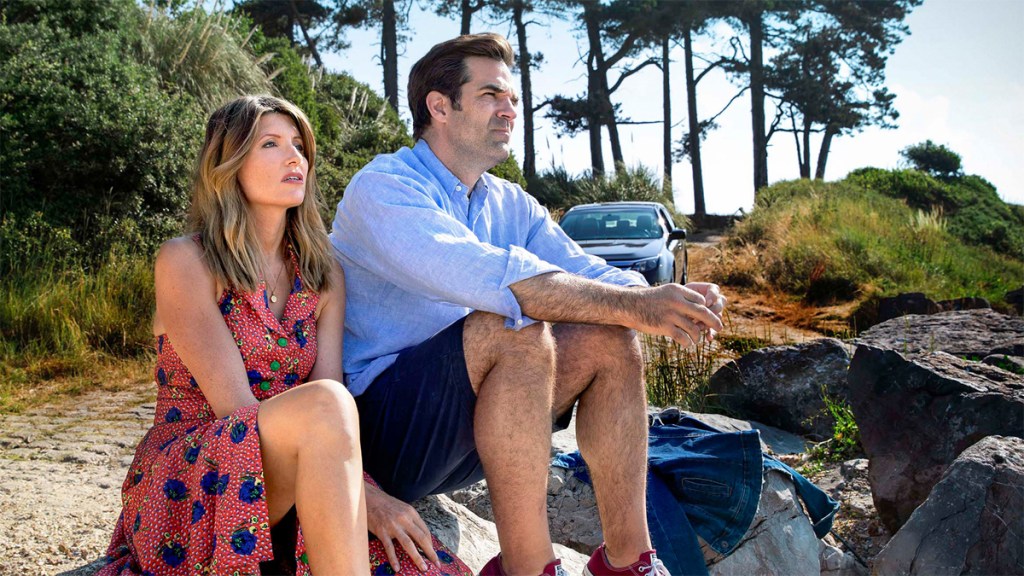 Sharon Horgan's deserved reign over TV comedy land began with the excellent Pulling (co-written with Utopia's Dennis Kelly and no doubt an entry on this list had it made its debut less than 15 years ago) and now extends to countless great shows from Motherland to This Way Up and many more. Catastrophe, co-created with actor-writer-stand-up Rob Delaney, is one of her finest achievements to date. It's the story of Irish primary school teacher and clothes horse Sharon and American businessman and recovering alcoholic Rob, a couple who barely know one another but who decide to try to make a go of it after she gets pregnant during Rob's work trip to London. That premise developed into an excellent four-series parenting, relationship and family comedy following their various hurdles, bereavements and challenges. It's sharp, brutally honest, funny and moving, with a top supporting cast including Guilt's Mark Bonnar and Agatha Raisin's Ashley Jensen, and of course, Carrie Fisher in the role of Rob's mother. Stream it on All4. – LM
5. This Country
Who's funnier than Daisy May Cooper? It must be a short list. The RADA-trained actor-comedian-writer and her talented brother Charlie Cooper made their names by writing and starring in this mockumentary, which ran for three series plus a special on BBC Three (and is currently available to stream on BBC iPlayer). Framed as a social issues documentary about the lives of impoverished young people in rural England, it's really a showcase for dim-witted Kerry Mucklowe and the very slightly more switched-on Kurtan, two cousins whose small-town lives are at odds with their big-town self-image. Along with the local vicar (Paul Chahidi), Big Mandy (Ashley Maguire, also seen recently as the brilliant Miss Houghton in This is Going to Hurt), Kerry's unseen mother, her feckless and mostly absent father and a host of local oddballs, Kerry and Kurtan take viewers on a brilliantly observed and every so often, oddly moving, tour around life in England. – LM
4. Inside No. 9
Reece Shearsmith and Steve Pemberton's surrealist carousel of heart, humour and horror has been a mainstay and a must-see of the BBC schedules since 2014. The conceit of this anthology series is simple: each episode takes place within a place or a property carrying the number 9; however, the looseness of the format allows the co-creating, co-starring duo free rein to exercise every dark sinew of their imaginations. The standalone films paint comedic canvases incorporating everything from the macabre to the slapstick, the silly to the sublime, and the dreadful to the delightful. Inside No. 9 is at its best when it's generating the sort of laughs that have you checking over your shoulder in case the devil is taking notes. Which is often.
A modern classic helmed by two of the most versatile virtuosos the British comedy scene has ever produced. All episodes are currently available to stream on BBC iPlayer. – JA
3. Ghosts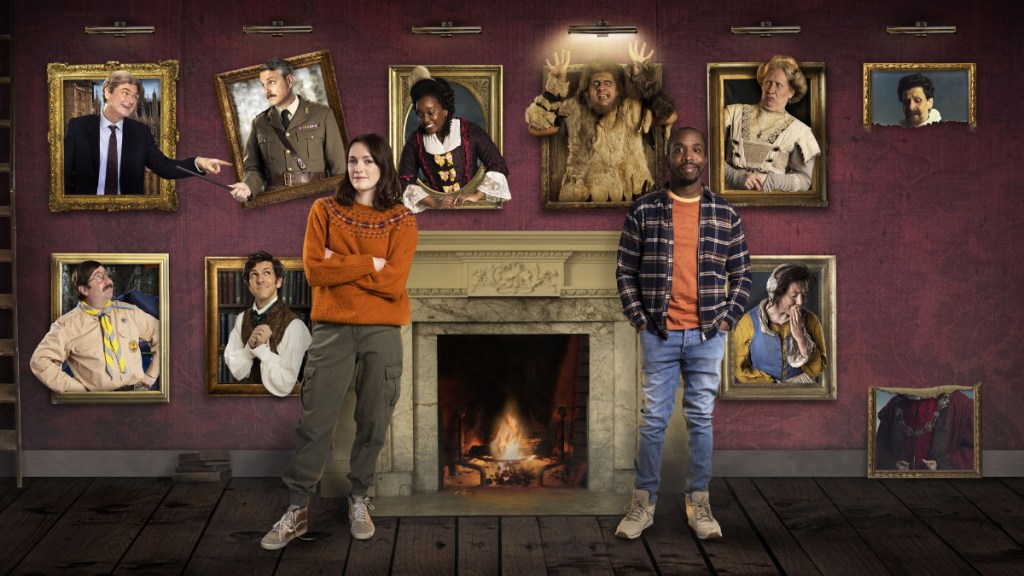 Ghosts is made by the team behind Horrible Histories, and it expertly combines its twin themes of spooky supernatural goings-on and British history. One crumbling country house becomes the perfect setting for exploring our past from cave-people to 1990s Tory sex scandals, and everything in between.
It's certainly not the scariest horror-comedy on this list, though it has its spooky moments – there's a creepy little girl ghost, and some of the ghosts the long-suffering Alison (Charlotte Ritchie), who sees dead people, encounters outside the house will send chills down the spine.
But it's in its historical comedy that Ghosts really shines. Flashbacks fill in the details of the spooks' lives and deaths, with a poignant tone and a healthy dose of gallows humour. At times, the show can be deeply moving, but don't worry – there's always another gag about where Humphrey's head has ended up just around the corner. – JH
2. Derry Girls
READERS' CHOICE
Lisa McGee's 1990s-set Northern Irish sitcom is an energetic blast of nostalgia and comedic joy about five 16-year-old schoolfriends in Derry. Erin, Claire, Michelle, James and Orla are loveable, fast-talking idiots who brush off the existential threats they face in day to day life during The Troubles to get on with the real business of growing up – burning chip shop curtains, sneaking out to Take That concerts, and doing their bit for world peace by offering the hand of friendship (and more, in Michelle's case) across the barricade. They do all that accompanied by grown-ups who are every bit as unforgettable, perhaps even more so when it comes to Siobhán McSweeney's fan-favourite nun Sister Michael. The Channel 4 comedy will conclude after three seasons and an extended-length special.
It's a fantastic cast (Saoirse Monica-Jackson, Nicola Coughlan, Louisa Harland, Jamie-Lee O'Donnell, Dylan Llewelyn) of brilliantly drawn characters that poke fun at teenage pretension (Erin), fear (Claire), horniness (Michelle) cluelessness (James) and… whatever magical creation Orla is. No wonder it won the readers' vote – it leaves you wanting to be a Derry Girl. – LM
1. Fleabag
There's a reason why this show created by Phoebe Waller-Bridge adapted from her play of the same name won multiple awards (and tops this list). Its mix of pathos and belly-laughs, its keenly observed characters, nuanced performances and the way the plot unfolds in reverse (it's as much about what has already happened as what is to come) felt fresh and thrilling when the first season arrived in 2016. Then when season two arrived in 2019, introducing Andrew Scott's sexy priest to the mix, audiences fell in love with the show all over again. Waller-Bridge's Fleabag is witty, brittle, broken but relatable and for all the bawdy jokes and sly asides it's a show with real heart that has rightfully made it creator one of the most celebrated British talents of her generation. – RF
Other British TV comedies that received votes:
Toast of London/People Just Do Nothing/Feel Good/Dead Pixels/Breeders/This Way Up/Him & Her/The Increasingly Poor Decisions of Todd Margaret/Moone Boy/Hunderby/Peter Kay's Car Share/Gary Tank Commander/Cuckoo/Drifters/Twenty-Twelve/W1A/Crashing/Zapped/Raised By Wolves.