Features
Best British TV Comedies of the 21st Century
Here are Den of Geek's 40 favourite UK comedy TV shows since the year 2000.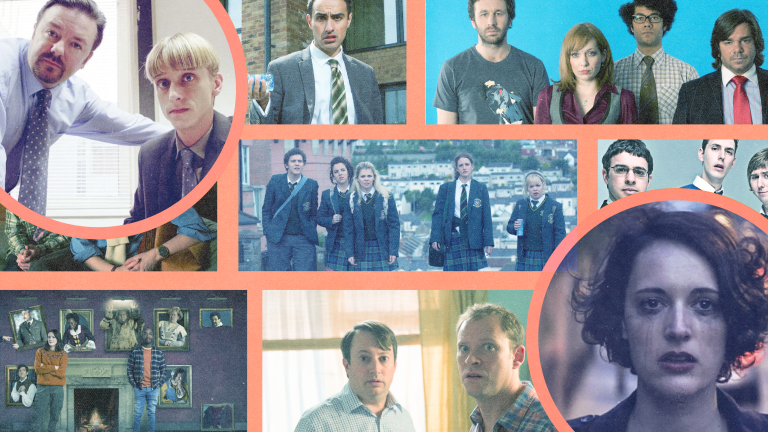 No Spaced. No The League of Gentlemen. No Smack the Pony or Goodness Gracious Me or The Royle Family or Brass Eye, or Red Dwarf or Father Ted or anything that belongs to the last century (side note: the late 90s were an incredible time for UK comedy). These are the 40 finest British comedy TV shows that have arrived since the year 2000, as nominated by our writers. Add in your favourites below, and it's a party.
What's cheering about this lot, apart from the fact that as comedies, they should all technically cheer us up, is how different they are. There's the surreal chaos of Year of the Rabbit, and the sweet warmth of Lovesick, the Pythonesque bonkersness of Yonderland, the satirical might of The Thick of It and much more. Something for everyone, you might say.
And to make sure there was enough space to include a wide enough selection, there's a whole other list for fans of US comedy shows. That way a hat could be tipped to both the likes of 'Big Hank's Yee-Haw Rodeo Hour' and 'Mr Trimbly-Smythe and the Marchioness' without either country getting left behind. A peaceable solution.
40. Year of the Rabbit
In a list of shows that were criminally cancelled after one series, Year of the Rabbit has to be near the top. Comedy legend Matt Berry starred as the eponymous Rabbit, a renegade detective who catches killers in Victorian London while showing the decidedly dodgy policing ropes to his green junior partner Strauss (Freddie Fox, White House Farm). Their duo is reluctantly made a trio as the chief inspector's gutsy daughter Mabel (Susan Wokoma, Enola Holmes) tags along despite her father (Alun Armstrong, Breeders) insisting that "women can't be police". It's funny, quotable and daft, with an action-packed plot, running jokes about Rabbit's eyebrow being chewed off by the dog, and excellent guest performances by Sally Phillips (Smack The Pony), Jill Halfpenny (EastEnders) and even a cheeky Taika Waititi cameo. What elevates it even further is the intriguing subplot involving Keeley Hawes (Stonehouse) as the mysterious and nefarious Lydia and her illicit secret society of murderous ladies, which was only just getting properly started before the show's second series was unceremoniously binned due to pandemic-related budget issues. We retain a futile hope that Channel 4 might yet reverse this travesty of a decision. – LVG
39. W1A
Just as Hollywood loves movies about movies, so too does TV love shows about television (see Netflix's latest Black Mirror season for proof of that). W1A doesn't go behind the scenes on a single fictional programme, but across the management tier at the BBC – not at all incidentally, also where the show aired three series between 2014 – 2017.So… comedy gold? Unexpectedly, yes. Thanks to creator John Morton's sharp writing and ear for ludicrous corporate babble, this mockumentary is packed with endlessly quotable lines and increasingly feasible cock-ups that poke fun at corporate and PR culture everywhere, not just the BBC. The cast and characters, many of which continue from Morton's London Olympics planning satire Twenty-Twelve, are a total treat. David Tennant narrates, with Hugh Bonneville, Sarah Parish, Monica Dolan, Jason Watkins, Rufus Jones, Nina Sosanya, Hugh Skinner and more playing the yes-very-good-very-strong movers and shakers at the Big British Castle. A joy. – LM
38. Yonderland
Aka: what the original cast of Horrible Histories did next, and the second entry on this list from that writing-performing team (see Ghosts, below). Yonderland is a family fantasy comedy filled with absurd fun and Python-meets-Terry Pratchett silliness. It's the story of Debbie (Martha Howe-Douglas), a suburban stay-at-home mum who's dragged into a magical realm that she alone can save from the evil overlord Negatus (Simon Farnaby). With multiple roles played and wigs donned by the rest of the team – Mathew Baynton, Jim Howick, Laurence Rickard and Ben Willbond – plus a host of fun guest stars, it's a proper family treat and one of very few comedies that can truly be enjoyed by all ages. – LM
37. Murder in Successville
Such a great idea that Netflix has already made a US version starring Will Arnett, and it's been ripped off on stage, Murder in Successville was a BBC Three comedy by King Gary and The Curse creators Tom Davis and James de Frond. It's a partially improvised hard-boiled detective series in which DI Sleet (Davis) is teamed up each episode with a different celebrity guest and tasked with solving a murder in the sleazy city of Successville, a place populated by famous faces (or at least actors in wigs doing impressions of varying fidelity and consistently entertaining stupidity). Lord Alan Sugar runs the local sweet shop, the Italian restaurant is owned by Strictly Come Dancing judge Bruno Tonioli, the police chief is, inexplicably but brilliantly, Gordon Ramsay…. It's better experienced than explained, because Murder in Successville's unique joys are just that – unique.
36. Lovesick
Don't let anybody tell you that "Scrotal Recall" isn't an excellent pun. It is an excellent pun, especially as the title of a sitcom in which a young man suffering from chlamydia is forced to contact all of his previous sexual partners to inform them of his diagnosis. He's literally recalling his scrot… you get it. What Scrotal Recall isn't is a title that announces all the longing, heartache and beautifully rendered emotion of said sitcom, which was moved from Channel 4 to Netflix under the title Lovesick, a more fitting moniker.
Created by Vigil and Strike's Tom Edge, Lovesick is an excellent modern rom-com led by Johnny Flynn (Beast, Emma.) Flynn plays Dylan, the aforementioned STI-afflicted lead, with Misfits' Antonia Thomas and The Crown's Daniel Ings as flatmates Evie and Luke. Each episode sees Dylan get back in touch with an ex, as a kind of comedically forensic investigation of his love life, while Evie and Luke undergo similar twenty-something ups and downs against the backdrop of hip Glasgow. – LM
Tom Davis is the engine driving a cast of increasingly well-known guest names including Neil Maskell, Paul Whitehouse, Paul Kaye, and – in a thrilling instance of art imitating art imitating life as she'd already been impersonated on a previous series – television's Lorraine Kelly. It's ridiculous, it's childish, it's ingenious and it's so British you can't believe they even attempted the American version (which is… fine). Stream it on Britbox. – LM
35. Phoenix Nights
A spin off from an episode of That Peter Kay Thing called "In the Club", this well-loved comedy from 2001 was set in the Phoenix Club near Bolton. Kay plays owner Brian Potter, whose first club flooded and second burned down. The Phoenix is a working men's club and Potter and his staff are constantly striving to boost business and outdo rival club The Banana Grove, run by their arch nemesis Den Perry (played by Ted Robinson). This is an occasionally absurdist underdog comedy, as Brian and the gang attempt to build the club up to new heights only to have it burned down once again. Other recurring characters include bouncers Max (also Peter Kay) and Paddy (Paddy McGuinness), compere and cabaret singer Jerry Sinclair (Dave Spikey) and DJ Ray Von (Neil Fitzmaurice) – Kay created the show with Spikey and Fitzmaurice, with additional material from McGuinness.
Phoenix Nights ran for two seasons (and had an upbeat ending which the characters earned), and spawned its own spinoff, Max and Paddy's Road to Nowhere, set immediately after the end of Phoenix Nights – the lads are on the run after a Phoenix Club patron threatened to have them offed by a hitman. Catchphrase-heavy but funny and good natured, Phoenix Nights is a Brit classic.
RF
34. Rev
With excellent performances from a strong cast and great writing, Rev. is an undersung beauty. It's the story of Adam Smallbone, an Anglican vicar played by Tom Hollander (Us, The Night Manager, Taboo), who, at the beginning of the series has left leafy Suffolk for a new parish in the London borough of Hackney, where his congregation's problems extend beyond church fetes and the harvest festival. Adam's married to solicitor Alex, played by Olivia Colman (The Lost Daughter, The Crown, The Favourite) – never not a joy to discover in a cast. It's a clever, probing series that uses laughter to approach some complicated subjects and never loses sight of its lead character's comedic failures. Co-created by Hollander and chief writer James Wood (whose Victorian medical comedy Quacks is the comedian's choice for most cruelly cancelled after one run), Rev. ran for three series on BBC Two from 2010 to 2014, and is currently available to stream on Britbox. – Louisa Mellor
33. People Just Do Nothing
The heart of The Office beats strongly in this very funny mockumentary series about pirate radio station Kurupt FM. Set in Brentford, West London, the five-series-and-a-movie follow a group of wannabe garage and drum and bass MCs (not house, never house) who aspire to superstardom.
There's defacto leader MC Grindah, whose hard man self-image doesn't quite match the one we see on screen, his best friend and hype man Beats, harmless drug-fiend Steves, hopeless entrepreneur Chabuddy G, taciturn DJ Decoy and Grindah's girl – Lady Miche. Each one's a top comedy creation written and played with real skill by the creator stars Allan Mustafa, Hugo Chegwin, Steve Stamp, Asim Chaudry, Daniel Sylvester and Lily Brazier.
The gang worked so well together they've since gone on to another project together in Channel 4 crime-comedy The Curse, this time with King Gary's Tom Davis. Well worth a watch. – LM
32. Starstruck
Surely a contender for the best rom-com series around, comedian Rose Matafeo's Starstruck manages to balance the line between charming and sharp, romantic and realist, escapist and insightful. Co-written by Matafeo (soon to be seen as the host of Junior Taskmaster) with New Zealand comedian Alice Snedden, three six-episode series have aired between 2021 and 2023.It's the story of Jessie (Matafeo), a New Zealander in London whose one night stand turns out to have been with a famous movie star (played by Nikesh Patel). Rather than exploring the rich v. poor, famous v. civilian implications of that pairing though, Starstruck becomes about the more general hardships and joys of relationships. It's warm and funny, with a great supporting cast (hello, Stath Lets Flats' Al Roberts!) and led by a proper star turn from Matafeo, who's a natural on screen. – LM
31. Outnumbered
J. Alfred Prufrock measured out his life in coffee spoons; the rest of us measure it by how old the kids from Outnumbered are now. 27, 23 and 22 years old by the latest count, which makes you and me, technically, ancient. Have you made a will yet? I haven't. We should get on that.
Outnumbered ran for five series and multiple specials on BBC One. It was created by Andy Hamilton and Guy Jenkin, the creators of Channel 4 satirical news comedy Drop the Dead Donkey, and much discussion has been had about its 'improv' approach to the child actors' lines, which resulted in memorably naturalistic and genuinely funny performances. It's the story of the Brockman family and parents Pete and Sue's struggles to stay one step ahead of their children. It's also arguably the parenting sitcom that paved the way for the brilliant Motherland, Breeders (which also deserves a place on this list, but democracy prevails), Hullraisers and even Catastrophe, all of which take a less-than sentimental approach to the 'joys' of child-rearing. Stream it on Britbox. – LM
30. Toast of London
Here's a gambit: go up to a stranger and whisper in their ear "Hi Stephen, this is Clem Fandango. Can you hear me?" If they shout back "YES I CAN HEAR YOU CLEM FANDANGO", then you've just made a new pal! If, on the other hand, they run away to tell a policeman, then that's fair enough, you really shouldn't whisper things at strangers.
Clem Fandango is just one of the gloriously stupid names made up by Arthur Matthews (Father Ted) and Matt Berry (What We Do in the Shadows) for Toast of London. Others include Stephen Toast (Berry), the cocksure thesp whose adventures on stage, screen and voiceover booth we follow, along with Cliff Promise, Norris Flipjack, Dwight Difference, and of course, Ray bloody Purchase.
There's much more to Toast of London than just the names though. Also enjoy: Matt Berry's inhuman ability to warp the English language into shapes nobody else ever thought to, the ridiculous and surreal scenarios and running gags, and the guest list. The guest stars for this show are insane – and I mean that in every sense of the word. It's a cult favourite which has attracted Paul Rudd, John Hamm, Jude Law, Sam Mendes, Bill Hader and Rashida Jones to join the raft of homegrown talent. – LM
29. Him & Her
First things first – if you love Stefan Golaszewski's Him & Her, which you may well do – then do also watch his follow-up series Mum. It didn't quite make the vote quota for this list, perhaps because it's more heart-breaking than belly-laugh funny, but Lesley Manville and Peter Mullan and Lisa McGrillis are brilliant in it.
Him & Her is a top British slacker comedy about a couple of absolute twenty-something slobs – Becky (Sarah Solemani) and Steve (Russell Tovey) whose filthy flat is their kingdom. That's where almost every episode takes place, and where the excellent supporting characters barge in to disturb their lazy idyll. Kerry Howard is the stand-out as Becky's horrific sister Laura, with strong support from Ricky Champ as her boyfriend Paul, Camille Coduri as Laura's friend Shelly, and Joe Wilkinson as their skeevy upstairs neighbour Dan. It's very well performed, immersive, and plays out at a totally different pace to high-energy US network twenty-something comedies. Four series ran on BBC Two between 2010 and 2013, culminating in the final run set entirely at a wedding. – LM
28. Man Like Mobeen
Guz Khan and Andy Milligan's Man Like Mobeen is a well-crafted comedy with a top cast who charm their way through some fairly serious subject matter without losing sight of the joke requirement. It's the story of Mobeen, a late-20s former 'road man' in Birmingham's Small Heath (also familiar to TV viewers as the home of the Shelby family in Peaky Blinders) who reforms his character in order to raise his teenage sister Aqsa (Duaa Karim). Played by Khan, Mobeen's struggle to be a good role model and a good Muslim despite constant pawing from his friends, foes, the local police and even his other family members, results not just in an entertaining sitcom, but also a proper story with actual stakes. His endearing ineptitude and ragtag group of mates make for a great three series. Stream all episodes on BBC iPlayer. – LM
27. Alma's Not Normal
The care system, sex work and heroin addiction are probably not what you would expect to be side-splitting topics in a comedy, but in the multi-Bafta-winning Alma's Not Normal it works. After an acclaimed 2020 pilot (which garnered this unimprovable video), a full series was released in 2021 and is available to stream on BBC iPlayer, with a second series on the way.
In someone else's hands star/creator/writer Sophie Willan's sitcom based on her own life experiences would be a bleak drama, but she has created something hilarious and life affirming. Whenever you think the sadness will win out, it will leave you crying with laughter; I challenge you not to be completely won over by Alma's charm, optimism and resilience. Fabulous! – Elizabeth Donoghue
26. After Life
The main character in Ricky Gervais' After Life, Tony (played by Gervais) is grieving the loss of his beloved wife, Lisa (Kerry Godliman). Tony spends three series harnessing the super-power of his suicidal impulses to live his life on the very edge of tolerance, decency and propriety, always speaking his mind, never bowing to convention. The people around him regard him with a mixture of exasperation and awe, as does the audience.
After Life veers from melancholy to madcap, pathos to pant-wetting hilarity, so hard and often that it can cause tonal whiplash in the viewer. Some of its side characters seem outlandish when juxtaposed against the everyday setting and the weight of Tony's grief and depression. Some of Tony's monologues land just the wrong side of mawkish, and the character himself is often little more than a proxy for Gervais' real-life views. But do you know what? It works. Gervais has masterfully captured the full, see-sawing gamut of life's fast-switching feelings and frustrations. It's not easy to make people laugh one minute, and cry the next, and never have them forget for a second that what they're watching is, at root, a comedy, but Gervais achieves it and lets his humanity shine through the smokescreen of affected professional misanthropy as the series progresses. Confounding, beautiful and hilarious, it's one of Gervais' best works. Stream it on Netflix. – Jamie Andrew
25. House of Fools
Comedy duo Vic & Bob – aka Bob Mortimer and Vic Reeves – had already spent 25 years entertaining us with their surrealist and often gloriously silly wit before House of Fools. While the show initially had the appearance of a more standard sitcom (two mates sharing a house while getting themselves into various scrapes, filmed in front of a live studio audience), fans were delighted to discover it was textbook bonkers. The show is further enhanced by memorably bananas comic turns from their co-stars, including Matt Berry as Beef (who always entered the set with a hilariously barmy song), Morgana Robinson (Everyone Else Burns) as their randy neighbour Julie, and Dan Renton Skinner (aka Angelos from Shooting Stars) as Vic's brother Bosh. Every episode ended with the "Didn't we have a lovely day" song recapping the episode's events, with memorable lines including "Didn't we have a lovely day the day we killed Bruce Willis?" It ran for just two series from 2014-2015, but that felt like just enough to burn its unique madness into our minds forever. – LVG
24. Peter Kay's Car Share
There's something delightfully warm and realistic about Car Share, comedian Peter Kay's sitcom about two supermarket workers who are assigned to a company car-sharing scheme, with 90% of the action taking place in the car on their daily commute. Kay stars as John, the driver, giving a lift to Kayleigh, played by Sian Gibson (Murder They Hope). The pair begin as wary strangers, but through frank and entertaining conversations, becoming something akin to soulmates. Guest appearances are sporadic but memorably include Game of Thrones' Conleth Hill as outrageous smurfette Elsie, and Reece Shearsmith (Inside No. 9) as their weird colleague Stinky Ray, leading to this infamous outtake sequence. They kept it short and sweet with just two series and a handful of specials between 2015 and 2018, but in that time Car Share attracted an audience of nearly eight million fans and almost a dozen awards, including two Baftas. – LVG
23. Psychoville
Before there was Inside No. 9, there was Psychoville, another choice collection of horror-comedy grotesques from the twisted and brilliant minds of Reece Shearsmith and Steve Pemberton. The pair followed up their work on The League of Gentlemen with two series plus specials of this darkly comic BBC Two creation. Unlike anthology series Inside No. 9, Psychoville was a continuing story about five characters connected by a dark secret from their past. It gave us fan-favourites Maureen and David Sowerby-Butts, a mother and son pair about which very little is right (and who made a brilliant surprise return in an Inside No. 9 crossover episode). There was also children's entertainer Mr Jelly, midwife Joy (played by Dawn French) and a host of uncanny creations. Glorious nastiness, currently available to stream on Britbox. Not now, silent singer! – LM
22. This Time with Alan Partridge
Alan Partridge is a UK comedy institution, to the point that you don't even need to have seen The One Show – the BBC weeknight magazine format This Time so brilliantly parodies – to enjoy this series from Steve Coogan and Rob and Neil Gibbons. That TV world with its wide grins, twee VTs, uncomfortable switches in tone and live cock-ups is instantly recognisable.
This Time sees Alan's triumphant return to BBC television first as the stand-in, and then permanent co-host to Jennie, Susannah Fielding's cleverly observed glossy TV presenter. Along with Tim Key as long-standing sidekick Simon, they welcome a carousel of guests and specialists against whom Alan invariably rubs up the wrong way. It's a showcase for excellent comedy performances from guests including Simon Farnaby, Katy Wix and Jamie Demetriou, but perhaps none so memorable as this Irish nationalist medley performed by Coogan himself. Stream series 2 on BBC iPlayer. – LM
21. Fresh Meat
How do you follow up Peep Show, one of the best loved flat-share comedies of all time? By dialling back the clock to create another cast of absurd, very funny, brilliantly cast characters who all have to exist under the same roof – this time as students. Fresh Meat is Sam Bain and Jesse Armstrong's university comedy, which ran for four series on Channel 4 from 2011, before concluding in surprisingly poignant style.
The Manchester-based house-share introduced us to Kingsley, Josie, JP, Vod, Oregon, Howard and Dutch mature student Sabine, plus a revolving selection of fellow students, lecturers with boundary issues, and romantic bad ideas. The cast, including Joe Thomas, Kimberley Nixon, Jack Whitehall, Zawe Ashton, Charlotte Ritchie and Greg McHugh, was strong from the off, while the comedy walked the delicate line between cringe, caricature and heartfelt. Watch it now on All4. – LM
20. Green Wing
It's a testament to just how great Channel 4's quirky hospital sitcom Green Wing was that almost two decades on, practically the entire cast are still comedy household names. The show starred Tamsin Greig (Friday Night Dinner) as hospital consultant Caroline alongside relatively early lead roles for Stephen Mangan (Episodes) and Julian Rhind-Tutt (The Larkins) as her fellow surgeons Guy and Mac in the fictional East Hampton Hospital. Their other colleagues were just the right side of batshit, behaving in a surreal, raucous way that hopefully is not representative of NHS employees: weirdo radiologist Mark Heap (Upstart Crow) is having an obvious, deeply twisted affair with vicious HR manager Joanna (Pippa Haywood, Feel Good), hapless mother Harriet (Olivia Colman) is perpetually forgetting where her kids are, while staff liaison officer Sue (Michelle Gomez, Doctor Who) is on a different planet entirely, riding through the corridors on a giant camel and turning up to serious meetings with comically long fake arms. But it's not just a pleasingly surreal sitcom – there are real storylines, with murder, heartbreak and peril in amongst the madness, making it surprisingly poignant and unexpectedly grown-up at times. Only two series were made between 2004 and 2006, but Green Wing packs a hell of a lot in, with a truly great cast. – LVG
19. Friday Night Dinner
Friday Night Dinner (Channel 4, 2011 – 2020) took a simple premise – brothers Adam (Simon Bird) and Jonny (Tom Rosenthal) returning to their family home for Friday night dinner with dad, Martin (Paul Ritter) and mum, Jackie (Tamsin Greig) – and imbued it with thigh-slapping tragedy. Each episode builds from the banal to the farcical, filled with hubris, horror and big, brash belly-laughs. The universe doesn't want the Goodman family to have a normal dinner, and their loss is most definitely our gain, as we're treated to endless pranks bordering on fratricide, dead foxes being smuggled through living room windows, randy renegade step-grandpas running riot through the household, and countless intrusions from creepy neighbour, Jim (Mark Heap) – a man who's afraid of his own dog. The tragic death of Paul Ritter brought Friday Night Dinner to a premature end, but he leaves behind an almost flawless comedy that's chock-full of calamity, catchphrases, heart and hilarity. – JA
18. Motherland
Motherland, three series of which aired on BBC (2016 – 2021) is a show about various forms of motherhood in London, from the working mum, to the single parent, to the stay-at-home-dad who's constantly surrounded by women. It's almost painfully middle-class, which is what makes it such a great subject for a sitcom. These mothers don't have the financial resources of the rich and can't just hire a nanny, which makes their problems real and their stress very authentic. But they aren't living on the breadline working three different jobs at once, which would probably be too depressing.
Much of the show is deeply cynical and lead character Julia (Anna Maxwell-Martin) can be jaw-droppingly selfish. But in amongst the biting satire, the show has enough heart to keep us invested. The moment when acerbic Liz (Diane Morgan) admits to Kevin (Paul Ready) after her toddler starts nursery that she just misses her kids, for example, is touchingly sincere. – Juliette Harrisson
17. Black Books
While we're quite happy to pretend one of its co-creators doesn't exist, Black Books was so exceptionally funny that it rightly deserves a place in this list, and that's largely thanks to its other creator and star, Dylan Moran. He's the misanthropic lush and bookshop owner Bernard Black, who lives and works with his scatty friend Manny (Bill Bailey) and shares copious amounts of wine with his neighbouring shop owner Fran (Tamsin Grieg), while as a rule not selling many books at all. It's wonderfully absurd, with plots including Manny getting cabin fever while locked in the bookshop with only some absinthe and dead bees for company, Bernard attempting to destroy the burgeoning real-estate empire of a cat, and Bernard and Manny accidentally drinking a priceless bottle of wine that was meant for the Pope. The show's three wonderful series rightly won multiple awards, including two Baftas, and firmly cemented Moran, Bailey and Greig as British comedy greats. – LVG
16. Chewing Gum
The brilliance of Michaela Coel's I May Destroy You knocked viewers off their feet in 2020, making the writer-actor-director's next move (another BBC project) hotly anticipated. If they haven't already though, fans should also look backwards to Coel's first cult TV hit – Channel 4's Chewing Gum. A very different prospect from the BBC sexual consent drama, this two-series comedy is similarly clever, sharp and unafraid to tackle difficult subjects. Adapted from Coel's stage play Chewing Gum Dreams, it's the story of Tracey, a sheltered young woman on a Tower Hamlets estate who yearns to break out of her restrictive religious household and experience the joys of sex. It's energetic, funny and led by a show-stopping performance from Coel, ably supported by Susan Wokoma as her strait-laced sister Cynthia, and their ultra-religious mother, played by Shola Adewusi. Stream it on Netflix. – LM
15. Detectorists
UK original The Office rocketed much of its on-screen and behind-the-scenes talent – Ricky Gervais, Stephen Merchant, and Martin Freeman – to international recognition and acclaim. It led Mackenzie Crook to a recurring role in the Pirates of the Caribbean franchise, after which he forged a different path and poured himself into a resolutely – some might say quintessentially – English mould, most notably through his portrayal of the iconic and beloved scarecrow, Wurzel Gummidge. But if Englishness – at least its classic, rustic recipe – could be distilled and bottled it would taste just like Detectorists – a delightful, and delightfully funny, show three series of which aired on BBC Four between 2014 and 2017. A brand new 75-minute special is also on the way, it's just been announced.
Every element of the series – McKenzie's pitch-perfect writing; the quirky, heartfelt performances of the cast (especially McKenzie himself and co-star Toby Jones); the idyllic setting; the atmospheric soundtrack; the gentle yet incisive humour – coalesce into something that's much larger than the sum of its parts: namely a masterclass in both dialogue and characterisation. Plus it'll make you care deeply, even get excited, about the oft-mocked hobby of detectoring – and that's nothing short of miraculous. – JA
14. The Inbetweeners
No show has captured the raw existential agony of life in the bottom strata of the British school system as perfectly, or as hilariously, as The Inbetweeners, a three-season gem helmed by Iain Morris and Damon Beesley that made us all feel fifteen again when it aired on E4 from 2008 to 2010. Four teenage losers – the precocious and pretentious brief-case wanker Will (Simon Bird); conceited cry-baby Simon (Joe Thomas); the relentlessly oblivious Neil (Blake Harrison), and insecure sex-pest, Jay (James Buckley) – try to navigate high school while retaining as much dignity and popularity as possible… and fail miserably at every turn. Rude, crude, lewd and full of truth, The Inbetweeners will make you simultaneously cringe and cry real tears of laughter, helped along by the realisation that there's a little bit of the gang inside all of us – as much as we're loathe to admit it. Stream it on All4. – JA
13. Flowers
Blackest of the black tragi-comedy, this show ran for just two series on Channel 4 in 2016-2018. A study in mental health issues and familial disharmony, peppered with folk horror, magical realism and bum jokes, it follows the Flowers family. Julian Barratt stars as depressed patriarch, children's author Maurice, who lives with his long suffering wife Deborah (Olivia Colman) and their grown up twins Doland (Daniel Rigby) and Amy (Loki's Sophia Di Martino). Creator Will Sharpe also stars as Maurice Japanese illustrator Shun. The first season focuses on depression, the second on bipolar disorder, and both combine dark reality with glorious fantasy. It's moving, funny, deftly written with a top class cast – Brit dark sitcom at its best. Stream it on Netflix. – Rosie Fletcher
12. This Country
Who's funnier than Daisy May Cooper? It must be a short list. The RADA-trained actor-comedian-writer and her talented brother Charlie Cooper made their names by writing and starring in this mockumentary, which ran for three series plus a special on BBC Three (and is currently available to stream on BBC iPlayer). Framed as a social issues documentary about the lives of impoverished young people in rural England, it's really a showcase for dim-witted Kerry Mucklowe and the very slightly more switched-on Kurtan, two cousins whose small-town lives are at odds with their big-town self-image. Along with the local vicar (Paul Chahidi), Big Mandy (Ashley Maguire, also seen recently as the brilliant Miss Houghton in This is Going to Hurt), Kerry's unseen mother, her feckless and mostly absent father and a host of local oddballs, Kerry and Kurtan take viewers on a brilliantly observed and every so often, oddly moving, tour around life in England. – LM
11. Stath Lets Flats
Surprise and specificity being key to what makes something funny, it's no wonder that Jamie Demetriou's highly surprising, highly specific workplace comedy is among the best around. There's ridiculous fun to be had not only in Stath, a chronically incompetent Greek-Cypriot lettings agent played by Demetriou, but also in the whole Michael Eagle Lettings ensemble. That includes Stath's gormless oddball sister Sophie (played by What We Do in the Shadows' Natasia Demetriou), their father and boss Vasos (Christos Stergioglou, who also played the dad in Dogtooth, Greek film fans) office weirdo Al (Al Roberts), terrible The Apprentice candidate Carol (Katy Wix), and Stath's on-off love interest Katia (Ellie White), a postwoman slash wannabe bad girl pop star.
Stath Lets Flats (a title that more or less ensures obscurity to non-Brits) is absurd, endlessly quotable, baffling fun that only gets weirder and more enjoyable as its three Channel 4 series went on. Much missed but perfectly formed. Stream it on Britbox. – LM
10. The IT Crowd
Chris O'Dowd and Richard Ayoade are the IT goblins in the basement of Reynholm Industries in this workplace comedy. Moss (Ayoade) is the socially awkward tech wizard while Roy (O'Dowd) is the lazy nerd, and both work under Katherine Parkinson's clueless department head Jen.
Almost the opposite of the faux reality of The Office, The IT Crowd leans heavily into surrealism. Standout eps include the one where Jen brings "the internet" to a meeting (it's a black box), Moss's brush with "Street Countdown", and the episode which explores the tragic backstory of Noel Fielding's weird goth Richmond who works behind a mysterious red door watching lights blink on a machine.
Other regular cast members include Chris Morris as company boss Denholm Reynholm, and in later series Matt Berry as Douglas Reynholm, after Denholm jumps out of a window. Very funny, and packed with one-liners, it's a clever combination of satirical observational comedy and finely choreographed slapstick, with super-likable characters. – RF
9. Catastrophe
Sharon Horgan's deserved reign over TV comedy land began with the excellent Pulling (co-written with Utopia's Dennis Kelly and no doubt an entry on this list had it made its debut less than 15 years ago) and now extends to countless great shows from Motherland to This Way Up and many more. Catastrophe, co-created with actor-writer-stand-up Rob Delaney, is one of her finest achievements to date. It's the story of Irish primary school teacher and clothes horse Sharon and American businessman and recovering alcoholic Rob, a couple who barely know one another but who decide to try to make a go of it after she gets pregnant during Rob's work trip to London. That premise developed into an excellent four-series parenting, relationship and family comedy following their various hurdles, bereavements and challenges. It's sharp, brutally honest, funny and moving, with a top supporting cast including Guilt's Mark Bonnar and Agatha Raisin's Ashley Jensen, and of course, Carrie Fisher in the role of Rob's mother. Stream it on All4. – LM
8. The Thick of It
The depressing political machinations of the British government provide the backdrop for this brilliant comedy created by Armando Iannucci. Running for four series plus specials and a movie spin-off In The Loop, the show was an acute mirror held against the bureaucracy of government, with characters that were both memorable and recognizable. Peter Capaldi bristles and fizzes as the volatile insult-generator Malcolm Tucker, the attack dog spin doctor, Chris Addison is the naive junior policy advisor and Joanna Scanlan is beleaguered as the department press secretary. It's something of a modern, extremely sweary, version of Yes Minister showcasing something of the hottest satirical talent around. – RF
7. Gavin & Stacey
There's a rare beauty to Gavin & Stacey, which has jokes flowing so naturally that it's funny in a way usually only real-life situations can achieve, and a cast that makes laugh-out-loud comedy seem almost effortless.
It arrived in 2007 with a lovable cast of characters fully-formed from the off, and centred on the burgeoning long-distance relationship between Essex boy Gavin (Mathew Horne) and Welsh Barry Island girl Stacey (Joanna Page). Their characters are almost the straight men to their quirky friends and family, which include the show's creators James Corden and Ruth Wilson as the pair's best friends Smithy and Nessa, comedian Rob Brydon as Stacey's Uncle Bryn, the excellent double-act of Alison Steadman and Larry Lamb as Gavin's parents Pam and Mick, and guest star Julia Davis as Pam's best friend Dawn. There's not a line wasted, and Gavin & Stacey's realistic comedy is endlessly quotable, from Smithy's infamous Indian takeaway order (above) to Pam's memeable "It's all the drama Mick, I just love it" and Nessa's "I'll have a pint. Of wine." The 2008 Christmas episode is a modern classic, a full hour of relatable, heartwarming festive comedy that it's practically the law to watch every December. – LVG
6. Inside No. 9
Reece Shearsmith and Steve Pemberton's surrealist carousel of heart, humour and horror has been a mainstay and a must-see of the BBC schedules since 2014. The conceit of this anthology series is simple: each episode takes place within a place or a property carrying the number 9; however, the looseness of the format allows the co-creating, co-starring duo free rein to exercise every dark sinew of their imaginations. The standalone films paint comedic canvases incorporating everything from the macabre to the slapstick, the silly to the sublime, and the dreadful to the delightful. Inside No. 9 is at its best when it's generating the sort of laughs that have you checking over your shoulder in case the devil is taking notes. Which is often.
A modern classic helmed by two of the most versatile virtuosos the British comedy scene has ever produced. All episodes are currently available to stream on BBC iPlayer. – JA
5. Ghosts
Ghosts is made by the team behind Horrible Histories, and it expertly combines its twin themes of spooky supernatural goings-on and British history. One crumbling country house becomes the perfect setting for exploring our past from cave-people to 1990s Tory sex scandals, and everything in between.
It's certainly not the scariest horror-comedy on this list, though it has its spooky moments – there's a creepy little girl ghost, and some of the ghosts the long-suffering Alison (Charlotte Ritchie), who sees dead people, encounters outside the house will send chills down the spine.
But it's in its historical comedy that Ghosts really shines. Flashbacks fill in the details of the spooks' lives and deaths, with a poignant tone and a healthy dose of gallows humour. At times, the show can be deeply moving, but don't worry – there's always another gag about where Humphrey's head has ended up just around the corner. – JH
4. The Office
A list of the comedy series influenced by Stephen Merchant and Ricky Gervais' The Office would be almost as long as this one. At least a few on this list – W1A, This Country and People Just Do Nothing, maybe even Detectorists in a roundabout way – probably wouldn't have happened without it, and that's not to mention all the US comedies that owe their existence to the workplace mockumentary, from Parks & Rec to Party Down, of course, the long-running American remake. In just two series and a couple of Christmas specials, it's fair to say it made an impact – and a household name of Ricky Gervais. Itself inspired by Christopher Guest-style mockumentary films, The Office was a cringe comedy phenomenon. Set in the Slough branch of the Wernham Hogg paper company, it introduced the world to vain, egotistical cretin David Brent (Gervais) and his rag-tag team of idiots and failures-to-launch, including sidekick Gareth (Mackenzie Crook), sardonic Tim (Martin Freeman) and unfulfilled receptionist Dawn (Lucy Davis). There was a dance, there was a love story, there were a lot of painful moments of recognition, and now, there's a rich legacy. – LM
3. Derry Girls
Lisa McGee's 1990s-set Northern Irish sitcom is an energetic blast of nostalgia and comedic joy about five 16-year-old schoolfriends in Derry. Erin, Claire, Michelle, James and Orla are loveable, fast-talking idiots who brush off the existential threats they face in day to day life during The Troubles to get on with the real business of growing up – burning chip shop curtains, sneaking out to Take That concerts, and doing their bit for world peace by offering the hand of friendship (and more, in Michelle's case) across the barricade. They do all that accompanied by grown-ups who are every bit as unforgettable, perhaps even more so when it comes to Siobhán McSweeney's fan-favourite nun Sister Michael. The Channel 4 comedy will conclude after three seasons and an extended-length special.
It's a fantastic cast (Saoirse Monica-Jackson, Nicola Coughlan, Louisa Harland, Jamie-Lee O'Donnell, Dylan Llewelyn) of brilliantly drawn characters that poke fun at teenage pretension (Erin), fear (Claire), horniness (Michelle) cluelessness (James) and… whatever magical creation Orla is. No wonder it won the readers' vote – it leaves you wanting to be a Derry Girl. – LM
2. Fleabag
There's a reason why this show created by Phoebe Waller-Bridge adapted from her play of the same name won multiple awards (and tops this list). Its mix of pathos and belly-laughs, its keenly observed characters, nuanced performances and the way the plot unfolds in reverse (it's as much about what has already happened as what is to come) felt fresh and thrilling when the first season arrived in 2016. Then when season two arrived in 2019, introducing Andrew Scott's sexy priest to the mix, audiences fell in love with the show all over again. Waller-Bridge's Fleabag is witty, brittle, broken but relatable and for all the bawdy jokes and sly asides it's a show with real heart that has rightfully made it creator one of the most celebrated British talents of her generation. – RF
1. Peep Show
Tell me, who is the greatest British comedy character of the 21st century, and why is it Super Hans? Matt King's stringy counter-culture hedonist is just one of flat-share comedy Peep Show's many highlights. There's also Paterson Joseph's corporate cock-of-the-walk Johnson, Olivia Colman's nice-girl-turns-banshee Sophie, Isy Suttie's nerd hero Dobby, Gerard, Big Suze, Nancy, and of course, the two leads through whose faces nine series of beautiful banality and interior panic play out: David Mitchell and Robert Webb's Mark and Jez.
Mark and Jez, one uptight, the other also uptight actually but better at hiding it under his freewheelin' outer shell, are the connoisseur's double act. They're stuck together on the 5th floor of Apollo House in London's Croydon, each plotting their tiny campaigns and revenges on the world while resolutely failing to get out of their own way and on with life. They're a Pandora's Box of self-interest and anxiety that we're privy to thanks to this sitcom's first-person inner monologue format letting us see and hear what Mark and Jez see and think. And what they're thinking is… exposing, not just of them but of humanity as a whole. That's thanks to the excellent comedy writing of Sam Bain and Jesse Armstrong, modern poets of the petty, insecure mind. (Apparently Armstrong's since created some US show called Succession, but it didn't get much press.) – LM