Reviews
I May Destroy You Review: Fresh, Frank, Fluent Drama
Michaela Coel's new 12-part series I May Destroy You explores sex, trauma and consent with painful honesty and wit…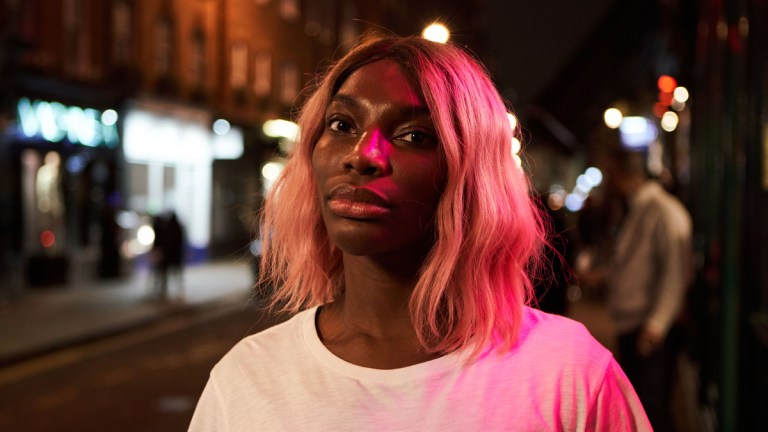 This spoiler-free review is based on the first four episodes.
When a drama comes prefixed by an issue (class-drama, race-drama, abuse-drama), audiences can inwardly brace for a lecture, suspicious that they're about to be made to eat their metaphorical greens. When that drama is also based on real-life suffering, the prospect of entertainment slides out of view. Audiences might expect to come away better informed and energised for change, but not entertained. It'd be inappropriate, wouldn't it? How can art made from trauma entertain?
Ask Michaela Coel. Her second screen creation after acclaimed E4 comedy Chewing Gum is an issues drama so fluent and dynamic that it entertains while it provokes. I May Destroy You, airing on the BBC and HBO, is  frank, full-hearted fiction inspired by true stories around sex, sexual consent and rape. 
The series strikes a remarkable balance. It puts pain and trauma on screen alongside comedy and romance. There's violence, but also love and deep friendship. It explores the dehumanisation of sexual assault and dilemmas of contemporary sexual relationships – threesomes, apps, hook-ups, betrayals on various scales – posing questions without slamming down answers.
That balance is achieved through a focus on character. However subsuming an experience sexual assault is, I May Destroy You shows that nobody is only that experience. Its characters have range and varied responses to what happens to them, which is the real story here. Coel's focus is set entirely on survivors, never exploiting, only observing and empathising.
Those observations are characteristically sharp, and not limited to sex and power, but also class, sexuality and race. A Cambridge writing graduate questions the talent of his more successful peer and the validity of what he sees as her easy-come-by success. A young black actor is asked awkwardly to denude herself of her wig at a casting. In an Italian street, an old white woman wordlessly palpates the girls' hair. Three black gay Englishmen grimly joke about how to answer white people's interrogation of where they're 'really' from.
The thread of identity politics is shot naturalistically through the whole fabric, through fast food and workouts and Ubers and hospital appointments and nights out. Like the subject of sexual consent, it's always there, but it's not all there is.
The 12 half-hour episodes are directed by Luther, Luke Cage and Daredevil's Sam Miller and co-directed by Coel, who stars as lead Arabella. She's a young writer living in London who first came to recognition on social media. Her online writing became a book that struck a chord with peers who recognised its witty, forthright reflection of their own experiences.
Arabella is regularly stopped in the street by love-struck fans who quote her work back to her. Fame presumes an intimacy from these selfie-seeking strangers – just one thread of consent woven in among many.
Under pressure to produce a follow-up to her hit book, Bella's flown to Italy by her management 'Future Voices' to get her head down and write. The words still don't flow, her hedonism takes over and to quote her, all she does on her Italian retreat is "eat four-cheese pizza and a dick." Back in London, deadline looming, she pulls an all-nighter in a Soho office. Looking to blow off steam, she meets a friend, goes to a bar and that's where things get hazy.
The next day, Bella has gaps in her memory. She's disoriented. She doesn't know how the night ended and why she keeps suffering from intrusive and violent flashbacks. What follows is her path through discovering and coping with what happened, a process that makes her reassess every aspect of her life, relationships and career. Coel, who spoke of her own drink-spiking and assault in this MacTaggart lecture at the 2018 Edinburgh TV Festival, is not Arabella, but she's writing from personal experience.
Arabella's experiences aren't the only ones explored. We also follow her best friends Kwame (Paapa Essiedu), a fitness instructor whose sex life is organised through the rhythmic swiping of gay dating apps, and Terry (Weruche Opia), an aspiring actor under pressure to perform a carefree, sexually adventurous life.
The central trio are charismatic performers and characters you want to spend time with. Coel strikes a likeably ironic tone as Arabella in a pretention and vanity-free scene in which she dodges her publisher's draft queries while skinning up on the toilet. She and Weruche Opia are excellent comic actors, nailing stoner comedy in one scene, then punching you in the chest with their vulnerability in another.
It is, intermittently, painful to watch but never overplayed. There's an understatement to the naturalistic script, which sees a therapist told that "sometimes, it gets a bit much," or a traumatised survivor fail to find any words to talk about what they've gone through.
The delicate touch makes it all the more affecting. It's the difference between rape being used only as hackneyed backstories or plot points in crime drama, and trying to understand the whole picture of what it really means to real people.
It's an energetic collection of stories told in fluent style that veers unpredictably in one direction then another. It's sometimes hard to get a grip on a central thread inside the chaos, but Coel's arresting performance and the whole thing's dynamism make it an exciting, if unstable, watch.
I May Destroy You starts on HBO at 10.30pm on Sunday 7th June and on BBC One and iPlayer at 10.45pm on Monday 8th June.