Features
The Best Romantic Comedies of the 21st Century
From Crazy Stupid Love to Silver Linings Playbook, and Crazy Rich Asians to My Big Fat Greek Wedding, we round up the best romcoms of the past 23 years.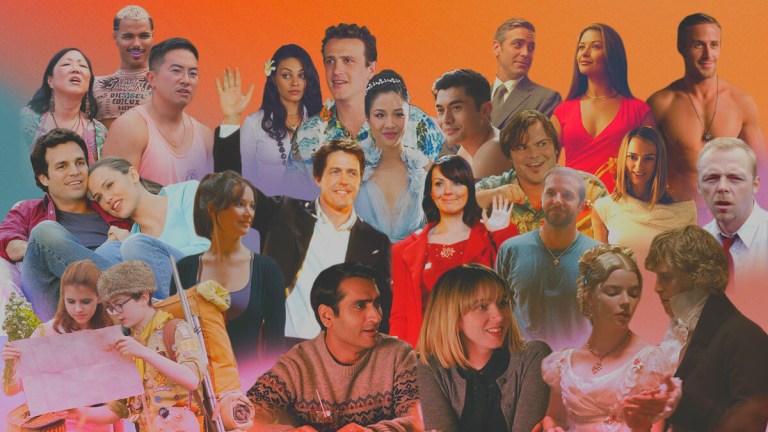 There are people out there who will tell you they don't like romantic comedies. These same folks may as well confess that they're dead inside, with a frozen void replacing where their heart once beat. You shouldn't be their friend.
Romantic comedies are as old as the movies themselves. Generation after generation, audiences have sought out stories about the universal appeal (or agony) of love. And they've often wanted to laugh at it. When two characters—typically as photogenic as a camera lens demands—can generate real heat onscreen, and often channel that into knowing humor for the viewer, it's more tangible than any visual effect. To wit William Shakespeare, it can create much ado about nothing, and it's an absolute pleasure to laugh along with.
And despite the best efforts of some studios to drown the genre in the bathtub, rom-coms have endured in the 21st century, creating smiles and tears. Below and in alphabetical order are all the ones our staff has deemed to be the best from the past 20-plus years. Enjoy.
13 Going on 30 (2004)
Love Big but find it hasn't aged as well as you'd hoped? Then 13 Going on 30 is the unproblematic antidote for you!
After a traumatic teenage birthday party (we've all had them) Jenna (Jennifer Garner) makes a wish that she is "flirty, 30, and thriving," and thanks to some magic wishing dust given to her by her best friend Matt (played as an adult by Mark Ruffalo), she is transported to her future where she is flirty (with an ice hockey boyfriend), 30, and thriving (as an editor at a posh magazine and living in a fancy New York City apartment while being friends with Madonna). But is being 30 all it's cracked up to be? Unsurprisingly, Jenna finds out the answer is no as she navigates her life as an "adult" with some 13-year-old flair thrown in (sleepovers and dance routines).
Garner is completely delightful as Jenna; she captures the knife's edge of teenage feelings perfectly—full of joy one moment and dread and despair the next. A real warm hug of a movie and highly recommended. – Elizabeth Donoghue
Before Sunset (2004)
Before Sunrise (1995) was never intended to set up a decades-spanning romantic saga or trilogy. It was a quixotic love story told in miniature where two tourists—the American Jesse (Ethan Hawke) and the French Céline (Julie Delpy)—share one meaningful night together in Vienna. It's then left up to the audience if they will ever see each other again after the dawn breaks and they agree to meet each other in six months.
So nine years later, Before Sunset was something of a surprise. Of the most lovely sort. Answering many of the elusive questions Sunrise left open to viewers' interpretations—did either party actually show up in Vienna six months later, did they consummate their relationship that night, and did Jesse ever stop talking and actually write?!—the movie finds the previously twentysomething romantics as now more practical thirtysomethings. They accept Vienna was just one magical night, and that they're older and wiser. But when Céline shows up at Jesse's book tour stop in Paris (he's written a novel about their night), what starts out as a chance to reconnect becomes something more significant. And the only thing that's certain is Jesse is not going to make his flight back to the States after the sunset.
Director Richard Linklater and stars/co-writers Hawke and Delpy would reteam one more time in 2013 for the bitterer, more dramatic Before Midnight, which found these characters again in their 40s. But for those who really want a warm, sunny comedy from Jesse and Céline, you cannot do better than this vibrant stroll along the Seine. Like a glass of wine during magic hour, it leaves you flush and in anticipation for more. – David Crow
The Big Sick (2017)
2017's The Big Sick might only be the second best rom-coms about somebody in a coma (While You Were Sleeping is obviously tops), but it's certainly the best rom-com based on a true story. Writer pair Emily V. Gordon and Kumail Nanjiani put their real-life experience on screen in this sharp, funny feature.
Nanjiani plays a version of himself, with Ruby Sparks' Zoe Kazan as his now-wife Emily, who was put into a medically induced coma during their early relationship. While Emily's in the hospital, Kumail gets to know her parents and the result is funny and sweet with an enjoyably wicked edge.
Search Party creator Michael Showalter directs a talented comedy cast, including Ray Romano and Holly Hunter as Emily's folks, from a well-crafted script that feels modern and refreshing. – Louisa Mellor
Crazy Rich Asians (2018)
By the end of the 2010s, romantic comedies became rare and rarer among Hollywood studios' output (as you can perhaps tell from this list). Which is baffling since audiences still love them, especially when they're as good as Crazy Rich Asians, the box office sensation of summer 2018. Working as a triumphant return for rom-coms and a showcase for the type of Asian-American and East Asian talent typically marginalized by American studios, Jon M. Chu's adaptation of Kevin Kwan's novel of the same name is a glorious throwback to the type of romances Hollywood used to churn out by the dozen during its golden age.
This is a big frothy fantasy that indulges in the wish fulfillment of, yes, high finance living while also populating its elite world with a charmingly daffy ensemble of eccentric characters. Only now instead of the protagonists having a madcap Manhattan weekend, Rachel Chu (Constance Wu) is swept off for a week in Singapore with her studly perfect boyfriend Nick (Henry Golding). Alas, the otherwise perfect beau somehow neglected to mention the fact his family is rich. Like crazy rich. This includes an imperious mother (Michelle Yeoh) who wants Nick to marry into wealth instead of the first-generation Chinese-American daughter of a struggling immigrant mother.
Crazy Rich Asians incorporates the tensions and complexities of 21st century globalism and how it converges with old-fashioned traditions and expectations in families. But mostly, this is just a feel-good laugher with a lot of legitimate guffaws, as well as a glossy travelogue sense of showmanship as it spends time with the rich and famous of Southeast Asia. – DC
Crazy, Stupid, Love. (2011)
An absolutely cracking cast, a deceptively sophisticated script from Dan Fogelman and slick direction by duo Glenn Ficarra and John Requa, who also made the off-key rom-com based on a true story, I Love You, Philip Morris, Crazy, Stupid, Love. is a actually funny and genuinly kind of sexy.
Steve Carell plays middle aged Cal whose wife (Julianne Moore) has an affair and asks for a divorce. Cal meets Jacob (Ryan Gosling) at a bar, and he agrees to help him learn how to pick up women. Jacob is a pick up artist, but he meets a girl who might make him change his mind in Emma Stone's Hannah. But guess who's daughter she is…? Carell and Moore are funny and poignant, while Stone and Gosling's chemistry sizzles off the screen. – Rosie Fletcher
Emma. (2020)
There have been more romantic adaptations of Jane Austen's Emma, but this side of Clueless, you won't find one funnier than this. Music video director Autumn de Wilde's first feature film focuses on the com and lets the rom more or less take care of itself (which it more or less does as a result of Anya Taylor-Joy and Johnny Flynn playing the leads).
Taylor-Joy plays rich, smug, meddlesome Emma Woodhouse, the queen bee in her small country village. Flynn plays wealthy family friend and neighbor Mr. Knightley, the story's moral compass who's initially seen by Emma as a bit of a drag. As always, antihero Emma learns her lessons and becomes a (slightly) better person, but in this adaptation, so does he. In a quietly revolutionary move, a climactic scene involving a nosebleed and a panic attack shows that Mr. Know-it-All Knightley isn't quite as in control as he seems.
Overall, it's arch, doesn't miss an opportunity for a gag, and is more closely tuned in to Austen's talent as a satirist than most adaptations. American director de Wilde brings an outsider's fascination to the contrivance and beauty of the period, which, by the way, looks gorgeous. The dresses, the houses, that cast (Mia Goth, Callum Turner, Gemma Whelan, all the cool kids). Knock half an hour off the slightly baggy run-time and it might have gone from good to truly great. – LM
Enchanted (2007)
Released during the peak moment in the 2000s when Disney felt obligated to sheepishly comment on problematic aspects of its legacy (as opposed to whitewashing them like now), Enchanted tries to have it both ways: It is a throwback to the gentle charm of Disney's earliest animated fairytales and a self-deprecating parody of them in modern rom-com wrapping.
And you know what? It works. Enchanted is the rare movie that has its cake and eats it too, but then only a handful of movies have a performance as charming as Amy Adams' star-turn here as Giselle. A classic Disney princess in all but actual royal title, Giselle hails from a two-dimensional, hand-drawn world when magic summons her into mid-2000s NYC. Make that a mid-2000s rom-com NYC, right down to Dr. McDreamy himself as her love interest, Patrick Dempsey.
On one hand, this works as typical Hollywood fluff where Giselle's irrepressible goodness thaws the jaded heart of Dempsey's single-dad divorce lawyer. But really it's just a showcase for Adams to go the full Snow White across Central Park, as well as an opportunity for James Marsden to steal a few scenes as her picture perfect Prince Charming, who's come to Manhattan to find her and slay every MTA bus that gets in his way. – DC
Enough Said (2013)
Nicole Holofcener's Enough Said paired two of HBO's greatest names: James Gandolfini, who revolutionized TV as the head of The Sopranos; and Julia Louis-Dreyfus, who helped rewire network television on Seinfeld and then rewrote Emmy history during her presidential run on Veep. In Enough Said, they play Albert and Eva, who are each divorced, middle-aged parents of college age children, and well-versed in the ad hoc banter of table talk, whatever the volume. But they don't seem like a good fit. Albert is a slob, not dirty or a hoarder, but overweight, out of shape, and doing nothing about it. Eva is a massage therapist who can lug 35 pounds of equipment up a winding staircase. Their first date ends with them asking the same question, what is she doing with him?
From the outset, it is apparent Louis-Dreyfus and Gandolfini spark remarkable chemistry. They are funny, awkward, fallible, and completely believable. The movie hits all the rom-com beats, only slower and more thoughtfully, capturing insecurities, how peer pressure never gets old, and the minor victories. It makes us root for Albert and Eva as a couple. Enough Said was also Gandolfini's last feature performance, and offers a sad promise of the range he was just beginning to freely show. – Tony Sokol
Fever Pitch (2005)
What is love if not baseball? 2005's Fever Pitch is a love letter to both America's pastime and to love itself. Thanks to a bit of real life magic, it also has a happier ending than even its filmmakers dared to expect. Based on a 1997 British film of the same name, which was based on a 1992 Nick Hornby book of the same name, Fever Pitch tells the story of a man who must decide between his favorite baseball team and his girlfriend.
Ben Wrightman is a Boston Red Sox fan (changed from Arsenal Football Club from the British iterations) who knows the meaning of life is a summer afternoon spent at Fenway Park. But when he begins to fall in love with Lindsey Meeks (Drew Barrymore), he must discern what's really important. It's all a pretty standard setup, of course, but what really sets Fever Pitch apart from its romcom peers is that it just so happened to film during the fateful 2004 season when the Red Sox won their first World Series Championship in 86 years, breaking "The Curse of the Bambino." That real life divine intervention adds a level of "it was all fate" importance to Fever Pitch that other rom-coms can only dream of. – Alec Bojalad
Fire Island (2022)
Pride and Prejudice, but instead of the five Bennet girls getting husbands, it's five gay guys getting laid. That's the elevator pitch for director Andrew Ahn and screenwriter-actor Joel Kim Booster's Fire Island, a clever, charming, funny and sexy rom-com that deserves much more attention.
Taking the action of Jane Austen's novel from an English country village to a legendary New York state LGBTQ+ holiday spot, Fire Island is a smart update on the famous tale of money, class, a hot-but-uptight millionaire, a rakish cad, and the girls who fall for them.
Far from an Austen parody, it's a bona fide romantic comedy that uses the bones of one story to tell another. That story belongs to Noah (Joel Kim Booster) and Howie (Bowen Yang), two Asian-American best friends whose lives are at a critical juncture. They're getting older and their found family (presided over by Margaret Cho's mother hen Erin) is on the verge of having to disband, forcing some heavy changes. Is love the answer? Always, but not always in the way you'd expect. – LM
Forgetting Sarah Marshall (2008)
Forgetting Sarah Marshall is an all-time great romantic comedy (and maybe the best comedy of super-producer Judd Apatow's prolific mid-aughts run) because it understands something crucial about romance. Being in love isn't just all the warm fuzzies of pure affection. It's also the devastating, gut-churning sense of complete and total oblivion once that love comes to an end.
Jason Segel writes and stars in this 2008 flick as Peter Bretter, an unmotivated TV composing schlub who has somehow dated hot procedural TV superstar Sarah Marshall (Kristen Bell) for five years. When Sarah decides to "abruptly" dump Peter, he books a ticket to a Hawaiin resort to do just what the title of the film promises. Unfortunately that proves to be a bit of a challenge as Sarah is also at said resort with her new boyfriend, international rock star Aldous Snow (Russell Brand).
Forgetting Sarah Marshall is riotously funny, intensely relatable, and features far more male genitalia than one might expect from a mild mannered rom-com. It's the perfect package, pardon the pun. – AB
High Fidelity (2000)
Ron Gordon, John Cusack's central protagonist in High Fidelity, is a selfish asshole. Cusack knows this. So does director Stephen Frears. That truth wasn't lost on Nick Hornby either, and he wrote the book. So why do we root for Ron? Because High Fidelity is a romantic comedy that examines how even cads can achieve some level of self-awareness. It's cathartic if not entirely redemptive.
For Ron that occurs after his longterm girlfriend Laura (Iben Hjejle) dumps him for so many good reasons. The trick of the movie, though, is that it takes Ron most of the picture to admit why as he reaches back into his youth by tracking down every major girlfriend he had from college onward, and discovering why they all left him flat. It also becomes a nice excuse for actors to come on and steal a few scenes, including Lisa Bonnet and Catherine Zeta-Jones. And in their ways, they help the movie deconstruct the most oblivious type of arrested development.
All that being said, your favorite scenes will still be Ron hanging out at his record shop (remember those?) with Jack Black and Ted Louiso as aging hipsters with the most obnoxiously entertaining musical tastes. – DC
How to Lose a Guy in 10 Days (2003)
Forget the Oscar and all the True Detective plaudits—to many Matthew McConaughey will always be the king of early 2000s romantic comedies. Sure there's a fair share of duds (Failure to Launch, Ghosts of Girlfriends Past) but just watch How to Lose a Guy in 10 Days and you won't wonder why he kept getting booked.
McConaughey plays Benjamin Barry, an advertising executive, motorbike rider, and all round charmer who takes on a bet that he can make any woman fall in love with him in 10 days. Sounds unpleasant on paper but the woman who has been chosen as his target is Kate Hudson (at her most effervescent), who is writing an article on How to Lose a Guy in 10 Days. What are the chances? Hilarity ensues as one of them tries to woo the girl and the other tries to lose the guy.
In the hands of a different cast (Kathryn Hahn in her first movie role, Thomas Lennon and Adam Goldberg as Ben's buddies) it would be nowhere near as charming and hilarious but it has stood the test of time and is incredibly rewatchable. – ED
Intolerable Cruelty (2003)
When one thinks of the Coen Brothers' folksy and often understated sense of humor, one does not usually think "romantic comedy." That is a shame because they made one of the best ones of the last 20 years with Intolerable Cruelty, a scathingly funny picture that is both a gentle satire of the genre and a wholehearted love letter to it.
The setup is delicious: George Clooney is Miles, the most revered divorce lawyer in the country who's made a career separating women from their wealthy husbands while leaving them only pennies on the dollar. Catherine Zeta-Jones is Marilyn, the gold digging wife of a wealthy buffoon (Edward Hermann), who caught the dope cheating red-handed. Miles' mission is to destroy her in court, and yet… sparks begin to fly every time they share barbed double entendres.
The movie is slightly drier and more sophisticated than the typical early 2000s rom-com, and that's to its benefit. There's an acerbic cynicism to both characters which defies the conventions of the genre. Yet we smile as they get closer to each other, especially during a whirlwind weekend in the tacky Mecca of all short-term marriages: Las Vegas. Throw in a terrific supporting cast that includes Cedric the Entertainer, Geoffrey Rush, Billy Bob Thornton, and a murderous hitman or two (it is a Coens Brother movie!), and you have an underrated classic. – DC
Love & Friendship (2016)
For the first time since the cult classic The Last Days of Disco (1998), writer-director Whit Stillman and Kate Beckinsale reteam for Love & Friendship. The film is a wicked adaptation of Jane Austen's lesser-known epistolary novel, Lady Susan, however right down to the title, Stillman takes some liberties to draw out the most wicked side of Austen's prose. As portrayed by Beckinsale, Lady Susan is a manipulative, duplicitous, and all-round charming social climber who always seems to be between husbands.
Reworked onscreen to openly celebrate her ability to maneuver and defang the patriarchy, Love & Friendship basks in the droll, understated wit of Austen's banter while providing a series of hilarious sequences where Lady Susan upends one family's social niceties after another. To be sure, there is plenty of romance in the life of Susan and her daughter Frederica (Morfydd Clark before Saint Maud and The Rings of Power!), but truthfully the real love is that between Susan and her American conspirator Mrs. Alice Johnson (Chloë Sevigny). If only Alice had taken her friend's advice about marriage: don't marry a man who is too old to control and too young to die! – DC
Love Actually (2003)
Yes, we agree: Love Actually has been overplayed and oversaturated in the culture, most often by cable television where it seems to be running around the clock every December. But ignore all that and think back to the movie underneath that media onslaught. Originally intended to be nothing more than a grandiose, yet achingly simple, collection of rom-com vignettes, Richard Curtis' Love Actually is like lavish Christmas wrapping paper; it exists to dazzle the eye and be fondly remembered after you've blazed through its purpose with good cheer.
It helps a great deal the movie still features one of the best British ensembles in a 2000s movie this side of Harry Potter. To name just a few members of its cast, there is Alan Rickman, Emma Thompson, Colin Firth, Hugh Grant, Keira Knightley, Martin Freeman, Liam Neeson, Chiwetel Ejiofor, and everyone's favorite, Bill Nighy as the old and faded rockstar who is willing to sell out his dignity for a Christmastime hit… but not his principles in matters of love! They all contribute to the movie's tapestry, with many (especially Rickman and Thompson's surprisingly tragic story) adding just enough dimension and pathos to the proceedings to prevent the film's otherwise heavy levels of schmaltz to become overwhelming.
For better and worse, Love Actually trades in the clichés and conventions of late '90s and early '00s comedies, including a rather facile idea of what "love" is. But it's so unabashedly earnest and flamboyant in its gesture, right down to a glorious score by Craig Armstrong, that it's impossible to resist. There's a reason you watch it every year. – DC
Miss Congeniality (2000)
The secret to the everlasting joy of Miss Congeniality is that it isn't actually a rom-com. We're including it here though because it does have rom-com vibes, and there is, technically speaking, a romance. Sandra Bullock is at peak appeal as FBI agent Gracie Hart who has to go undercover as a beauty pageant contestant to prevent a potential bomb threat. Gracie's an abrasive scruffball who has to learn style and poise if she's to stay in the competition, Michael Caine is her adorable pageant mentor. The key relationships in the film are between Gracie and the other contestants who she initially underestimates but learns to love, while she teaches them to cherish themselves outside of their looks and have a bit of fun.
Oh, and at the end she has a snog with her fellow agent played by Benjamin Bratt who realizes he's got the hots for Gracie. Grown perhaps, but not changed by her experience, she immediately takes the piss chanting, "You think I'm gorgeous… You want to kiss me… You want to hug me… You want to love me… You want to smooch me… You want to hug me…". Go Gracie! – RF
Moonrise Kingdom (2012)
While nearly all of Wes Anderson's films have a particularly seasonal appeal, most often a certain mid-autumn coziness, 2012's Moonrise Kingdom is alive with a late summer flavor. Set in 1964 between two summer camps, Moonrise Kingdom centers its depiction of childhood romance in Sam (Jared Gilman) and Suzy (Kara Hayward). Like so many of Anderson's characters, they're not only intelligent but wise beyond their years in many ways (but not necessarily matters of the heart). As they make their "escape" from their respective summer camps to adventure together, a looming hurricane and the determined pursuit of (mostly) well-meaning adults hamper their blossoming young love story.
But a description like this doesn't really do Sam and Suzy's story, or Moonrise Kingdom as a whole, justice. Anderson's deadpan wit almost always hits hardest coming from the younger characters in his films, with a charm and wisdom that echoes Charles Shulz's similarly precocious Peanuts gang. With the two young leads bolstered by talents like Anderson stalwart Bill Murray, a suitably menacing Tilda Swinton, and Edward Norton in a delightfully earnest performance as a well-meaning scoutmaster, Moonrise Kingdom remains one of the easiest 90 minutes you can spend with a love story. – Mike Cecchini
My Big Fat Greek Wedding (2002)
Based on writer and star Nia Vardalos' play, My Big Fat Greek Wedding was (until 2016) the highest-grossing romantic comedy of all time in the U.S. The story follows Toula (Vardalos) who decides she wants to spread her wings away from her overbearing Greek family, get some contact lenses, and gain some independence. Along the way she falls in love with John Corbett (Sex and the City's Aidan) and we see two worlds collide (a loud Greek family and a slightly dull other one) as they plan their wedding.
Even though I hate the "she took her glasses off and now she's beautiful!" movie trope, I can forgive it with this movie. Andrea Martin is tremendous as Aunt Voula, but the real star is Michael Constantine as Gus, Toula's father. His commitment to Windex as a treatment for ailments, love of his heritage, and cries of "why you want to leave me?" will resonate with many children and grandchildren of immigrants. The sequel, though not as good, is also still worth a watch, and there's a part three coming soon. – ED
Palm Springs (2020)
Romantic comedies are great for imagining the exciting and sometimes fraught way couples get together. They're terrible at showing what happens after, the actual work of a relationship which requires commitment and compromise, and rewards in ways that cannot be so easily distilled into frothy entertainment. The ingenious comedy Palm Springs found a way around that problem by uncovering a loophole. Well, a time loop hole, anyway. Forced to live the same day over and over again, Nyles (Adam Samberg) and Sarah (Cristin Milioti) not only go through the usual rom-com beats, but they also go through the more difficult tasks of realizing that both you and your partner are changing, which forces you to reconsider your relationship.
As heavy as that sounds, director Max Barbakow keeps things, if not light, then always entertaining. There's always been a pathetic streak in Samberg's party boy persona, which he brings to the nihilistic Nyles, whose turns to empty hedonism as the only release from the tedium of the loop. Milioti plays Sarah as a woman pursued by the guilt of her past and the stalled by the inescapable present, desperate to avoid being found out. Together, the two grow to become a flawed yet faithful duo—characters that anyone in a long-term relationship can recognize. – Joe George
Pride & Prejudice (2005)
It may be a controversial opinion among Janeites (the most devoted of Jane Austen fans), but there's never been a better adaptation of the English author's most famous novel than director Joe Wright's interpretation of Pride & Prejudice. While this 2005 film lacks the time to fully recreate all of Austen's subplots that some seminal miniseries versions have enjoyed (nor does it turn Mr. Darcy into some kind of mythic sex god trapped in Regency garb), this is the screen Pride & Prejudice that best remembers Austen's wit. It's her tangible sense of humor that makes this movie as amusing as it is swooning.
Pride & Prejudice '05 is genuinely funny as it observes the pressures and eccentricities of the Bennet household, a family composed of five daughters, one wearied father (Donald Sutherland), and an indefatigable mother (Brenda Blethyn) who is relentless in her quest to see all her daughters married. And the film savors the madness of these folks preparing for the mere prospect of two gentlemen callers entering their home. The picture's palpable mix of giddiness and anxiety also says much about the pressure placed on young people, especially women, to uphold matters of propriety in this era.
Indeed, Keira Knightley's fiery Elizabeth Bennet and Matthew Macfayden's brusque Mr. Darcy are notable for how youthful they appear; kids playing dress up in a game dictated to them by a society that barely lets them even touch hands. Of course they'd become proud and prejudiced! That artificial isolation also allows the movie to transition into the sweeping when it's ready, with a climatic near-kiss captured as the sun cracks at dawn across a field. When accompanied by Dario Marianelli's exquisitely aching score, it's pure movie magic. – DC
Shaun of the Dead (2004)
Director Edgar Wright's Shaun of the Dead is more than a zom-rom-com. It's a buddy comedy, a human tragedy, and a satire of the inhuman travesty of modern life. Simon Pegg plays Shaun, a loser who will never get his shit together. He's a pub-crawling, video game-junkie slacker, who is routinely humiliated at work and has never kept a promise in his life. He can't even remember where he met his girlfriend Liz (Kate Ashfield), who packs him off to "live a little."
A zombie apocalypse is just the thing to breathe a little life into an undead relationship. Nothing says "I love you" like a chainsaw through the mouth of a dead neighbor trying to bite off your lover's face. In most romantic comedies, the eternal man-child grows up and redeems himself. Shaun not only crawls back to the pub, but brings everyone he loves with him into certain doom. He does it for love, but we don't really know if this is a rom-com about Liz or Shaun's best friend Ed (Nick Frost). Either way, love saves the day, and we hope the last couple standing makes it through the week. – TS
Silver Linings Playbook (2012)
It's rare nowadays when we get romantic comedies like Silver Linings Playbook. As much a drama as it is a comedy, the romantic flame that flickers at the heart of this David O. Russell film is so tender that it's still surprising such an abrasive director could protect it. This might have a lot to do with the casting, including Bradley Cooper as Pat and Jennifer Lawrence as Tiffany. On paper (and screen) they look like a winsome Hollywood coupling, with chemistry so good you overlook the fact that Lawrence was probably a few years too young to play a bitter widow. But that's the thing, the pair believably embody their characters' wounded fragility—and never lose the ability to laugh.
Based on a novel by the same name by Matthew Quick, Silver Linings depicts the messier side of supposed "ever after," and of living with mental illness. Both Pat and Tiffany were borderline for a while after the former found his wife cheating on him and the latter lost her husband to a freak accident. They now each live at home with their parents like makeshift avatars of the millennial generation. Alone they're hurting; together they make a bizarre harmony as visualized by one of the best bad dance sequences in recent memory.
Silver Linings Playbook begins as a quiet movie that discreetly reveals its good humor and ultimately sweet disposition, and it's populated by an oddball cast of characters, building great ensemble opportunities for the likes of Robert De Niro, Jackie Weaver, Chris Tucker, and John Oritz—suggesting that it sometimes takes a village to make a love story. – DC
Sing Street (2016)
Sing Street so effortlessly captures the urgency of teenage romance and the unshakeable self-belief that it takes to start an original band at that age that it's still almost hard to believe it exists. Featuring two wonderfully natural performances from its two romantic leads (Lucy Boynton as Raphina and Ferdia Walsh-Peelo as "Cosmo"), and a story that hits every crowd-pleasing mark in such expert fashion, Sing Street almost feels like it should descend into saccharine rom-com box-checking at any moment, and yet it never does.
Its execution of those rom-com elements alone might elevate it to near classic status, but what really puts it over the top is the fact that the film's original songs (and the occasional music videos that accompany them) are absolute bangers. As an added bonus, those original tracks not only feel authentic to their era, but accurately capture the moment in which its young heroes are writing/creating them, reflecting their influences and moods of the moment (and the soundtrack reflects those influences with some terrific era-appropriate tunes, as well). – MC
Someone Great (2019)
The late 2010s were a great time for Netflix rom-coms, from Set It Up to the first in the To All the Boys I've Loved Before series. But as great as these films are, Jennifer Kaytin Robinson's Someone Great is still arguably the best movie to come from Netflix's rom-com resurgence. While Someone Great does feature heavily romantic relationships, its focus is really on the importance of female friendships and the power of platonic love.
The movie begins with a heartbroken Jenny (Gina Rodriguez) who has just been broken up with by her boyfriend of nine years right before she's set to move from New York City to San Francisco for a job opportunity. Not wanting to leave her favorite city on a sad note, she enlists the help of her friends Erin (DeWanda Wise) and Blair (Brittany Snow) for one last day of fun. They spend the day drinking, smoking weed, trying to track down tickets to the exclusive pop-up concert Neon Classic, and reminiscing on their lives as they all prepare to start a new chapter.
Even though we also get to see Erin and Blair's romantic relationships take different steps forward, these moments never detract from the true emotional core of the movie—the evolving friendship between Erin, Blair, and Jenny. Someone Great reminds us that love comes in many forms, and that romantic love isn't the only key to happiness. – Brynna Arens
They Came Together (2014)
To properly parody something, you have to love it. And so while David Wain's 2014 comedy They Came Together throws a knowing glance at the audience with nearly every take, those are looks of recognition, connections forged with people who also know and love these tropes. When Joel (Paul Rudd) and Molly (Amy Poehler) talk about New York as a third character in their relationship, or when Joel's buds shout obvious wife-guy / business bro / pathetic horndog advice at one another, they're embodying the things we want to see in a rom-com, distilled to their purest form.
Even better, the movie's gleeful genre game doesn't undercut the central romance. Unsurprisingly, Rudd and Poehler make for irresistibly charming leads, each with a vulnerability that can't be erased by absurd gags. By the time you get to the end of the movie, not only are those who complain about the genre's constraints (read: antagonistic couple Kyle and Karen, played by Bill Hader and Ellie Kemper) made the butt of the joke, but you genuinely want Molly and Joel to work it out. By embracing and spoofing the genre's form, They Came Together proves that the most entertaining love stories aren't just found in fiction books. – JG