Features
The Taboo Cast Is Packed With Talent From Jessie Buckley to Stephen Graham
The 2017 Tom Hardy period drama is enjoying a new lease on life thanks to Netflix, and with this cast, it's no wonder.
Taboo is a curio. The eight-episode first season aired on BBC One and FX in early 2017, and was immediately followed by talk of further seasons. Written by Peaky Blinders creator Steven Knight, the premise had been conceived by actor-producer Tom Hardy and his writer father. It was the story of 19th century antihero James Delaney, a man who scandalised Regency London by going up against the East India Company, the Crown, and societal norms until finally escaping England with a ragtag crew of 'pilgrims'. Things were left on an ellipsis, not a full stop. And then… nothing.
Steven Knight, who'd worked with Hardy on Locke and Peaky Blinders, confirmed in 2019 that the season two scripts were almost written, but production was then stalled by a combination of the Venom movies and Covid-19. In November 2021, Hardy told Esquire that he was still weighing up the best options for a second season, meaning that we shouldn't expect a follow-up anytime soon.
In the meantime, much like Peaky Blinders before it, Taboo has found a raft of new global fans on Netflix, where this oddball drama continues to haunt the Top 10. Newcomers aren't only enjoying Tom Hardy in the lead role, but also the fantastic British cast below. Here are some highlights, and where else you can see Taboo's terrific raft of acting talent.
Tom Hardy as James Keziah Delaney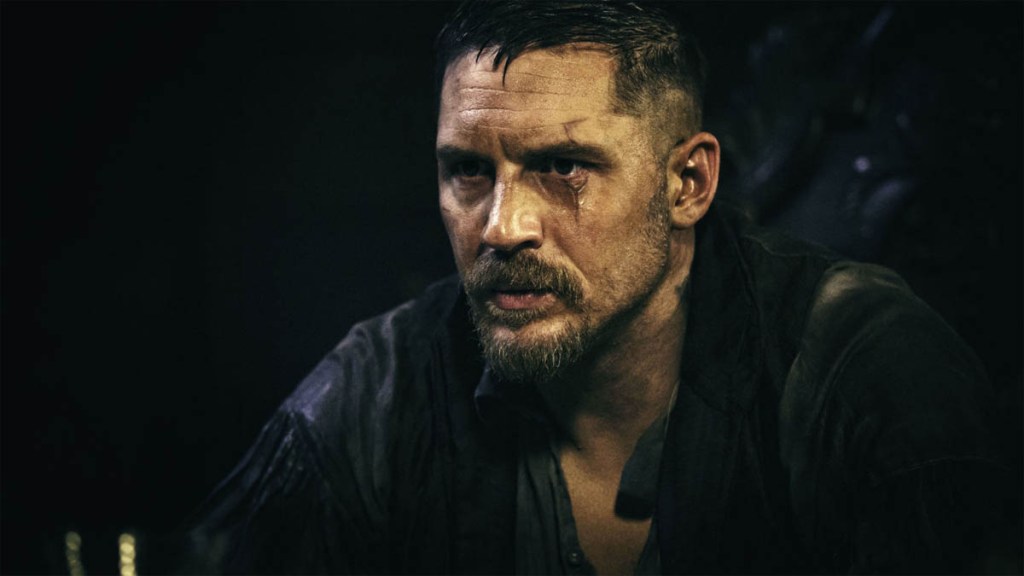 Hardy requires little introduction in these parts. After breaking through in Christopher Nolan's Inception, he went on to play Batman villain Bane in The Dark Knight Rises, and then Max Rockatansky in Mad Max: Fury Road (and soon its sequel The Wasteland). He's starred in acclaimed feature films Legend, The Revenant, Dunkirk… and is also the man behind fan-favourite Alfie Solomons, a seemingly invincible Jewish bootlegger in Steven Knight's Peaky Blinders. 2018 then saw Hardy take on the lead role in Venom and sequel Venom: Let There Be Carnage. In Taboo, Hardy plays inscrutable lead James Keziah Delaney, a man much changed by his experiences in Ghana, who returns to London after a decade's absence to settle some colonial debts.
Jonathan Pryce as Sir Stuart Strange
Pryce's impressive stage and screen career stretches back to the 1970s, but modern audiences might recognise him best for the role of religious zealot the High Sparrow in Game of Thrones, and as Governor Swann in The Pirates of the Caribbean franchise. He was brilliant opposite Mark Rylance as Cardinal Wolsey in the BBC adaptation of Hilary Mantel's Wolf Hall, and will soon be seen playing Prince Philip, the Duke of Edinburgh in season five and six of The Crown. There's far too much to list, from cult Mamet adaptation Glengarry Glen Ross, to Brazil, to Tomorrow Never Dies to countless stage leads. In Taboo, Pryce plays East India Company head Sir Stuart Strange, a man with dark secrets who's willing to do anything to turn a profit and protect his reputation.
Oona Chaplin as Zilpha Geary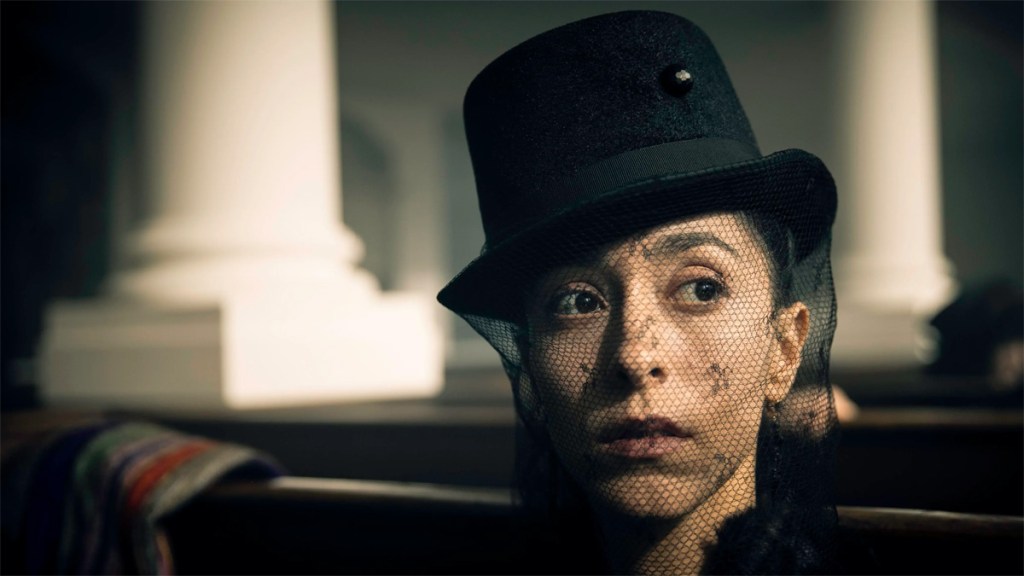 Chaplin is probably recognised internationally for the role of Talisa Stark, Robb's ill-fated wife in Game of Thrones, who really shouldn't have RSVPd to the Red Wedding. In addition to that, she appeared in cancelled-too-soon period drama The Hour,cancelled-too-soon period drama The Crimson Field and the portmanteau festive episode of Black Mirror, 'White Christmas'. She's currently filming the role of Varang in James Cameron's many Avatar sequels. Chaplin is a Spanish-British actor who's part of an acting dynasty as the daughter to Geraldine Chapman and the granddaughter of Charlie Chaplin. In Taboo, she plays James Delaney's half-sister Zilpha, who had a sexual relationship with James before he went away to sea. When James returns to England, he finds Zilpha has married the jealous and abusive Thorne Geary (Jefferson Hall).
Jessie Buckley as Lorna Bow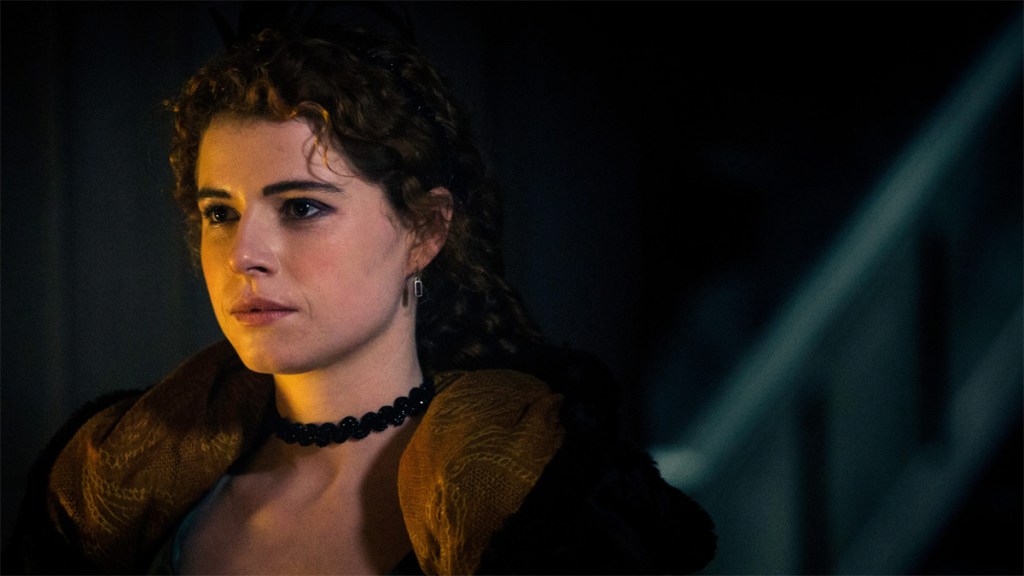 Buckley's stage and screen career has gone from strength to strength since the actor-singer came to popular attention in 2008 as the runner-up in BBC talent show I'll Do Anything, the prize of which was a role in a West-End production of Oliver! She was nominated for a 2022 Oscar for her role opposite Olivia Colman in The Lost Daughter, just one of several celebrated feature film roles including Wild Rose, Beast and I'm Thinking of Ending Things. Buckley's been in Fargo, Chernobyl, War & Peace on TV, and played Juliet opposite The Crown's Josh O'Connor on stage to rave notices, and is currently poised to release an album with producer and former Suede guitarist Bernard Butler. In Taboo, she plays music hall actor Lorna Bow, the secret third wife of James Delaney's father Horace.
Stephen Graham as Atticus
Roundly acknowledged as one of the UK's finest, Stephen Graham's been on screen since the nineties, building on early roles in Coronation Street, The Bill and more, and eventually coming to Martin Scorsese's attention with a role in Gangs of New York that would lead circuitously to the celebrated part of Al Capone in HBO's 1920s-set series Boardwalk Empire. In between, Graham made his name in the UK as Combo in Shane Meadows' This is England and its subsequent TV sequels, plus massive hit Line of Duty, superb Channel 4 drama The Virtues and most recently, the final season of BBC One's Peaky Blinders, created by Taboo screenwriter Steven Knight, in whose A Christmas Carol Graham also played Jacob Marley. Save Me, White House Farm, The Irishman, Rocketman, The North Water, Boiling Point… there's no end to fantastic performances from Graham. In Taboo, he plays sharp-toothed hard man Atticus, who does a deal with Delaney as part of his gunpowder scheme.
Tom Hollander as Cholmondeley
Another mark of quality in any cast, Tom Hollander's long screen and stage career includes period dramas from Wives and Daughters, Cambridge Spies and Desperate Romantics to feature films Pride and Prejudice and Gosford Park. He was brilliant in comedy-drama Rev. and massive John Le Carré hit The Night Manager, and is a BBC One stalwart with lead roles in Baptiste and Us, and will soon be seen in the second season of Mike White's acclaimed US drama The White Lotus. In Taboo, Hollander plays the unpredictable hedonist Cholmondeley, a skilled chemist who gets high on his own supply. Above, he's pictured with Louis Ashbourne-Serkis playing James' half-brother (or possible secret son) Robert. The young actor is the son of Bridgerton's Lorraine Ashbourne and Lord of the Rings and Planet of the Apes' Andy Serkis.
Lucian Msamati as George Chichester
Like Jonathan Pryce, Msamati is another veteran stage actor who had a role in Game of Thrones (he played pirate Salladhor Saan 2012-2014), with a theatre back catalogue that includes the Royal Shakespeare Company's Othello, and Amadeus at The National Theatre. Msamati's recent TV roles include hit Sky drama Gangs of London, HBO-BBC co-production His Dark Materials, BBC One's Black Earth Rising and Channel 4's Kiri. He played the Friar in the same recent production of Romeo and Juliet as starred Jessie Buckley (see above) and Josh O'Connor. In Taboo, Msamati plays George Chichester, a lawyer doggedly pursuing justice for the victims of a great disaster.
Mark Gatiss as the Prince Regent
Another established name in theatre and on screen who's been in Game of Thrones (as Iron Bank man Tycho Nestoris), Mark Gatiss is celebrated for co-creating BBC One's Sherlock and Dracula with Steven Moffat, in which he played the respective roles of Mycroft Holmes and Renfield. Gatiss also wrote and appeared in multiple episodes of Doctor Who and has revived the BBC's 'ghost story at Christmas' tradition in recent years with several M.R. James adapations. Gatiss originally came to fame as a member of comedy troupe The League of Gentlemen alongside Reece Shearsmith, Steve Pemberton and Jeremy Dyson. In Taboo, he plays the corpulent Prince Regent, George IV, the son of reigning monarch George III who took the throne in 1820.
Jason Watkins as Solomon Coop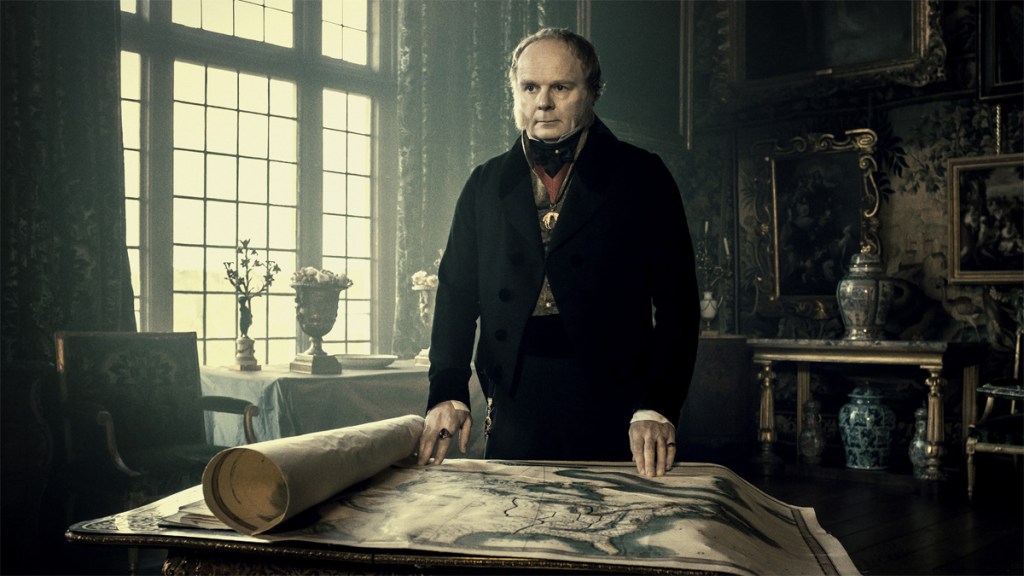 Yet another celebrated star of British drama and comedy, Jason Watkins has been on screen and stage for decades, building on a late-eighties role in EastEnders to form an enviable career whose highlights include The Lost Honour of Christopher Jeffries, Des and satirical BBC spoof W1A, as well as the parts of prime minister Harold Wilson in The Crown and biographer Brian Masters in ITV serial killer drama Des opposite David Tennant, with whom Watkins also starred in Around the World in 80 Days. He'll soon be seen as slippery boss Graham Coats in Amazon's Neil Gaiman adaptation Anansi Boys. In Taboo, he plays Solomon Coop, the private secretary of the British Crown, and the scheming right-hand man of the Prince Regent.
David Hayman as Brace
Scottish actor-director David Hayman's screen career stretches all the way back to the 1960s, transitioning from early Playhouse and Play for Today roles to multiple TV series and feature films including Alex Cox's 1986 biopic Sid and Nancy. Since then, he's been a familiar face across more TV and film roles than you can name, notably including Trial & Retribution, The Boy in the Striped Pyjamas, The Paradise, The Nest and most recently Top Boy and Bafta-nominated Sky drama Landscapers. Hayman's directing work includes Robert Carlyle's acting debut in Silent Scream, and the screenwriting debut of Line of Duty's Jed Mercurio, medical drama Cardiac Arrest. In Taboo, he plays Brace, the manservant of Horace Delaney who holds fatherly affection for James and his family.
Edward Hogg as Godfrey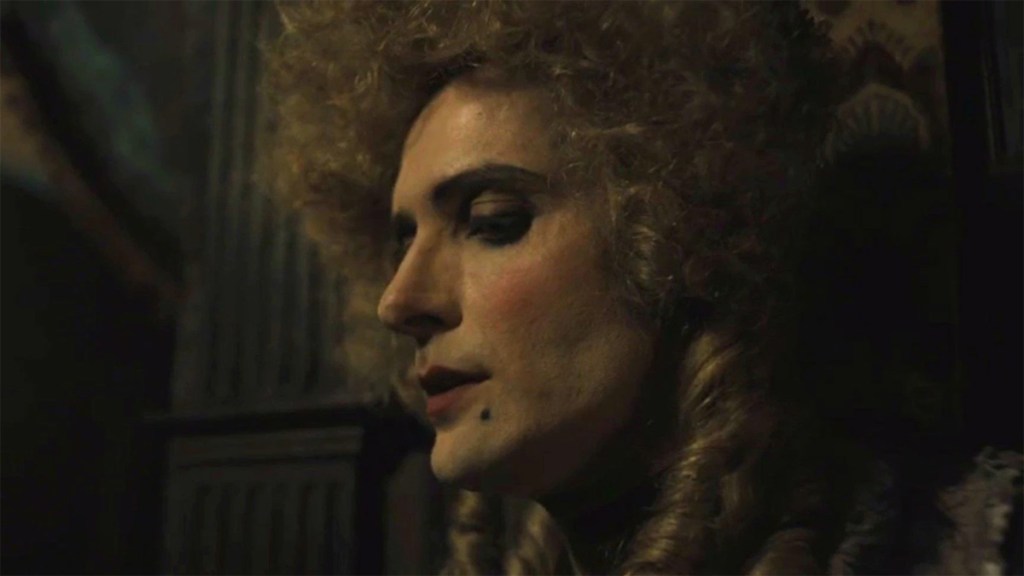 The star of cult comedy Bunny and the Bull directed by Paddington's Paul King, Edward Hogg has appeared in some of the most innovative period dramas produced in the UK, from Harlots to Jonathan Strange and Mr Norrell to Beowulf: Return to the Shieldlands. He played Colonel Salt in Batman prequel Pennyworth, Daimler in Netflix fantasy Sherlock Holmes-adjacent series The Irregulars as well as many more screen and stage roles. In Taboo, he plays Godfrey, clerk for the East India Company whose testimony proves pivotal to James Delaney's plan.
Michael Kelly as Dumbarton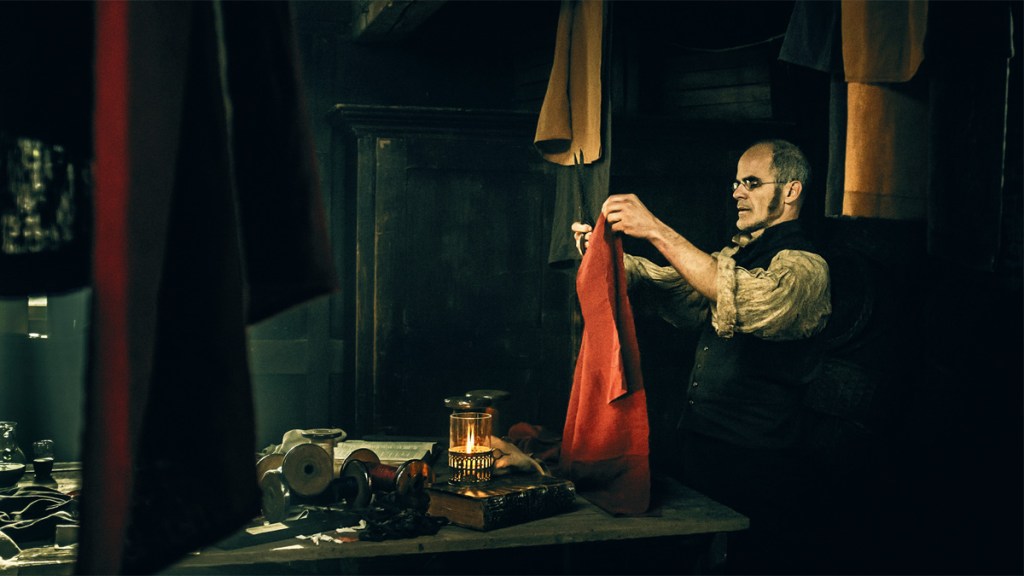 Perhaps best recognised for playing secondary antagonist Doug Stamper in Netflix's House of Cards, Michael Kelly also played FBI agent Goddard in The Sopranos, Jonathan Simms in Criminal Minds: Suspect Behaviour and Mark Snow in cult AI drama Person of Interest. He recently had a regular role on Tom Clancy's Jack Ryan and in Taboo plays physician Dumbarton, an American spy embedded deep in London's underbelly.
Plus
Jefferson Hall as Zilpha's husband Thorne Geary, Richard Dixon and Leo Bill as East India Company men Pettifer and Wilton, Fanka Potente and Tallulah Haddon as brothel workers Helga and Pearl, Marina Hands as the saucy American spy/Countess Musgrove, rapper Scroobius Pip as Atticus' right-hand-man French Bill, and Louis Ashbourne Serkis as young Robert, James' half-brother/possible son.
Taboo is available to stream now on Netflix and BBC iPlayer.