Features
Psychoville: revisiting a brilliant, bizarre comedy
A salute to Reece Shearsmith and Steve Pemberton's excellent Psychoville, available now on Netflix UK...
Contains mild Psychoville spoilers.
What do Christopher Biggins, a miserable clown with a hook for a hand, and a lovelorn telekinetic dwarf all have in common?
They're just some of the amazing characters we meet in Psychoville, one of the funniest, most inventive, most bizarre comedy series ever made.
This black-as-pitch masterpiece comes from the ever-fertile minds of Reece Shearsmith and Steve Pemberton, currently wowing audiences all over again with their superlative Inside No. 9. Though Psychoville bears elements that might feel familiar to fans of The League Of Gentlemen and Inside No. 9 at times, it remains unlike anything else.
Like The League Of Gentlemen, Psychoville revolves around a number of disparate characters, though it's ultimately driven by an arc which grows more and more wildly unpredictable. By the final episode, the two series have taken you to places you would never have expected, always managing to pile the drama and suspense on without sacrificing the laughs.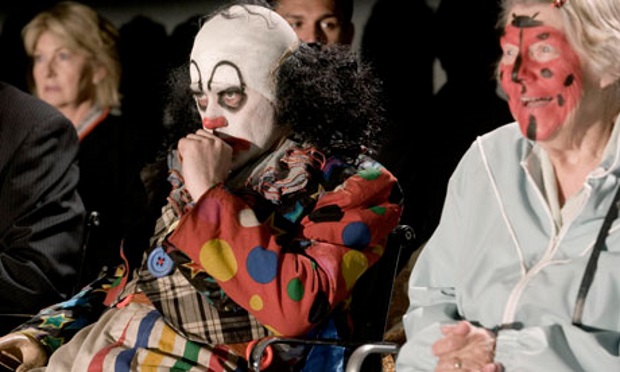 Still, the diverse characters are captivating enough to keep you hooked regardless of the plot. The line-up includes: Shearsmith's Mr Jelly, a one-handed clown never seen without his makeup or costume; Oscar Lomax, an elderly blind man with secrets that are as surprising as they are inventive, aided by assistant 'Tealeaf'; David Sowerbutts, a strange young man obsessed with serial killers; Maureen Sowerbutts, David's mother, who proves herself capable of brutal deeds when needs must; Robert, a dwarf appearing in a panto play (directed by Biggins himself, sending himself up in great style), who may or may not possess telekinetic powers; and Joy, a troubled midwife who treats a plastic practice doll as if it's her late child.
Some of these (and others) call upon Shearsmith and Pemberton to demonstrate their chameleon-esque powers again and again. They show themselves more than capable of creating multiple unique identities with aplomb (as they have before), no matter the characters' age or gender. Their performances are as staggering as their writing, delivering funny, sad, and frightening moments aplenty.
The first series introduces us to the key players as each receives an enigmatic letter pertaining to an event from their past, and we slowly discover the special connection that's destined to bring them all together. From start to finish, Shearsmith and Pemberton craft a mystery with satisfying twists and turns, balancing plot and character development beautifully.
It's also testament to the writers' skills that Pyschoville feels entirely original, without a hint of cliche. Take Mr Jelly, for instance. Even though grumpy clowns are hardly new, he's fresh and compelling from his first appearance, and is easily one of the show's most entertaining figures. This is perhaps Shearsmith's best Psychoville turn, all gruff voice, angry demeanour, and nightmarish make-up. He's always a joy to watch, from his first scene to his last.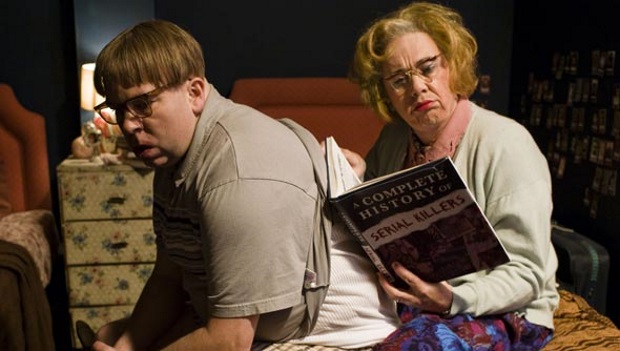 Other characters are just as lovable and sympathetic. Pemberton and Shearsmith both shine in their roles as the odd (and seemingly incestuous) Sowerbutts, creating a son and mother who clearly can't function without each other. An early misunderstanding leads them down a path of murder and criminality, at which they prove to be fairly skilled, both bringing them together and driving them apart.
The scenes depicting their ruthless executions are fairly dark but always filled with comedy gold. One even paves the way for the great Mark Gatiss to show up for a lengthy cameo, as a policeman who stumbles upon the Sowerbutts at an unfortunate moment.
Without doubt, the range and versatility of Psychoville's comedy is one of its most impressive aspects. Shearsmith and Pemberton can go for fairly sophisticated laughs at times, yet never shy away from broader gags either, whether it's blind Mr Lomax mistaking a Club biscuit for his mobile phone or a shocking Tina Turner tribute act unlike any you've seen before (which was actually referenced in a recent episode of Inside No. 9).
The latter moment is just one example of Psychoville at its most unpredictable and bold, but there are numerous others. The story behind Dawn French's Joy is incredibly dark and poignant, and plenty of writers might struggle to make it work (most would likely, and understandably, steer clear altogether). Amazingly, though, it never feels in bad taste or misjudged – and neither does anything else in Psychoville.
The show features a significant streak of horror too, though there's nothing here that will leave you too scared to sleep with the lights off. The horror is at its strongest and most earnest in the Halloween special, which slots nicely between the first and second series. This employs an anthology format, framing three smaller stories within one larger one before leading to a finale that connects to the overall arc.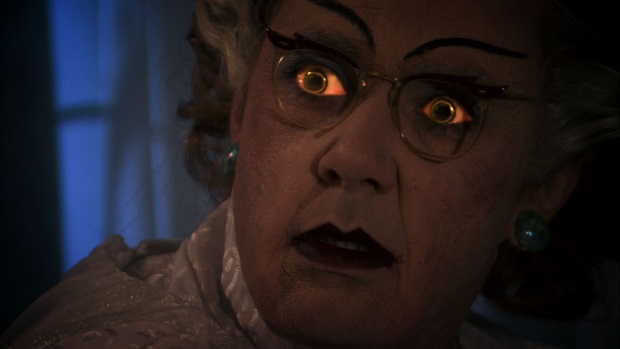 Each of these self-contained Halloween tales focuses on specific characters from the show, but in a 'non-canon' way; this enables Sheasmith and Pemberton to go in pretty much any direction they want, without affecting continuity. We get ghosts and even an unexpected monster – and it all still feels in keeping with Psychoville's consistent tone.
The Halloween special serves as the perfect bridge between the two series, and the strangeness only increases by the time the second helping of episodes gets underway. Characters face real peril from unforeseen threats, and things lead to one bizarre revelation after another, until the show ends up going in directions you would never, ever have guessed at its start. As a result, it never feels predictable or familiar.
While it's tough to leave some of the characters at the end, it's also great that Psychoville was never around long enough to outstay its welcome. There are plenty of comedies around which should have ended before they did, and Shearsmith and Pemberton clearly understand it's best to leave an audience wanting more than to give them too much.
It truly is a unique British comedy, and needs to be in your life if it isn't already. Give it a try.
Psychoville series 1 and 2 are currently available on Netflix UK.