Features
Murderville: Will Arnett Improv Comedy Misses What Made the UK Original Great
By dropping its celebrity impressions, Netflix's improv comedy crime show isn't half as much fun as BBC original Murder in Successville.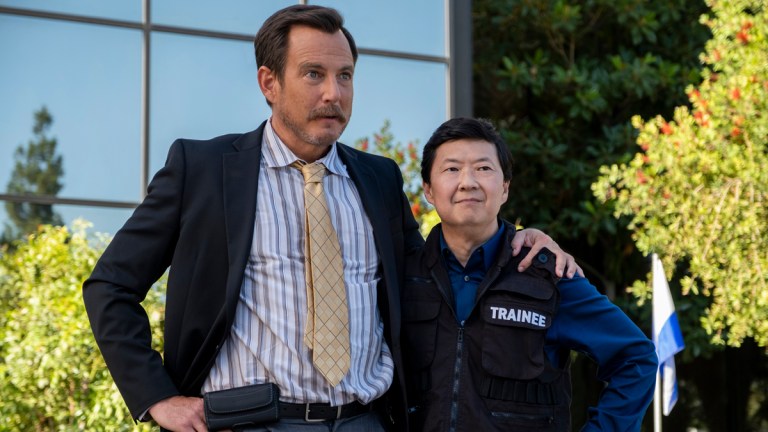 Globalisation isn't just about lax child labour laws lowering the price of t-shirts; it also has its downsides. Global markets have a tendency to replace local idiosyncrasy with the accessibly bland. Should, for instance, the makers of Sweden's chocolate Plopp Bar ever branch out into English-speaking territories, they'd be forced to rename their product to something much less funny, and we'd all be the worse off for it.
Murderville, a US series based on BBC Three's Murder in Successville, is worse off for just that reason. In the transatlantic translation of the semi-improvised detective comedy, a niche element has been dropped, and with it, much of the original's charm. Here's the premise: every episode, a celebrity guest is thrown amongst a regular cast of comedy actors to solve a murder alongside the lead detective. There's a part-script for everybody but the celebrity, who improvises their way through the case before pointing a finger at one of three possible suspects. Whether they're right or wrong (they're mostly wrong) is beside the point; it's all about the chemistry and the laughs.
In Tiger Aspect's UK original co-written by star Tom Davis and directed by James de Frond, the laughs come in part from the show's setting in the fictional city of Successville, a place populated solely by famous faces. And when I say famous, I mean OK! Magazine, TV chef, Strictly Come Dancing judge-famous. Every so often a world-straddling Beyoncé, Madonna, Obama or Vladimir Putin will appear, but mostly for how silly they sound mentioned in the same breath as ITV's Ant and Dec or DIY TV show presenter Nick Knowles. It's all carefully calibrated for maximum stupidity and, I'd imagine, absolutely meaningless outside of the UK. One running gag so good it was kept up for three series was the show's police chief inexplicably being TV chef Gordon Ramsay – hats off to actor Liam Hourican for that one.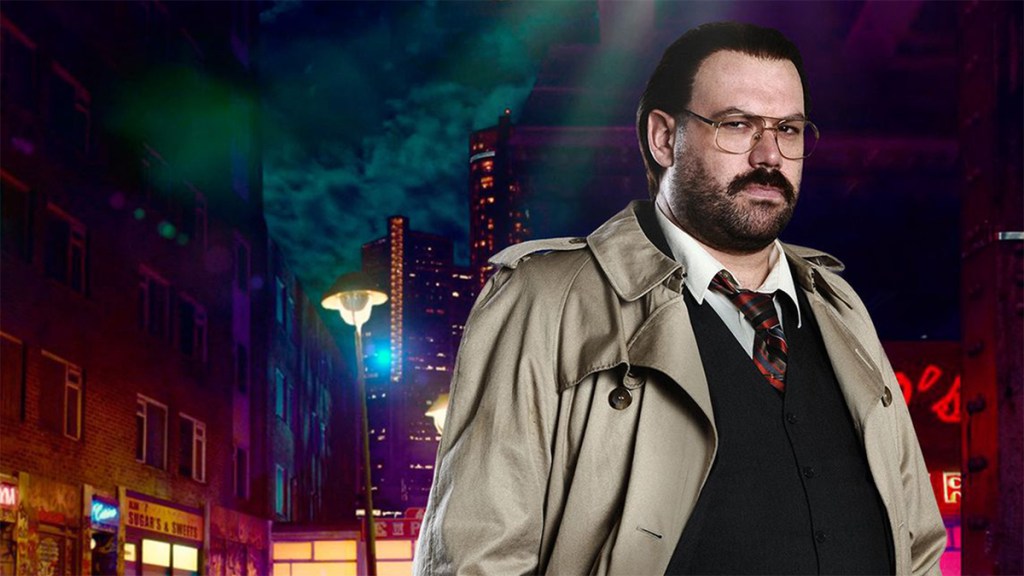 (As a general rule, the mean fame of a Successville character sits below a Prince Harry but above a Louie Spence, somewhere in the vicinity of a Gregg Wallace, a Carol Vorderman or a Natasha Kaplinsky. Extraordinarily in the case of morning show goddess Lorraine Kelly, a celebrity went from impersonated in one series to actual guest star in the next, but it was almost too much joy to handle so only happened the once. Think Stella Street, with comedians taking off celebrities using impressions of varying accuracy. Samson Kayo's will.i.am and Colin Hoult's Ian McKellen were terrifyingly good, Paul Kaye's Louis Walsh was just terrifying. He traumatised a Spice Girl).
Murderville US has dropped the untranslatable celebrity impressions. Its homicides happen in a generic city to generically named characters. The local sweet shop isn't owned by Sir Alan Sugar, nor does the local Italian restaurant belong to Bruno Tonioli. It's all Kathy, Deb and Keith Nobody. While understandable, it's a regrettable loss. Without the thrill of hearing that the next suspect for questioning in Lindsay Lohan's murder is ballroom dancing granddad Len Goodman or football manager Arsène Wenger, there are many flat moments across the six episodes. Like trying to explain the glory of Sonia from EastEnders' trumpet to an outsider, it's hard to convey the tingle one gets from hearing the names Angela Merkel, Tess Daly and Paul Hollywood spoken in the same breath. I'll tell you this though, you absolutely notice when it's not there.
What both series share is a solid comedy lead. Tom Davis is excellent in Murder in Successville as DI Des Sleet, an unpredictable combination of pathetic vulnerability and absolute psychopathy. Will Arnett is similarly strong in Murderville as man-baby-in-crisis Det. Terry Seattle. Both are at their best when pushing their celebrity sidekicks beyond their comfort zone and into corpsing chaos.
The relative standing of those celebrity sidekicks is another difference that doesn't seem to work in Murderville's favour. The US show has reached for its celebrity guests straight from, if not the top, then at least the third-to-top drawer. The first six episodes feature Conan O'Brien, Sharon Stone, Kumail Nanjiani, Annie Murphy, Ken Jeong and Marshawn Lynch. In the UK series, Emma 'Baby Spice' Bunton was about as famous as it got. The UK guest stars were less likely to have IMDb pages than they were to appear in a reality show where they'd have, say, a week to train a Labrador to dance Torvill and Dean's Bolero. You might see the UK lot grace the red carpet of ITV's Pride of Britain awards, but unlike the US cohort, you'd never see them at the Oscars.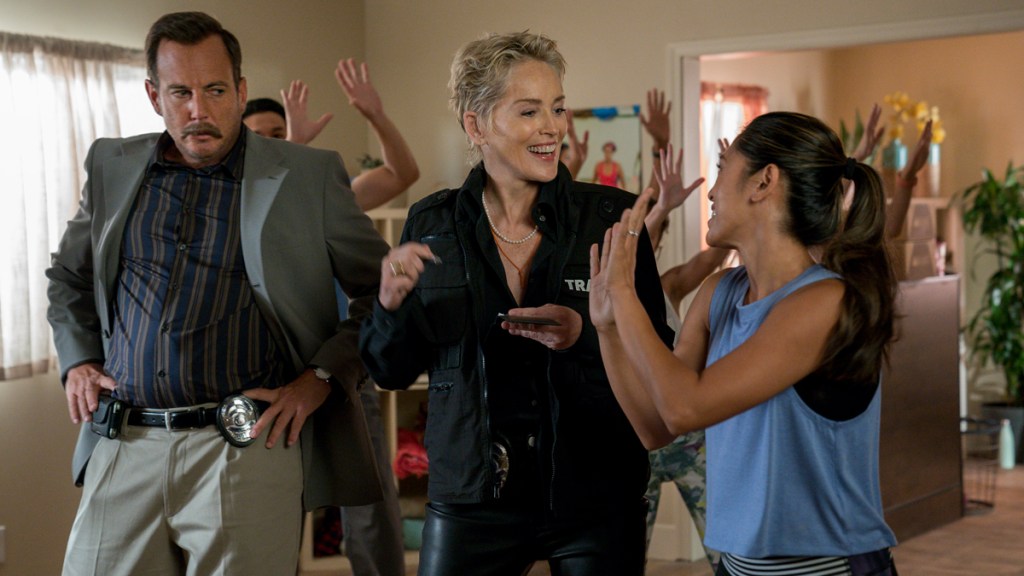 The sweet spot in a celebrity guest is someone either absolutely tuned in who can give the lead a run for their money (see: Richard Osman and Kumail Nanjiani) or somebody tuned into an entirely different frequency, but fully committed to the role (see: Chris Kamara, Deborah Meaden and Marshawn Lynch). Cast too experienced an improviser, like Conan O'Brien, and the whole thing comes off overly slick. Nanjiani is by far Murderville's best guest star, and if you're going to watch just one episode of the Netflix show, make it that one.
Another difference is the way the finger is pointed at the chief suspect at the end of the episode. In the US show, the celebrity simply picks their guy; in the UK version, the rookie cop shoots them or slips them poison. That somehow makes it even funnier when Gordon Ramsay/the chief of police shows up to say they've taken out the wrong perp and mistakenly wiped out an entirely innocent Harry Styles. In the US version, the national context likely makes cops shooting innocent people dead less of a gag.
Few TV comedies are as niche and idiosyncratic as Murder in Successville. Even fewer get laughs from its weird combination of UK-specific celebrity culture and crime drama tropes. There were always going to be casualties in moving this hard-boiled-detective-spoofing series to the home of actual hard-boiled-detective TV shows. Murderville isn't without its moments, but a lot's been lost in translation. The US version is slicker, with bigger stars and no doubt with a bigger budget, but it doesn't have the same chaotic sense of barely controlled madness. Some things are so rooted in the soil they grew in, they can't be exported without losing flavour.
Murderville comes to Netflix on Thursday February 3rd. Murder in Successville is currently available to stream on BritBox in the UK.