Features
50 best British comedy TV shows on Netflix UK, BBC iPlayer, Amazon Prime, NOW TV, Britbox, All4, UKTV Play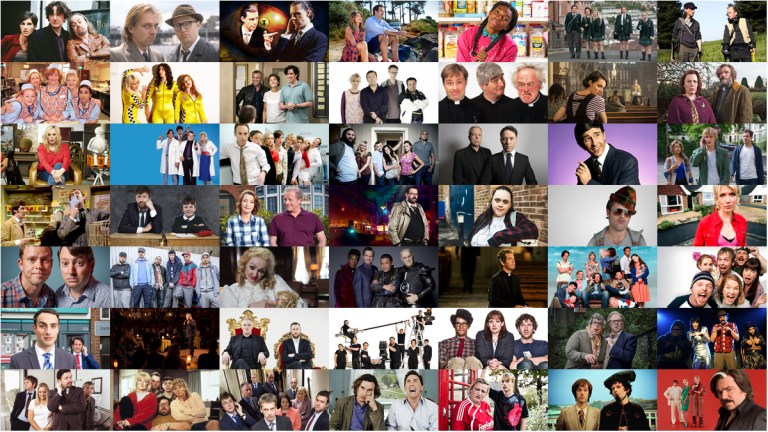 This list applies to UK streaming services
Tough times mean calling in the big guns. Big comedy guns, firing… laughter-bullets! AK-47s of mirth, spraying chuckles through… look, yes, okay, that's terrible. A stop to that. Agreed. We're all just trying to do our best here.
Helping us to keep a grip in these strange times are these excellent British comedies, all available to stream on the UK's various platforms. Find a bunch of comforting and familiar favourites and some newer arrivals below.
We'll keep this list updated as shows enter and exit the streaming catalogues. Parents and the truly traumatised may also like a look at our best kids' TV streaming recommendations, while here are our 50 picks of the best British TV dramas to stream in the UK.
Black Books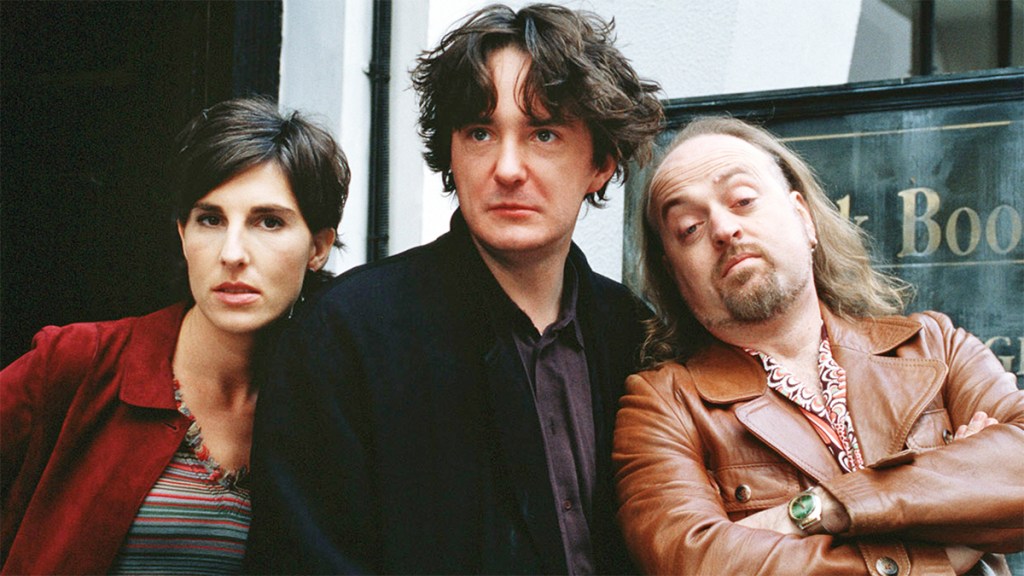 Everybody's met a Bernard Black, Dylan Moran's misanthropic, alcoholic, shambolic Black Books character. The public-facing-people-hater is now every bit a comedy archetype as Basil Fawlty or Hyacinth Bucket. Moran is joined here by Tamsin Greig and Bill Bailey as Bernard's friend and assistant Fran and Manny – two weirdos in their own right – in this big, heightened, oddball series. Here's our pick of the best episodes.
Where to stream? All4, Britbox
Bottom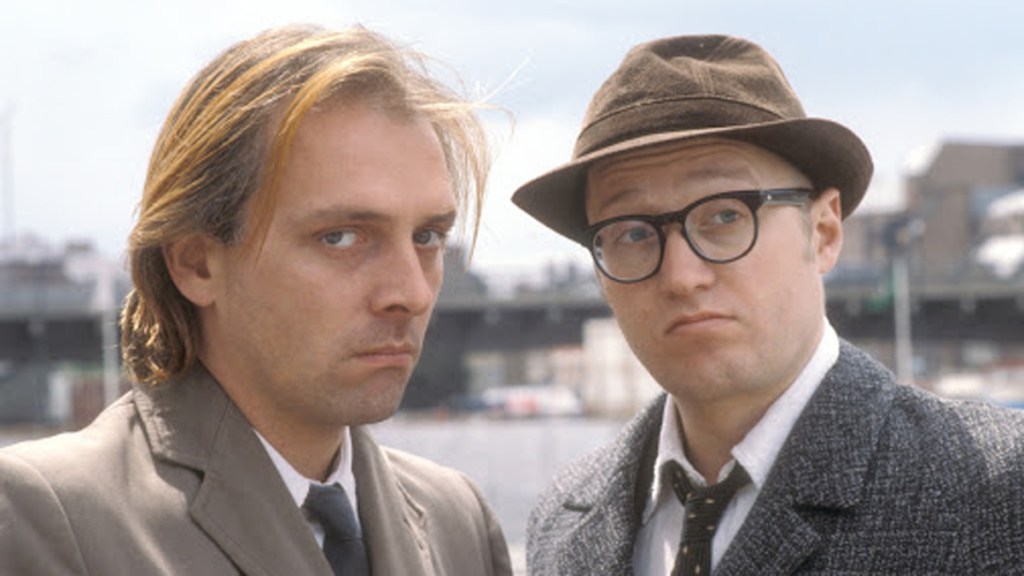 Rik Mayall and Ade Edmondson's most celebrated comedy series might be The Young Ones (also available to stream on NOW TV) but Bottom holds a special place in fan's hearts. Not that heart has much to do with it. This is more of a 'hitting people with frying pans' thing than a 'hit you in the feelings' thing. It's Looney Tunes violence perpetrated by sordid overgrown man-children, and it's brill. Here's why we love it.
Where to stream? Netflix UK, NOW TV
Brass Eye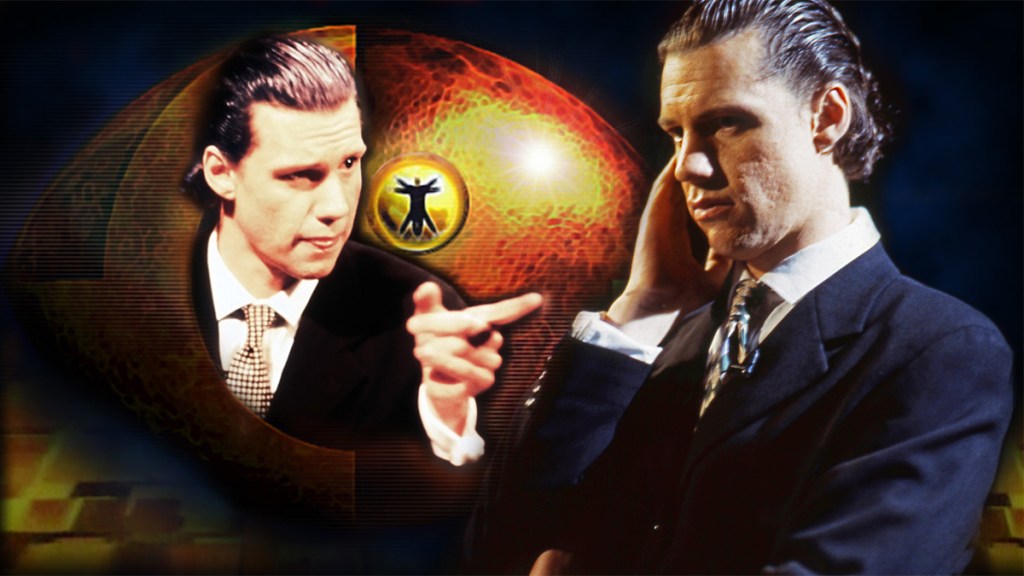 Chris Morris and co. followed up brilliantly observed news satire The Day Today with this spoof investigative journalism series, which tackled the issues of the day with characteristic absurdity. Sex, crime, religion, drugs and yes, paedophilia, all went under the spotlight where they were smacked until they bled. Read about the BBC Radio 4 comedy series that preceded it all here.
Catastrophe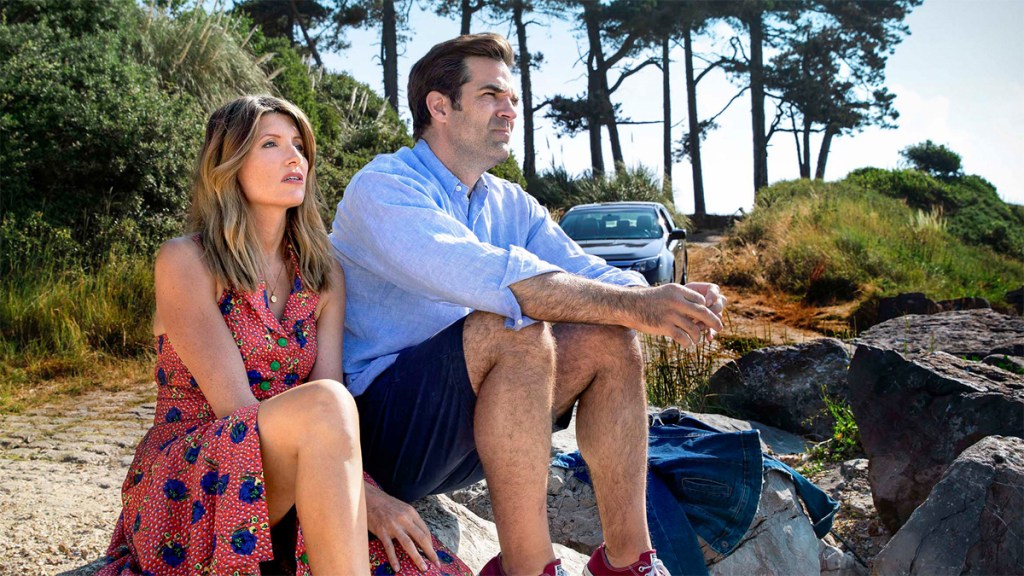 Between this and the magnificent Pulling, Sharon Horgan has been behind some of the best comedies around. Written with co-star comic Rob Delaney, Catastrophe is the story of a couple who hook up, accidentally get pregnant after knowing each other just a week, and decide to make a go of it. It's a sardonic, frank and funny take on relationships, parenting, families and addiction, and culminates in what might be the perfect finale.
Where to stream? Amazon Prime UK
Chewing Gum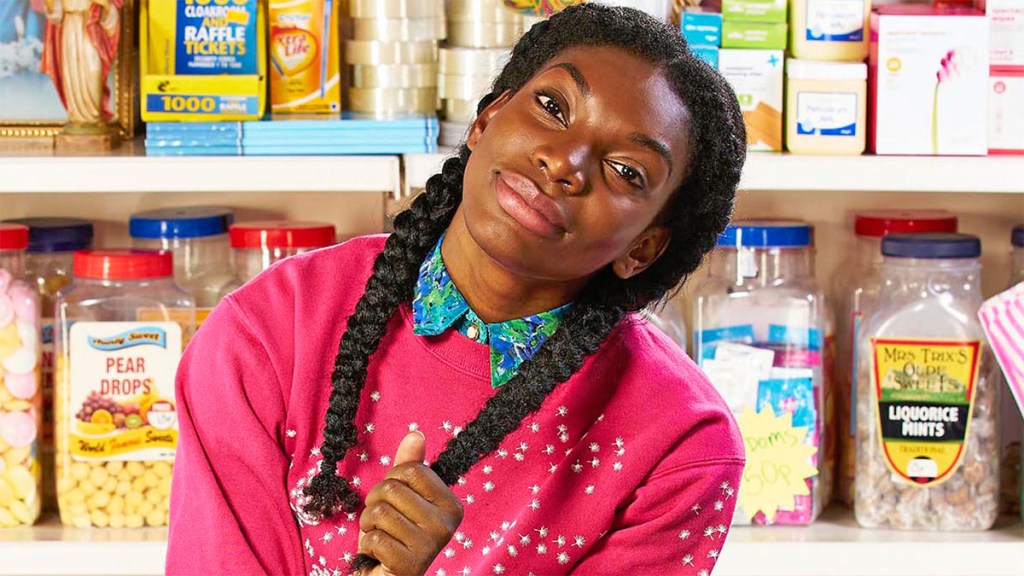 Michaela Coel's fully conceived, confident and very funny debut series is the story of Tracey, an inexperienced London girl who would very much like some experience, please, specifically of the carnal variety. Watch Tracey navigate sex, boyfriends and family in this fresh, hugely likeable series.
Where to stream? All 4, Britbox
Derry Girls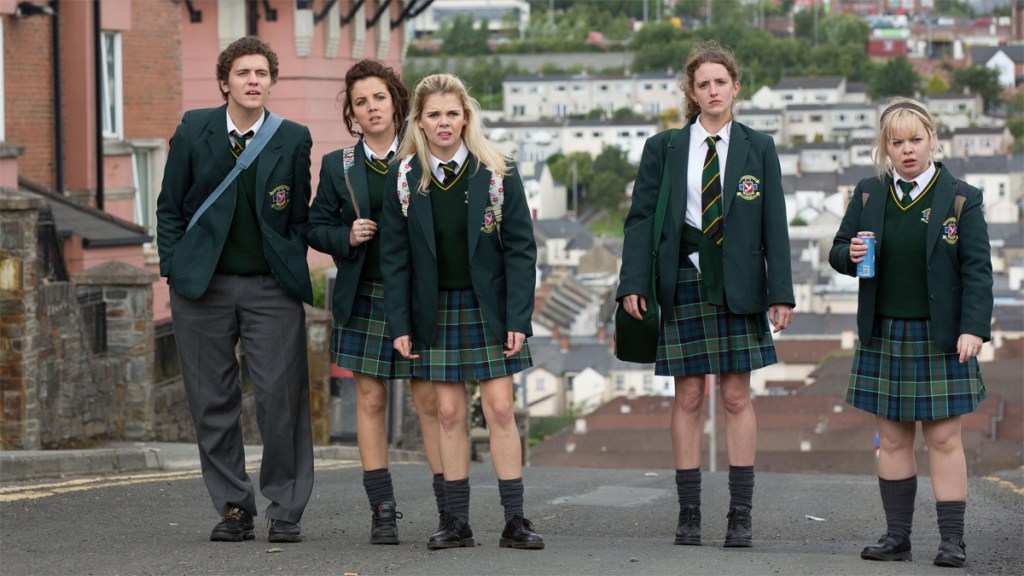 With two cracker series and a third on the way, Lisa McGee's Derry Girls is a lot of people's new favourite sitcom, and rightly so. Set in Northern Ireland in the late 1990s, it's about a group of schoolfriends making their way against a backdrop of Take That concerts and political violence they're forced to take in their stride. Nostalgia meets poignancy, with a cast of terrific comedic characters.
Where to stream? All4, Netflix UK
Detectorists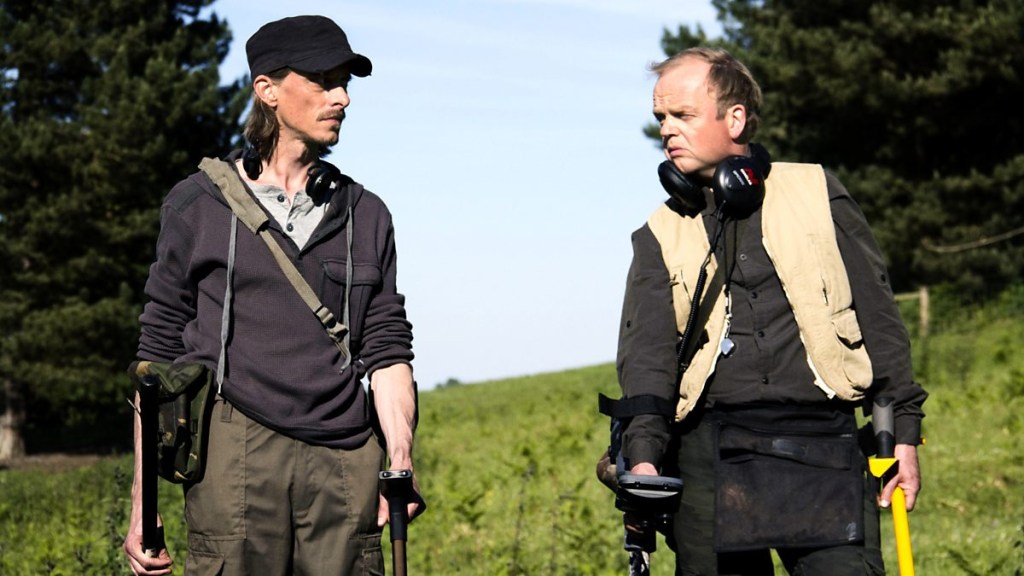 Mackenzie Crook flinches at the word 'gentle' when describing Detectorists (thinking it sounds like a euphemism for unfunny) but that's the word to describe this beautiful, idiosyncratic show about male friendship and unusual hobbies. It's about Andy and Lance, who spend their free time sweeping the British countryside for buried treasure, and it's a low-key delight. Great music too. Here's more on why we love it.
Where to stream? BBC iPlayer, Britbox
Dinnerladies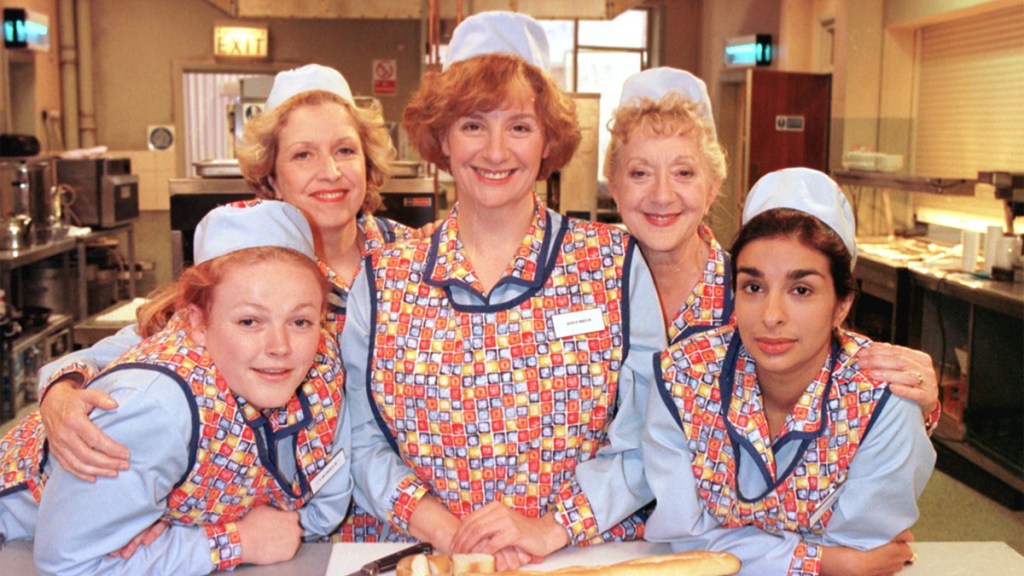 The traditional studio sitcom may have been out of favour among comedy types for some time now, but even the biggest single-camera sadcom devotee has to admit the greatness of Victoria Wood's Dinnerladies. It's witty and clever, as you'd expect from Wood, with a terrific comedy cast (Anne Reid, Celia Imrie, Julie Walters, a young Maxine Peake! We could go on) and a central character in Bren that you can't help but love.
Where to stream? NOW TV
Drifters
Jessica Knappett, if anybody saw her on Taskmaster (see below), is very funny. Her comedy Drifters, about a trio of friends struggling to pull off their twenties with as much glamour, grace or disposable income as TV shows and magazines had led them to believe, is also very funny. Bonus: it also stars Bob Mortimer. What more could you want?
Where to stream? All4
Episodes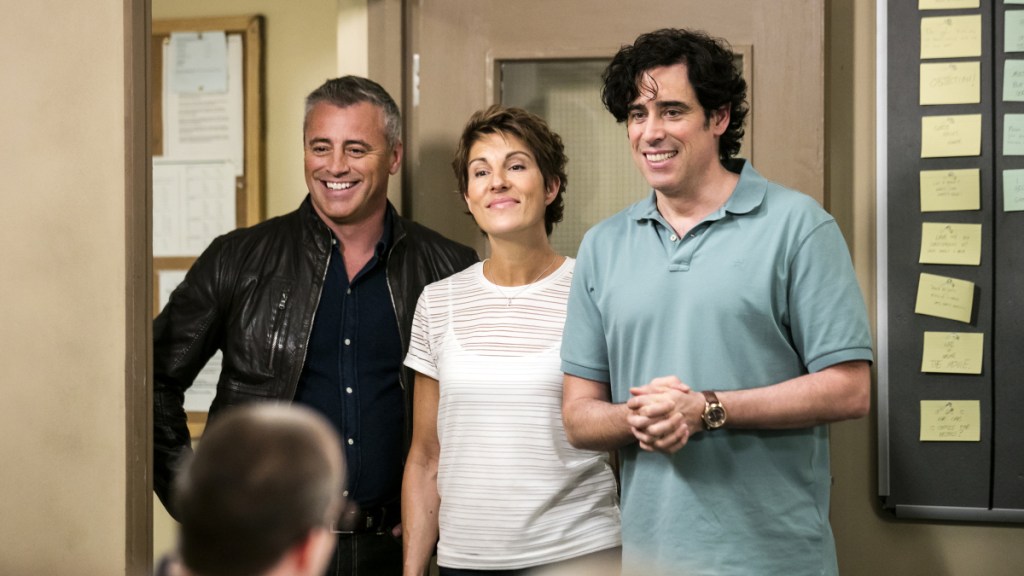 If Matt LeBlanc didn't win you over in his short-lived Top Gear reign, he will do in Episodes, the TV industry comedy about a UK screenwriter couple (Tamsin Greig and Stephen Mangan, reunited since Green Wing – see below) whisked to LA to make the US version of their acclaimed British sitcom (it all goes terribly). LeBlanc plays an exaggerated version of himself, Kathleen Rose Perkins is brilliant as TV exec Carol, there are cameos galore and the whole thing is a hoot.
Where to stream? Netflix UK
Extras
Following up The Office, the UK mockumentary that changed TV comedy for good, was a tall order for Ricky Gervais and Stephen Merchant, but in Extras, they did it with aplomb. Aplomb, and loads of celebrity cameos who arrived courtesy of The Office's success. It's the story of would-be actor Andy, his agent, his best friend, and Barry from EastEnders. At the very least, watch the David Bowie and Patrick Stewart ones.
Where to stream? BBC iPlayer
Father Ted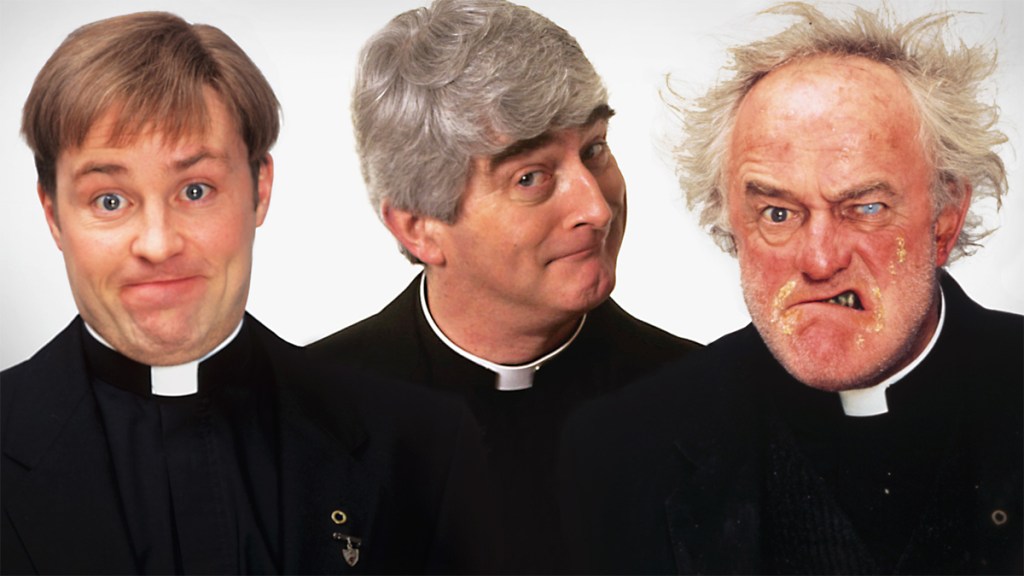 A classic that will never leave a generation of comedy fans, who will always recognise the 'Drink! Feck! Girls!' birdsong of a fellow devotee. It was Blackadder for the 1990s, basically, but instead of being set in the royal court, it's set in a remote Irish Catholic parish with a scheming, self-serving one, a dopey one, and a sort of…wolf one. Written by Arthur Mathews and Graham Linehan, it's all-out joy.
Where to stream? All4, Britbox
Fleabag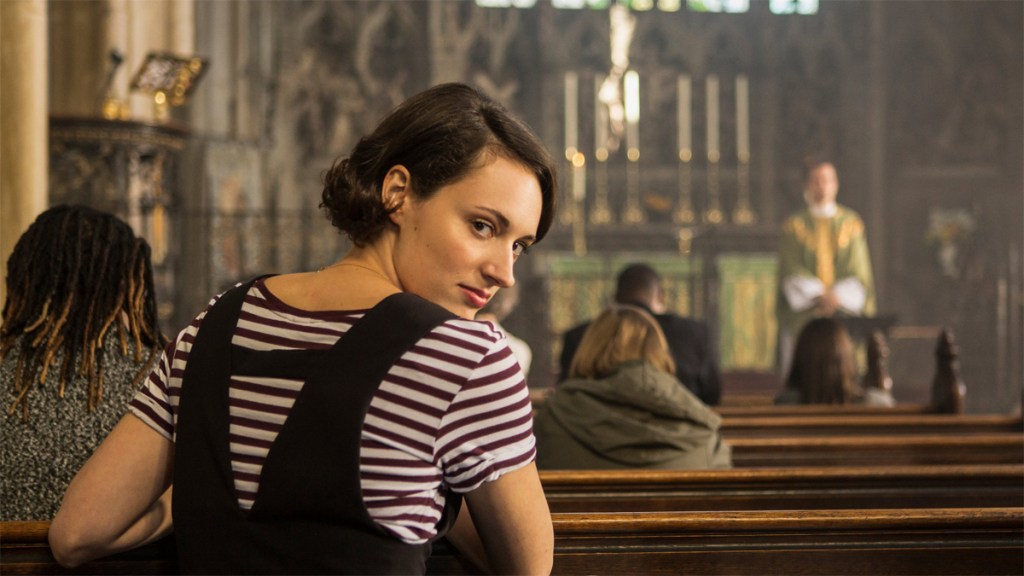 You probably haven't heard of Phoebe Waller-Bridge's Fleabag, it's barely ever talked about and its two series flew almost completely under the radar here and around the world. Do give it some love though, because this anonymous little story of a very sad woman who talks to herself deserves some attention. Flea-bag, rhymes with tea-bag, just to help you remember the name.
Where to stream? BBC iPlayer
Flowers
Depression, suicide, death… Will Sharpe's comedy about a group of oddball yet hugely sympathetic characters led by the brilliant Olivia Colman and Julian Barratt, covers unusual ground for a comedy. It's over-the-top yet poignant, really quite silly yet truthful about life's absurdities and pain. It's also (as you might be able to tell from these few lines) hard to describe. Best just to take our word for it.
Where to stream? Netflix UK, All4
French and Saunders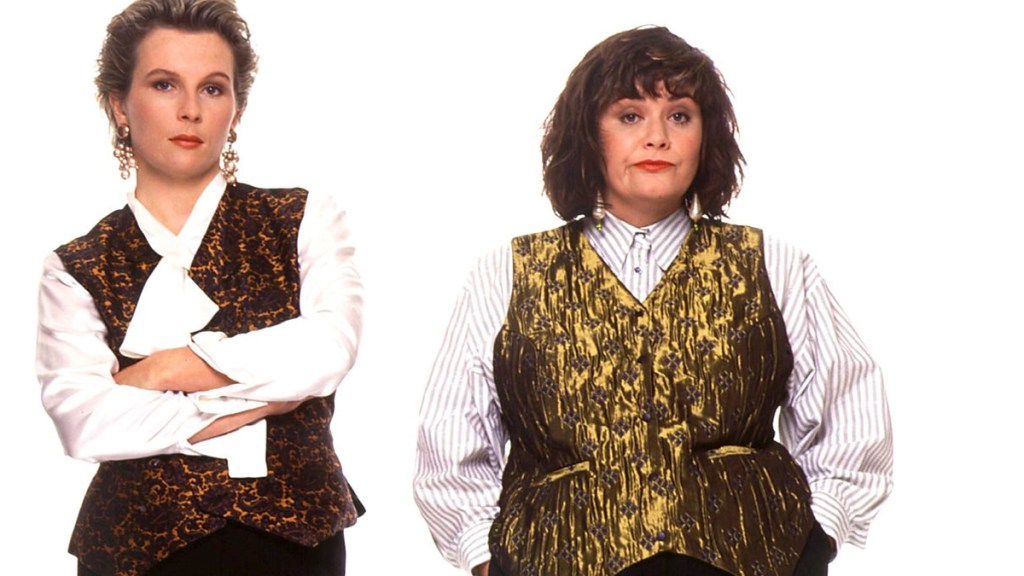 It's French and Saunders innit. All the sketches, all the characters, all the movie and music spoofs (what joy in those movie and music spoofs) from comedy royalty Jennifer Saunders and Dawn French. Only just added in full to BBC iPlayer, it's well worth a revisit.
Where to stream? BBC iPlayer
GameFace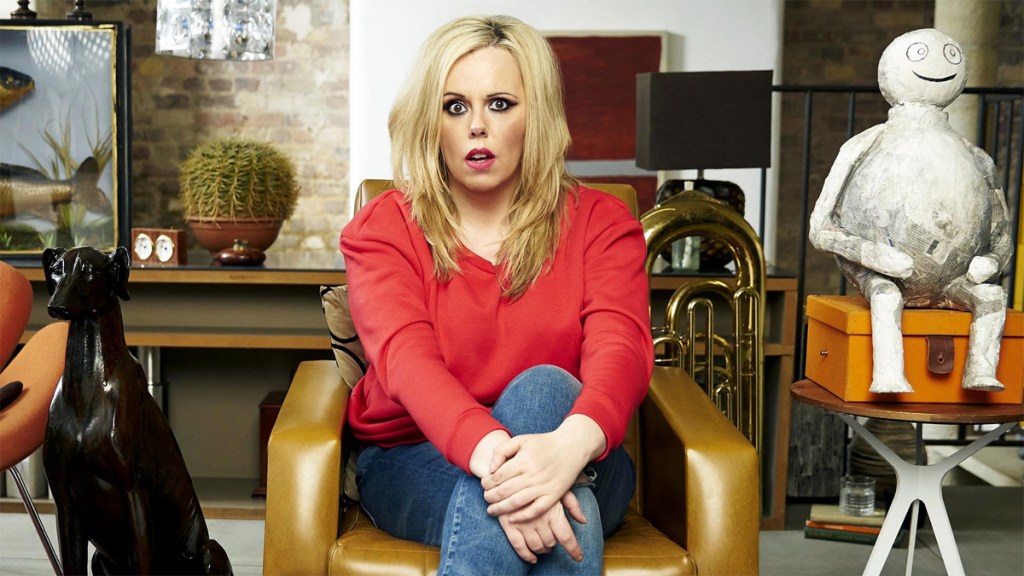 An excellent example of the performer-created comedy (see also: basically every single comedy show commissioned in the last three years), GameFace is a beauty from Roisin Conaty. She plays Marcella, a budding actor getting over a major break-up, in this funny, inventive series that's given to flights of Spaced-like cutaway fancy. Top cast, too.
Where to stream? All4, Britbox
Garth Morenghi's Darkplace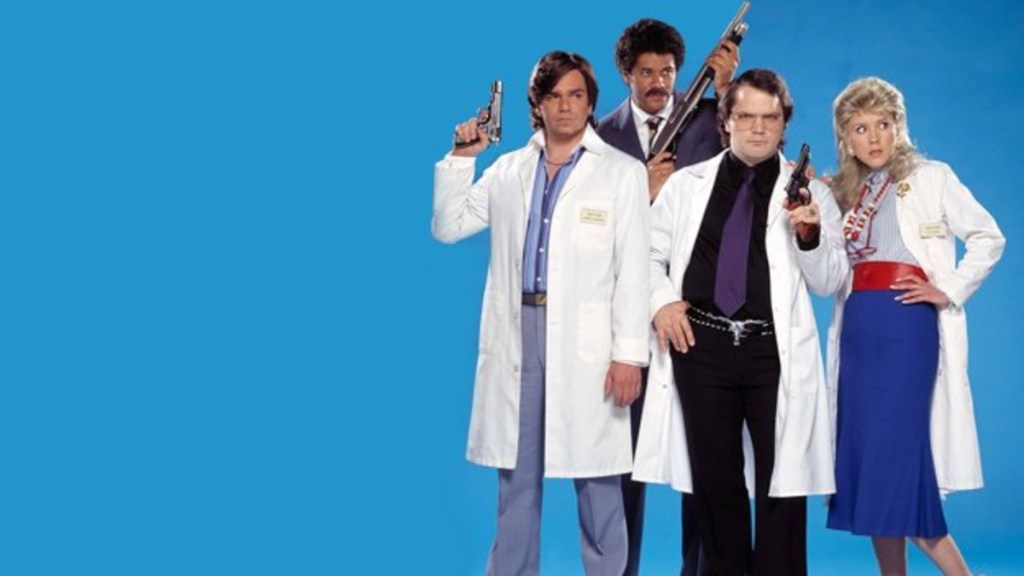 Film and TV nerds are well-acquainted with the hubris and bitterness of the DVD director's commentary, which is the starting point for Matthew Holness and Richard Ayoade's beloved cult spoof about a fictional 1980s horror TV show. Compiled as a talking-heads doc featuring footage of the haunted-hospital show itself, it's a spot-on parody of about eight things at once. Brilliant. Here's why we love it.
Where to stream? All4
Green Wing
From the producers of sketch comedy Smack the Pony, this one-hour hospital-set comedy had a sketch show eclecticism to it. Weird interludes and tableaux interrupt the narrative, showcasing an odd collection of characters played by a terrific comedy ensemble including Michelle Gomez, Mark Heap and Pippa Haywood. You wouldn't want them doing your hysterectomy though.
Where to stream? All4
Him & Her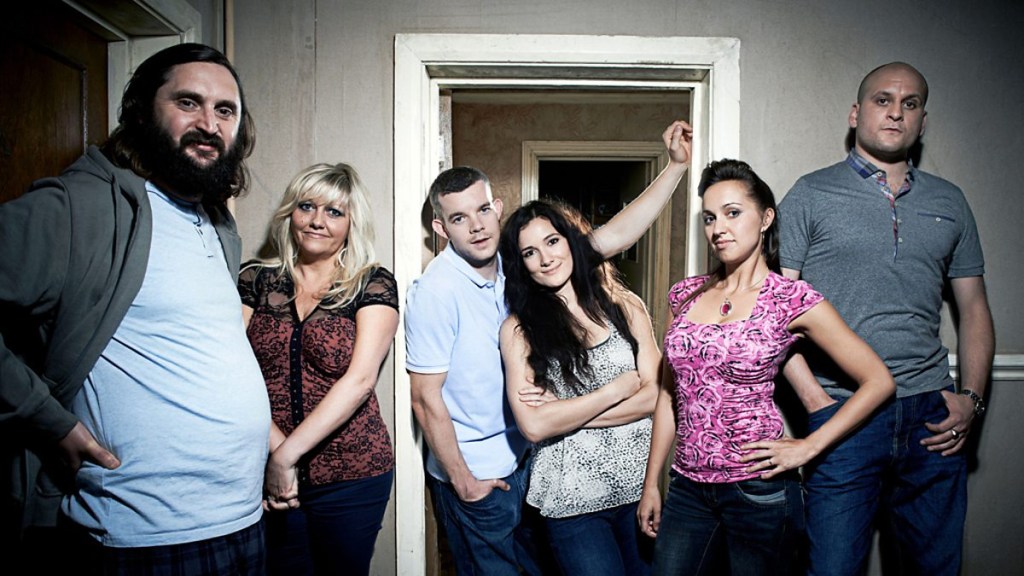 Written by Stefan Golaszewski (also the creator of Mum, see below), this low-key, one-location comedy is the story of slackers Becky and Steve (Sarah Solemani and Russell Tovey), whose flat doesn't so much welcome friends, family and neighbours, as admit them under duress. Kerry Howard as Laura, Becky's awful sister, is brilliant.
Where to stream? BBC iPlayer
Inside No. 9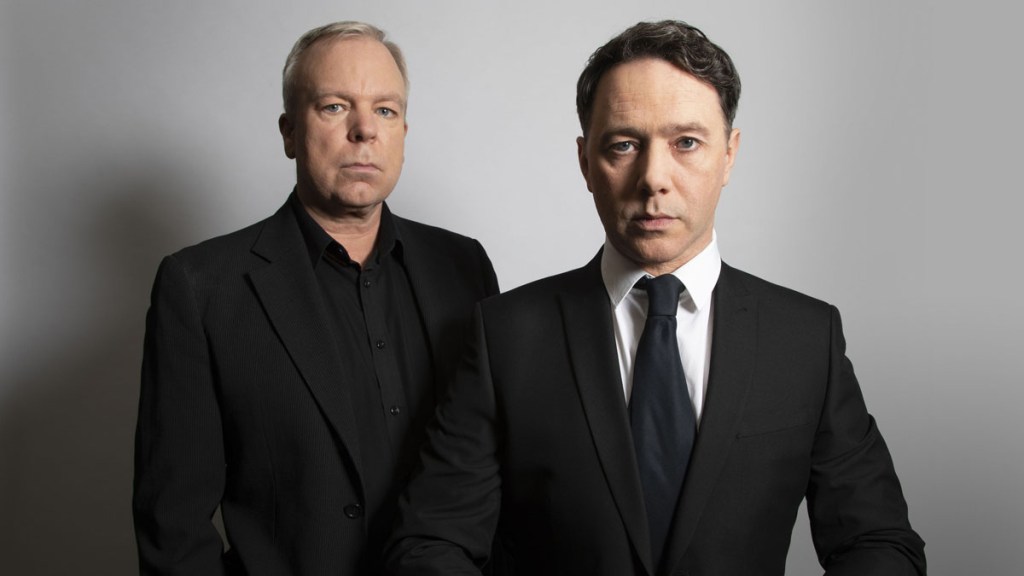 With five series under its belt and two more on the way, there's no stopping Reece Shearsmith and Steve Pemberton's Inside No. 9. It's an endlessly inventive anthology series that tells a new story in a new location with new characters in perfect half-hour slices. Comedy, horror, drama… it's done them all. Perfect viewing. The pair's previous collaboration Psychoville, is also available to stream on Britbox.
Where to stream? BBC iPlayer, NOW TV
Knowing Me, Knowing You with Alan Partridge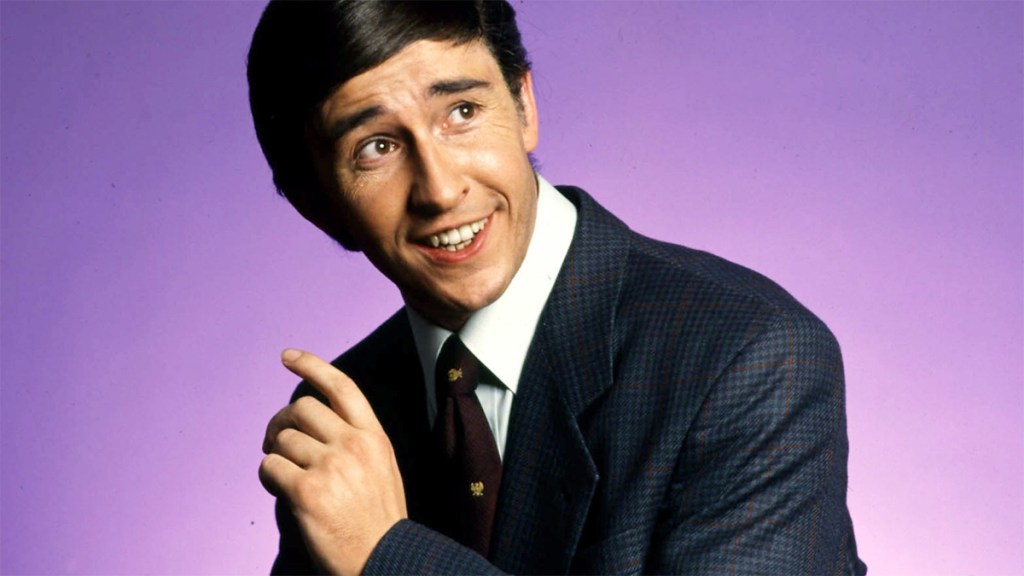 Preceded by the BBC Radio 4 radio series of the same name (also top – dig that out if you can), this is Alan Partridge pre the Travel Tavern big plate days. It's a spoof chat show hosted by Steve Coogan and Armando Iannucci's TV presenter character that skewers the light entertainment of the day. See Alan baffled by avant garde guests, feminists and precocious children played by the excellent ensemble cast. Pairs well with 2019's This Time With Alan Partridge, available on BBC iPlayer.
Where to stream? Netflix UK
Lovesick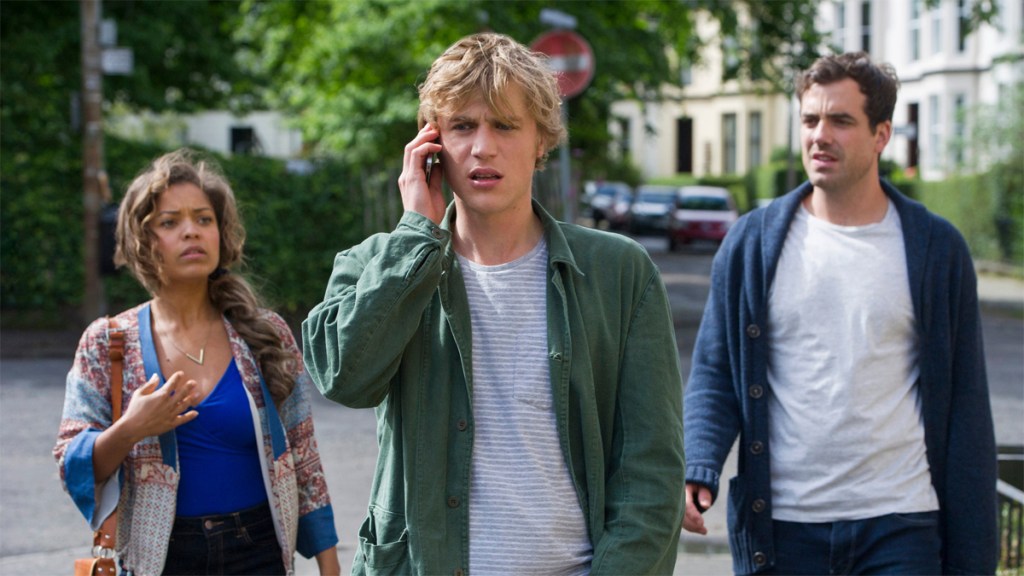 Once this one had shaken off the laddish reputation it had been unfairly saddled with as a result of its original title – Scrotal Recall (a solid pun but not the right fit for this wistful rom-com), it blossomed. See Johnny Flynn in an early role as a romantic lead forced to track back through his past sexual encounters when he's diagnosed with chlamydia. Lovely stuff.
Where to stream? Netflix UK
Monty Python's Flying Circus
This needs no introduction. It's all four series of Monty Python's Flying Circus (plus two of the films). Consider it a comedic education for your kids. Get them to learn Bruce's Philosopher's Song by rote and consider that a GCSE module taken care of.
Where to stream? Netflix UK
Moone Boy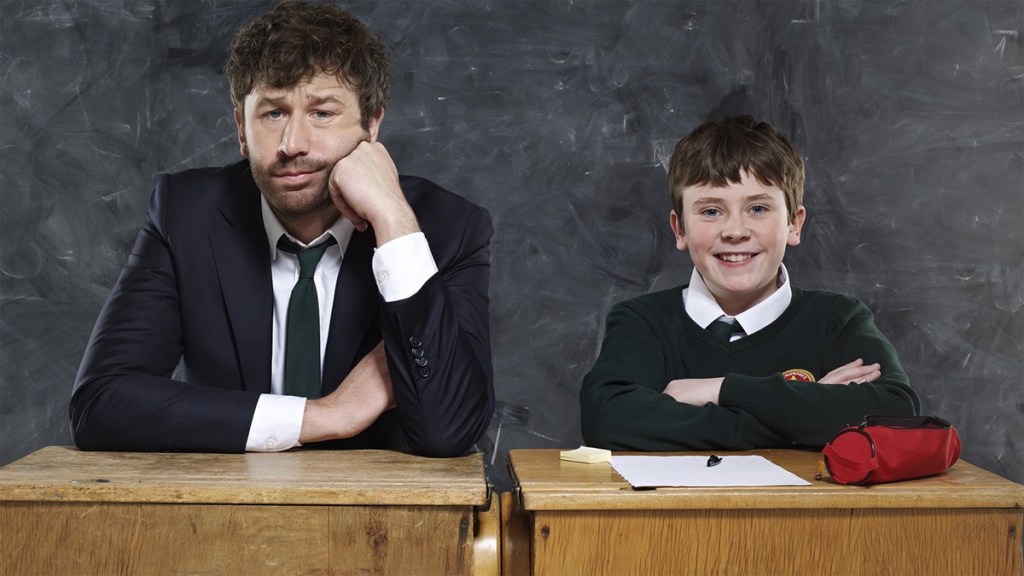 Chris O'Dowd's fond, funny sitcom is charm itself. Set in the late 1980s/early 1990s in the West of Ireland, it's the story of a boy with an imaginary friend that weaves silly fantasy (Johnny Vegas plays another imaginary friend, wrestler Crunchie Haystacks) with day-to-day family comedy. Nostalgia meets loveliness. Here's why we love it.
Where to stream? NOW TV
Mum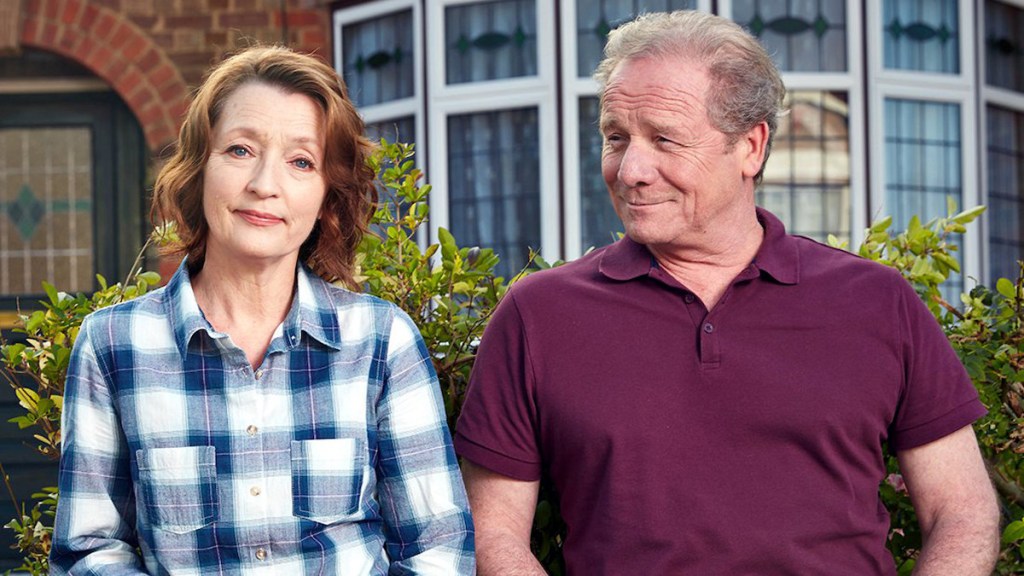 Come for the cast (Lesley Manville and Peter Mullan!) and stay for the urgent poignancy of Mum's characters, who can be divided into the likeable (Cathy and Michael), the likeable idiots (Jason, Kelly and Derek), and the horrible-but-stick-with-them-and-they'll-reveal-hidden-humanity-couched-in-extreme-loneliness-and-pain (Pauline). Another single-location comedy from Him & Her's Stefan Golaszewski.
Where to stream? Britbox
Murder in Successville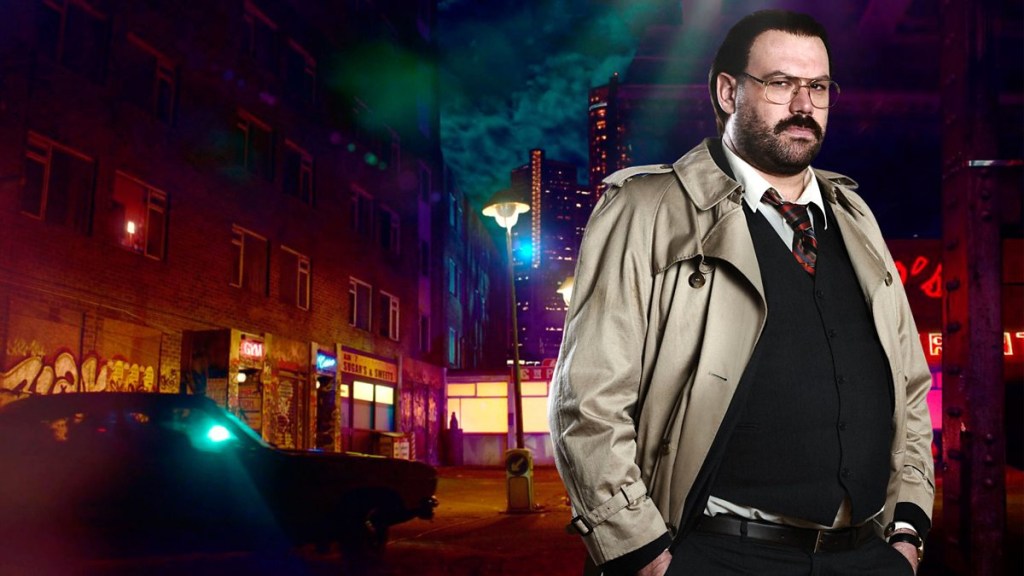 The premise doesn't necessarily sell this one – celebrities improvise their way through a comedy murder investigation – but its blessed daftness combined with Tom Davis' straight-faced DI Sleet is wonderfully escapist fun, something we could all use about now.
Where to stream? BBC iPlayer
My Mad Fat Diary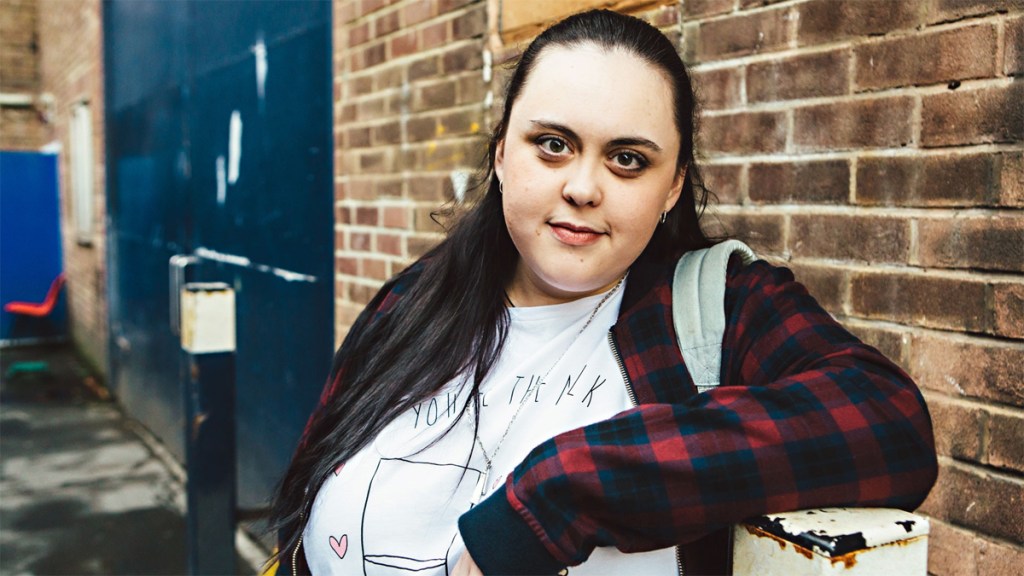 Rae Earl's two-volume teenage memoirs are terrific reads – funny, honest, a little bit heartbreaking, funny again… and with a bit of a time-shift (late 1980s becomes mid-1990s) they were turned into this terrific funny, honest, heart-breaking show. Sharon Rooney plays the lead, a bright, music-loving girl in treatment for mental health issues, with a cast including the young Jodie Comer and more stars of today. Here's more on why it's worth your time.
Where to stream? All4, Britbox
Nathan Barley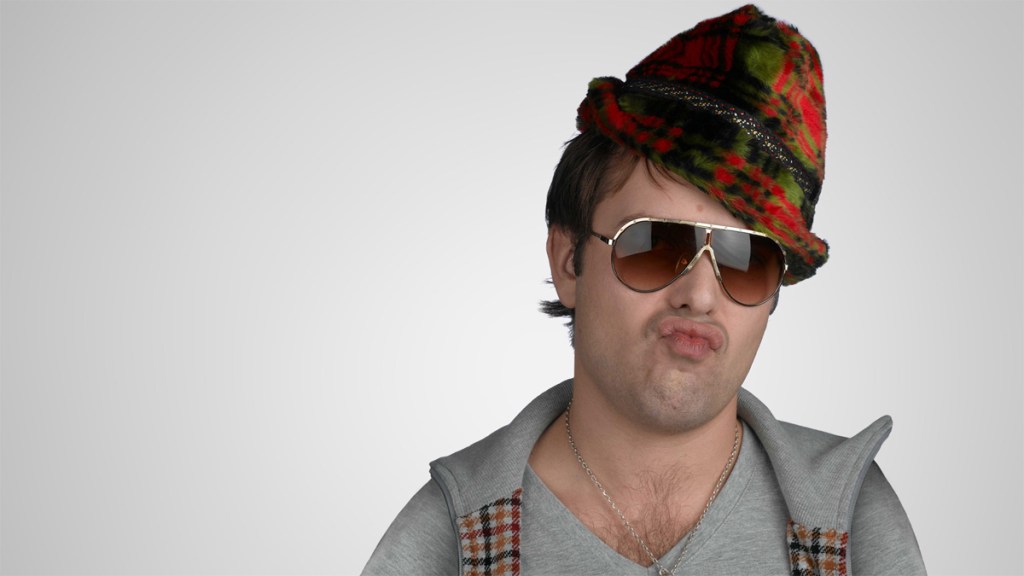 Chris Morris and Charlie Brooker imagined a hellscape, and lo, it came to pass. Back in 2005, they dreamt up this satirical comedy about self-facilitating media node Nathan Barley, an online video prankster slavishly following every moronic trend, backed by a whole raft of South East London wankers doing things ironically, yeah? In short, Morris and Brooker are witches who should be burned at a stake. Keep it foolish.
Where to stream? All4, Britbox
Nighty Night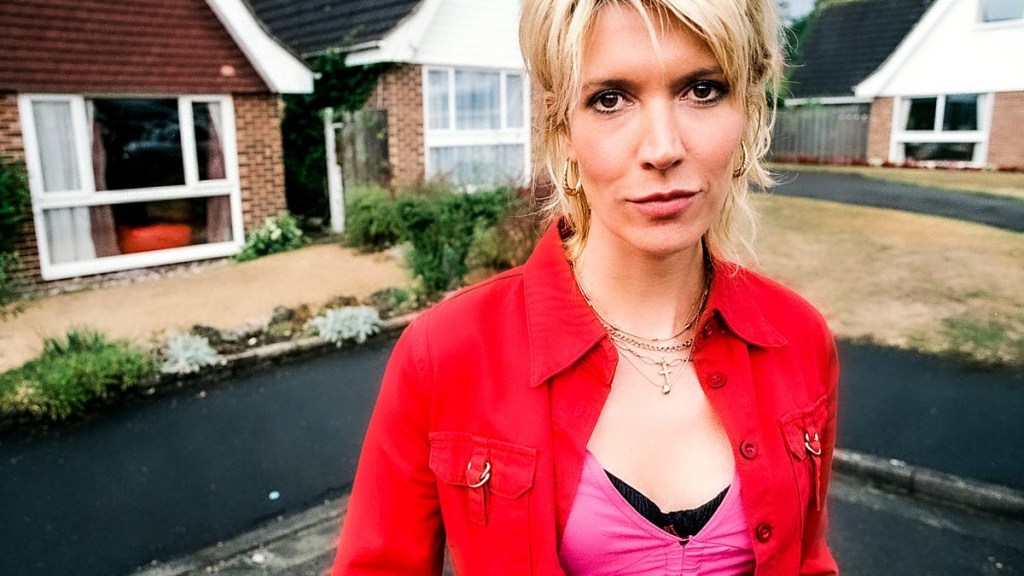 Julia Davis' comedy creations are all monstrous, but are any more monstrous than Nighty Nighty's Jill? A sociopathic hairdresser from hell who schemes her way into neighbour Cathy's home to seduce her husband, she's in a league of her own. With Rebecca Front, Ruth Jones, Kevin Eldon and Mark Gatiss among the cast, it's a black comedy joy.
Where to stream? BBC iPlayer
Peep Show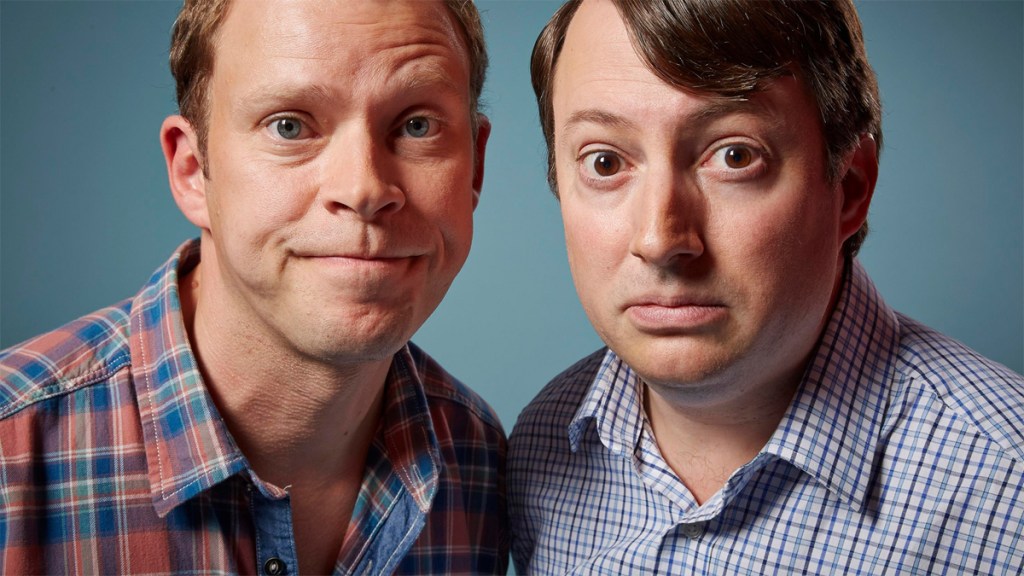 Sam Bain and Jesse Armstrong's Peep Show is a modern classic. Following the low-key lives of flatmates Jez and Mark, its point-of-view camera and inner monologues let us in on what's happening inside their heads and spoiler: it's rarely heroic. Robert Webb and David Mitchell are brilliant, and joined by the equally terrific Matt King, Olivia Colman and Isy Suttie.
Where to stream? All4, Netflix UK, NOW TV, Britbox
People Just Do Nothing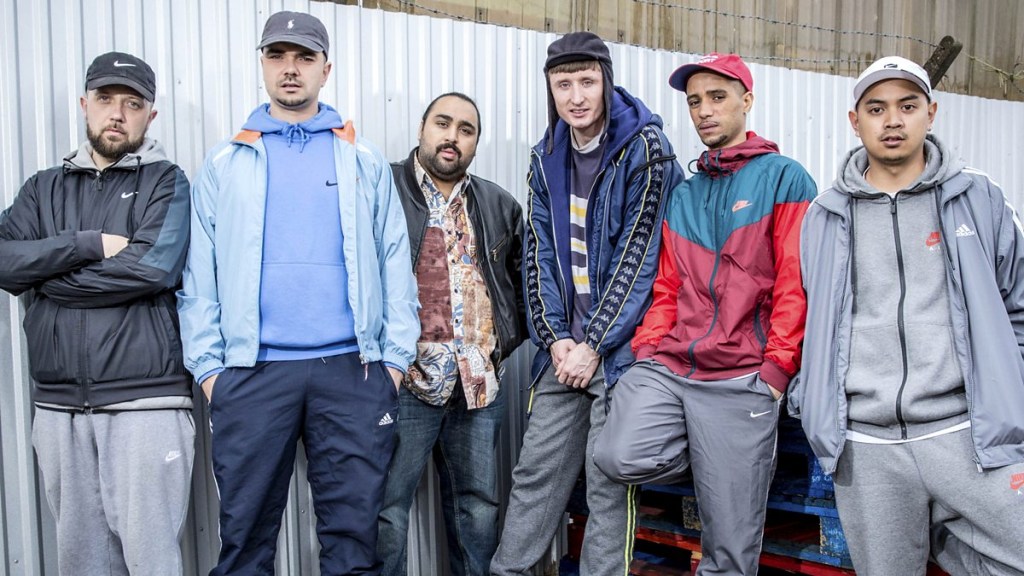 One of the best British comedies to surf the mockumentary wave (see also: This Country, below), People Just Do Nothing is about a group of friends running pirate radio station Kurupt FM, out of a flat in Brentford, West London. Meet self-aggrandising MC Grindah and his girl Lady Miche, Beats, Steve and modern-day Del Boy, Chabuddy G. Top performances, top characters and every so often, surprisingly emotional.
Where to stream? Netflix UK
Psychobitches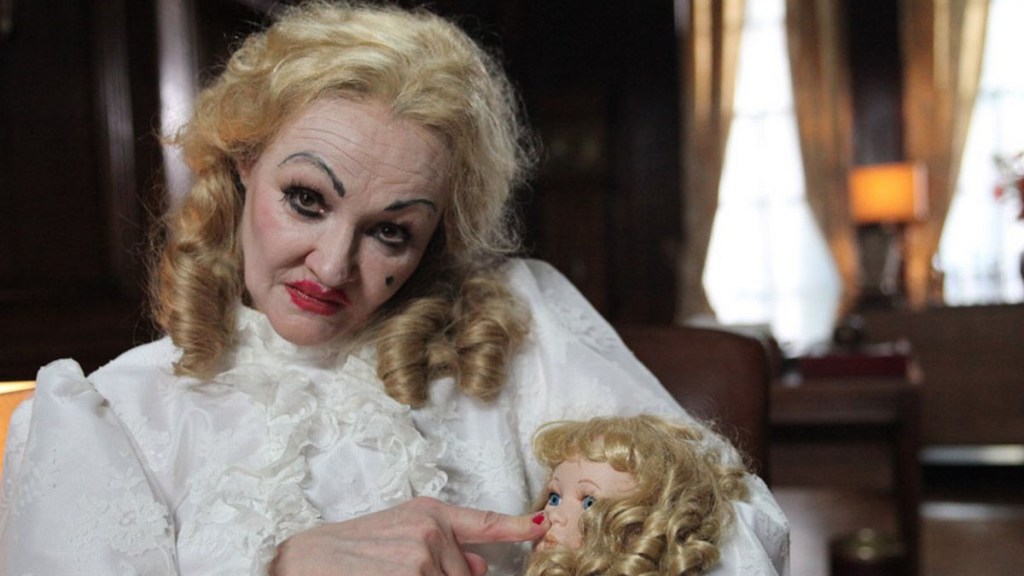 The premise: therapy sessions for famous women from across history (Boudica, Queen Victoria, the Bronte sisters, Sylvia Plath, Joan Crawford, Mary Magdelene, Barbara Cartland, Thora Hird, Mary Queen of Scots… the list is endless ) led by Rebecca Front as their therapist. With a huge cast of the funniest comic actors around, it's a sketch show that fills a perfect gap.
Where to stream? NOW TV
Red Dwarf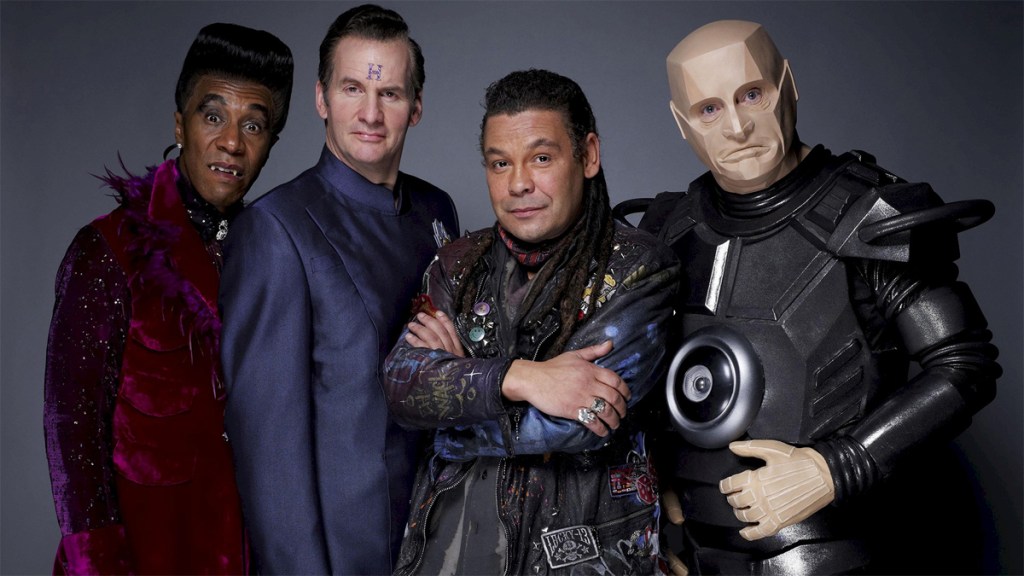 Red Dwarf requires no introduction on these pages. It's a stalwart British sci-fi classic that's been around since the 1980s, still making new episodes featuring the original cast of Chris Barrie, Craig Charles, Danny John-Jules and Robert Llewellyn as the hapless survivors/evolved feline beings/robot butlers picked up along the way of a spacecraft disaster. The classic eps are on Netflix, while UKTV Play has the stuff since the move to Dave.
Where to stream? UKTV Play, Netflix UK
Rev.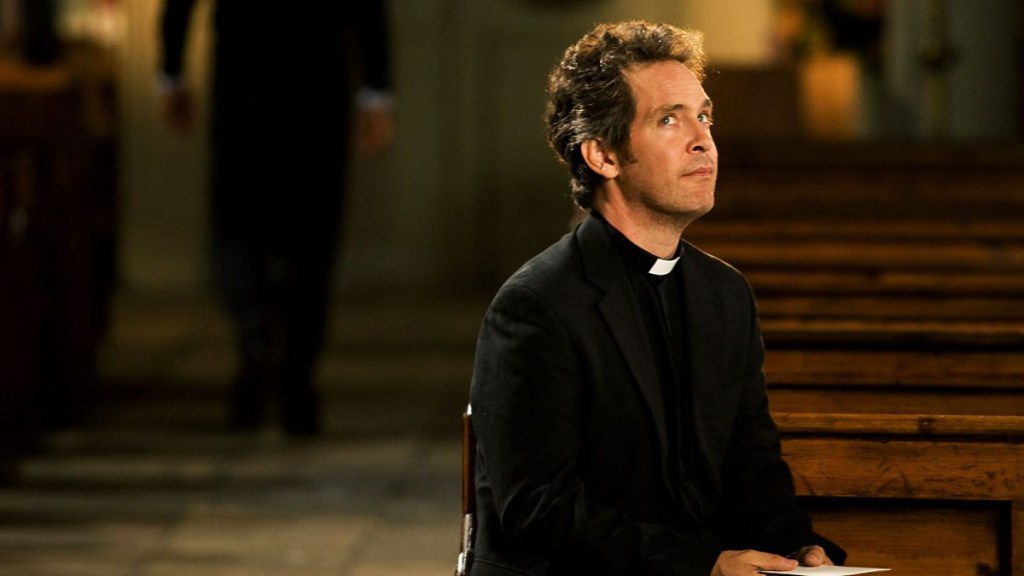 Tom Hollander and Olivia Colman star in James Wood's wry comedy about a vicar struggling with his faith in an inner city London parish. It's a beautiful piece of work, part cringe-comedy, part honest reflection of the eternal questions, with a top supporting cast of clergy and parishioners.
Where to stream? Britbox
Shameless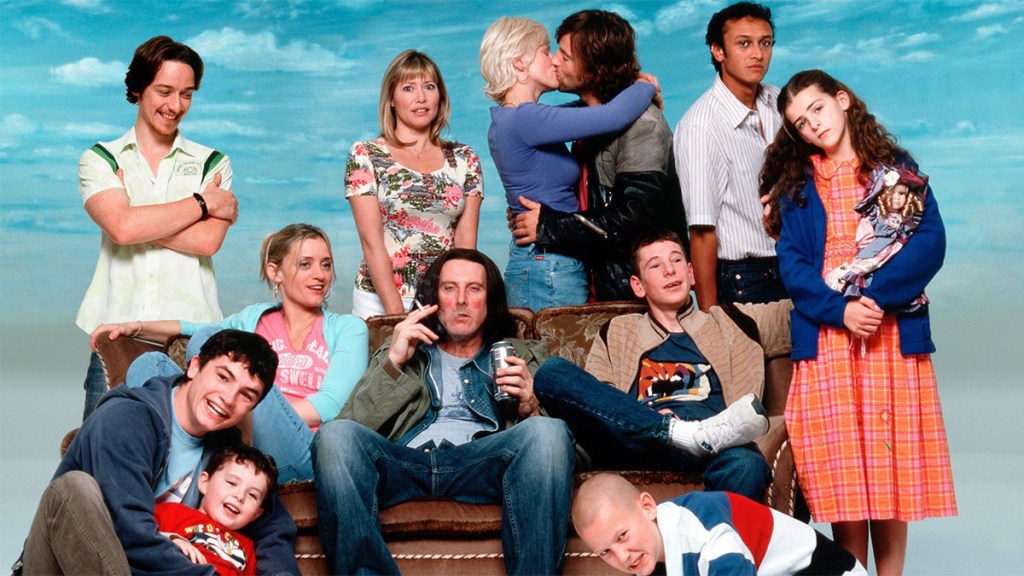 The OG Shameless, the British original with the cast of now-bonafide movie stars (James McAvoy, Anne Marie Duff, Maxine Peake…) led by proper Shakespeare actor David Threlfall, is available in its entirety on All4. Revisit the Chatsworth Estate and the Gallagher family in Paul Abbott's raucous comedy-drama.
Where to stream? All4
Spaced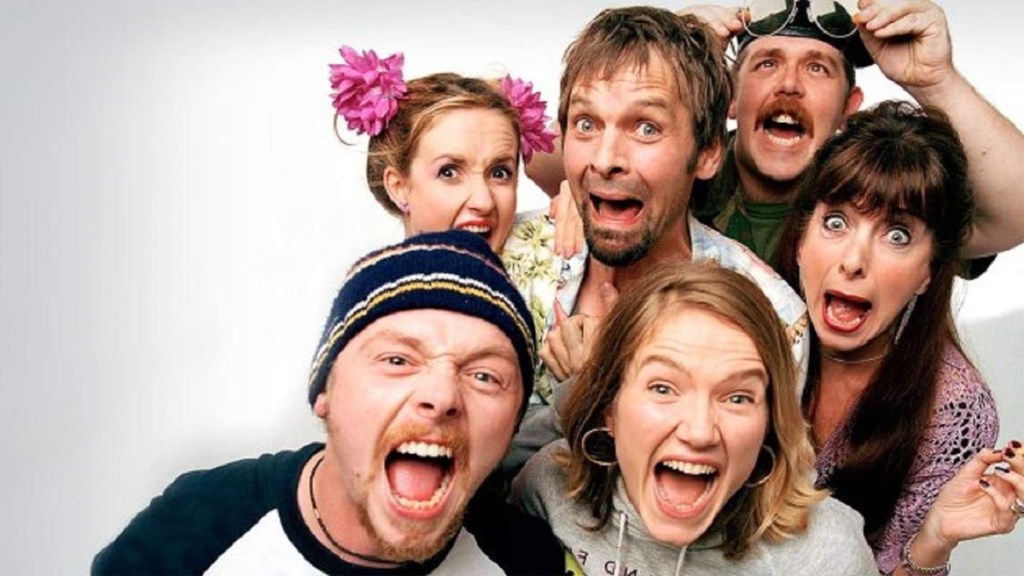 Jessica Hynes, Simon Pegg and Edgar Wright's Spaced recently turned 20 (not a typo, you really are that old). It's two perfect series of pop culture spoofs and weird cutaway scenes, following the lives of 20-something slackers Daisy and Tim and their mad cast of friends and neighbours. It's the sitcom that launched a thousand ships/other sitcoms that aspire to achieve the same heightened, imaginative energy.
Where to stream? All4, Britbox
Stath Lets Flats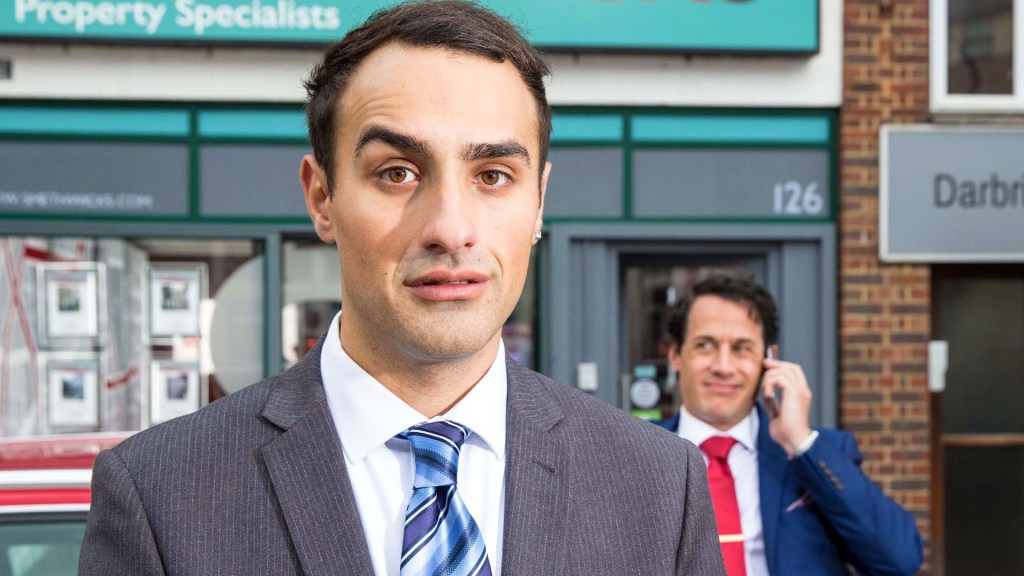 One of the very best British sitcoms of recent years, Jamie Demetriou's series about hapless (is there a word for more than hapless? Gormless? Witless? Both of those apply) Cypriot lettings agent Stath is a must-watch. It's cringe-comedy with great performances and a surprisingly sweet centre. Bonus: also stars Jamie Demetriou's sister Natasia (What We Do in the Shadows) and later down the line, her comedy partner Ellie White.
Where to stream? All4, Britbox
Stewart Lee's Comedy Vehicle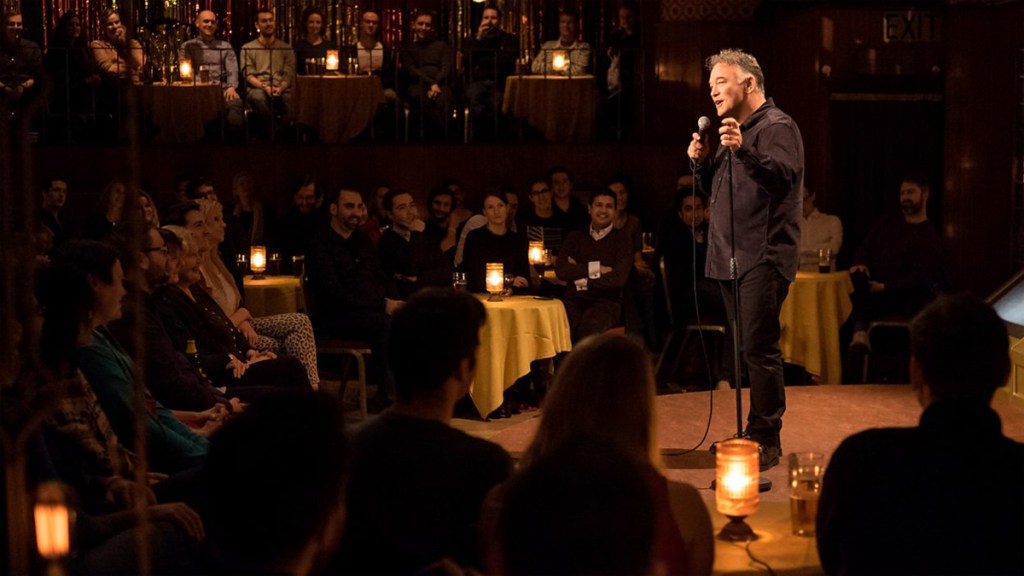 These meticulously crafted comedy monologues from alt-comedy royalty Stewart Lee are clever, satisfying half-hours, interspersed with self-aware dissection interviews between Lee and other comedy heroes Chris Morris and Armando Iannucci. Arguably Britain's best stand-up in your living room. Who can say fairer than that?
Where to stream? BBC iPlayer
Taskmaster
One of TV's funniest comedies (more on that here), Taskmaster is the brainchild of co-presenter Alex Horne. Adapted from his Edinburgh stage show, it takes five comedians and sets them a series of mostly pointless, absurd tasks, then plays the results in the studio for evaluation and scoring by the Taskmaster himself (Greg Davies). There have been nine series and a champion of champions special so far, so plenty to catch up on before it arrives on Channel 4 for series 10. Family friendly viewing too, if the odd swear doesn't bother you.
Where to stream? UKTV Play
The Goes Wrong Show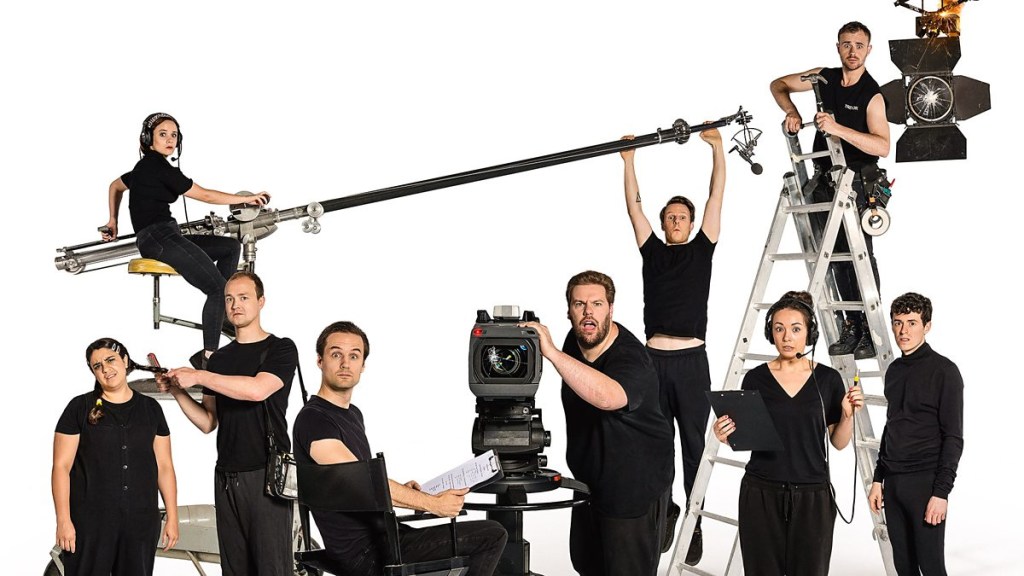 First it was a hit stage show which spawned several other theatre productions, then it was a Christmas TV special, and now Goes Wrong is a full-on six-part series. The premise: an amateur dramatics group put shows on, but they go wrong. It's lovely, giggly family viewing suitable for all ages (not a huge amount of that about), totally undemanding but skilled stuff, with a silly Airplane-style sense of humour.
Where to stream? BBC iPlayer
The IT Crowd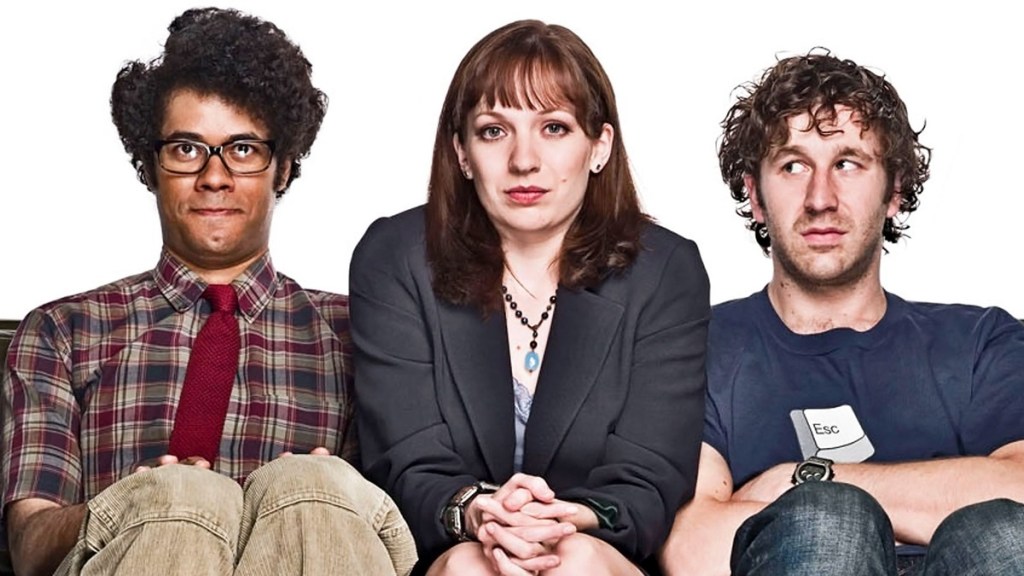 Have you tried turning it off and on again? Reynolm Industries' IT department is the setting for this adored comedy starring Richard Ayoade, Katherine Parkinson and Chris O'Dowd. From the co-creator of Black Books and Father Ted, it's a heightened world peopled by strange caricatures (Noel Fielding plays a vampire, Matt Berry wears electric sex pants), and another modern alt-classic.
Where to stream? All4, Netflix UK
The League of Gentlemen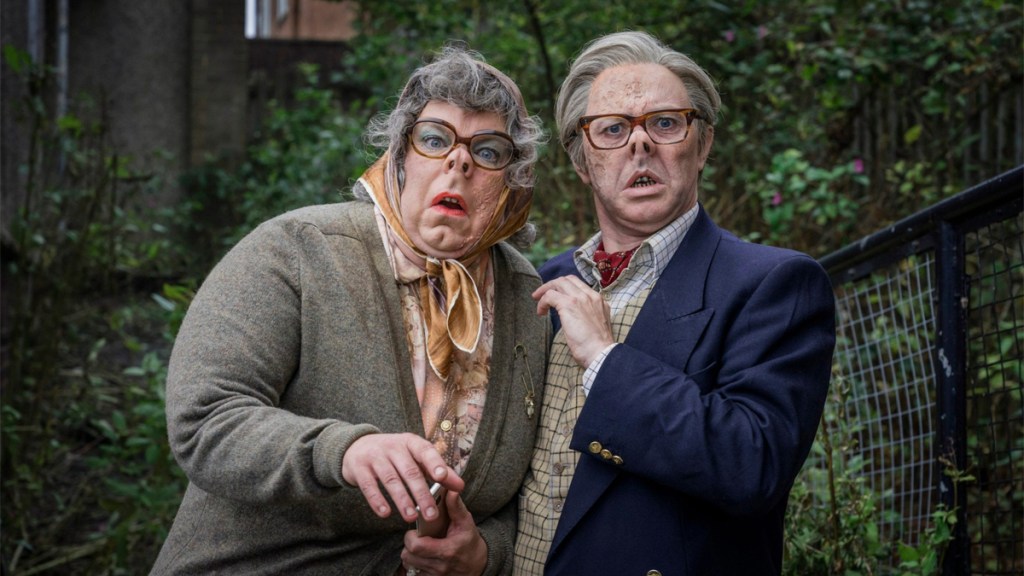 This is where it all started for the creators of Psychoville, Inside No. 9 and Sherlock. Reece Shearsmith, Steve Pemberton, Mark Gatiss and Jeremy Dyson populated the town of Royston Vasey with a cast of grotesques in this cult dark comedy, recently revived for a lengthy stage tour. Read more about its peculiar genius here.
Where to stream? BBC iPlayer, Netflix UK
The Mighty Boosh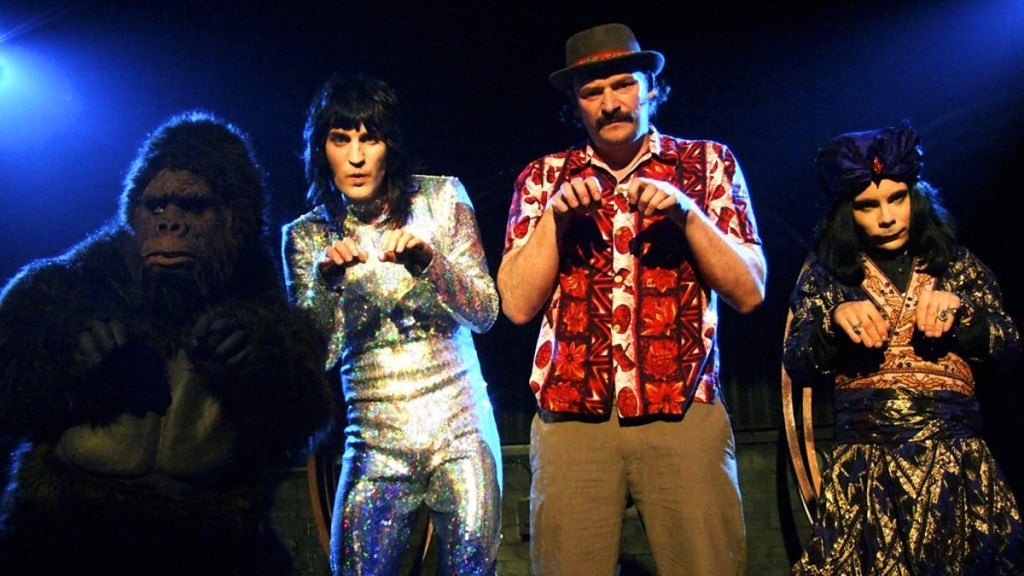 First an Edinburgh stage show, then a BBC radio series, then three series of this adored bonkers comedy, Julian Barratt and Noel Fielding's The Mighty Boosh captured the hearts of electroboys and electrogirls everywhere. It's set in a strange fantasy world of shamen and talking gorillas, and mixes excellent musical numbers in with colourful animation and mad comedy creations. Unbridled invention. Here's more on that.
Where to stream? BBC iPlayer, Netflix UK
The Office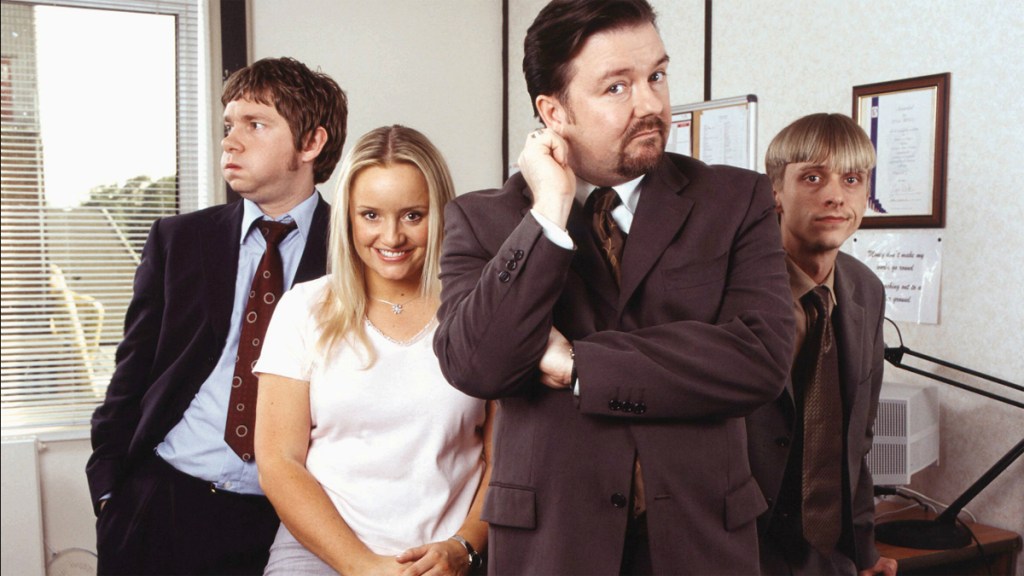 Slough paper merchant Wernham Hogg is the seat of action for Ricky Gervais and Stephen Merchant's mockumentary comedy about working life. David Brent became a comedy archetype the second he arrived on screens, and The Office has the rare boast of having a US remake that's genuinely great and also available in full to Amazon Prime subscribers.
Where to stream? Netflix UK
The Royle Family
Before watching television about other people watching television was a thing, Craig Cash and the much-missed Caroline Aherne did it with The Royle Family, a low-key Manchester-set comedy series about the Royles, a family whose lives play out around the box. Simply put, it's a modern classic, with top tier comedy performances from Ricky Tomlinson, Sue Johnston and, well, everybody.
Where to stream? Netflix UK
The Thick of It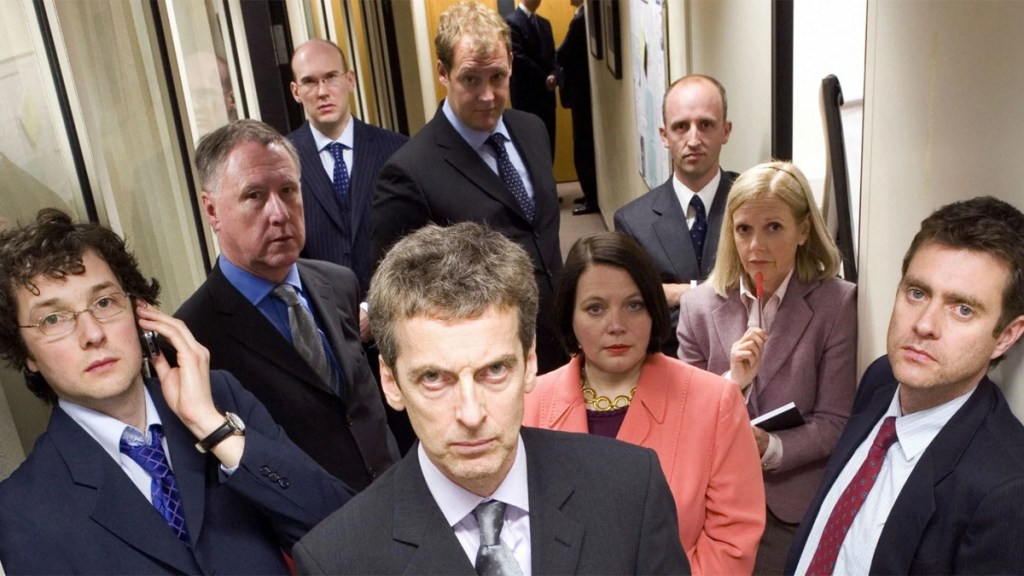 If Nathan Barley foresaw the advent of the hipster, then Armando Iannucci's political satire The Thick Of It foresaw everything else. Set behind-the-scenes in the inner workings of British government, it predicted countless real-world political fuck-ups as well as actual policy (the bedroom tax, for one). Sharp, tuned-in, brilliantly performed and taking expletives to another level in the balletic swearing of one Malcolm Tucker, watch it, rewatch it, and then watch excellent US spin-off Veep on NOW TV.
Where to stream? BBC iPlayer
The Trip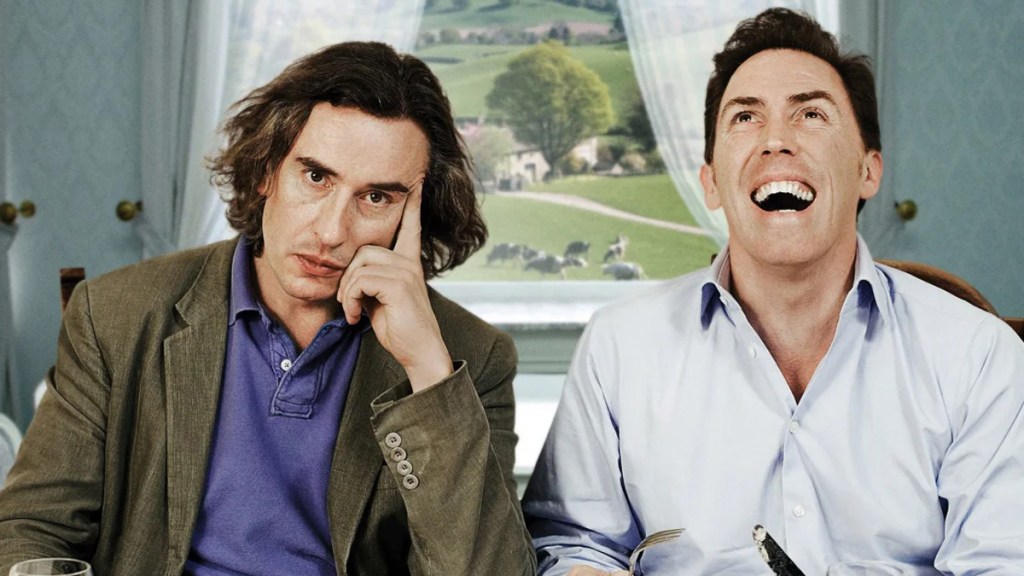 Steve Coogan and Rob Brydon playing not-really-them versions of themselves pottering around Europe eating at fine-dining restaurants while doing impressions for each other and eyeing up the waitresses may sound teeth-itchingly smug, but it isn't. It's great, funny, sometimes poignant and almost always beautiful to look at. Think of it as a much-needed continental tour from the comfort of your sofa.
Where to stream? NOW TV
This Country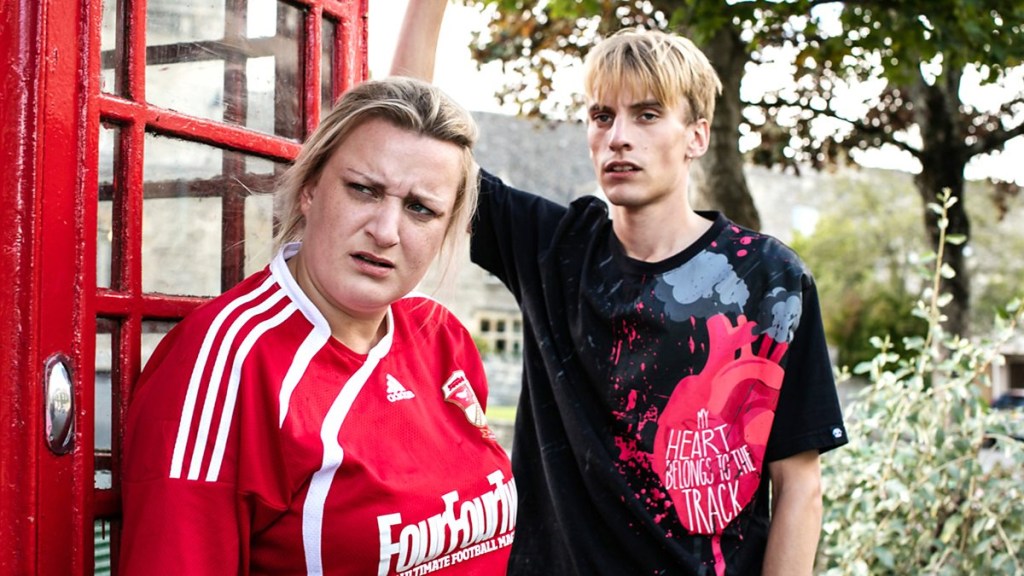 Daisy May Cooper and Charlie Cooper's BBC mockumentary is lovely comedy stuff. Its third and final series recently made a graceful exit on BBC One, and all episodes are available here. It follows Kerry and Kurtan Mucklowe, two cousins played by the real-life brother and sister creators, whose lives in a rural village is being documented by a film team, along with that of Scary Mandy, Kerry's 'peeper' dad, the Vicar and more.
Where to stream? BBC iPlayer
Toast of London
Matt Berry plays Steven Toast (already funny), a jobbing vainglorious actor who lives in a heightened world of moustachioed nemeses and unlikely caricatures in this untrammelled comedy series. The voice, the songs, the costumes, the mad scenarios, the guest stars (Jon Hamm!) the noun-surnames… there's a lot to love here.
Where to stream? All4, Netflix UK, Britbox
W1A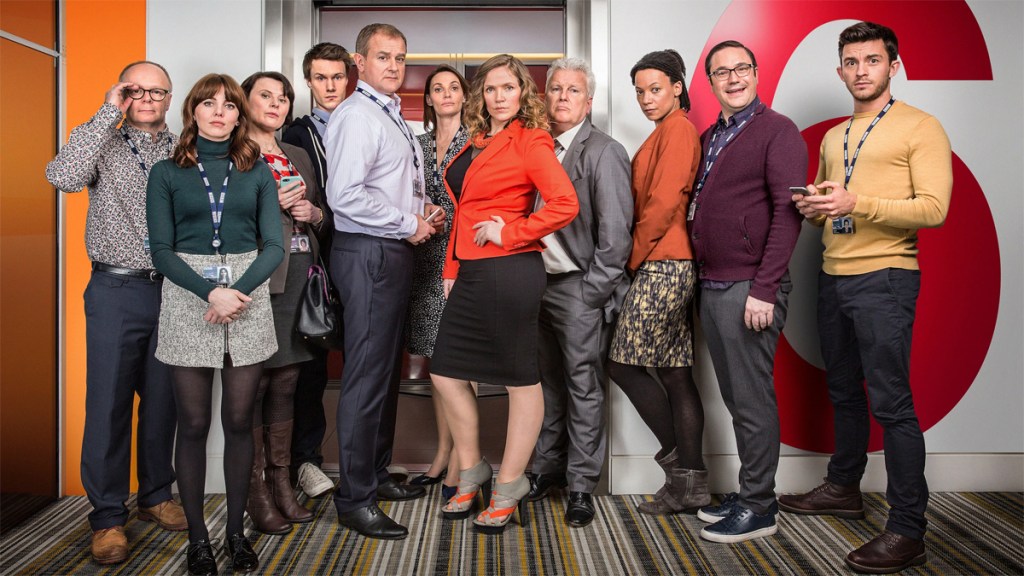 Specificity makes comedy, and you can't get much more specific than this satirical mockumentary set behind the scenes at the BBC. It's a follow-up to London Olympics-based series Twenty-Twelve, also narrated by David Tennant, and continuing the travails of Ian Fletcher, Head of Deliverance and colleagues. More jargon, disasters, meetings and joy from John Morton's comedy brain.