Features
The Best Movies of 2023 (So Far)
As the summer movie season winds down, we look at some of the best movies of this year released this year...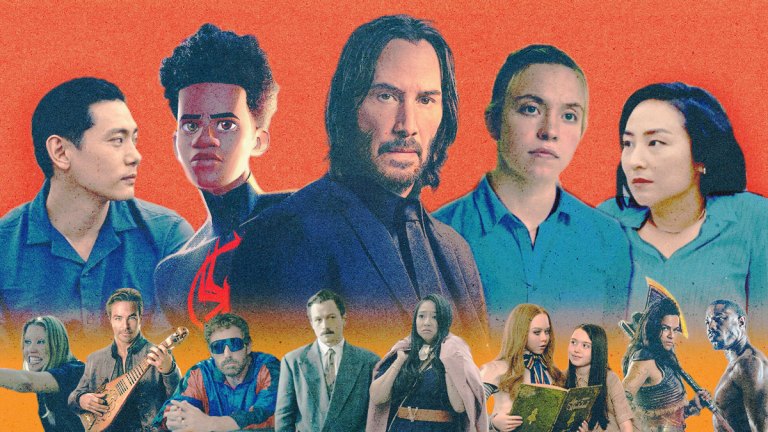 The summer movie season is not quite over yet, but it's getting there. Historically, August is treated as the "dog days of summer" by American distributors. It's a chance to release shaggy dogs and sometimes sideways swings (we should say, though, you need keep a big eye out for indie comedy Bottoms). For that reason, the end of July feels like a good chance to pause and take stock of the year that's so far been in cinema.
It's definitely a mercurial one. Consider that at this point, we should theoretically be anticipating the fall slate and how awards season is about to unofficially begin with the trifecta of film festivals in September: Venice, Toronto, and Telluride. But while those festivals are going forward, so is plenty of apprehension about whether what's being shown at those places will actually release to audiences in 2023. The elephant in the room is, of course, the dual strikes led by the WGA and SAG-AFTRA guilds, as well as studios and streamers who continue to pretend sharing residuals from streaming, or putting guardrails on A.I. while creating new projects, are non-starters.
It's enough to make you feel a bit bleak about the entire industry. And yet, despite this moment of uncertainty occurring off-screen, 2023 has had plenty of great moments onscreen. Audiences, in fact, appear to be giddy off the one-two punch of "Barbenheimer." Additionally, it's been a pretty good year for original movies (or at least fresh IPs) overall, with plenty of medium-budget hits in the spring seeming in retrospect to presage the aforementioned risks taken by Christopher Nolan and Greta Gerwig. But beyond all that, what are the movies you should have on your radar, especially if you missed them during their initial debuts? Well, we here at Den of Geek have looked back at the first seven months of 2023 to collect what we consider to be the better films released this far into the year, from indie darlings to even a few superhero franchises that can still soar. Enjoy.
*Editor's Note: This list will be presented in alphabetical order.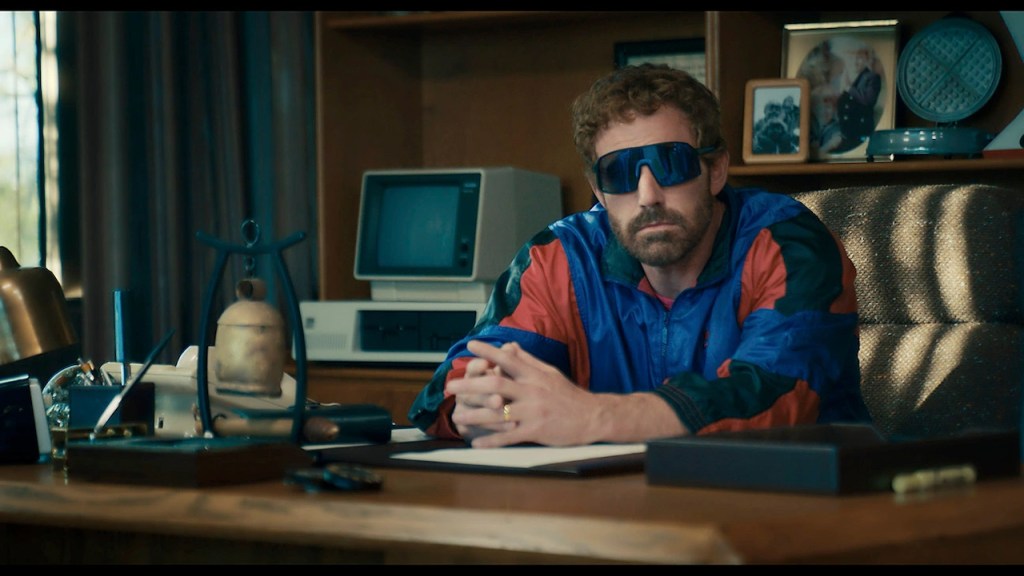 Air
Ben Affleck's Michael Jordan movie, which famously does not feature Michael Jordan beyond archival footage and an actor standing in for the back of Jordan's head, seemed like a curiosity when it was first announced. Yet it turned out there was good reason Amazon Studios opted to release this into cinemas after seeing how well it played in front of an audience: It's the best Nike commercial since Michael Jordan himself was promoting their sneakers back in the '80s and '90s. It's also a damn good movie in its own right.
Still, this is very much the origin story for those fabled Air Jordans, with middle-aged sad sack Sonny Vaccaro (Matt Damon) leveraging his career at Nike, a then third-rate shoemaker, to bet it all on the incoming NBA rookie from UNC. Air trades on millennials and Gen X's nostalgia for wanting to be like Mike (or seeing Damon and Affleck work together again, for that matter), but for all of its gloss and '80s jams, Air also works as an illuminating metaphor for filmmakers who still try to find art and meaning in a business increasingly driven by corporate spreadsheets and empty commercialism. That in its third act, Viola Davis' Deloris Jordan (Michael's mother) suddenly becomes the main character proves to be its clutch secret weapon. This is a crowdpleaser that lands with nothing but net. – David Crow
Available to stream on: Amazon Prime Video (U.S. and UK)
Are You There God? It's Me, Margaret.
Unfortunately this adaptation of author Judy Blume's seminal 1970 coming-of-age novel from director Kelly Fremon Craig (The Edge of Seventeen) did not strike a chord with modern filmgoers. In fact, it arguably might have been the canary in the coal mine for a host of other failed 2023 releases banking on nostalgia, like The Flash and Indiana Jones and the Dial of Destiny. And it's a shame too, since Craig deftly brought the story of Margaret (Abby Ryder Fortson) to life in warm, funny, and poignant fashion, making it timeless while keeping it squarely in its 1970s setting.
Even if the lack of smartphones and social media might have proved too confusing to younger audiences not familiar with Blume's book, Margaret's first steps into puberty and womanhood, while dealing with all the usual trials of school, friends, and boys, are still engaging and truthful as ever. Here's hoping that Margaret, both the book and the film, manages to find new fans again. – Don Kaye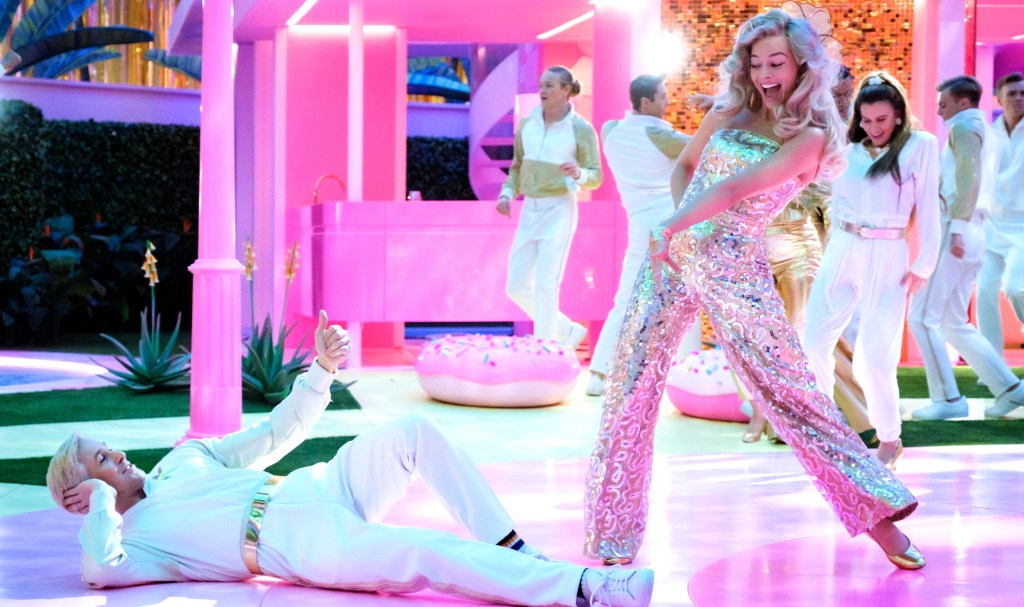 Barbie
Arguably the biggest cultural event happening in a multiplex this year, Greta Gerwig's Barbie arrived like a bolt of thunder in Hollywood. It turns out audiences might actually want new and creative things, even if the movie is based on a popular doll. They certainly seem to want more first installments in franchises as opposed to eighth ones, and Gerwig's reimagining of Mattel's flagship brand is (miraculously) a true original.
Bursting with energy and ideas, as well as a clever third act twist involving the relationship of Barbie (Margot Robbie) and Ken (Ryan Gosling), Barbie is a sharp metaphor for gender dynamics in the 21st century, as well as a genuinely funny comedy that's found a large audience. The movie isn't perfect, and not every joke or tonal switchback lands, but as a whole the film floats with an effervescence above its pink-pastel sands, particularly due to the performances of Robbie and Gosling, the latter of whom should be a genuine contender for the Best Supporting Actor Oscar. – DC
BlackBerry
When it comes to the wavelet of films that came out this year retelling the origin story of, uh, brands (a list that includes Air, Tetris, Pinball, Flamin' Hot, and, arguably, Barbie), this tiny Canadian indie made for $5 million may be the best of them all. Jay Baruchel is magnificent as Mike Lazaridis, the deeply nerdy, socially awkward genius who manages to create the BlackBerry and usher in a new era of mobile personal communication. Writer/director Matt Johnson plays his partner/best friend while Glenn Howerton is incendiary as Jim Balsillie, the businessman they hire as CEO of their company (Research In Motion), whose aggressive tactics both lift them up and ultimately bring them down.
Sharply written, highly intelligent, and incisive in its view of how money and greed can poison creativity and imagination at every turn, BlackBerry is also often hilarious, affectionately poking at both nerd culture and capitalist piggery. It's probably the most fun you'll have watching this kind of thing. With the BlackBerry itself now long gone, you won't get the sensation of watching a two-hour commercial. – DK
Available to rent on: Amazon, Apple
Creed III
This extension of the Rocky franchise, becoming a narrative unto itself, continues in fine if somewhat predictable fashion with Creed III, which finds star Michael B. Jordan stepping confidently behind the camera as well as in front of it for his first feature film as a director. Jordan handles the character material, the pacing, and the visuals quite capably, bringing an imaginative, stylized zest to the fight scenes that marks him as a filmmaker to watch.
But the real star of the movie is Jonathan Majors as Adonis Creed's childhood friend/mentor Damian, who emerges from an 18-year stint in prison looking for what he feels is the shot at the title that he never got. Majors is magnetic, intimidating, and eminently watchable throughout, and the personal and physical clashes between him and Jordan's Adonis are the high points in a story where every beat is pretty much laid out well in advance. That doesn't stop Creed III from being rousing entertainment, however, although it remains to be seen whether there's more gas left in this franchise's tank. – DK
Available to stream on: Amazon (U.S. and UK)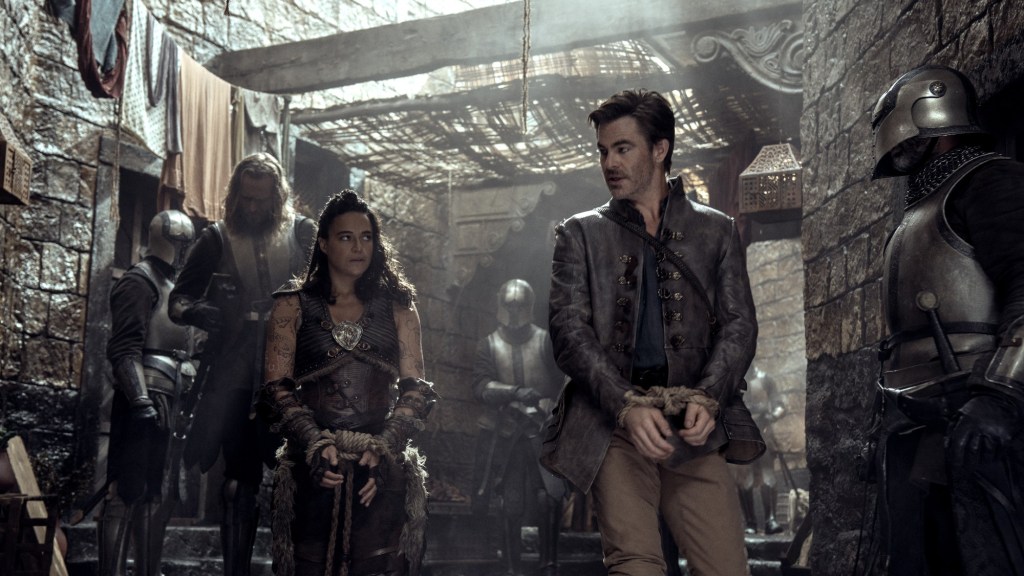 Dungeons & Dragons: Honor Among Thieves
For decades, Dungeons & Dragons as a brand has been associated with nigh impenetrable layers of esoteric geekery and (in some incredibly sheltered circles) satanic occultism. So leave it to the directors who gave us Game Night to crack the code for a D&D movie by turning it into an easy-breezy comedy in the vein of Stardust and The Princess Bride. A genuinely funny romp, Honor Among Thieves both respects the nerdy minutiae of its source material while still being able to glance at it sideways.
A big reason this is made possible is a cast which conjures a wall-to-wall charm offensive. They're led off by the appropriately judged oil and water dynamic between Chris Pine and Michelle Rodriguez, but elsewhere the movie also scores points by presenting Hugh Grant at his smarmiest and Regé-Jean Page as a traditional D&D paladin character. He is thus simultaneously dashing and insufferably pedantic, depending on your disposition (which s a little bit like the tabletop game itself). It all melds into a spell that might be fleeting, but it's nonetheless enchanting while up there on the screen. – DC
Available to stream on: Paramount+ (U.S. only)
Elemental
The box office woes of Pixar these days often obscure what makes the animation house still special when it's firing on all cylinders: they produce high-caliber fables that work just as well for adults as children. While we wouldn't suggest Peter Sohn's Elemental is in the highest echelon of that legacy, it is a genuinely charming love story. A metaphor about a flame-and-water romance may be as subtle a blast from a firehose, but it works and deserved a larger audience than it's so far found.
The picture is set in a fictional world where the four elements—earth, fire, air, and water—are anthropomorphic beings trying to make it in the big city. So basically it's modern day New York City with water-people making up the one percent and upper middle-class, and fire-people representing mostly foreign-born immigrants relegated to the outer-boroughs. It's there that Ember (Leah Lewis) grows up being taught to resent water folks until an adorkable one working for the city, Wade (Mamoudou Athie), falls in love with her, and she's kind of smitten too. It's a simple, and winning, American immigrant story.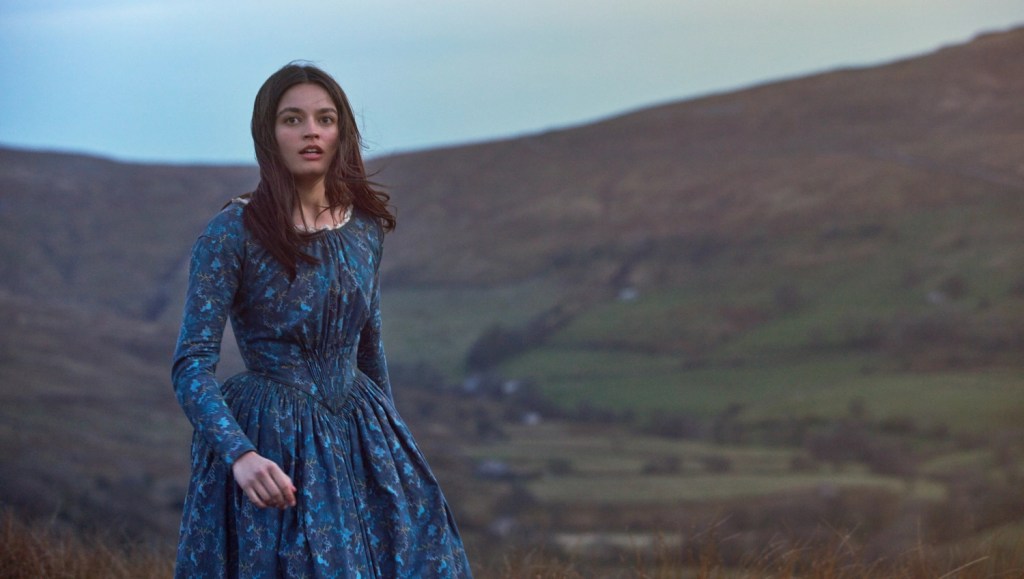 Emily
Fictionalizing the real life of an author so it better resembles their most famous work is a tricky proposition. It often can play as aggressively twee (Becoming Jane) or too satisfied with its winks and asides (Shakespeare in Love). So Frances O'Connor's moody and effecting directorial debut, Emily, is something of a unicorn. Without a trace of irony or hauteur, the film walks the line between biopic and wish fulfillment while examining the life of Emily Brontë through as Gothic and forlorn a lens as the one she used in Wuthering Heights.
A breakout showcase for actress Emma Mackey, Emily lives happily in the gloomy cynicism that the middle Brontë sister found ever so invigorating. Hers is a life of poetry by tombstones and stolen kisses by flickering candlelight; it's also of a gushing romantic heart that's kept smothered by the religious mores of her day, as well as the far more earthy human vices of jealousy, cruelty, and selfishness. Emily, her brother, and her illicit lover (an easily corruptible vicar, no less!), make for a bizarre kind of emotional love triangle that proves as vampiric as the cold gaze of Heathcliff on the moors. What a refreshingly bleak, and authentically Gothic, slice of romanticism. – DC
Available to rent on: Amazon, Apple (U.S.); available to stream on: Now (UK)
Guardians of the Galaxy Vol. 3
In some ways it's a wonder this film made it to the screen intact given the firing and rehiring of writer-director James Gunn, the further delays in filming, and Marvel Studios' well-documented and overall travails in navigating a post-pandemic (and post-Endgame) box office. But amazingly, Guardians Vol. 3 not only arrived to lift Marvel fans' spirits, but ended up being a stirring, highly emotional, and beautifully rendered finale to the MCU's most quirky trilogy of films.
Perhaps the most personal of Gunn's films yet, Guardians of the Galaxy Vol. 3 focuses on Rocket Raccoon's dark origins (in a manner that gets quite disturbing at times), paralleling his story with the challenges faced by his fellow Guardians as they battle to save Rocket's life and defeat the terrifying High Evolutionary. As unsettling as Rocket's journey gets, his (and the other Guardians') eventual transcendence provides the film with the deep empathy for our heroes that has seemingly been harder to find in other recent MCU offerings. All this, plus Gunn's deftness in keeping the essential sweetness of the team's cracked dynamic front and center, makes Vol. 3 an undisputed high point of the MCU's uneven Phases 4 and 5. – DK
Infinity Pool
Brandon Cronenberg came into his own as a filmmaker with the hallucinatory nightmare that is Infinity Pool. Initially predicated on the worst anxiety for wealthy tourists eager to exploit the natural beauties of impoverished nations, the film at first glance is the legal hell of what happens when an author named James (Alexander Skarsgård) ventures out of the artificial luxuries of his resort vacation and into the local areas where he accidentally kills a man in a hit and run.
What makes Infinity Pool so twisted, though, is how it transforms that opening horror into something more sinister and primal. It turns out the film's fictional country has mastered the science of cloning—and real-life replicas that maintain all your memories, at that!—and they use it as a veritable "get out of jail free" card for wealthy tourists. What James did is a capital offense, but he can watch his clone be executed in his place for a price. And that's just the tip of the iceberg as he discovers other tourists like Gabi (Mia Goth at her most blithely perverse), a fawning fangirl of James' book who comes to this country in order to play real-life GTA.
An aloof and ultimately Freudian mingling of sex, death, and self-destruction, Infinity Pool is a film that glistens on its surface, but while there are are no edges in its presentation, as you reach deeper, the picture reveals a truly jagged nature. – DC
Available to stream on: Hulu (U.S.); available to rent on: Amazon, Apple (UK)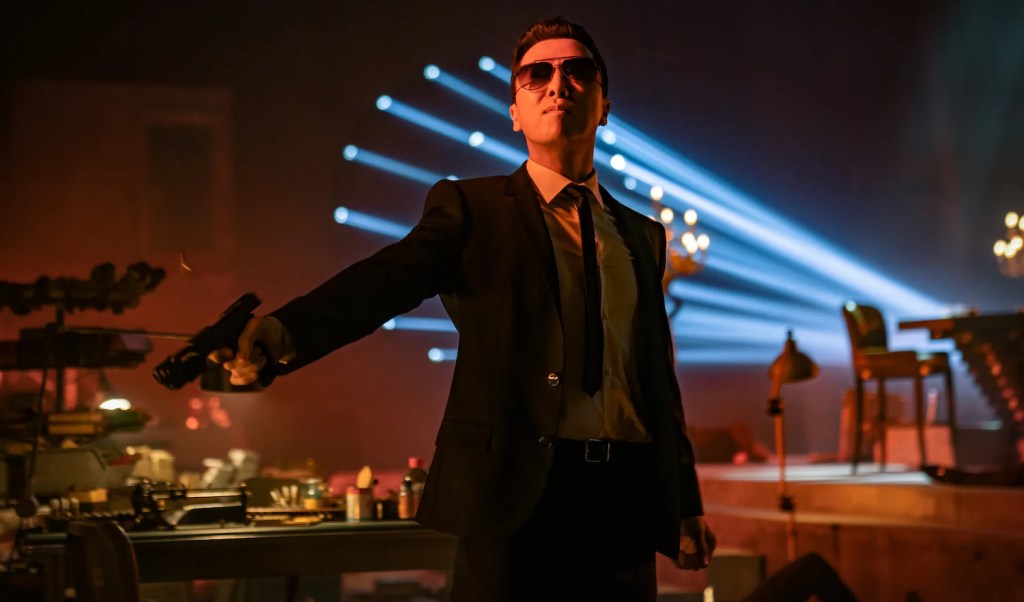 John Wick: Chapter 4
John Wick: Chapter 4 is the grand symphony of gratuitous movie violence. The first trio of films in the saga were certainly spectacles unto themselves too, but for the first Wickian adventure since the pandemic, director Chad Stahelski and star Keanu Reeves surpassed all expectation by delivering an honest-to-Lean epic that is nearly three hours in length and begins with an homage to Lawrence of Arabia where John chases down his prey at sunrise across the desert while still wearing that finely tailored three-piece suit.
Before Chapter 4, the Wick flicks were beginning to risk descending into self-parody as the story of John's journey into the surprisingly bureaucratic and genteel underworld became ever more ludicrous. Yet there is such an operatic majesty to what feels like the finale to John's story in Chapter 4 that it elevates the whole series, not least of all because this one has all the best action sequences. Adding Donnie Yen as a secondary protagonist has that effect, and the final 45 minutes of the film where Reeves and Yen paint the streets of Paris red is an all-timer for martial arts gun-fu. If this really is the end, John earned his rest. – DC
Available to rent on: Amazon, Apple (U.S. and UK)
Joy Ride
It's heartening to see studios slowly dip their toes back into the water of R-rated comedies. And of those so far released in 2023, Adele Lim's uproarious Joy Ride is the funniest one yet. A strong showing for first-time helmer Lim, who co-wrote the movie with Cherry Chevapravatdumrong and Teresa Hsiao, Joy Ride is a familiar road trip raunch-fest. However, because this particular trip is embarked on by four Asian-American friends (Ashley Park, Sherry Cola, Sabrina Wu, and Everything Everywhere breakout Stephanie Hsu), and their journey is through the Chinese countryside, the material for the laughs turns out be acutely original and ruthlessly egalitarian in its targets.
All four leads are game for a project that balances innocent cheerfulness with a filthy, no-holds-barred aim to satirize everything from the conservative niceties of Chinese society to the zealotry of K-Pop fandom. That the movie can get away with featuring a scene where the four leads are forced to smuggle cocaine inside their bodies while also painting an authentic portrait of the duality of being a product of Chinese and American cultures is a testament to the filmmakers' deft ability to juggle tones. Or, in other words, it turns out everything goes down better with sex jokes about the devil's triangle. – DC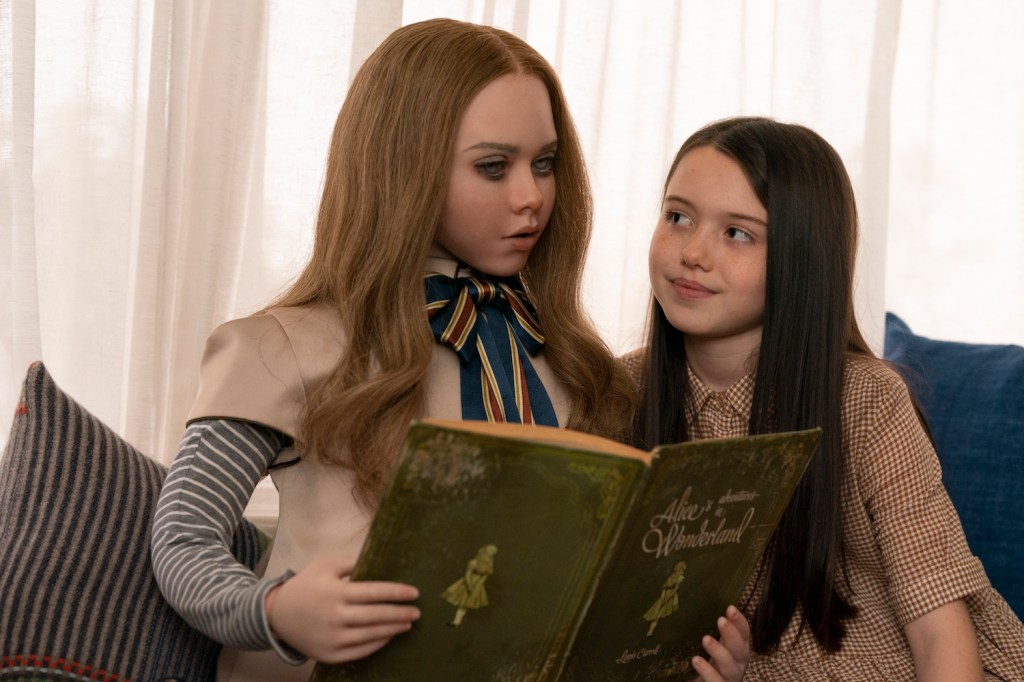 M3GAN
A clever combination of horror and sci-fi that introduced a whole new generation to its own killer doll movie, M3GAN leans hard on the ongoing debates about what artificial intelligence means for humankind's future. It also taps into the anxieties of every parent and guardian. In this case that's Allison Williams' overworked scientist. She's had parenthood forced on her when her niece is suddenly and tragically orphaned. Williams' protagonist dreams to life M3GAN: a toy that can actually be a constant, interactive companion to their kids. She also unintentionally exposes her family to a serious exploration of the loneliness of modern-day kids.
This doesn't mean M3GAN takes itself too seriously though. Right from the start, there's a playfulness and slight edge of camp that keeps the movie light (even when M3GAN offs someone's pet) and generally fun. Writer Akela Cooper and director Gerard Johnstone know exactly what they're working with; they understand the basic silliness of their premise and before things get too grimdark, M3GAN busts out her already famous dance to take things to a different level. This one was a true January surprise. – DK
Available to stream on: Amazon (U.S.); available to rent on: Amazon, Apple (UK)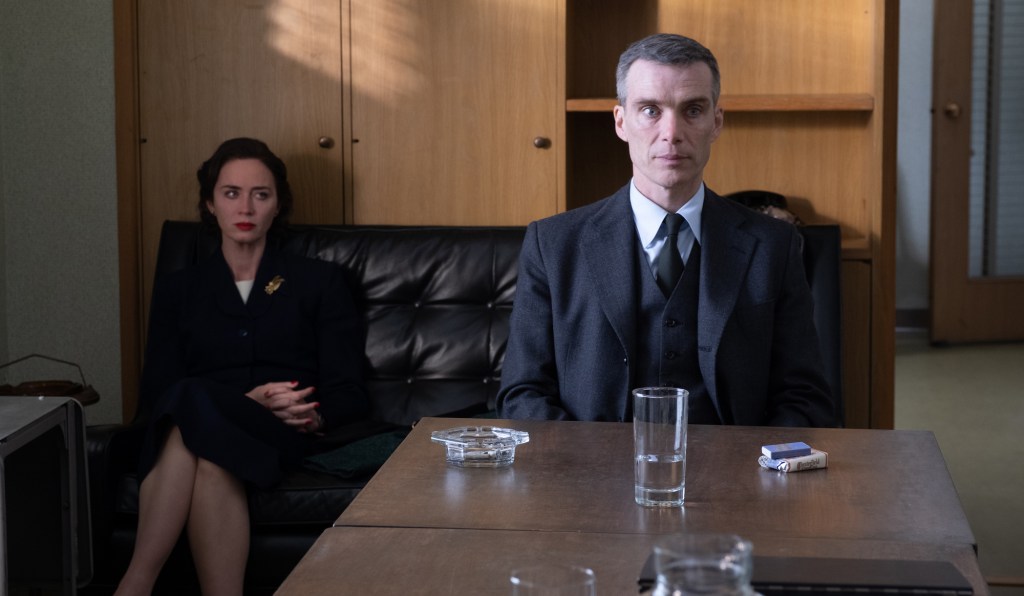 Oppenheimer
After a quarter-century in the business, Christopher Nolan appears to have finally gone thermonuclear in what we consider to be one of his very best films. Oppenheimer is a biopic about J. Robert Oppenheimer, the so-called father of the atomic bomb. As played by Cillian Murphy, however, the scientist takes on an operatic level of tragedy as he rushes into building the power of the gods for his government without ever fully considering the world it will unleash until after "the device" has been dropped on civilians in Japan.
Nolan has a long history with tortured male protagonists obsessed with their work (and men who pay only a minimal amount of interest to the women in their lives), but by exploring a real dreamer whose idea may eradicate us all in Oppenheimer, the director and frequent muse Cillian Murphy achieve career-best heights. The film uses a familiar nonlinear structure to make men sitting in rooms talking theoretical physics more tense and visually spectacular than any action movie released in 2023. – DC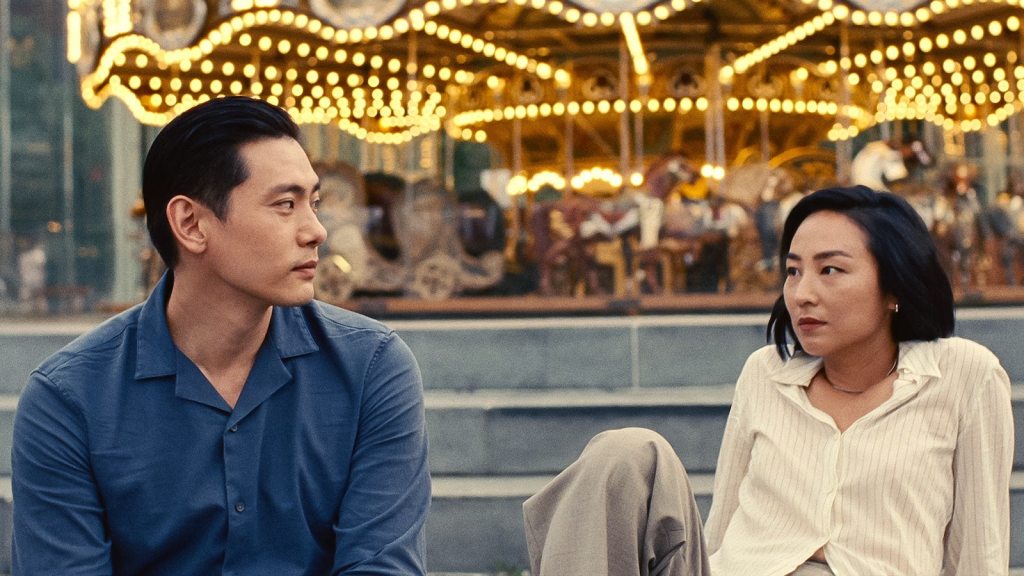 Past Lives
Every so often a new filmmaker emerges with an astonishing amount of confidence and fully formed vision. Writer-director Celine Strong is one such filmmaker, and Past Lives is one such film—a shimmering but aching love story that has the maturity to ponder about the roads not taken and the loves not fulfilled.
In a decade where everything from superhero movies to Oscar winners are using the multiverse as an allegory about the choices we make in life, Past Lives removes the metaphor by examining what that real anxiety is for two people living without artifice. Nora and Hae Sung were childhood sweethearts while growing up on the streets of Seoul, South Korea, but after Nora's parents elect to immigrate to Canada, Nora leaves without really even saying goodbye. She simply takes one road going up the hill one afternoon, and Hae takes another that keeps him on his level. The film then jumps several times into the future, revisiting the pair first in their early 20s and then 30s when they reconnect time and again. In each reunion, they're painfully curious about how the other's life turned out—and implicitly searching for what might've been, could be, and never will come.
This is an exquisitely acted and layered film that has a patience that comes from lived wisdom, as well as perhaps regret. Song takes her time, contrasting the choices and cultures which shape both characters. What hangs in the air over every scene though are questions that Past Lives has the grace to know can never be answered. It's the year's best film to date.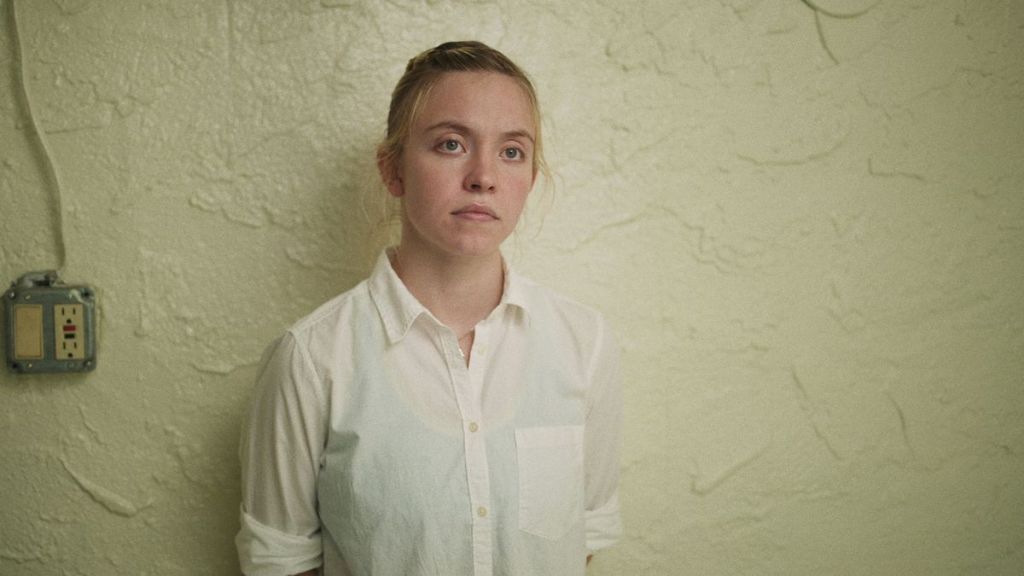 Reality
Writer-director Tina Satter adapts her own one-act play in Reality, a tersely surreal recreation of the interrogation and arrest of Reality Winner, which is all the more disquieting when you realize like its title, almost everything depicted onscreen really happened. Satter achieves this by pulling directly from the FBI transcript of what happened the day that feds showed up on Winner's driveway in 2017 with a warrant to search her home. And as borne out by that transcript, Winner is most concerned at first with what will happen to her beloved dog and cat, even as it slowly dawns on her to ask, "Am I going to jail tonight?"
The real Winner, has become a lightning rod in the United States' culture wars, which is depressingly ironic since it was the lies and reality distortions of then-President Donald Trump, which were shared on a loop on Fox News at Winner's office, that caused her to leak evidence of the Russian government interferring in the 2016 election. Thanks to Winner's efforts, we had a clear idea of how much we were being gaslit by the commander-in-chief about the threat to American democracy, but because of sloppy journalism at The Intercept and a ruthless pursuit of whistleblowers in the 21st century, Winner was sentenced to over five years in prison for violating the Espionage Act, the most severe sentence for a leak to date. (It's yet another irony then that this is the same law now being used to prosecute Trump.)
Satter's Reality bypasses much of that context to live in the painstaking moment of a quiet, deeply patriotic life being turned upside down by feds who are ingratiating in their awkward bids at small talk, chuckling at the shade of pink on the gun Winner keeps in the house. Sydney Sweeney also gives a sharply judged and underplayed performance, letting the reserved nature of her protagonist fry beneath the grueling pace of this rapid-boiling 80-minute movie. It makes for a curious footnote in a larger American story that is far from finished, and which has only become increasingly unreal. – DC
Available to stream on: Max (U.S.); available to rent on: Amazon, Apple (UK)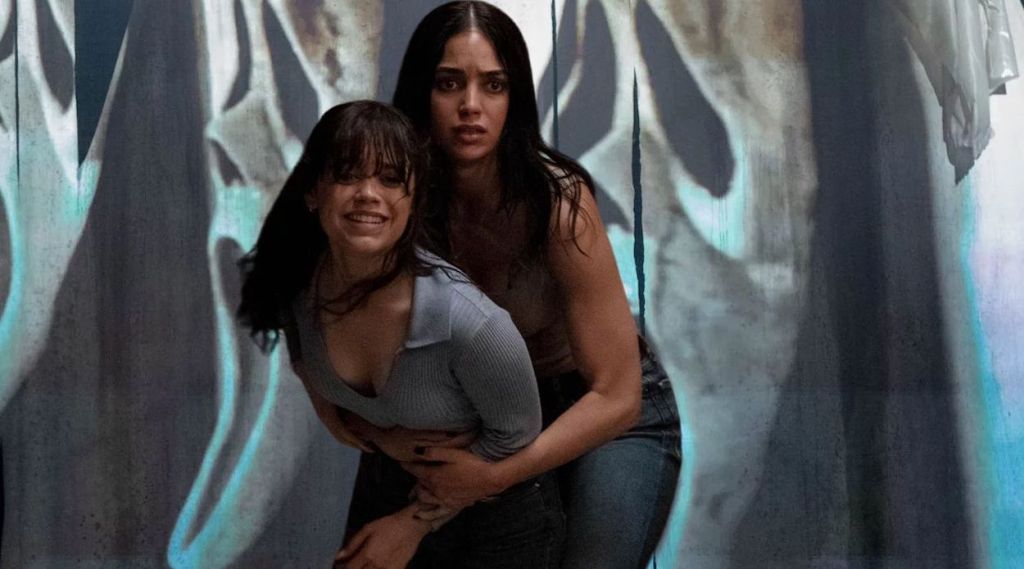 Scream VI
For the first time since the 1990s, Ghostface is scary again. Like much else in life, horror turns out to be all about location, location, location. And in their second go-round in the Scream franchise, directors Matt Bettinelli-Olpin and Tyler Gillett use New York City locales to their fullest as the pop culture-spewing killer in a Halloween mask follows the Carpenter sisters (Melissa Barrera and Jenna Ortega) to the Big Apple.
From a tense cat-and-mouse game where the heroes are trapped on a crowded subway car on Halloween night—and thus surrounded by half a dozen Ghostface costumes—to the disturbingly believable sequence in which the killer follows them into a bodega and starts wielding a shotgun in a public space, Scream VI hits differently. It has the best set pieces in the franchise since 1997's Scream 2, as well as the best use of its protagonists, convincingly making Barrera, Ortega, and even supporting players inhabited by Jasmin Savoy Brown and Mason Gooding matter in ways they wouldn't in most slasher flicks. The ending loses a little steam when the killer's motivation is revealed, but Scream VI is a bloody good night out on the town until then. – DC
Available to stream on: Paramount+ (U.S.); available to rent on: Amazon, Apple (UK)
Spider-Man: Across the Spider-Verse
If 2018's Spider-Man: Into the Spider-Verse was a profound game-changer for both animated films and the superhero genre, then this mind-blowing sequel introduces us to a whole new game entirely. Spider-Man: Across the Spider-Verse ups the ante in every way: It deploys a massive new collection of Spider-Mans and their universes—each rendered in their own dazzling aesthetic—while upping the emotional stakes for Shameik Moore's Miles Morales and Hailee Steinfeld's Gwen Stacy. The film tells a multiverse story that is both epic in scale and intimately character-driven.
Instantly joining the ranks of films like The Dark Knight, The Empire Strikes Back, and Toy Story 2 as one of the finest sequels of all time, Across the Spider-Verse literally explodes with imaginative visuals and ideas, to the point where it strains to contain them all in the frame. Even its cliffhanger ending feels earned instead of forced. At a time when the superhero movie faces its most challenging headwinds in 25 years, Across the Spider-Verse proves that the genre has not yet run its course. – DK
Talk to Me
Young people do stupid things. Sometimes that involves booze, and sometimes that involves drugs. Heck, I'm old enough to remember when crank calls were a thing friends did in the '90s. But demonic possession? That's a new one, and it's used to appropriately chilling effect in the first feature from Australian brothers Danny and Michael Philippou.
In the film, lonely and thoughtful teen Mia (Sophie Wilde) is going through some tough times at home. It's why she spends so many nights in the house of her friend Jade (Alexandra Jensen) and Jade's kid brother Riley (Joe Bird). Yet the lonelier you are, the more you want to fit in, and when some neighborhood kids reveal that they've discovered a new high—seances where you invite the spirits of the dead to possess your body for a few minutes—Mia's game for laugh. By the end of Talk to Me, however, you will not be laughing; in fact, you're probably reeling from the most visceral gut punch we've had at a cinema this year. – DC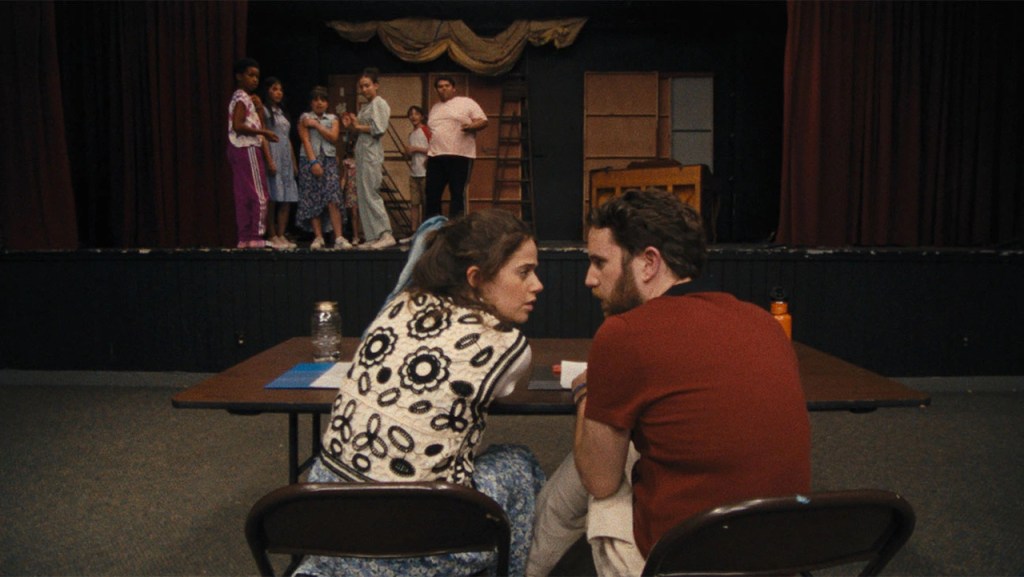 Theater Camp
Molly Gordon, an actress perhaps best known for appearing in Booksmart and Shiva Baby, and Nick Lieberman make their feature-length directorial debuts with Theater Camp, a knowingly funny sendup and salute to "theater kids" everywhere. Working from a script the directors co-wrote with Noah Galvin and Ben Platt (who also appear in the movie with Gordon as camp counselors), Theater Camp is affectionately, and unsubtly, made in the Christopher Guest mold.
The film's mockumentary-approach ostensibly begins as a study of an elderly woman who's given her life to training elementary and middle schoolers in the performing arts. But after she has a brain aneurysm and slips into a coma on the first day of filming (and first five minutes of the movie-within-a-movie), our alleged documentarians decide to keep rolling and see what happens when her dude-bro son attempts to run the camp. The answer is a sweet, and at times bitingly funny, deconstruction of every clique, tic, and cliché created by Broadway-obsessed youngins', as well as their teachers who all swear they're aspiring performers even in their 12th year of writing musicals for campers. If you ever were a theater kid, or just knew one growing up, you'll be in for a good time. – DC
Tetris
The concept of a Tetris movie always seemed like a stretch. How do you make a film about falling blocks? Well, in what's turned out to be a popular direction in 2023, director Jon S. Baird and screenwriter Noah Pink realized you tell it as an '80s creation myth. Yet of all the feel-good capitalism nostalgia pieces to come out this year, Tetris may be my favorite because it has enough self-awareness to see the humor in its conceit… and to realize it's also a low-key gripping Cold War espionage yarn.
In a case study of truth is stranger than fiction, Tetris reveals to a mass audience how the video game's global impact was only made possible due to some cloak-and-dagger maneuvers behind the Iron Curtain, with the ultimate winner being Henk Rogers. Played by Taron Egerton at his most charming and mustachioed, the film's Henk is a relentlessly optimistic figure, even as he flies to Moscow as a tourist and ignites a bidding war with various unscrupulous Western parties. The true story is so sensational, Tetris probably didn't need to embellish the details with flourishes of KGB chases and death threats. Yet there is something acutely intelligent and mirthful about Tetris and its "plague on both your houses" approach to contrasting the wary communists and the big pocketed vultures who try to screw the Soviet government out of video game rights.
Available to stream on: Apple TV+ (U.S. and UK)