Reviews
Spider-Man: Across the Spider-Verse Review: Swings Higher Than Any Live-Action Spidey
Spider-Man: Across the Spider-Verse is a visually stunning work of art that makes superhero spectacle genuinely breathtaking.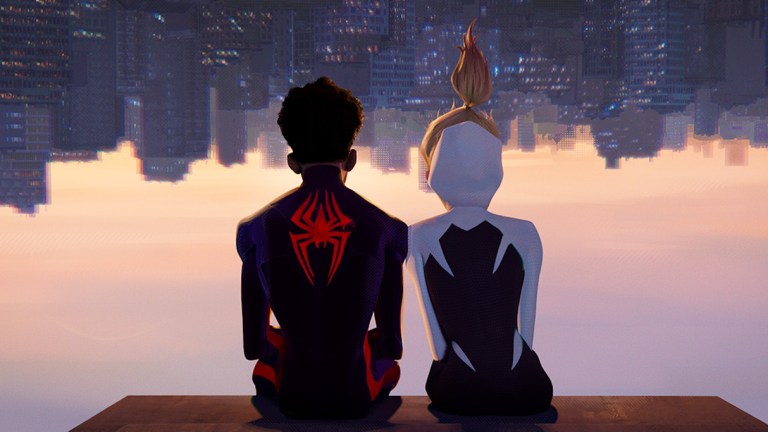 Spider-Man is for the young. This has of course been the character's eternal and multigenerational appeal. The last live-action flick with the Web-Head even made $2.6 billion simply by having the Spider-Man for every kid who grew up in the past 25 years on screen at once.
Still, that acutely youthful quality was on my mind more than usual while watching Sony Animation's Spider-Man: Across the Spider-Verse. For more than any other film about the wallcrawler to date, in animation or live-action, this film understands the anxieties and ecstasies which inform Spidey's power fantasy. That is all the more remarkable, too, since Across the Spider-Verse paradoxically sketches the most mature portrait of the concept we've seen on the big screen.
Take for instance a scene of Miles Morales (Shameik Moore) and Gwen Stacy (Hailee Steinfeld) hanging beneath the marble dome of the Williamsburgh Savings Bank Tower. It mimics one of the most indelible images from 2018's Spider-Man: Into the Spider-Verse. The world is quite literally upside down, with the streets of Brooklyn looming hundreds of feet above their heads. The visual trick where up is down, as well as the anticipation of possible young love, have been toyed with by plenty of other Spider-Man movies. Yet the way that breathless high is both literalized by the army of animators assembled by directors Joaquim Dos Santos, Kemp Powers, and Justin K. Thompson, and allowed to breathe in a quiet tableau that could be a painting unto itself, speaks to the sheer beauty of this film.
That knockout quality also applies to the film as a whole and its various, often happily incongruent, art styles which escalate the visual chaos which made Into the Spider-Verse a dazzling Oscar winner five years ago. The diversity of animation styles in Across the Spider-Verse is even more dizzying, gorgeous, and often cacophonous, with Da Vinci-esque parchment sketches interacting with 1970s London street art. But there lies a harmony within the visual madness, and even at times a knowing quiet, that channels better than any Spidey film since at least Sam Raimi's Spider-Man 2 the daily domestic and personal struggles of being a kid that also, just so happens, to be Spider-Man. Of having parents you no longer can communicate with even as they look awkwardly (if affectionately) over your shoulder. Of being pulled in a hundred directions. Of having authority figures tell you no. Or being young.
And this time it's told from two distinct perspectives. Because in the case of the young lovebirds beneath the Williamsburg dome, they're both Spider-Man… or, well, Spider-People.
Indeed, Across the Spider-Verse begins not with Miles' story but that of Steinfeld's Spider-Gwen. Sent home to her own parallel universe at the end of the last movie, Gwen Stacy commandeers the voiceover narration at the top of Across to explain what she's been up to since a gang of Spider-folk (plus a cartoon pig) saved the multiverse in 2018. Being the only Spider-person in her universe leaves Gwen feeling isolated and lonely—alienated from even her own father Capt. Stacy (Shea Whigham). So when she discovers other Spider-people are now traversing the multiverse with homemade technology, including the stoic Miguel O'Hara (Oscar Isaac) and the maternal Jessica Drew (Issa Rae), Gwen jumps at the chance to join them in a veritable HQ filled with Spider-Men, women, and even a Spider-T-Rex.
The only person not invited, it would seem, is Moore's Miles Morales, who's grown a year older since the last movie but only faintly wiser. A little too smug by half as he battles his new villain of the week, the Spot (Jason Schwartzman), Miles doesn't have enough time to even show up for his college counseling appointment, disappointing his parents Jeff (Brian Tyree Henry) and Rio (Luna Lauren Velez). And when he misses Jeff's birthday party, he finds himself outright grounded.
So you can imagine how exciting it must be that his crush, Spider-Gwen, shows up in his dimension again, although she is vague now about why Isaac's laconic Miguel has allowed her to come back to the one universe the older spider-genius hates. Her arrival, however, offers a chance for Miles to dive across the multiverse and see how weird things can really get. Remember, there is now a Spider-T-Rex.
There is plenty more to the plot, but in all honesty one of the great strengths of Across the Spider-Verse is that despite the gargantuan scope of the screenplay penned by Phil Lord, Christopher Miller, and Dave Callaham (with Lord and Miller remaining as producers), the plot is far less important to the emotional authenticity of the piece and its groundbreaking innovations in American animation.
The film sincerely captures the adolescent experience in a way none of the live-action Spidey films do, with more than an hour spent developing Miles' fraying relationship with his parents and their less than impressed understanding of this Gwen gal who showed up in his room out of nowhere. The scenes do not feel like expository table-setting either. In the same way Lord and Miller made unlikely concepts like a 21 Jump Street comedy or The Lego Movie sing, the pair of filmmakers continue their knack for fast-paced wit and sharp characterization in this screenplay, finding as much amusement in the prospect of the bilingual Miles getting a B in Spanish, much to his madre's seething dismay, as it does in the action.
But the action is of course why audiences come to these movies, and unlike most live-action superhero films where the spectacle becomes a chore—a prerequisite mechanically created by shades of CGI beige colored in around real-life actors—the actual multiversal mayhem that erupts throughout Across the Spider-Verse is a wonder, especially in the third act. Not since those aforementioned early Raimi movies has the prospect of web-slinging elicited such genuine astonishment and joy, with Sony's animation turning superhero battles into fluid, fast-moving art installations.
There are sequences where the animators mesh Mumbai street art with a pseudo-mid-20th century modernism by way of the Spot's comical ability to create portals to other, abstract dimensions. The film experiments in negative space, painterly oil-hued animations around Gwen's melancholic homelife, and, occasionally, becomes a full on lark by revisiting old Spider-Man cartoons from the 1960s. It really is one of the most impressive animated movies of the last decade.
In fact, my only minor critique is that the film breaks the illusion a little too often with easter eggs and winks to the live-action Spider-Man movies that came before. That coupled with an effective (but nonetheless frustrating) cliffhanger ending, which sets up a trilogy-closer via next year's Spider-Man: Beyond the Spider-Verse, are the only blemishes on what is a cinematic diamond. But to focus on those is to stare at stray lines in the margins that are little more than framing around a triumph.
Spider-Man: Across the Spider-Verse is a visceral feast for the eyes that, like its predecessor, hints there are so many more creative things to do with superheroes than what the last decade of Hollywood hegemony has wrought. The movie brings a rare gravitas and sophistication to its well-worn characters, capturing Spidey's jejune ebullience while adding new shades to a palette we've never seen before in this genre. The wait for Beyond the Spider-Verse is going to be long.
Spider-Man: Across the Spider-Verse is in theaters on June 2.