Features
New Detective Series For 2023: TV Dramas From Agatha Christie to Harlan Coben & True Crime
Get ready for a host of new and returning sleuth TV shows starring big names including Jodie Foster, Meryl Streep, Benedict Cumberbatch & Nicole Kidman.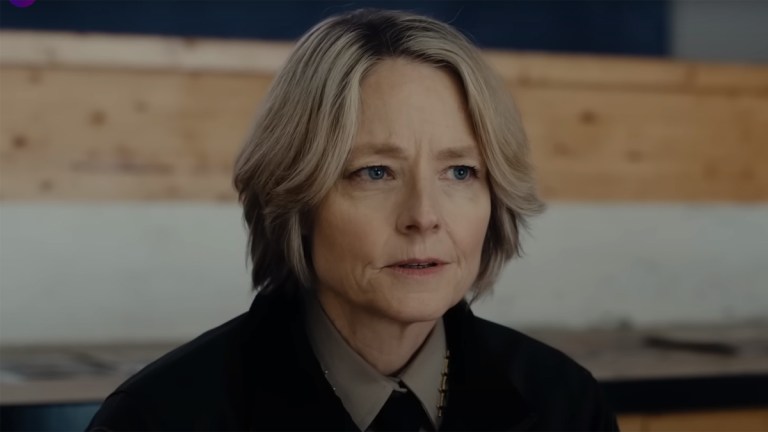 Undercover detectives, maverick detectives, teenage detectives, comedy detectives… there'll be no shortage of sleuths on the small screen in 2023 and beyond, or of complex, multi-episode crimes for them to solve. This year and next, a gaggle of movie star names will be appearing on both sides of TV's police interrogation table, including Jodie Foster (in True Detective), Benedict Cumberbatch (in Eric), Nicole Kidman (in Special Ops: Lioness), Jon Hamm (in Fargo) and Meryl Streep (in Only Murders in the Building).
There's also a raft of promising-sounding new and returning British detective commissions on the way, from true crime drama The Sixth Commandment starring Timothy Spall, to the return of BBC hit Vigil, spooky Prime Video brain-twister The Devil's Hour, and good old Shetland. Find your next crime mystery obsession below.
The majority of the titles featured are still awaiting official release dates. We'll add more info as soon as US and UK broadcast times are confirmed.
True Detective Season 4: Night Country (HBO/Max, TBD)
The fourth season of HBO's popular anthology series, True Detective: Night Country is set in Ennis, Alaska and follows Detectives Liz Danvers (Jodie Foster) and Evangeline Navarro (Kali Reis) as they investigate the disappearance of eight men tasked with watching over the Tsalal Arctic Research Station. The men seem to have vanished without a trace just before Ennis' long night – an Alaskan phenomenon where certain towns north of the Arctic Circle don't see the sun rise again for nearly two months – without any clues as to where they went or if any of them are still alive. The cast for this season of True Detective also includes Christopher Eccleston, Fiona Shaw, and John Hawkes, and it's expected to air on Sky Atlantic in the UK. Brynna Arens.
Eric (Netflix, TBD)
Weird, dark and emotional, Eric stars Benedict Cumberbatch as a father on a desperate search for his missing nine-year old son. Set in 1980s New York, this six-part Netflix thriller centres on Vincent, a puppeteer and creator of a popular children's TV show, whose increasingly volatile state after his son's disappearance leads him to become convinced he can bring him home with the help of a blue monster puppet called Eric.
Eric is written by Abi Morgan, the screenwriter behind The Hour, and also stars Gaby Hoffman (Transparent) as Vincent's wife Cassie, and Ozark's McKinley Belcher III as Detective Michael Ledroit. Laura Vickers-Green
Fool Me Once (Netflix, TBD)
Following The Stranger and Stay Close, the next Harlan Coben bestseller set for a Netflix adaptation is Fool Me Once – with the setting for this eight-part drama relocating from the US to the north-west of England. Michelle Keegan (Our Girl) will play a woman coming to terms with the brutal murder of her husband (Richard Armitage, The Stranger) only to get the shock of her life when she spots him seemingly alive and well on her daughter's nanny cam. Sweet Tooth's Adeel Akhtar plays the lead detective on Joe's murder (with secrets of his own, of course) and national treasure Joanna Lumley (Absolutely Fabulous) will play Joe's protective mother. LVG
Wolf (BBC One/iPlayer, TBD)
This twisty thriller is based on Mo Hayder's acclaimed Jack Caffery novels, and follows the young Detective Caffery, who is obsessing over the neighbour he believes murdered his 10 year-old brother in the 90s. Elsewhere, the wealthy Anchor-Ferrers family find themselves trapped in an isolated house, terrorised by a psychopath's twisted games – and when their story collides with Caffery's, it leads to a nail-biting and disturbing race against time.
This gripping six-part thriller stars Ukweli Roach (The Midwich Cuckoos) as Caffery, Juliet Stevenson (Bend It Like Beckham) as Matilda Anchor-Ferrers, and Line of Duty's Owen Teale as her husband Oliver. Doctor Who's Sacha Dhawan and Game of Thrones' Iwan Rheon also star as Honey and Molina, mismatched professionals thrown together on a job.
Wolf arrives on BBC One and iPlayer later this year. LVG
Only Murders In The Building Season 3 (Hulu, August 8)
Set at The Arconia apartment building in New York City, Only Murders in The Building follows building residents, true crime enthusiasts, and amateur detectives Charles-Haden Savage (Steve Martin), Oliver Putnam (Martin Short), and Mabel Mora (Selena Gomez) as they work together to solve the murders of their neighbors. Charles is a retired actor most known for his role in a police procedural, Oliver is a playwright whose wild ideas don't always pan out, and Mabel is a young artist trying to avoid her traumatic past. The three don't always get along or see eye-to-eye on motives or suspects, but their different perspectives are often the key to uncovering important clues that ultimately help them solve each case.
Season three, which is due to arrive on August 8th 2023, will see the trio try and solve the murder of a stage actor who drops dead on opening night. If the existing cast plus Paul Rudd isn't enough to convince you to tune in, the legendary Meryl Streep is also set to guest star. Catch it on Disney+ in the UK. BA
Rebus (Viaplay, TBD)
Sir Ian Rankin's iconic character, detective John Rebus – the star of over 20 Inspector Rebus novels – is being brought (back) to life in a new six-part series. This time around, Rebus will be played by Outlander's Richard Rankin, and the series will see him face a crossroads, struggling against corporate technocrats in his career, involved in a toxic affair, and losing his role in his daughter's life thanks to his ex-wife's new husband. The series will also star Brian Ferguson (The Ipcress File), Lucie Shorthouse (Line of Duty) and The Pact's Stuart Bowman. LVG
Murder Is Easy (BBC One/iPlayer, TBD)
Agatha Christie fans, this one's for you. The latest Christie novel to be adapted for TV is Murder is Easy, which starts after a series of deaths in an English village, which are presumed to be accidental. That is, until a man called Luke Fitzwilliam meets Miss Pinkerton on a train, who tells him she believes they're the work of a killer. When Luke later learns Miss Pinkerton has been found dead, he vows to hunt down the killer before they can strike again.
Sian Ejiwunmi-Le Berre is adapting Christie's novel for the screen, and Meenu Gaur (World on Fire) will direct. The show will air on BBC One and iPlayer in the UK and BritBox for a US audience. LVG
Payback (ITV, TBD)
Line of Duty creator Jed Mercurio's production company is behind this six-part ITV thriller, which follows a woman who becomes unwittingly embroiled in a dangerous police operation to topple a notorious crime lord. The Bay's Morven Christie stars as Lexie, who discovers her husband Jared has been working for notorious criminal Cal Morris (Peter Mullan, The Rings of Power). Meanwhile, a police investigation into Morris is ramping up and determines to use Lexie's family to bring him to justice, putting Lexie's safety – and even her life – in grave danger. This gripping psychological drama is written by Call The Midwife's Debbie O'Malley. LVG
Justified: City Primeval (FX, July 18)
Timothy Olyphant is back as Deputy U.S. Marshal Raylan Givens in FX's upcoming series Justified: City Primeval. This miniseries is set to have the same western crime drama vibes as its predecessor, the original Justified series that ran from 2010 – 2015. After moving to Miami in the series finale, Justified: City Primeval will begin with Givens continuing the life he built there with his daughter. But after a chance encounter brings him to Detroit, he's called to use his skills to track down the elusive Oklahoma Wildman (Boyd Holbrook), a "sociopathic desperado" who continues to slip through the grasp of Detroit's police force. The series is set to premiere at the ATX television festival on June 1 and will air the first two episodes on FX July 18, 2023 starting at 10 p.m. ET. As with most FX series, new episodes of Justified: City Primeval will also be available for Hulu subscribers to stream the day after they air on the cable network. No UK broadcaster is confirmed as yet. BA
The Devil's Hour Series 2 (Prime Video, TBD)
After receiving critical acclaim when it debuted in 2022, dark and twisty Amazon Prime thriller The Devil's Hour was quickly recommissioned, with not one but two new series confirmed. Series 1 saw troubled mum Lucy (Call The Midwife's Jessica Raine) unravel her connection to a string of brutal murders and the sinister Giden (played by Peter Capaldi) and both Raine and Capaldi are back for series 2, as are Meera Syal, Benjamin Chivers, Nikesh Patel and Phil Dunster. Plot details for the second series remain elusive for now, but we do know that Top Boy's Saffron Hocking is joining the cast as a new detective sergeant. LVG
Criminal Record (Apple TV+, TBD)
After the success of Slow Horses, Apple TV+ is bringing us another London-based thriller: Criminal Record. This eight-part series stars Doctor Who's Peter Capaldi as weathered DCI Daniel Hegarty and The Good Wife's Cush Jumbo as rookie DS June Lenker, a pair of detectives who – thanks to a mysterious anonymous phone call – find themselves forced to team up to solve an old murder case. This powerful, character-driven thriller will touch on issues of race, institutional failure, and the quest to find common ground in a polarized Britain. LVG
Vigil Series 2 (BBC One/iPlayer, TBD)
After keeping up firmly on the edge of our seats in series one, Vigil is back, and so is BAFTA-winning Suranne Jones as Detective Amy Silva. This time, instead of being stuck in the depths of the ocean on a submarine, the six-part series will see Silva investigating some dodgy deaths in the Royal Air Force. We'll also see the return of Rose Leslie as Silva's detective partner Kirsten Longacre, with new cast members including The Hour's Romola Garai and Dougray Scott (A Town Called Malice). LVG
Special Ops: Lioness (Paramount+, TBD)
Yellowstone creator Taylor Sheridan is adding yet another series to his roster with the upcoming spy thriller Lioness on Paramount+. The series stars Laysla De Oliveira as Cruz Manuelos, a marine recruited by the CIA to join their Lioness Engagement Team – a task force assigned to take down dangerous terrorist groups from the inside by embedding operatives among their ranks. Zoe Saldaña joins De Oliveira as Manuelos' station chief Joe and is responsible for training her. Their superior is played by Nicole Kidman, whose character Katilyn Meade serves as the CIA's senior supervisor for the program. There's no word yet on when we can expect to see this series this year, but it's definitely one to keep an eye on. BA
Nancy Drew Season 4 (The CW, May 31)
The fourth and final season of The CW's Nancy Drew will premiere Wednesday May 31 at 8 p.m. ET with the series finale set to air August 23. After season three saw Nancy (Kennedy McMann) and her friends face off against Nancy's immortal ancestor Temperance Hudson (Bo Martynowska and Olivia Taylor Dudley) to save Horseshoe Bay from destruction, season four is set to pick up right where the series left off. While we're not sure exactly what mystery the Drew Crew will have to face this season, with Temperance's reanimated corpses and Nancy's curse, it seems like we'll be in for plenty of supernatural spookiness as this chapter in Nancy's story comes to a close. Whether you're a die-hard fan of Nancy Drew novels or coming into this series with zero background knowledge of Nancy's history, Nancy Drew's final season promises to be a "worthy and resonant payoff." BA
The Sixth Commandment (BBC One/iPlayer, TBD)
True crime fans will want to watch out for The Sixth Commandment on the BBC, the latest project for screenwriter Sarah Phelps following the excellent A Very British Scandal. The four-part series explores the real-life deaths of Peter Farquhar and Ann Moore-Martin – played by Timothy Spall (Mr Turner) and Ann Reid (Last Tango in Halifax) – as well as the manipulative student who targeted them, the complicated police investigation and the 2019 murder trial. The series has been produced with the help and support of the victims' families, and will also star Normal People's Éanna Hardwicke, Annabel Scholey (The Split) and Shelagh Hancock (Unforgotten). LVG
Shetland Series 8 (BBC One/iPlayer, Autumn TBD)
After seven series, murder mystery drama Shetland is getting a brand-new lead detective, after DI Jimmy Pérez (Douglas Henshall) bowed out, being replaced by Ashley Jensen as DI Ruth Calder. Shetland's fresh-faced series 8 will see Calder go back to her native Shetland to retrieve the vulnerable witness to a gangland murder, assisted by returning DS Tosh (Alison O'Donnell) who is also investigating a string of mysterious animal deaths. In this fragile new partnership, Calder's hostility to Shetland will challenge Tosh's view of her adopted home, but they'll have to work together as they journey into the darker recesses of Shetland's past and present. LVG
The Afterparty Season 2 (Apple TV+, July 12)
Apple TV+'s murder mystery series The Afterparty is returning for a second season on July 12 after being delayed from its original April premiere date. Tiffany Haddish is returning as Detective Danner, and Sam Richardson and Zoë Chao are also set to reprise their characters Aniq and Zoë from season 1. A teaser for season 2 hints that this season's murder takes place around a wedding (maybe Aniq and Zoë's?) and that the cast is even more stacked than last season's with Elizabeth Perkins, Zach Woods, Paul Walter Hauser, Poppy Liu, Anna Konkle, Jack Whitehall, Vivian Wu, John Cho and Ken Jeong set to appear. Each episode of The Afterparty has a different character tell their version of the story through changing genres that match their perspective. Last season featured a wide range of genres from animated to musical to psychological thriller, so it will be exciting to see how the show plays with genre conventions and filmmaking styles this season. BA
Passenger (BritBox, TBD)
ITV's darkly comic thriller Passenger stars BAFTA-winning Wunmi Mosaku (Damilola, Our Loved Boy), and will also be a debut screenwriting job for Better's Andrew Buchan. Set in the small northern village of Chadder Vale, the six-part drama will see Former Met Police Detective Riya Ajunwa (Mosaku) begin to investigate a series of horrific crimes in the village, while trying to convince the villagers that all is not as it seems, as she finds herself drawn into a universe unlike anything she has ever seen. Other cast include The Bay's Daniel Ryan, Hubert Hanowicz (This Is Going To Hurt) and Gentleman Jack's Natalie Gavin. As well as airing on ITV and ITVX, the series will also be available internationally on BritBox. LVG
Fargo, Season 5 (FX, TBD)
While we don't know much about the plot for the next season of FX's anthology mystery series Fargo, nor when it's set to premiere, we do know that it will have a more or less contemporary setting of 2019. The official logline for season five reads "When is a kidnapping not a kidnapping, and what if your wife isn't yours?" Intriguing, right? Season five of Fargo will feature Jon Hamm in the leading role as well as Juno Temple, Jennifer Jason Leigh, Joe Keery, Lamorne Morris (New Girl), and Richa Moorjani (Never Have I Ever). The first look at Jon Hamm's character released by FX is definitely giving Yellowstone vibes, so be prepared for an off-beat western mystery this season. It's expected to air on Channel 4 in the UK. BA