Features
Peaky Blinders: the Best British Gangster TV Series to Watch Next
Until the Peaky Blinders film arrives, here's a crop of British TV dramas to scratch the gangster itch from Gangs of London to Top Boy, Giri/Haji and more.
The end of Peaky Blinders creates a difficult gap to fill. Until the feature film arrives to continue the Shelby family's story, what other series combines its violent swagger and period style with spirits, ghosts and political history? It might be impossible to match the unique combination of larger-than-life characters and quotable dialogue in Steven Knight's BBC gangster drama, but these recent British TV series will scratch some of that itch while each offering something unique of their own. Add your own recommendations below.
Gangs of London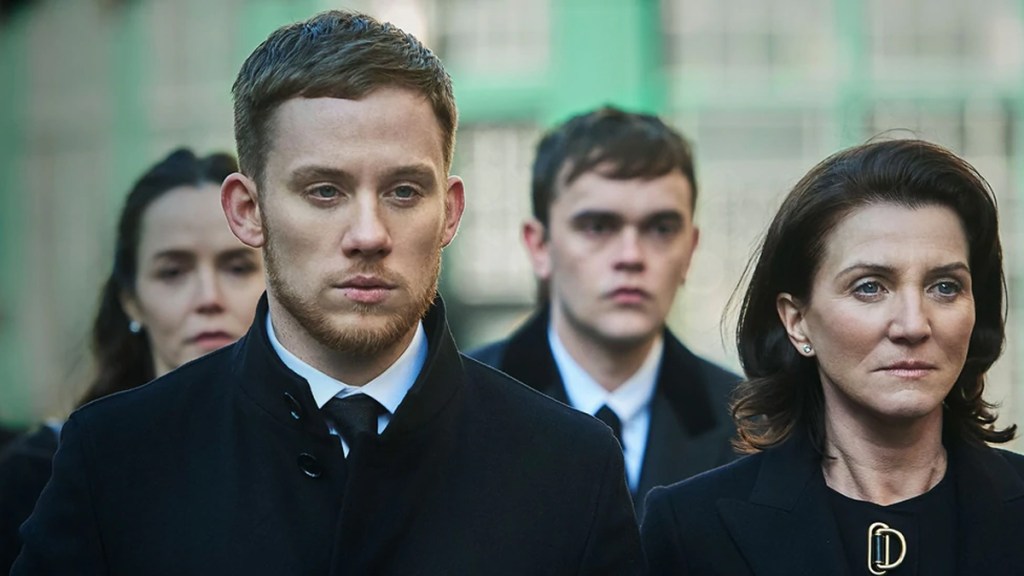 Don't be misled by the title, said our reviewer, this Sky Original is no clichéd cockney geezer-pleaser. It's a stunning, complex drama with an excellent cast, thrilling action and ambitious scope, and one of the very best shows to come out of the UK in recent years. It's also extremely violent, so those of a sensitive disposition, consider yourself warned.
Co-created by The Raid director Gareth Evans and Matt Flannery, it starts out as the story of London criminal kingpins the Wallace family, but quickly takes on a global dimension incorporating Albanian, Kurdish and Nigerian gangs. Peaky Blinders' Joe Cole plays Sean Wallace (no, not the one on The Chase), the son of Colm Meaney's gangster patriarch. In season one, Sean's tasked with restoring his family to supremacy over nine heightened episodes filled with expertly choreographed set pieces and a vein of pitch-black humour. Explosive, stylish, filled with twists and the calibre of action sequences you'd expect from Evans, it's the perfect dynasty crime drama to fill the Peaky Blinders gap. Season two is coming soon to Sky.
Stream the first season on NOW in the UK and on AMC+ in the US.
Giri/Haji
This eight-episode drama was undersung upon its BBC release in late 2019, perhaps because its multi-strand storytelling defies easy categorisation. It's a gangster drama about two Japanese brothers working on opposite sides of the law, but also a legal procedural, a family saga, a romance, a twisting cross-continental thriller and much more. Created and written by Joe Barton, Giri/Haji (which translates to Duty/Shame – two common factors across its stories and characters) is a British drama told partly in Japanese and partly in English. If the fraternal relationships in the Shelby family, or the Tommy-Michael rivalry fascinate you, then Giri/Haji's tale of brothers Kenzo and Yuto will too. They're played by Takehiro Hira and Yôsuke Kubozuka, who are joined by Line of Duty's Kelly Macdonald in an eclectic cast including Flowers creator Will Sharpe and US actor Justin Long.
Your patience will be rewarded with this one. It builds from a crime premise into something quite special, peppered with brutal shoot-outs, unexpected stylistic choices and surprise after surprise. It's frankly a crime that it wasn't renewed for a second season. To soothe that pain, Barton's new sci-fi thriller series for Sky The Lazarus Project (formerly 'Extinction') will air soon.
Stream on Netflix.
Line of Duty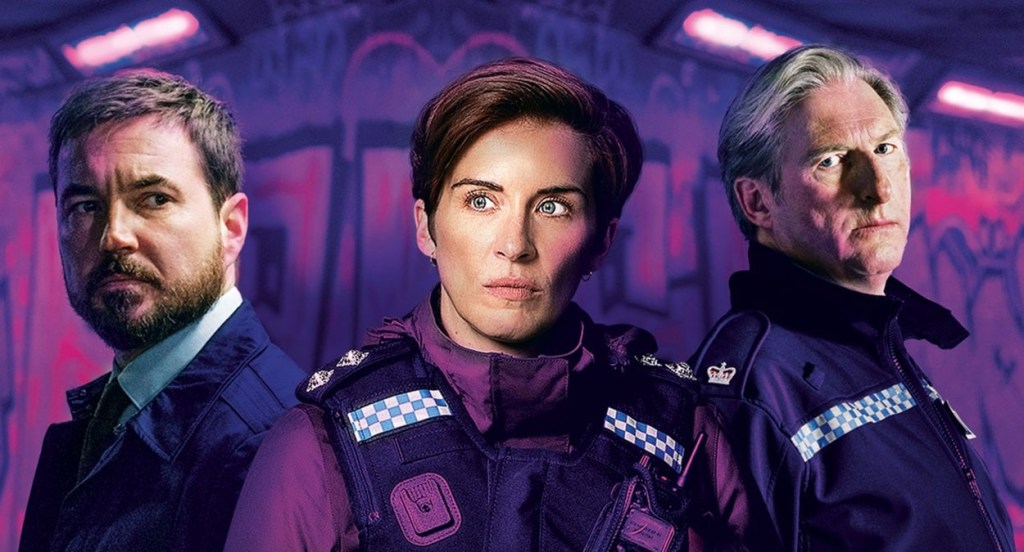 This BBC mega-hit tells a story of organised crime from the police perspective, showing the insidious reach of criminal gangs into policing institutions. Over six seasons (likely to be it, though the BBC would likely never say no to a return from Jed Mercurio's ratings monster), it follows AC-12, a police unit dedicated to rooting out corruption among their own. Each season welcomes a new guest star officer (Lennie James, Keeley Hawes, Daniel Mays, Thandiwe Newton, Stephen Graham and Kelly Macdonald) whose character is investigated by the central trio of Hastings, Arnott and Fleming (Adrian Dunbar, Martin Compston and Vicky McClure) for potential corruption.
What unfolds is a saga connecting disparate stories to one powerful criminal organisation pulling the strings in politics and the law. The cast is great, the set pieces are thrilling (the season three finale is a particular highlight) and – if you've managed to remain spoiler-free until now – the twists and fan theory make for addictive viewing.
Stream all episodes on BBC iPlayer in the UK and seasons 1-5 Hulu, Britbox and Acorn TV in the US.
Top Boy
When most people love a TV show that's unfairly cancelled too soon, we just have to put up with it. When Canadian rap superstar Drake loves a TV show unfairly that's cancelled too soon, he executive produces three further seasons with Netflix. That's what happened to Top Boy, a multi-strand story about drug dealing, gang conflict and fighting for supremacy on an impoverished Hackney estate. Channel 4 aired two seasons in 2011 – 2013 before pulling the plug, and then Netflix revived the drama with Drake among its executive producers in 2019 (the first two runs are on the streamer as Top Boy: Summerhouse). Another celebrated run arrived this year, with one final season planned to cap the story of drug dealers Dushane and Sully (Ashley Walters and Kano Robinson) in future.
It wasn't just Drake who wanted the drama to return, a sizeable fandom had built up for the characters on the fictional Summerhouse estate since their Channel 4 debut. If Tommy Shelby's violent struggle for territory, wealth and status as he ascended through the criminal ranks appealed, then let this popular modern drama fill that gap.
Stream on Netflix
Guilt
A shift in tone here, but this Scottish darkly comic gangster thriller is every bit as strong as any other on this list. Created by Neil Forsyth (the long-suffering companion of local Dundee celebrity Bob Servant, who looks uncannily like that bloke from Succession), Guilt stars Catastrophe's Mark Bonnar and Outlander's Jamie Sives alongside a great supporting cast including Emun Elliott, Phyllis Logan, Greg McHugh, Stuart Bowman and Bill Paterson.
Like Peaky Blinders, it's the story of brothers who grew up in poverty, one of whom is an ambitious schemer with an appetite for money, but that's roughly where the similarities stop. When Max and Jake McCall accidentally run over a stranger one night, it kickstarts a complex story of an Edinburgh gangster dynasty, debts owed and cover-ups. Equal parts gripping and funny, brilliantly written and acted, it's a Fargo-like gangster series as seen from the perspective of hapless civilians. Don't miss out.
Stream both series on BBC iPlayer in the UK and season one on PBS Masterpiece and Apple TV in the US.
The Responder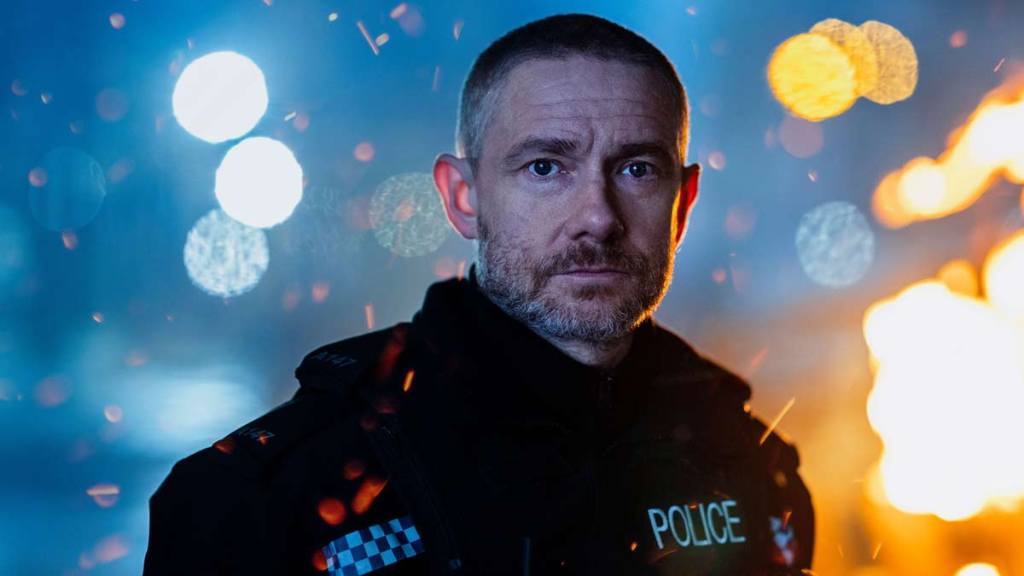 Easily one of the best British TV dramas of the year, Tony Schumacher's The Responder is a crime show with substance, wit and plenty to say other than 'whodunit?' Police officer Chris (Martin Freeman in a career-best performance) polices the streets of Liverpool at night over six days, doing what he can to keep the peace with little help from official protocol or his own overloaded mind.
In the five-episode first season (a second has already been commissioned), Chris becomes entangled in a gangster plot that goes to violent, surprising places and puts him under an inhuman amount of pressure. It's tightly scripted, cleverly cast (Adelayo Adedayo is particularly good with a difficult storyline), strongly directed and very well acted – all in all, a must-see.
Stream series one on BBC iPlayer in the UK. Coming soon to Britbox US and Canal + worldwide.
The Shadow Line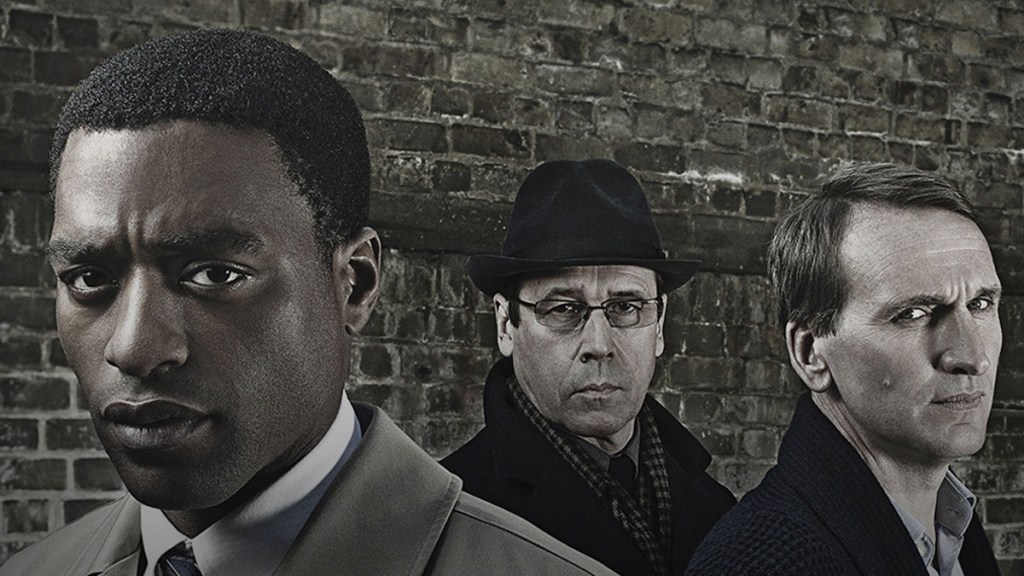 Hugo Blick's slow-burn 2011 BBC Two drama stands up extremely well, thanks to a strong cast including Oscar-winner Chiwetel Ejiofor, Christopher Eccleston, Lesley Sharp and Stephen Rea. Rather than a straight-up gangster drama, it's a conspiracy thriller that touches down in the world of organised criminal gangs, law enforcement and international politics. The execution of a recently released-from-prison drug kingpin kicks off an investigation on both sides of the law, which spirals outwards into public institutions and personal rivalries. It's a one-and-done series that tells a complete story over the course of seven one-hour episodes, and well worth the time investment.
Stream on Britbox in the UK and on Roku, Hoopla, Pluto TV in the US.
McMafia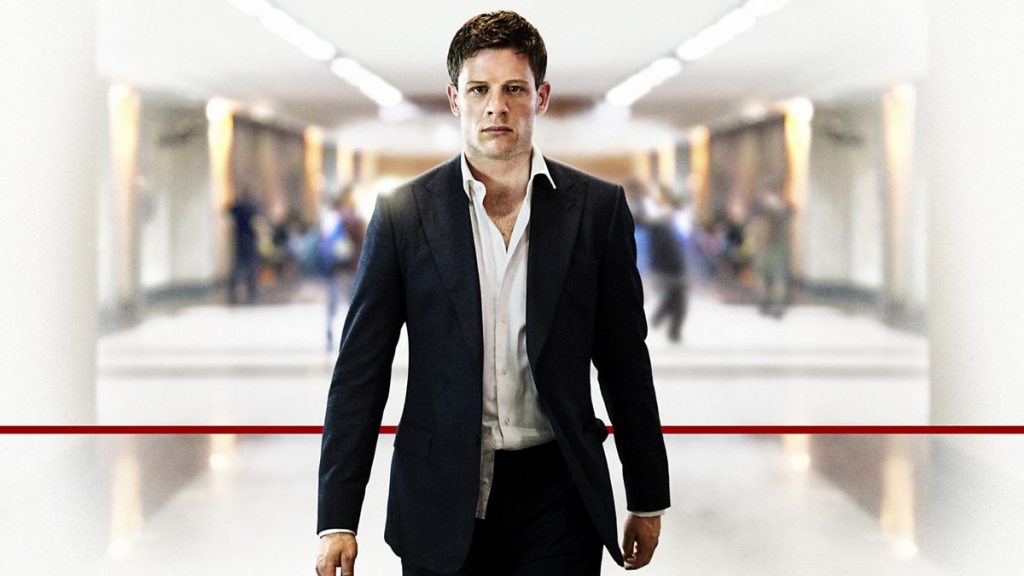 Fans who've waited patiently for more from BBC Russian gangster drama McMafia, which first aired back in 2018, will be relieved to hear writer Misha Glenny debunk rumours recently reported in the tabloid press that season two had been quietly shelved as a result of the war in Ukraine and star James Norton's lack of availability. "Very much on track for season 2" Glenny confirmed on Twitter in March 2022. Good to hear.
Based on Glenny's 2008 book McMafia: A Journey Through the Global Criminal Underworld, the first season starred Norton as Alex Godman, the British-born son of a Russian mafia boss living in London. It was a tightly told story packed with intrigue and modern relevance that explored the power wielded by Russian organised criminal gangs in London today. Thrilling, slick and with a top cast, like Peaky Blinders, it explores the impossibility of escaping your roots. Bring on season two.
Stream on BBC iPlayer in the UK and on AMC+ in the US.
Peaky Blinders seasons one to six are available to stream now on BBC iPlayer in the UK.