Features
Slow Horses: Gary Oldman Spy Thriller Deserves to Be as Big as Line of Duty
A stand-out cast, memorable characters and gripping, well-written stories make Apple TV+ thriller Slow Horses unmissable. If you haven't already, here's why you should get on board.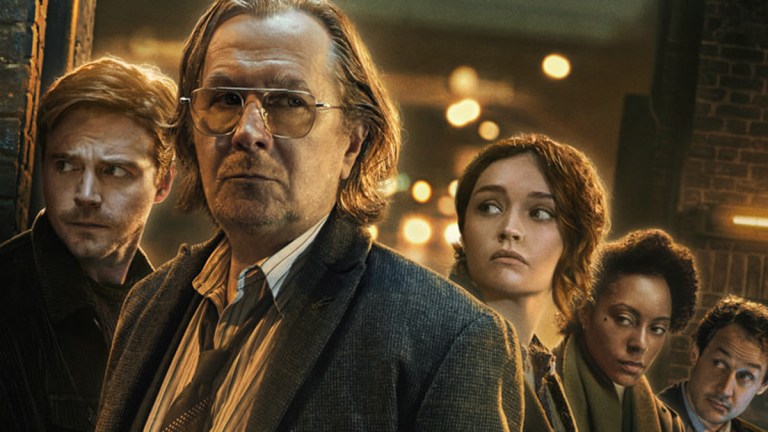 The truth is, if Slow Horses aired on the BBC, it would be all anyone talked about. It's that good. Frankly, it's a higher calibre offering than many dramas on prime time TV, but, because it airs on Apple TV+, a streaming service currently with fewer than two million UK subscribers, it's yet to get the popularity it deserves.
If you haven't yet watched the first two series of this spy thriller, let us catch you up on why you absolutely should before Slow Horses Series 3 comes out, hopefully later this year.
Based on Mick Herron's Slough House novel series, the show centres on a team of haphazard MI5 agents who have variously disgraced themselves on the job. While their offences aren't quite P45-worthy, it's enough to get them exiled from MI5 HQ to a supposedly boring admin role at the depressingly dingy Slough House, where they're nicknamed the 'slow horses'.
Their boss is Jackson Lamb – played masterfully by Oscar-winner Gary Oldman (Darkest Hour) – a world-weary, no-nonsense biohazard of a man whose personal hygiene leaves much room for improvement. His most recent recruit is River Cartwright (Dunkirk's Jack Lowden) after he publicly and spectacularly fails a training exercise at Stansted Airport.
This premise is a big part of what makes Slow Horses such a stand-out drama. Thrillers about spies are nothing new, but we tend to expect them to be on the James Bond spectrum of suaveness – not real, fallible humans having a crisis of confidence after messing up at work.
It's refreshing, as is Slow Horses' sense of humour which, while often self-aware like Bond, is also much more down-to-earth and relatable. Jackson Lamb is full of pithy one-liners, his frequent put-downs are almost Delboy-esque ('Of course you didn't mean to kill him, if you did he'd still be alive!'), but he takes them as good-heartedly as he dishes them out, with one particularly laugh-out-loud highlight when Cartwright disdainfully tells him 'You eat like a dying horse.' There's also plenty of comedy from Slough House's petulant-but-gifted tech genius Roddy Ho (Waterloo Road's Christopher Chung) who you want to slap but also can't help rooting for.
The humour is much-needed to break up the considerable tension of the plot, which cleverly twists and turns – sometimes with a ferocity that almost makes it hard to keep up. The writing though (from Veep and The Thick of It's Will Smith, plus Morwenna Banks, Mark Denton and Johnny Stockwood) is smart enough to keep you guessing while also providing satisfying conclusions.
In Series One, the team are embroiled in a kidnapping plot by white supremacist terrorists, a story which barrels along brutally to the point you're almost scared to look at the screen. Then in the equally brilliant Series Two, a former agent turns up dead in odd circumstances, leading the team on the trail of reactivated Russian sleeper agents, with a risk-to-the-public element that sometimes gives it gripping disaster movie vibes.
Throughout, the team are reluctantly steered by the real MI5, headed by the shrewd, sophisticated Diana Taverner (Kristen Scott Thomas) and often disrupted by the slick, smarmy Spider Webb, Cartwright's former colleague and unofficial nemesis, played by White House Farm's Freddie Fox with just enough of a hint of vulnerability to make him interesting instead of a straight-up dickhead.
Yes, Slow Horses edges on the ridiculous, even far-fetched at times, but spy thrillers demand suspension of disbelief. Let's face it, realism in this context would involve what – paperwork?
What brings the drama back from the brink of absurdity is the characters. Yes, they may have silly names (they even poke fun at that themselves sometimes) but they've got fully-rounded back stories too. Lowden's River Cartwright is a rough diamond, a talented but flawed agent who is sensitive to any suggestions of nepotism thanks to his ex-agent grandfather (played by The Crown's Jonathan Pryce), and his developing relationship with Lamb enters heartwarming territory at times.
Lamb's weakness is clearly his well-hidden paternal affection for the agents (or 'Joes' as he calls them) under his control, including the quiet-but-mighty Catherine Standish (Luther's Saskia Reeves) whose considerable skills go under the radar – presumably because she's a woman of a certain age – making her a bit of an unsung hero in the Slough House team.
In fact, underestimating women seems to be a bit of a theme in general when it comes to Slow Horses, whose kick-arse female agents also include Rosaling Eleazar (Harlots) as Louisa Guy, Olivia Cooke (Queen Alicent in House of the Dragon) as Sid Baker, and Aimee Ffion-Edwards (Esme in Peaky Blinders) as Shirley Dander. They invariably end up using their superior spy talents to get the likes of Cartwright and Ho out of trouble, so hopefully we'll see them centred in future Slow Horses storylines.
The good news is that this underrated show is confirmed to be returning for both a third and fourth series, which were filmed back-to-back, with Series 3 of Slow Horses likely to arrive on Apple TV by the end of 2023. The even better news? The Slough House novels currently total 13 (including 2 world-adjacent), so we could see plenty more of Jackson Lamb and his motley crew of MI5 rejects yet.
Slow Horses Series 1 and 2 are available to stream on Apple TV+