Features
Unmissable UK True Crime Dramas Coming Soon
Don't miss these gripping, star-studded true crime series coming in 2022 and beyond, depicting some of the UK's most shocking criminal cases.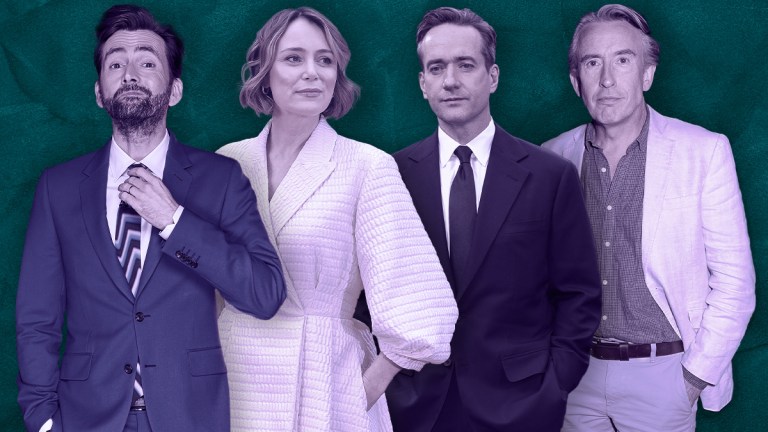 Judging from the buzz around 2022 dramas like Inventing Anna, The Staircase and The Girl from Plainville, our appetite for true crime series isn't going anywhere. From grisly murder to exquisite scams, these powerful stories based on real-life events have us hooked.
Most of the year's biggest true crime dramas have so far focussed on tales from the USA, but if you're looking for unbelievable criminal cases from the UK, there's plenty of must-watch series depicting some of the country's most notorious criminal scandals coming later this year and beyond. Here's a few to add to your watch list.
The Reckoning (BBC – later in 2022)
Actor, comedian and Alan Partridge creator Steve Coogan is set to portray the life-long sexual predator and disgraced TV presenter Jimmy Savile.
After the disturbing and harrowing Netflix documentary Jimmy Savile: A British Horror Story aired earlier this year, many have again wondered how he was allowed to get away with his crimes for so long.
Now a drama tackling his life, rise to fame and horrific sex offences is due to air on the BBC, somewhat controversially considering the beeb is one of the institutions in which Savile was seemingly able to hide in plain sight for so long. It comes from executive producer Jeff Pope who was behind other hard-hitting UK true crime dramas The Moorside and Appropriate Adult.
Litvinenko (ITV – early 2023)
Becoming known as 'the man who solved his own murder', in 2006 former Russian spy Alexander Litvinenko spent the 22 days it took him to die from polonium poisioning helping the Metropolitan Police with their investigation.
After his Emmy Award-winning performance as serial killer Dennis Nilsen in Des, David Tennant is going from killer to victim as he takes on the role of Litvinenko, alongside Margarita Levieva who is playing Alexander's wife Marina.
Tennant has admitted the role stayed with him after filming as he was able to meet the real-life Marina. And while covering such a recent event adds an extra level of intensity to this compelling drama, it also means many of the key individuals involved in the investigation have been able to contribute to and support the production, so we can expect to discover the real story when Litvinenko airs in early 2023.
The Sixth Commandment (BBC – late 2022/early 2023)
Acting legends Timothy Spall (Mr Turner) and Anne Reid (Last Tango in Halifax) will star in this dramatisation of the real-life deaths of churchwarden Peter Farquhar and his neighbour Ann Moore-Martin between 2015 and 2017.
This four-part drama series written by Sarah Phelps (A Very British Scandal) will explore the victims' manipulation by charismatic student Ben Fields, who murdered Peter and preyed upon Ann, as well as depicting the police investigation and high-profile trial that followed.
Written with the support of Peter and Ann's families, the series also stars Normal People's Éanna Hardwicke as Ben Fields, and will hopefully air on the BBC by the end of 2022.
Stonehouse (ITV, 2023)
You're probably tired of hearing about disgraced politicians these days, but Stonehouse reveals the strange true story of a 1970s political scandal that is well worth discovering.
In 1974 former Labour MP John Stonehouse was suspected of drowning or being eaten by sharks after he disappeared and a pile of his clothes were found on a beach in Miami. As this three-part drama unfolds, we learn of his secret lives, and the elaborate conspiracy he concocted to fake his own death.
As an added twist to this true crime series, Stonehouse and his wife Barbara will be played by real-life husband-and-wife duo Mathew Macfadyen (Succession) and Bodyguard's Keeley Hawes.
The Gold (BBC – early 2023)
There's a star-studded lineup – including Downton Abbey's Hugh Bonneville, Preacher's Dominic Cooper and The Duke's Charlotte Spencer – taking on this major BBC drama about the iconic Brink's-Mat robbery in the 1980s.
If you're too young to remember this case, back in 1983 six armed men broke into the Brink's-Mat security depot near London's Heathrow airport and stumbled upon gold bullion worth £26 million. It became the biggest robbery in world history and left controversy and murder in its wake, so the series – which is based on extensive research and interviews with people involved in the case – promises to be pretty explosive. Not to mention full of excellent 1980s haircuts.
The Hunt for Raoul Moat (ITV – 2023)
Arguably one of the UK's most infamous killer rampages, Raoul Moat's shooting spree in Northumberland and the country's biggest ever manhunt to capture him had everyone glued to the news back in 2010. Now the upcoming ITV drama The Hunt for Raoul Moat, which stars Lee Ingleby (The A-Word) and Bodyguard actor Matt Stokoe, will focus on the stories of Moat's innocent victims and the people trying to bring him to justice.
Considering the round-the-clock news coverage at the time – which included the bizarre moment that former England football star Paul Gascoigne turned up at the police stand-off claiming to know Moat, and bringing him lager, chicken and a fishing rod – this promises to be a memorable drama series indeed.
Sherwood: Series 2 (BBC, 2023-4)
The first season of this drama based on real-life murders in a Nottinghamshire mining village received critical acclaim after airing in June 2022, and the good news is it's already been confirmed for a second series.
Writer James Graham (who also penned true crime drama Quiz) will this time be expanding its focus from Nottinghamshire to feature Red Wall areas of the midlands, and while casting has yet to be announced, it's hoped The Walking Dead's David Morrissey will resume his role as DI Ian St Clair. Filming hasn't even begun yet, but this should be well worth waiting for.