Features
Hidden Gem British TV Dramas on Netflix
Sinister true crime, creepy teen horror, deliciously dark comedy and nail-biting police procedurals – if you haven't seen these UK TV dramas, it's time to 'Netflix and catch up'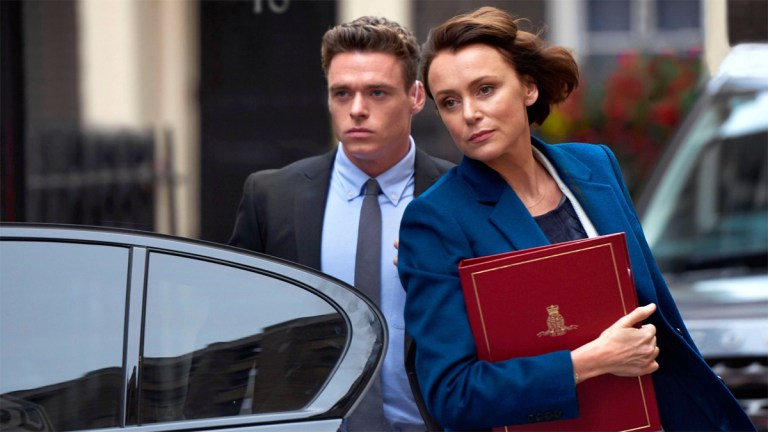 There's probably a clever German word invented to describe the increasingly common and frustrating act of spending an entire evening indecisively flicking through Netflix arguing about what to watch before just giving up and going to bed. The streaming giant has over 7,000 titles on its UK version alone, so you can be forgiven for feeling a bit overwhelmed by it all, and its recent tendency to cancel beloved Netflix Originals – some would say too soon – can leave you wondering where best to commit your time.
These British series are excellent quality, tried-and-true dramas that have received critical acclaim, with stars including Keeley Hawes, Sacha Dhawan, Jenna Coleman, Gillian Anderson, Olly Alexander and many more, plus lots of lesser-known top talent too.
So whether you fancy an edge-of-your-seat thriller like The Fall, an action-packed historical drama like The Last Kingdom or a heartrending LGBT series like It's A Sin, these are the British dramas worth seeking out on Netflix:
[All series are available on both US and UK Netflix, unless stated]
Giri/Haji
Cinematic, stylish, and sometimes brutally violent, Giri/Haji ("Duty/Shame" in Japanese) is a very grown up crime drama, following a Japanese detective – Kenzo Mori – who travels to London to find his brother, who was previously assumed dead but is now wanted for a murder that could kick-start a gang war in Tokyo. Much of the main cast were relatively unknown in the UK when the show premiered on the BBC in 2019 – Mori is played by Takehiro Hira, his brother Yuto by Yōsuke Kubozuka – but more recognisable names include Line of Duty's Kelly Macdonald as Met Police detective Sarah, and Will Sharpe (The White Lotus) as the charismatic and often hilarious sex worker Rodney. This dark, cool drama is also often surprisingly witty too – sadly, it was cancelled after just one series.
Top Boy
Telling the gritty and often violent story of drugs and gangs in London's Hackney borough, Top Boy stars two British rappers, Kane Robinson (aka Kano) as Sully and So Solid Crew's Ashley Walters as Dushane. This is one of the few dramas on this list that isn't actually over yet, with a fifth and final series on its way in September 2023, but Top Boy's first four series were eleven years in the making, starting off at Channel 4 between 2011-2013 and then being revived and continued by Netflix six years later. The two earlier series can be found on Netflix as Top Boy: Summerhouse (named after the fictional estate on which the show is set), and both the original and revival have scooped numerous awards, including BAFTAs and a MOBO.
Red Rose
Originally broadcast on BBC Three last year, this teen horror follows a group of friends in Bolton who find themselves at the mercy of the evil Red Rose app, which makes sinister demands that end in deadly consequences if not followed. This isn't your typical YA horror, though – in fact it uses audience expectations of teen horror to wrong foot us throughout – and also employs the gobby, rough-and-ready culture of British youth (think passing around contraband booze on the moors and playing a drinking game version of the boardgame Guess Who?) to add some excellent humour. Red Rose comes from the producers of Sex Education, and it's similarly fresh, clever and enjoyable, with its young, up-and-coming cast supported by some recognisable "grownups" including Natalie Gavin (Shameless) and Samuel Anderson (Doctor Who). 
The Serpent
True-crime fans will enjoy devouring this 2021 BBC series about the serial killer Charles "The Serpent" Sobhraj, who robbed and killed at least 20 tourists in Thailand and other parts of South Asia during the 1970s, using his victims' passports to travel the world selling stolen jewels. Tahar Rahim (The Mauritanian) has understated menace as Sobhraj throughout the show's eight episodes, Jenna Coleman (Victoria) is compelling and unreadable as his girlfriend and accomplice Marie-Andrée Leclerc and Billy Howle (Chloe) is quietly heroic as the Dutch diplomat Herman Knippenberg, whose investigation into the disappearance of two Dutch backpackers unwittingly leads him to discover Sobhraj's horrific crimes. The Serpent also brings 1970s Thailand to life with an intoxicating vibrancy that only greatly heightens the experience of watching this skilful retelling of an underrated true crime story.
The End of the F***ing World
This delightfully dark Channel 4 comedy-drama from 2017 starts with a simple premise: 17-year-old James (Alex Lawther, Andor) thinks he's a psychopath, and decides to kill his mouthy new classmate, Alyssa (Jessica Barden, You & Me). But the pair end up running away together, and what follows is an unpredictable and often bloody joyride through teen romance, trauma and self-discovery, made greatly entertaining by Lawther and Barden's chemistry and comic timing. The traditional will-they-won't-they love story is greatly improved by the "will-he-won't-he kill her" element, and you'll fly through the two criminally underrated series with ease (and, quite often, unease). Properly dark, properly funny stuff.
Bodyguard
Few dramas unite the nation in quite the way Bodyguard did when it first came out in 2018, with its audience fervently live-tweeting throughout the six gripping episodes, as PTSD-afflicted veteran turned police sergeant David Budd (Richard Madden, Game of Thrones) takes on the extremely challenging job of acting as personal bodyguard to controversial politician Julia Montague (Keeley Hawes, Stonehouse). Five years on, and Bodyguard is too often overlooked in favour of its creator Jed Mercurio's other big hit, Line of Duty, but it's a terrific watch, packed full of juicy tension, jaw-dropping moments and action-packed plot, yet still leaving us wanting more. If you missed out the first time around, you'll thank yourself for rectifying that, and the good news is a second series is reportedly in development.
It's a Sin
Russell T Davies has a canny knack for luring you into a story just so he can rip your heart to shreds, and nowhere is this truer than his 2021 drama It's A Sin, which follows a group of young gay men living life to the full in London at the start of the AIDs crisis. It's an exceptional ensemble performance from Olly Alexander (lead singer of Years & Years), Lydia West (Inside Man), Omari Douglas (I Hate Suzie) and relative newcomers Callum Scott-Howells and Nathaniel Curtis, with an impressive supportive cast including Neil Patrick Harris (How I Met Your Mother), Keeley Hawes (Crossfire) and Tracy-Ann Oberman (Eastenders). It's A Sin is incredibly bingeable, but will stay with you for a very long time after you've finished watching.
Dracula
The brilliant minds of Mark Gatiss (Sherlock) and Steven Moffat (Doctor Who) combined to produce this chilling but often comedic adaptation of Bram Stoker's novel back in 2020, which also had the coolest billboard of all time. While Claes Bang (The Affair) is a glorious mix of menacing and swaggering as Count Dracula himself – his delivery of "I'm undead, I'm not unreasonable" is undoubtedly the line of the series – it's Inside Man's Dolly Wells' performance as Sister Agatha Van Helsing who makes this a truly worthwhile watch. She's a memorable, gutsy adversary to the seemingly untouchable power of Dracula, and their on-screen chemistry in electric. There's an excellent supporting cast of recognisable names, too, from Doctor Who's Sacha Dhawan as Dr Sharma to The Thick Of It's Joanna Scanlan as Mother Superior, and Gatiss himself makes an appearance as Frank Renfield. The third episode's hairpin change of direction is unpalatable, but not unforgivable.
The Last Kingdom
Viking invaders! Anglo-Saxon battles! Rugged warlords defending their ancestral birthrights! If these sorts of things tick your boxes, you'll sail through all five series of The Last Kingdom, a historical drama based on Bernard Cornwell's The Saxon Stories novels. Alexander Dreymon (American Horror Story) stars as Uhtred of Bebbanburg alongside David Dawson (Luther) as King Alfred, and Eliza Butterworth (A Town Called Malice) as his wife Lady Aelswith. Once you've finished The Last Kingdom, there's also a feature-length sequel, Seven Kings Must Die, on Netflix – and later this year we should also see another of Cornwell's novel series, The Warlord Chronicles, adapted in The Winter King on ITVX.
On UK Netflix But Other Platforms in the US
Skins
Skins developed a cult following of fans during its six-year run, beginning on E4 in 2013, with each episode named after (and focussing on) a character in its cast of troubled Bristol-based teenagers. Although it's often a typical 'teen drama' in its sex, bodily-function-fueled humour and drug use, it runs much deeper than its initially superficial exterior, and rightly won praise for the way it dealt with issues like sexuality, grief and mental illness. The show is a veritable rollercoaster of emotions, and also kick-started the careers of some well-known names like Dev Patel (Slumdog Millionaire), Jack O'Connell (SAS: Rogue Heroes), Luke Pasqualino (Shadow & Bone) and Oscar winner Daniel Kaluuya (Get Out).
Where to stream in the US: Hulu
The Missing
It's every parent's worst nightmare: during an idyllic family holiday to France, the Hughes' five-year-old son Oliver goes missing at a crowded holiday resort. What follows is a gut-wrenching eight-part BBC drama, in which father Tony (James Nesbitt, Suspect) continues desperately to search for his son for almost a decade, destroying his marriage to Oliver's mother Emily (Frances O'Connor, Mr Selfridge), and assisted by the doggedly determined detective Julien Baptiste (Tchéky Karyo) in a twisty, gripping quest for the truth. The first series, from 2014, was followed by an equally tense second series about a young woman who turns up claiming to be a girl who went missing almost 10 years ago, but the now retired detective Baptiste has doubts about her identity. The lead detective is such an unforgettable character he went on to star in his own crime series, Baptiste, which is also on Netflix.
Where to stream in the US: Starz
The Fall
This suspenseful, intense crime drama has some pretty impressive casting claims: not only did it properly launch the career of 50 Shades of Grey star Jamie Dornan when it premiered on the BBC back in 2013, Gillian Anderson declared Detective Stella Gibson her favourite role to play, even more than her infamous portrayal of Scully in The X-Files. Gibson is a highly skilled Met Police superintendent drafted in to help investigate a serial killer in Northern Ireland, the charming psychopath Paul Spector (Dornan), who is strangling professional women in Belfast. Both he and Gibson are accomplished hunters, and their cat-and-mouse chase is a mesmerising, slow-burning tease that builds to a nail-biting climax that will continue to haunt you long after you've finished all three series.
Where to stream in the US: Amazon Prime Video
Liar
It seems strange to see Downton Abbey star Joanne Froggatt in Liar's contemporary setting at first, but you quickly adapt thanks to her magnificently believable performance as Laura, a newly single teacher who goes on a date with the charming surgeon Daniel (Ioan Gruffudd, UnREAL), before waking up to discover she has been raped. When the police investigation seems to be going nowhere, Laura decides to search for evidence herself, leading her on a perilous hunt for justice. Not only is Liar a captivating watch, it does an excellent job of tackling issues like consent, victim-blaming and the ongoing, unforgivable difficulty of securing a rape conviction. Without giving too much away, the second series, which deals with a different type of serious crime, is equally worth watching.
Where to stream in the US: AMC+