Features
You Season 4 Cast: Kate Actor Charlotte Ritchie's Best Roles
As Charlotte Ritchie stars in Season 4 of You, don't miss these highlights from her other TV and film roles, from Grantchester to Ghosts, Doctor Who and more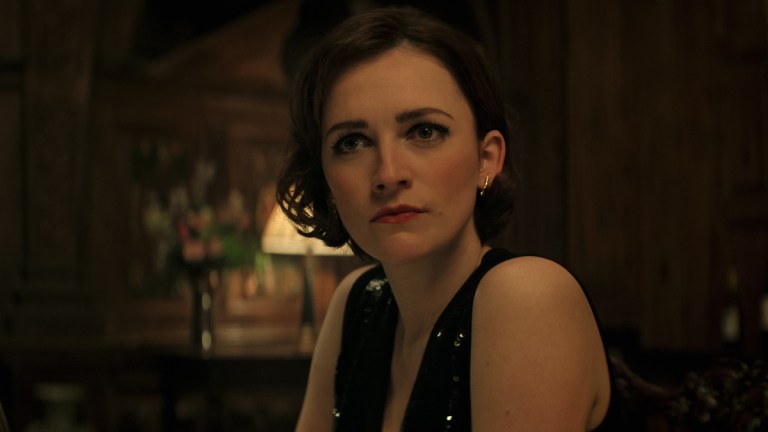 Addictive Netflix thriller You is finally back. And in Season 4, Charlotte Ritchie gets the unenviable honour of playing the latest obsession of creepy-yet-handsome, 'I just can't help falling in love with (and then probably killing) you' Joe, aka Penn Badgley.
If you're new to You, it's the story of bookshop manager Joe Goldberg, who has a pathological tendency to develop dangerous infatuations with women, which usually end in lots of bloodshed and/or a prolonged stay in a plexiglass book vault. Most recently, he's had a son, whom he was forced to abandon when escaping to a new life across the Atlantic after the nail-biting, catastrophic Series 3 finale.
These days, Joe goes by Professor Jonathan Moore, and is living it up in London town. Charlotte Ritchie's character is savvy ice-queen and art gallery director Kate, part of a group of wealthy and privileged young Brits Joe gets tangled up with. Kate will need her considerable wits to keep herself out of trouble when she becomes the object of Joe/Jonathan's affections.
Let's take a look at some of Charlotte Ritchie's other most impressive TV and film roles to date.
Doctor Who
Ritchie had a starring role in the 2019 New Year's Day Doctor Who special, 'Resolution', in which her character Lin falls victim to the Daleks, as they take control of her mind and body and use her to execute their latest plan to conquer the Earth. It's a particularly chilling episode thanks to Ritchie's nuanced, deceitful and resourceful character, who continues fighting against the Daleks' control as they force her to do increasingly evil and destructive things.
Feel Good
This award-winning Channel 4/Netflix comedy drama is a semi-autobiographical work by Mae Martin, who stars as themself, alongside Charlotte Ritchie as their girlfriend George. Although it certainly delivers on the name, with Ritchie and Martin sharing incredible on-screen chemistry, Feel Good also has real depth, dealing with complex issues like addiction, childhood trauma and fear of coming out.
Grantchester
Despite its reputation, 1950s-set detective drama Grantchester is much more than just a cosy crime drama. In it, young vicar Will (Tom Brittney, who replaced James Norton after Series 3) helps the village policeman to solve crimes against a backdrop of historical social commentary and complex moral questions. Charlotte Ritchie joined the cast in Series 7 last year as Bonnie, a widow who becomes one of the vicar's love interests, beginning a tempestuous romance which is a pleasing distraction from the fact that this tiny Cambridgeshire village seems to attract a wildly disproportionate number of murders.
Ghosts
Although it's very much an ensemble production, if anyone is the lead in the marvellous BBC sitcom Ghosts, it's Charlotte Ritchie. Her character Alison is the glue that holds the entire concept together: her accident in episode one means she's the only human who can see and interact with the hilarious family of ghosts that inhabit Button House, her newly inherited home. Her cheery banter with on-screen husband Mike (Kiell Smith-Bynoe) is very much relationship goals, and four series later, Ghosts remains the ultimate warm-hearted, rewatchable hug-in-sitcom-form. Bring on Series 5 later this year.
Dead Pixels
A delightfully awkward sitcom, Dead Pixels explores the lives of three friends and roommates, two of whom (Meg and Nicky, played respectively by Alexa Davies and Will Merrick) are obsessed with the fictional multiplayer online role-playing game 'Kingdom Scrolls'. Charlotte Ritchie is brilliantly sharp and wry as Alison, the friend who tries to lure the other two away from the game to actually participate in the real world every now and then, and there are also excellent guest appearances from the likes of Starstruck's Rose Matafeo.
Fresh Meat
For a certain generation, Charlotte Ritchie will always be Oregon, the naive, hopeless student trying to hide her privileged background from her rebellious new best friend Vod in hit university-based comedy-drama Fresh Meat. Her character's misfortunes just make her all the more likeable, including her chaotic love life – particularly the problematic affair with her professor Tony Shales – but her friendship with Vod over the course of the four series is one of the show's biggest highlights.
Call The Midwife
For a certain slightly older generation, Charlotte Ritchie will always be midwife Barbara, one of the most beloved characters in Call The Midwife's long history. Ritchie starred in four series (4 to 7), during which her sweet, gentle, jolly-hockey-sticks character has to contend with the Thalidomide scandal, a love triangle with a lovely vicar, and (mild spoilers!) one of the saddest television exits of all time.
Taskmaster
Last but by no means least, one of Charlotte Ritchie's best and funniest roles is… herself. Her stint as a contestant on Series 11 of Taskmaster was an utterly joyous dose of pure chaos, and despite her terrible scores, she appears to be living her best life throughout. Highlights include her ingenious attempt to trap a rat and, as you can see above, crawling and scurrying around a golf course like a delighted cat for hours on end.
Luke and Charlotte Ritchie
As if she isn't talented enough, the girl's got quite the voice too, and makes beautiful, soulful folk music with her brother Luke, like the song Weightless, above, which was released as part of their EP Light of Another.
You Season 4 Part I is available to stream on Netflix now. Part II arrives on March 9.