News
Inside No. 9 Series 8 Airing in Spring With New Cast Confirmed
After its spooky Christmas special, Inside No. 9 is back for five new episodes, with guest cast including Asim Chaudry, Anita Dobson and Mathew Horne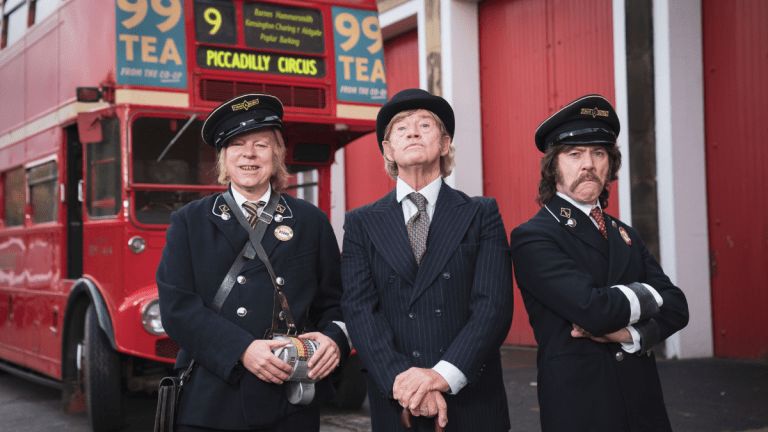 The wait is almost over: the BBC have just announced that Series 8 of Inside No. 9 will be released on BBC Two and BBC iPlayer this spring.
The 2022 Christmas special – the macabre and comedic The Bones of St. Nicholas, set in a haunted church and guest starring Simon Callow (A Room with a View) and Shobna Gulati (Dinnerladies) – was the unofficial first episode of Series 8, leaving us with five remaining brand new episodes on the way.
Series 8 Stories: Channelling 1970s Sitcom On The Buses
They've finally done it! After years of fan questions about why an obvious potential No. 9 setting – a No. 9 bus – hasn't yet been used, Shearsmith and Pemberton have delivered, but as always, in their own way. Judging from the 'first look' image the BBC released, one of the new episodes will involve riffing on 1970s sitcom On The Buses, the bawdy hit comedy which revolved around the lives of two bus depot workers, Stan Butler and Jack Harper.
Joining Steve Pemberton and Reece Shearsmith in the photo is 1970s actor Robin Askwith (who has more recently appeared in The Madame Blanc Mysteries), who suggested on Twitter that the new Inside No. 9 episodes will arrive in March:
This is of course unconfirmed, but the prospect of having the new series drop in the earlier part of spring will be welcome indeed for Inside No. 9 fans eagerly awaiting fresh episodes.
While official plot details have yet to be announced, the BBC promised the usual 'mix of horror, thriller, drama, comedy and surprising twists', with Pemberton and Shearsmith themselves describing the new episodes as 'funny and frightening.' Not exactly giving much away, but the guest cast is at least very promising:
Series 8 Guest Cast
Askwith is just one of the many guest stars that have just been announced, with others including People Just Do Nothing star Asim Choudry, Gavin and Stacey's Mathew Horne, Batman's Leon Herbert, and EastEnders star Phil Daniels.
Another Eastenders legend joining Series 8 is Anita Dobson, who the BBC also recently announced as a cast member for Doctor Who Series 14.
Among other guest stars just announced are Game of Thrones' Samantha Spiro, Moyo Akandé (The Cry) and Claire Rushbrook (My Mad Fat Diary). It's certainly a strong line-up.
The Beginning of The End For Inside No. 9
This latest news about Series 8's release date is particularly welcome considering it may be the penultimate ever series of Inside No. 9: sadly, Steve Pemberton and Reece Shearsmith have confirmed the show is 'pausing', potentially for good, after Series 9 airs in 2024. We'll bring you more news on that when we have it.
In the meantime, you can delight and disturb yourself in equal measure by rewatching all previous seven series of Inside No. 9, which are available on BBC iPlayer.
Inside No. 9 will arrive on BBC Two and BBC iPlayer in spring 2023