Features
Upcoming Sci-Fi Movies in 2023
Take a look ahead at the most intriguing science fiction movies set to be released in 2023!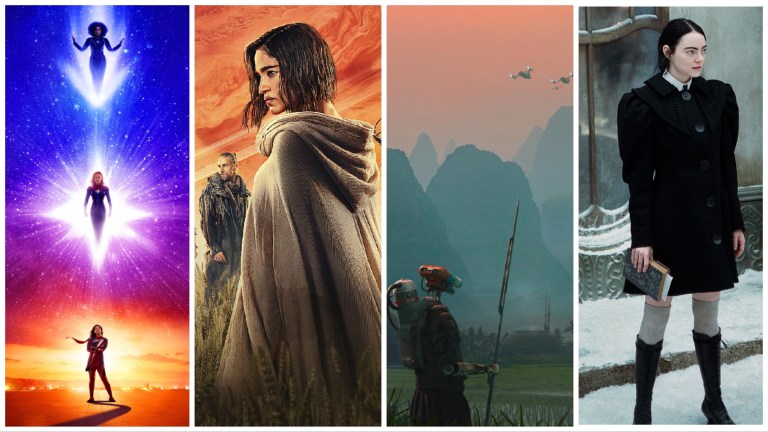 It's been a mixed bag for sci-fi movie fans so far in 2023, with the likes of The Flash, 65, Ant-Man 3, and even the time-traveling Indiana Jones and the Dial of Destiny all underwhelming at the box office, but there's so much more to come this year from the realm of science fiction, both in theaters and via streaming, and we'll be updating you with all the shiny newness as it gets announced right here.
Whether you're after something more cerebral or some glorious, galaxy-threatening action, there's bound to be a project or two waiting for you on the horizon. From Rebel Moon to The Creator, these are the major sci-fi movies coming your way in the back half of 2023.
No One Will Save You – September 22
No One Will Save You is heading to streaming at the end of September via Hulu in the US and Star+ and Disney+ elsewhere! The story centers on Brynn Adams (Kaitlyn Dever) who, although a very creative and talented person, feels alienated. When she returns to the home she grew up in, she finds comfort there, but she awakens one night to find extraterrestrial intruders lurking, and a showdown with the beings might change her reluctant path forward.
Relax, I'm from the Future – September 22
You don't get to see many sci-fi comedies at the theater these days unless they're superhero-related, but this September you get to change that by watching Relax, I'm from the Future, a Canadian movie starring the fantastic Rhys Darby (Our Flag Means Death) as Casper, a time traveller who arrives in our present in an effort to save the world. Along the way, he meets Holly (Gabrielle Graham), who becomes his fast friend when he gives her financial tips from the future. Unfortunately, this then alters the future, and it's not long before fellow time traveler Doris (Janine Theriault) arrives to stop the duo in their tracks.
Unidentified – September 23
In 1993, UFOs appear over every major city in the world and just kind of…hang out, floating in the sky. They don't move, they don't make a noise, they're just a baffling addition to our planet. But decades later, a rumor lingers that that aliens have started living among humans in the meantime. From Korean-Canadian filmmaker Jude Chun and starring Jang Sun, Kim Hyo-in, and Jeon Ho-hyun, Unidentified is coming off the festival circuit and into theaters/VOD this year with rave reviews on its sleeve. Definitely make time for it in September!
The Creator – September 29
John David Washington, Gemma Chan, Ken Watanabe, Sturgill Simpson, Madeleine Yuna Voyles, and Allison Janney star in this fascinating upcoming sci-fi movie from Gareth Edwards (Rogue One: A Star Wars Story). It's set in the throes of a futuristic war between humans and AI, as ex-special forces agent Joshua (Washington) is tasked with hunting down and killing the mysterious "Creator" who has developed a weapon that will soon end the war for good and make humans a thing of the past.
57 Seconds – September 29
When a tech blogger (Future Man star Josh Hutcherson) gets the opportunity to interview a a visionary tech guru (Morgan Freeman) he picks up a ring from him that can transport the wearer 57 seconds into the past. With the guru's help, he decides to rewrite the past and get revenge against the ruthless corporation that ruined his family. But his actions accidentally trigger a chain of events that force him into a battle for survival. 57 Seconds looks pretty fun! It'll hit theaters and VOD on September 29, so consider this a warning way more than 57 seconds in advance.
The Marvels – November 10
Carol Danvers (Brie Larson) is back for another Marvel Studios standalone sci-fi adventure this November in The Marvels, and this time Captain Marvel will be joined by some of the other Captain Marvels from the comics, Photon (Teyonah Parris) and Ms. Marvel (Iman Vellani)! The trio will be getting into some curious circumstances when they realize that every time they use their superpowers, they swap places. No doubt there will be a huge planet-hopping galactic caper in the offing.
The Hunger Games: The Ballad of Songbirds & Snakes – November 17
The Hunger Games: The Ballad of Songbirds & Snakes is a prequel movie set in the Hunger Games universe and stars Tom Blyth, Rachel Zegler, Peter Dinklage, Jason Schwartzman, and Viola Davis. It follows a young Coriolanus Snow, who is assigned to mentor a female tribute from District 12, but as we know he ends up eventually becoming the tyrannical leader of Panem, sorting the good guys from the bad ones in this film might be a little tricky!
Godzilla Minus One – December 1
Now, if you're a Godzilla fan, you'll probably already have checked out the trailer for Godzilla Minus One, but if you haven't, you need to click 'play' on the video above immediately, because it looks uh-MAYzing. Directed, written, and with visual effects by Takashi Yamazaki, this is the 37th film in Toho Studios' Godzilla franchise, but more importantly it's the fifth movie of the Reiwa era, and it'll see a postwar Japan dealing with the emergence of Godzilla. The title refers to Japan's economic state following the war, which is at zero. When Godzilla appears and goes on a rampage, it hits negative!
Poor Things – December 8
A surrealist science fiction film from The Favourite director Yorgos Lanthimos? Yes, please! In this Bride of Frankenstein-esque tale, a young woman (Emma Stone) is resurrected by a rather complex scientist (Willem Dafoe), but soon gets bored of being under his watchful eye. Poor Things is highly anticipated and could be winning all the awards next season! We shall have to wait and see how it fares when it is released, but Lanthimos is well beloved at this point.
Rebel Moon Part 1: A Child of Fire – December 22
Man of Steel director Zack Snyder has a new project hitting Netflix at the end of the year. Rebel Moon is described as a "space opera" starring Sofia Boutella, Charlie Hunnam, Djimon Hounsou, Ray Fisher, Jena Malone, Fra Fee, Ed Skrein, and Anthony Hopkins, and takes place in a universe controlled by a corrupt government of the "Mother World." When a moon comes under threat from the forces of the Mother World, a former member of the army begins recruiting warriors from across the galaxy to take a stand. This will be the first film in Snyder's Rebel Moon trilogy.
The Shift – December
Admittedly, this looks like a sci-fi B-movie, but we generally like B-movies! However, this B-movie is "a story of faith" loosely based around the Book of Job, so your mileage may vary. The plot follows Kevin (Kristoffer Polaha) who ends up in a dystopian world meeting a mysterious stranger called "The Benefactor". Kevin has to fight to "shift realities" if he's ever to return to the woman he loves. Not sure about this one, but check out the trailer above and see what you think. Oh! And Lord of the Rings and Goonies actor Sean Astin also makes an appearance in The Shift, for any Astin completists out there. There must be at least one!
The Mothership TBA
This is an interesting one coming out on Netflix later this year, directed by award-winning Bridge of Spies scribe Matt Charman. The Mothership stars Halle Berry, whose family lives on a rural farm. One day, her husband completely disappears, but it's not until a year later that the truth behind his disappearance begins to emerge. The twist? There's a UFO under their house, and it's all connected! We'll definitely be adding this one to our watchlist!
All of the other major 2023 movie releases are listed here! For a complete list of Marvel movie and TV series release dates, why not check out our complete breakdown right here? You can also find a preview of upcoming Star Wars films and TV shows here. For other big TV release dates, the schedule can be found here. And if you also count yourself as a horror fan, those upcoming movies are all listed here!