Features
Cailee Spaeny on Priscilla, Elvis, and Why Sofia Coppola Movies Are So 'Freeing'
Exclusive: Cailee Spaeny tells us why Priscilla Presley's reaction to the new film "was everything," and how her own childhood helped her understand the woman who lived in Graceland.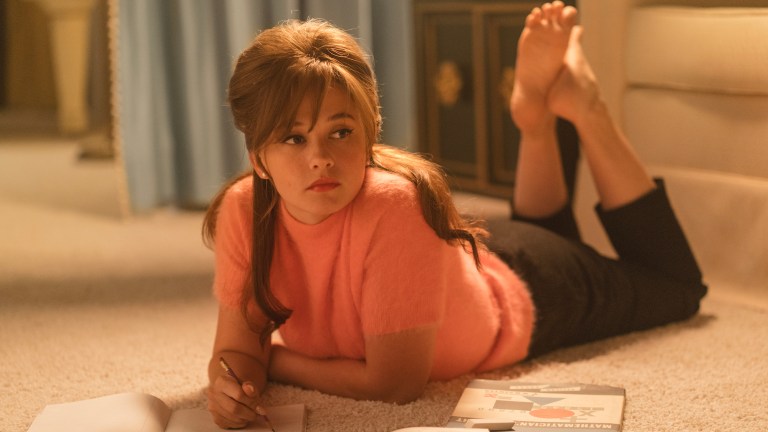 On the morning of March 2, 1960, Sgt. Elvis Presley, an enlisted man in the U.S. Army, got on a military aircraft outside Bad Nauheim, Germany. From there, the so-called King of Rock 'n Roll would head back to the United States, back to civilian life. Yet it is what he left behind on the day which haunts more than 60 years later. Standing far below the plane's steps, captured in photographs and newsreels, is the waifish but devoted Priscilla Beaulieu—not quite 15 years old and perhaps the loneliest girl in the world.
That's at least one way to interpret photographs of the teenager who would grow up to be Priscilla Presley, wife of the era's biggest rock star. In some of the videos and footage from the scene, she is certainly smiling as she watches Presley ascend the plane's steps; but in other moments, such as when their gazes are not meeting and she sits in the back of a car with Elvis ahead of his departure, the smile is gone. It's a photo that lingers in the mind, especially for Cailee Spaeny, the 25-year-old actor entrusted with telling that young girl's story after all this time in Sofia Coppola's new film, Priscilla.
When we catch up with Spaeny a few weeks after Priscilla's premiere at the New York Film Festival, the actress is thinking back on that face and many others of the real-life Priscilla. Captured in celluloid and black and white, these are the images Spaeny and Coppola looked toward time and again as they plastered them across office walls and various soundstage placards during the film's production.
"There's a lot of photos of them together, including some really incredible home video footage online of them on beach vacations or her surprise 21st birthday," Spaeny says of the research that most inspired her. "The moment that she's getting filmed while saying goodbye to Elvis as he gets on the plane back to America, those were constantly on repeat. We were studying them in minute detail."
For Spaeny, it was vital in helping understand who Priscilla was during the formative years that compose the backbone of Coppola's movie. Set between the years 1959 and 1972, Priscilla tracks the rise and fall of a romance, yes, but also the emerging rise of a young woman trying to figure out her place in a world, even from the gilded terraces of Graceland. When the film begins, Beaulieu is just 14 (while Presley is 24), and by the end, she is still only 27 when she walks through those gates for a final time, leaving her husband behind. In that vast span of time, Coppola and Spaeny sought to find the far quieter story of a young woman who discovers her own voice while standing behind a crooning cadence that dominated all rooms and screens.
It probably helped, then, that Spaeny and Coppola had the actual Priscilla's support too. In addition to giving the film her blessing, Priscilla Presley is an executive producer on the picture, one who came to the project after Coppola reached out to her in order to inquire about her 1985 memoir, Elvis and Me. Spaeny likewise found speaking with Priscilla an indispensable resource for the film.
"I thought it was really important to sit down with her," Spaeny says when asked if there were any reservations of speaking with someone she was asked to interpret artistically. "It was a great pressure for me to play this character in the right way, because I feel like her story is long overdue to be told in this way, and I wanted to sit down with her and get her version of accounts and make sure she felt comfortable that it was in the right hands."
For Coppola, there was little doubt. Citing the expressiveness of Spaeny's face, the director said, "She has an incredible ability to move between different stages of life. We shot the film out of order, but somehow she could be a 15-year-old in Germany in the morning and in the afternoon be pregnant in her 20s at Graceland, and both felt equally true."
But then in her own way, Spaeny can relate to Priscilla's unique journey. While the actress never accepted an invitation at age 16 to live in a Tennessee mansion with a rock star, at only age 25, Spaeny has already been in the business for nearly a decade. And, a bit like Priscilla, that journey started with the teenage Spaeny revealing to her parents a surprising confidence: she needed to leave her childhood home in Springfield, Missouri in order to follow her dreams. So each summer for four years, Spaeny and her mother drove to Los Angeles, which to a modern 15-year-old might be as strange as young Priscilla Beaulieu's first weekend in Graceland dovetailing into a trip to Las Vegas.
"I was sort of wide-eyed and just felt lucky to be in this city," Spaeny says of that time now. "Just to take in the city and the history it holds. The sort of land of dreams that's Hollywood. That this is where it all happens was so exciting for me, and I was so passionate and had so much drive about making it happen. It was a really magical time in my life, and those are some of my favorite memories."
Though she adds with a chuckle that LA "will always be strange" even as an adult, she admits it already feels about a million miles from when she landed her first feature film role at 18, Pacific Rim: Uprising. Like Priscilla, Spaeny was forced to grow up fast.
"There's a lot of emotional parts of her journey that I felt I could relate to," Spaeny says, "in terms of getting thrown into this world that feels very foreign from where you came from… being from the southern Midwest and living a very specific small town life and then jumping into starring in movies that was sort of like getting baptized in fire; that whirlwind experience and how it changed my life is vastly different from the things she was experiencing when she transitioned from living in Germany to living at Graceland, but I guess that's the closest I could get to."
It appears to be enough for Coppola, an auteur who has been fascinated throughout her career by young women who, despite existing in rarified and privileged positions, can find themselves quietly drowning in inertia. Kirsten Dunst's Lux Lisbon in The Virgin Suicides; Scarlett Johansson's Charlotte in Lost in Translation; just Marie Antoinette, period. These are haunting figures throughout Coppola's oeuvre, and formative characters for younger generations, including Spaeny's.
"When I found her, those films were really freeing to me," Spaeny says about watching Coppola's films. "I think she depicts young women in a way that is honest and refreshing." Coppola and Spaeny's interpretation of Priscilla is also clearly intended to be of a piece with that. "I hope that this is a movie that even though it's in this heightened, sort of Alice in Wonderland type of fantasy world with this strange backdrop, I think that there are things along the way, and milestones that a lot of young women face, that are universal."
And at least one woman has already given it the review Spaeny was most nervous about. Priscilla.
Says Spaeny, "I made this film for her. So when I went and watched the film for the first time at the Venice Film Festival, she was also there, but I hadn't heard her response before. So I watched it right next to her for the first time, which was so nerve-wracking and strange. And once the film was over, she turned to me and said, 'I thought that was a great performance and I watched my life through you.' That was everything."
Priscilla opens wide on Friday, Nov. 3.