Features
A Tale of Two Pietros: Explaining the MCU X-Men Problem With a Mutant Speedster
We still don't know how the X-Men will make their way into the MCU, but WandaVision may have given us a major clue.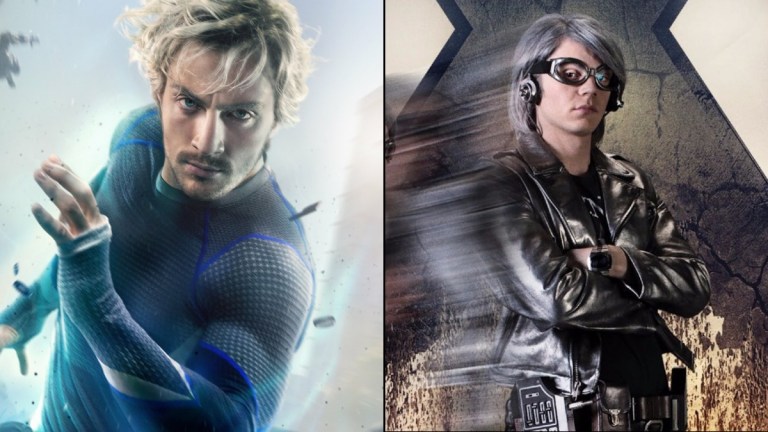 This article contains WandaVision spoilers.
Since his creation by Jack Kirby and Stan Lee in the mid-60s, Quicksilver has been a fairly important part of the Marvel Universe. The mutant speedster started as a member of Magneto's Brotherhood of Evil Mutants, then became one of the earliest members of the Avengers. Over the decades, he's married into the Inhumans, joined various X-teams, been a mentor to the Avengers Academy, and had his parentage retconned several times over.
He's never been the most popular character in the Marvel Universe, but due to some legal complications, he became the focal point between two rival movie studios. It's those complications that make his appearance in the fifth episode of WandaVision such a huge deal.
But let's get to where this all started. As hard as it may be to believe now, b ack in the '90s, Marvel Comics was on the verge of bankruptcy. One way to get some money together was to sell the movie rights of its various characters to whatever studio was willing to pay. After all, shared cinematic universes weren't really a thing back then.
Not every movie got made, of course. There were instances of studios sitting on rights and not doing anything for so long that they had to give them up. For instance, New Line Cinema had the rights to make a Venom movie, albeit one where they couldn't reference Spider-Man directly in any way. Such an idea was worth a laugh in the '90s, but Sony actually pulled it off 20 years later, so go figure.
Studios would only have so much time to make a movie before the rights would revert to Marvel. By the time Marvel decided to get into the movie making business themselves and kick off the MCU concept, the field had settled. Sony had the Spider-Man franchise and had just finished Sam Raimi's initial trilogy, preparing for a fourth movie that didn't work out and would ultimately be replaced by a reboot. Universal had a complicated hold on the Hulk that lent itself to a unique partnership with Marvel. Fox was able to make the X-Men a successful franchise, but had less success with two attempts at the Fantastic Four franchise.
Essentially, the entire Marvel Universe had to be categorized into different properties. A lot of these were pretty easy. Doc Ock? He was clearly part of Spider-Man's corner and could only be used in Spider-Man movies. Dr. Doom gets around as a villain in the comics and fights just about everyone, but at the end of the day, he's grouped in with the Fantastic Four and could only be handled by Fox. But it wasn't as simple for other characters.
One major complication was what to do with Quicksilver and the Scarlet Witch. Which corner of Marvel did they truly belong to? They were technically under the X-Men umbrella as the mutant children of Magneto. Quicksilver himself was a major member of X-Factor.
On the other hand, the two were also huge staples of the Avengers. They were Avengers longer than the likes of Hulk and Black Widow. Scarlet Witch was even the centerpiece in one of the most important Avengers storylines of the early 21st century.
20th Century Fox and Marvel Studios finally came up with an agreement. Both sides had the rights to the Maximoff twins, but the Avengers movies couldn't describe the two as mutants or mention Magneto and the X-Men movies couldn't bring up the Avengers or, uh… Yeah, this was pretty much on Marvel's side to be creative.
Around the same time, each studio cast their Quicksilvers. Marvel had Aaron Taylor-Johnson and Fox had Evan Peters. Marvel cast Elizabeth Olsen as Scarlet Witch while Fox declined to actually use the character, likely due to how hard to write her powers could be at times. The most they did was include an unnamed little sister for Quicksilver, but director Bryan Singer insisted she wasn't Wanda.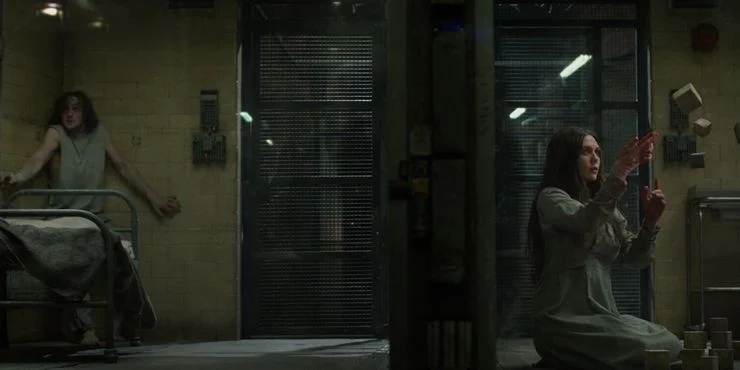 LAP 1 – CAPTAIN AMERICA: THE WINTER SOLDIER
Fittingly, with each studio having their own speedster, there was a race to be the first to get their Quicksilver on the big screen. It was really Fox's race to lose, considering X-Men: Days of Future Past was the seventh X-Men movie and the most the character has ever gotten beforehand was an Easter egg namedrop on a computer monitor in X-Men 2. At least Days of Future Past was going to be released nearly a full year before Marvel's Avengers: Age of Ultron.
Marvel still won the race, though. Weeks before the release of Days of Future Past, Captain America: The Winter Soldier hit theaters with a post-credits scene that revealed Aaron Taylor-Johnson's Quicksilver and Elizabeth Olsen's Wanda Maximoff to the world. And while they were indeed showing off their powers in those brief moments, it wasn't because they were mutants, but rather had been altered by Baron Strucker and HYDRA using Loki's scepter from Avengers.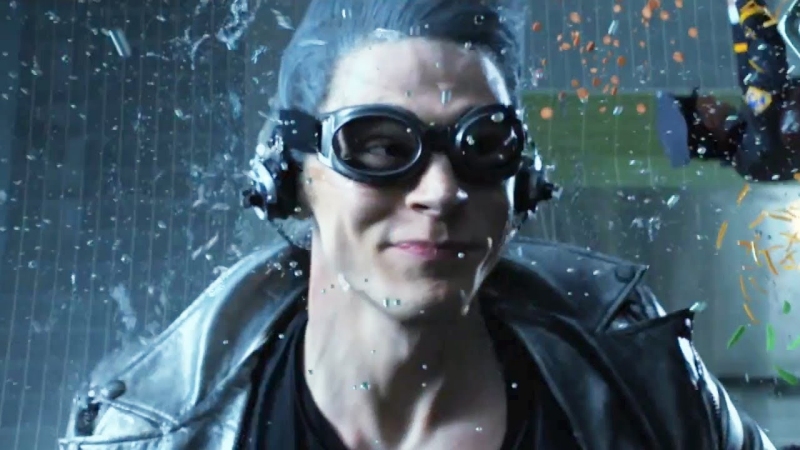 LAP 2 – X-MEN: DAYS OF FUTURE PAST
Fox got their chance later that year with X-Men: Days of Future Past. Overall, Evan Peters' Quicksilver didn't get too much screen time, but he was definitely considered a highlight by fans.
Referred to as Peter Maximoff in this continuity, the speedster is a little more laid back than other characters in the X-Men series. Not only does his power give him a feeling of casual superiority over others, but the unbelievability of it all makes him feel almost untouchable. His high-speed crimes would come off as more of a myth that nobody with authority would logically believe. He's recruited by Xavier, Wolverine, and Beast to break Magneto out of the Pentagon, which he does for the sake of the challenge.
It's there that he shows his stuff in a slow-motion segment set to Jim Croce's "Time in a Bottle," displaying seemingly endless charisma as he protects his allies from armed prison guards and spends his perpetual head start straight-up fucking with their would-be killers. It's a fun moment in a film about dystopian genocide and Peters makes Quicksilver really likeable.
He doesn't really get to do too much otherwise, though he does make a remark to Magneto hinting that the Master of Magnetism is his father, but that's as far as it ever went.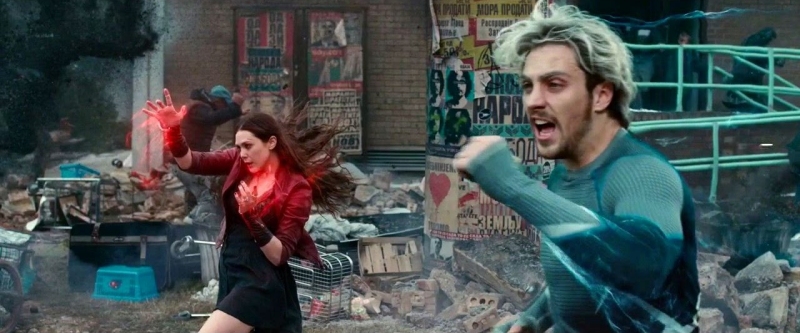 LAP 3 – AVENGERS: AGE OF ULTRON
2015 gave us Avengers: Age of Ultron, which opened with the Avengers crushing the remnants of HYDRA while Quicksilver and Scarlet Witch got away. Still, Quicksilver was able to scrap with the Avengers and start up a rivalry with Hawkeye while Scarlet Witch could screw with Iron Man's mind and increase his paranoia to dangerous levels.
In the comics, Quicksilver has been best defined in an issue of X-Factor where he described his demeanor by comparing himself to someone stuck in line at the ATM, having to wait behind an idiot who doesn't know what they're doing and keeps taking forever. That's his every waking moment and Taylor-Johnson certainly tapped into that with his performance.
In terms of action, Taylor-Johnson's Quicksilver wasn't quite as fun as Peters', but he had his moments. The closest thing he really had to the slow-mo rescue scenes was a short sequence that had him punch Captain America and foolishly attempt to pull Mjolnir out of the air. There was a feeling of playfulness underneath the character's resentment at times, but he wasn't quite the goofball of Peters' version.
He also didn't come off as ridiculously fast as the X-Men Quicksilver, even though that was probably for the better. Sometimes a speedster can be impossible to write for and believe in. Taylor-Johnson's version was still impressively quick and a danger to any enemy, but he didn't come off as unbeatable.
Unfortunately for this version of Quicksilver, his relationship with Scarlet Witch was arguably his undoing. The Quicksilver of the X-Men films wasn't held down by his siblings and got to stand on his own, but MCU Quicksilver was treated as an extension of Wanda and her story. That made him expendable by the time the movie was ready to wrap up.
The Maximoff twins went from being Ultron's lackies battling against the Avengers to betraying Ultron and joining the good guys. In the end, Quicksilver sacrificed himself to save Hawkeye, and despite his gift for speed, it was a believable death, and felt far weightier than the way such character exits had been approached in the past.
As far as the MCU was concerned, Pietro Maximoff's story was over. Wanda, however, had a new life waiting for her as an Avenger.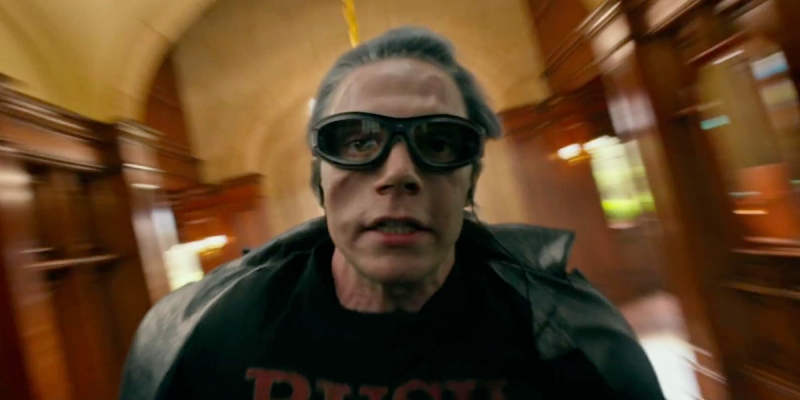 LAP 4 – X-MEN: APOCALYPSE
In the X-Men universe, Quicksilver showed up again in 2016's X-Men: Apocalypse. It took place about a decade after Days of Future Past, reminding us that Peters' Quicksilver is like thirty years older than Taylor-Johnson's Quicksilver. Ah, these X-Men movies and their screwy timeline.
Quicksilver's arc in this film ultimately showed the innate problems of the later X-Men movies. When Magneto joined the mad mutant Apocalypse as one of his Four Horsemen, Peter Maximoff finally realized that Magneto was his father and tried to find him. This led to another fantastic slow-motion scene where he single handedly evacuated the X-Men's school during an explosion to the song "Sweet Dreams" by the Eurythmics.
But Quicksilver's larger arc in the movie remained unsatisfying, and he and Magneto never came to terms with the question of their relationship. Peter may have survived the final battle with Apocalypse, but he also was ignored in what should have been his big moment. Magneto and Quicksilver's relationship was a card only Fox could have played and they fumbled it. It remains a missed opportunity for both characters.
Funny enough, around this time, Marvel Comics was going the opposite direction and placed a narrative wedge between the characters when Scarlet Witch and Quicksilver discovered that Magneto wasn't actually their father after all. Though at the same time, it came across that Scarlet Witch may have altered reality to make that true. Regardless, it looked like Marvel was trying to go out of their way to sever Magneto from the twins' existence.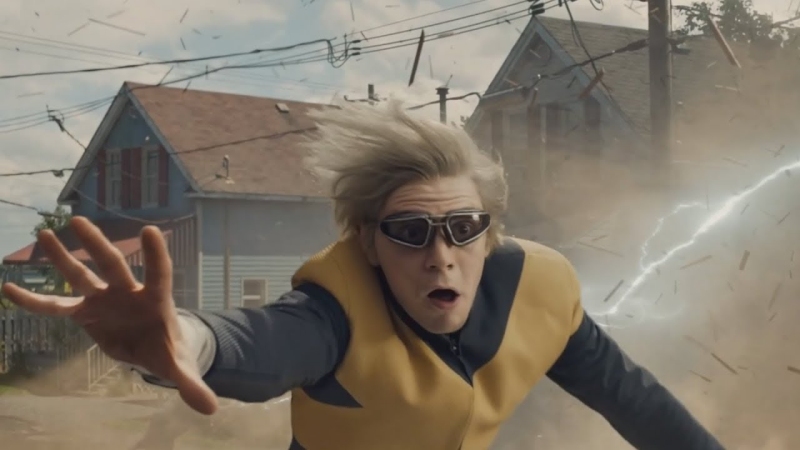 FINAL LAP – DARK PHOENIX
Outside of a hilarious cameo in Deadpool 2, the Fox version of Quicksilver next appeared in 2019's Dark Phoenix, the final film in the main X-Men franchise. Quicksilver only has about two and a half minutes of screentime. Halfway into the movie, he makes a slow-motion run at Jean Grey, loses his footing, tumbles, and is forgotten about for the rest of the picture. And his connection to Magneto? Never even mentioned.
Back in the MCU, Pietro remained just a memory, one more trauma stacked upon trauma in the life of Wanda Maximoff. There was already the death of her parents and the horrible experimentation. Soon after, there was the trauma of the innocent blood on her hands, her incarceration, and her role in the death of Vision. It wasn't until the third episode of WandaVision where Wanda even talked about her long-lost brother.
Wanda could puppet Vision's android corpse and surround herself with people forced to be friendly to her, but the horrible loss of her brother was something she couldn't undo. Or it was something she refused to undo. While we still don't get the reasoning behind what's going on, the Evan Peters version of Quicksilver popped into Westview, NJ to see his long-lost sister, all while acting like Uncle Jesse from Full House.
We have four episodes to go, but we're left wondering what this truly means. Will Peters' Quicksilver outright be a replacement for the disgruntled counterpart who died at Ultron's hand? Will the joke run its course and he'll be sent away where he came from? Will this be the big moment that instigates the existence of mutants in the greater Marvel Cinematic Universe, giving credence to the overused internet joke of Wanda demanding, "No, MORE mutants!"?
Whatever it is, it's a special moment. The Evan Peters Quicksilver not only finally has a super-powered relative who seems to give a damn about him, but as the first link to the X-Men in the MCU (big or small, we'll see), he finally gets the spotlight he deserves.
Now let's see how long until Deadpool finally shows his scarred face.