Features
All the Star Wars Movies That Never Came Out and Why They Didn't Happen
Lucasfilm has flirted with plenty of ideas for live-action Star Wars movies since 1977, but only a few have ever released. What happened to all those canceled projects?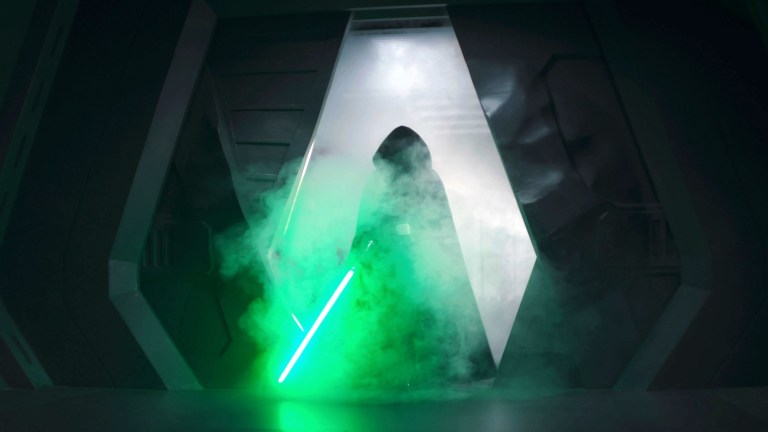 New Star Wars movies are finally on the way. Lucasfilm has recently announced a new Rey movie set 15 years after The Rise of Skywalker, as well as a movie tracking the origin of the Jedi from James Mangold, and a Mandoverse event film from Dave Filoni. Plus, Taika Waititi is writing a Star Wars movie he might also star in, while Deadpool 3 director Shawn Levy has signed up to do something in the galaxy far, far away, too. After years of waiting, fans have a whole slate of new Star Wars movies to look forward to, with the first said to be releasing as early as 2025.
But we've all been here before, haven't we? It feels like only yesterday that Lucasfilm president Kathleen Kennedy announced a Rogue Squadron movie directed by Wonder Woman's Patty Jenkins for a 2023 release. And remember when a Disney exec said Kevin Feige was going to produce a Star Wars movie? And when the creators of Game of Thrones were set to make a whole new trilogy? And when a Rian Johnson trilogy was announced just weeks before the release of The Last Jedi? Way before all that, George Lucas once promised 12, and then 9, installments in his Skywalker saga.
While we hope Lucasfilm's current slate fares much better than those that have come before, let's take a look back at all the Star Wars movies that almost happened and why they were eventually shelved…
George Lucas' Sequel Trilogy (And Episode X-XII)
Just how far did George Lucas really plan out his Star Wars saga in the late 1970s? The story changes depending on who you ask. Lucas himself says he outlined 12 installments — four trilogies that would have chronicled about 55 years in the life of the Skywalker family. But if that were true, why did he have Luke and Leia kiss in The Empire Strikes Back if they were going to turn out to be siblings in Return of the Jedi? The story goes that Lucas was so exhausted by the time Episode VI came around that he decided to cut the story short.
During an expo appearance in 1999, just after the release of The Phantom Menace, former Star Wars producer Gary Kurtz said Lucas had really outlined twelve installments, and that Luke's sister was originally a completely different character who didn't turn up until Episode VIII, setting up a final battle with the Emperor all the way in Episode XII. When Lucas decided Return of the Jedi would be the end of the story, he turned Luke and Leia into siblings to satisfy a lingering plot thread from The Empire Strikes Back (remember Yoda's "There is another" line to Obi-Wan on Dagobah?).
"You know, when I first did this, it was four trilogies," Mark Hamill recalled of early story conversations with Lucas (via StarWars.com). "Twelve movies! Out on the desert, any time between setups… lots of free time. And George was talking about this whole thing… 'Um, how'd you like to be in Episode IX?' 'When is that going to be?' '2011.' […] I said, 'Well, what do you want me to do?' He said, 'You'll just be like a cameo. You'll be like Obi-Wan handing the lightsaber down to the next new hope.'"
Twelve eventually turned into nine — three trilogies — with a Sequel Trilogy planned after the Prequels were done. While Lucas expressed after Revenge of the Sith that he was once again capital-D done with Star Wars after the Prequels, he eventually began tinkering with ideas for a Sequel Trilogy again. What would they have been about?
"[The next three Star Wars films] were going to get into a microbiotic world," Lucas told James Cameron on AMC's Story of Science Fiction documentary series (via IndieWire). "There's this world of creatures that operate differently than we do. I call them the Whills. And the Whills are the ones who actually control the universe. They feed off the Force."
We know that when Lucas sold his studio to Disney, he handed over his notes for the next Star Wars trilogy, which would have featured a new Jedi Knight named Kira learning from an older Luke Skywalker. Part of this eventually became the foundation for The Last Jedi, but back in 2015 after The Force Awakens hit theaters, Lucas said in a particularly controversial interview that Disney had decided to largely go their own way and ditch Lucas' Sequel Trilogy outline.
"What I wish is that [Disney] had been more accepting of [Lucas'] guidance and advice," Hamill told Metro in 2017. "Because he had an outline for '7,' '8,' and '9'. And it is vastly different to what they have done."
The Wookiee and Droid Movies
Back when George Lucas still planned to make nine Star Wars movies in 1980, the Maker revealed to Prevue magazine that he had once developed additional ideas for standalone films starring Wookiees and Droids.
"As I was writing, I came up with some ideas for a film about robots, with no humans in it," Lucas told the magazine (via The Secret History of Star Wars). "When I got to working on the Wookiee, I thought of a film just about Wookiees, nothing else. So, for a time, I had a couple of odd movies with just those characters…I had three trilogies of nine films, and then another couple of odd films. Essentially, there were twelve films."
But again, when faced with the challenge of making 10 more Star Wars movies after A New Hope and The Empire Strikes Back, Lucas decided to choose happiness instead.
"I've eliminated the odd movies, because they really don't have anything to do with the Star Wars saga," he confirmed to Prevue. "It gets confusing trying to explain the whole thing, but if I ever do the odd movies about the robots or the Wookiees, it'll be just about them, not necessarily about Chewbacca or Threepio–just about Wookiees and robots. It's the genre that I'm intrigued with, not necessarily the characters."
For better or worse, we did get a version of a Wookiee story for the screen in The Star Wars Holiday Special. Yay?
Zack Snyder's Star Wars Pitch
In 2021, Zack Snyder finally confirmed the rumors: in the years before George Lucas decided to sell Star Wars to Disney, the director pitched Lucas' then-independent movie studio a Star Wars movie inspired by Akira Kurosawa's Seven Samurai.
"We talked about it, but it never [happened]," Snyder told the Happy. Sad. Confused. podcast (via The Playlist) in 2021. "I've been working on it away from the Star Wars universe, on my own, as a sci-fi thing…It's still a sci-fi thing. It's the same story. Now, I'm just going to let Star Wars be Star Wars."
We know now that Snyder's Star Wars pitch morphed into Rebel Moon, his next sci-fi movie for Netflix. And the movie's synopsis gives us a pretty good idea of what his Seven Samurai-inspired romp through the galaxy far, far away would have been about: "When a peaceful colony on the edge of the galaxy finds itself threatened by the armies of the tyrannical Regent Balisarius, they dispatch a young woman with a mysterious past named Kora to seek out warriors from neighboring planets to help them take a stand."
When the film hits the streamer on Dec. 22, we'll get to imagine what could have been had Lucasfilm taken Snyder's original pitch.
Josh Trank's Boba Fett Movie (And Also the James Mangold Version)
When Disney took over Lucasfilm, it quickly set to work on developing a whole slate of projects starring popular Star Wars characters that could exist beyond the nine-installment main saga. Three of those characters were Han Solo, Obi-Wan Kenobi, and Boba Fett.
Even in the very early days of this brave new era under the House of Mouse, a movie about the most dangerous bounty hunter in the galaxy, a character we'd seen very little of on screen back in 2012, seemed like a very interesting proposition. And Lucasfilm went as far as tapping Josh Trank, just off his success with fan-favorite found footage flick Chronicle, to direct Boba Fett's first big-screen solo adventure.
The studio never actually announced the Trank movie publicly, but they reportedly got very close. In fact, Lucasfilm allegedly pulled a Boba Fett teaser reel just before it was meant to be shown at Star Wars Celebration 2015 and uninvited Trank from the event altogether. What made Lucasfilm so suddenly part ways with the promising director? The bad press that surfaced around the incredibly troubled production of 2015's Fantastic Four, which Trank helmed until he was stripped of creative control by 20th Century Fox. The bad breakup between studio and director convinced Lucasfilm to pull the plug.
But like Boba climbing out of the Sarlacc pit on his Disney+ series, plans for a solo movie resurfaced in 2018, this time with James Mangold in the director's chair. This version didn't get very far, though. Like the Obi-Wan Kenobi trilogy, the Boba Fett movie was shelved indefinitely after Solo. But we'll always have The Book of Boba Fett.
Solo 2
Solo was Disney's first real experiment in creating a Marvel-style shared universe on the big screen beyond the core nine Skywalker films. While Rogue One was essentially a standalone prequel to A New Hope, it's abundantly clear that Solo was meant to setup sequels and spinoffs, just like your average MCU movie.
Not only did the film introduce new, younger versions of Han Solo and Lando Calrissian with up-and-coming stars Lucasfilm could easily lock down for the next decade of Star Wars storytelling, but it also planted seeds for the return of Darth Maul as a crime lord, a Jabba the Hutt-centric sequel, and introduced exciting new rogues in Qi'ra and Enfys Nest. Watching it five years later, Solo is an IP factory that Lucasfilm hoped to go back to again and again.
But these days, the Solo franchise is deader than Woody Harrelson's Tobias Beckett. A shockingly troubled production, followed by a tepid reception from critics and an absolutely abysmal $393 million box office take from an estimated $275 million budget, all but secured Solo's fate. Right out of an airlock, that is. Kathleen Kennedy has hinted that you'll never ever see Alden Ehrenreich's Han Solo again, making it clear Lucasfilm is not looking to recast classic saga characters again (hence, the de-aged CG nightmares on Disney+).
That said, Lucasfilm must have at least found Donald Glover's Lando charming, because the studio is currently developing a live-action solo series for the character. We'll see if that actually happens, though.
The Obi-Wan Kenobi Trilogy
Lucasfilm also planned a trio of Obi-Wan Kenobi movies set between the Prequel and Original Trilogies. Stephen Daldry (The Reader) was set to helm the picture, with Ewan McGregor reprising his role as old Ben in exile on Tatooine after Order 66. Of course, this is basically the setup for the six-episode series we did get on Disney+ last year, but why did Lucasfilm shift away from the big screen in the first place?
"It was Solo that changed the direction of the system," Stuart Beattie, one of the screenwriters who worked on the script for the first Obi-Wan movie, told The Direct in 2022. "I like Solo, personally, but it hadn't made a lot of money…Just because it didn't hit a certain number, [Lucasfilm] just had to rethink. And, again, way above my paygrade, but it certainly crushed us. Devastated, absolutely devastated. But, that's the business, you know, highs and lows."
According to Beattie, the Disney+ series did recycle ideas from his script for the first movie, but he also pitched two other stories, with the second showing how Obi-Wan "comes to terms with his own mortality" and "accepts the idea that he's going to die" in A New Hope, setting up the next generation of heroes. Apparently, the idea was for Qui-Gon's Force ghost to reveal that Obi-Wan would need to sacrifice himself for the cause.
"If I have anything to do with a second season of Obi-Wan, that's the character evolution that I would take him on," Beattie said at the time. "That, to me, is really interesting. And like I said, universal."
But Lucasfilm isn't planning a second season just yet, according to Kathleen Kennedy: "But I never say never, because there's always the possibility. We'll turn our attention to that again maybe down the road."
The Rian Johnson Trilogy
Lucasfilm must have thought it had such a crowd-pleaser in The Last Jedi when it announced before the release of Episode VIII that director Rian Johnson had already been tapped to develop an entirely new Star Wars trilogy after the close of the Skywalker Saga. Then The Last Jedi released in theaters. We probably don't have to catch you up on all the controversy that followed Johnson's installment of the Sequel Trilogy, right?
Since that announcement in 2017, there have been endless rumors of an alleged breakup between Johnson and Lucasfilm after the divisive reaction to The Last Jedi and the studio's creatively bankrupt "fan-pleasing" course correction with The Rise of Skywalker. But Johnson and Kathleen Kennedy have both shut those rumors down for years, with Johnson saying on the record how much he'd love to return to Star Wars at a later date.
So, why hasn't Johnson started work on his next Star Wars movie? It comes down to his other commitments, namely the Knives Out sequels he's making for Netflix at the moment. With at least one more Beniot Blanc mystery set at the streaming service, it'll be a while yet before we see Johnson back in the galaxy far, far away.
Knights of the Old Republic
Fans have been asking for a movie set during the Old Republic era for years. This is for good reason: it's an era of Star Wars that looks a bit different than what we've seen on screen before — set tens of thousands of years before the Skywalker Saga. There's a whole Sith Empire and the Jedi act more like wandering samurai clans as they fight epic wars against the dark side (and sometimes even among themselves). The era is also the setting of some of the best Star Wars stories ever told: the Knights of the Old Republic games as well as the Tales of the Jedi comics from Dark Horse. Simply put, the Old Republic has been a fan-favorite since the '90s and has been sorely missed ever since Disney rebooted Star Wars canon.
But in 2019, it almost seemed like Legends fans' dreams were finally going to come true when it was reported that Lucasfilm was developing a Knights of the Old Republic movie, screenwriter Laeta Kalogridis (Shutter Island, Alita: Battle Angel) penning the script. At the time, this development tracked with Kathleen Kennedy's own comments to MTV News about a potential future KotOR project: "Yes, we are developing something to look at. Right now I have no idea where things might fall, but we have to be careful that there is a cadence to Star Wars that doesn't start to feel like too much."
Exciting! But then we never heard anything else about it. To this day, we don't know whether a script was ever delivered, whether Lucasfilm is still considering Knights of the Old Republic, or if the whole era has been scrapped so that the studio can focus on the High Republic instead.
But Lucasfilm did nod to the Old Republic era when it revealed the updated Star Wars timeline at Celebration 2023, which also includes a Dawn of the Jedi era and a New Jedi Order era. Sound familiar?
Episode IX: Duel of the Fates
You know the story by now: while J.J. Abrams was tapped to restart the Star Wars film saga with The Force Awakens, and Rian Johnson was in charge of the middle chapter of the Sequel Trilogy, it was Jurassic World director Colin Trevorrow who was chosen to helm the grand finale of the nine-part cycle. But Trevorrow was eventually booted from the project due to creative differences and Lucasfilm brought Abrams back as a safe pair of hands to bring Rey's story home. The result was The Rise of Skywalker and the less said about that awful movie the better.
That's not to say things would have necessarily been better had Trevorrow helmed Episode IX. His script, which he penned with Kong: Skull Island's Derek Connolly, and which was tentatively titled Duel of the Fates, had its own problems, which you can read more about here. And The Rise of Skywalker actually kept many of the ideas introduced in Trevorrow and Connolly's script, although Emperor Palpatine plays a much smaller role in the latter than what we eventually got on the big screen. Rey wasn't the Emperor's granddaughter and there's no cringey Reylo kiss. The third act would have taken place on Coruscant as well as in a mystical Force realm called Mortis (watch The Clone Wars). Oh, there would have also been a Darth Vader cameo and a sequence where Chewie flies an X-wing.
Anyway, none of that happened, and these days, Trevorrow describes his experience of working on the movie as "traumatic," much like watching The Rise of Skywalker. Moving on…
David Benioff and D.B. Weiss' Jedi Origin Trilogy
Before the fallout from the Game of Thrones finale, David Benioff and D.B. Weiss working on a Star Wars trilogy seemed like a home run. Here was the all-star duo who, along with GoT creator George R. R. Martin, delivered a massive TV juggernaut for HBO and arguably the biggest show of the 2010s. Simply put, Lucasfilm seemed to add real firepower to their creative team by bringing in Benioff and Weiss to develop the next era of Star Wars on the big screen. Then it all unraveled.
According to an in-depth expose by Variety, the Game of Thrones showrunners began to change their minds about jumping into another massive franchise due to the toxic reaction they faced after the finale of the HBO series. Would Star Wars, post-The Last Jedi, really be any different, no matter what they made?
And what they wanted to make was a trilogy of movies about the origins of the Jedi. In other words, write the canon history of how the most iconic heroes of the Star Wars galaxy came to be. Surely, nothing could go wrong? According to Variety, visions for the project never quite gelled between the Thrones creators and Lucasfilm execs. When Benioff and Weiss signed a $250 million production deal with Netflix that would see their attention divided, Lucasfilm decided to explore other options, allegedly to the relief of the creators.
But if you were looking forward to that Jedi origin story, it sounds like that's exactly the picture director James Mangold is now developing for Lucasfilm. At Celebration 2023, the filmmaker described his take on the idea as "a biblical epic, like a Ten Commandments and the dawning of the Force. Where did the Force come from? When did we discover it? When did we know how to use it?"
J.D. Dillard's Alleged Sith Movie
Devotion director J.D. Dillard was tapped to develop a Star Wars movie with Luke Cage writer Matt Owens as far back as 2020, but things didn't work out, with the filmmaker confirming in 2020 that the project was "unfortunately no longer a thing [but] it was not for lack of trying."
When the Dillard project was first brought to light, it was reported that the movie was to "take place on the hidden Sith planet of Exegol," according to Deadline, suggesting the film would have starred a Sith character, a first for the franchise on the big screen. While it's likely we'll never see this specific concept in theaters, we're still getting The Acolyte, which is said to also follow a Sith character 100 years before the events of The Phantom Menace!
Patty Jenkins' Rogue Squadron
Announced in 2020 to great fanfare, Lucasfilm has yet to deliver its Rogue Squadron movie. Depending on who you ask, either creative differences or director Patty Jenkins' very busy schedule killed this highly-anticipated Star Wars movie. All we know for sure is that the film was originally slated for a Dec. 2023 release and that's not happening.
Kathleen Kennedy has said the studio could revisit the project down the line — either as a movie or a TV series on Disney+ — once schedules line up again. If and when it does finally happen, Rogue Squadron will "introduce a new generation of starfighter pilots as they earn their wings and risk their lives in a boundary-pushing, high-speed thrill-ride, and move the saga into the future era of the galaxy," according to the synopsis.
Kevin Feige's Star Wars Movie
Things are still a bit confusing when it comes to the top-secret Star Wars movie Marvel boss Kevin Feige was developing with Doctor Strange 2 screenwriter Michael Waldron. Although several parties, including Disney's then-chief creative officer Alan Horn, confirmed the project was in motion at some point between 2019 and 2023, Kathleen Kennedy recently denied this, saying at Celebration 2023 that a Feige movie was never in development at all.
So, how far along did this movie really get? We don't know for sure, but we know from comments made by Waldron himself that he was working on a script for what sounded like a standalone Star Wars film as late as May 2022. Just last week, the Russos, who directed Avengers: Infinity War and Avengers: Endgame, also confirmed that they were in early talks to direct Feige's Star Wars project before it was shelved.
We may never know what the heck happened with this one, but considering Feige is quite busy with Phases 5 and 6 of the Marvel Cinematic Universe at the moment, it may be a while before Disney revisits this potential producer team-up again. If it ever does.
Damon Lindelof's Rey Movie
The most recent project to make headlines due to creative turnover is the Rey Skywalker movie currently on the Lucasfilm slate, with Sharmeen Obaid-Chinoy (Ms. Marvel) set up as director and Daisy Ridley reprising her role. Set 15 years after the events of The Rise of Skywalker, the film sees Rey working to bring back the Jedi Order. Peaky Blinders creator Steven Knight is currently penning the script.
But before Knight stepped in to write the movie and the picture was officially announced by Kathleen Kennedy at Celebration 2023, it was none other than sci-fi veteran Damon Lindelof who was working on the script in secret with Justin Britt-Gibson (The Strain). That is, until he was "asked to leave," according to Lindelof himself. Although it's quite normal for a movie script to go through several writers before landing on a finished product, Lindelof is such a big name in geeky circles that it's impossible not to wonder what caused Lucasfilm, a studio that's obviously very well known for this sort of turnover, to part ways with the creator.
One rumor suggests Lucasfilm wanted to take the plot in a different direction than what was in Lindelof and Gibson's script. The writers allegedly wanted to set the film 60 years after the Sequel Trilogy, which would have meant recasting the role of Rey with an older actor (the team envisioned Helen Mirren in the role but she was never actually offered the part). Now that we know what the Rey movie will actually be, it's safe to say Lucasfilm wanted something a little more familiar than that.
You can check out the complete schedule of upcoming Star Wars movies and TV series here.