Features
Star Wars Ahsoka Trailer Breakdown: First Look at Thrawn, Hera, Sabine, Huyang, and More
The Heir to the Empire has arrived to the Star Wars galaxy, with Lars Mikkelsen reprising Thrawn. Ahsoka will have Legends fans pumped. But don't expect the return of Mara Jade. Yet.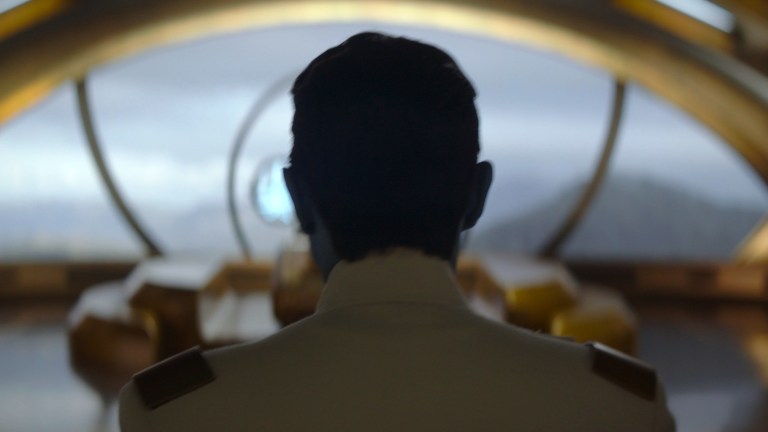 It feels like we've been waiting ages for Ahsoka, a Disney+ live action series that was first announced in 2020. Finally, we have our first proper look at the show being helmed by Dave Filoni, who is bringing many of the animated characters we know and love to live action for the very first time. That includes Sabine Wren, Hera Syndulla, and Ezra Bridger, as well as the return of Rosario Dawson as the fan-favorite Jedi warrior, but that's not all that's happening on Ahsoka.
As you'll see in the trailer below, which was released at today's Lucasfilm Studio Showcase during Star Wars Celebration Europe, Ahsoka is also bringing back quite a bit of Legends stuff to canon. Someone even references Heir to the Empire…
Grand Admiral Thrawn, new villains, and a few other surprise returning characters! This first trailer has it all. Here are all the interesting things we spotted in the video:
When Does Ahsoka Take Place?
Let's get some basic info out of the way first. The return of so many Star Wars characters from other eras, including the presumed-dead Morgan Elsbeth, might have you wondering when exactly this series actually takes place. Well, as far as we know, the events of Ahsoka are all set within the Mandoverse portion of the timeline, about five years after the events of Return of the Jedi.
That said, Morgan's inclusion either means there will be portions of the series that take place before Din first met Ahsoka in The Mandalorian season 2, since Ahsoka has already tracked down Morgan in "The Jedi," or after the events on Corvus. We never actually saw Ahsoka strike down the evil Imperial magistrate in that episode, so it's possible she somehow escaped, and is back to help Thrawn. More on Morgan's role in a minute.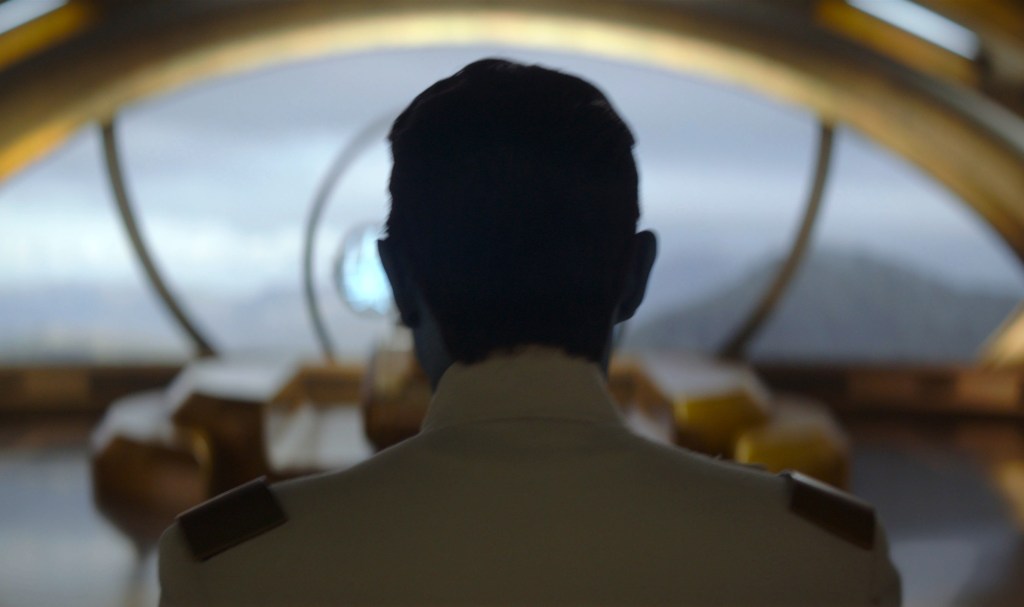 Lars Mikkelsen as Grand Admiral Thrawn, Heir to the Empire
Even though we don't actually see his face, we'd recognize the Chiss admiral anywhere. That's indeed Grand Admiral Thrawn walking onto the bridge of a ship he seems to share with Morgan. It's unlike any Imperial bridge we've ever seen, but let us know in the comments if you recognize it.
It was confirmed at the Ahsoka panel at Star Wars Celebration Europe that Lars Mikkelsen will reprise his role as the Grand Admiral. Mikkelsen previously voiced the character on Rebels.
Thrawn's comeback after years of being lost in parts unknown after the events of Rebels was first teased in The Mandalorian season 2. We know Ahsoka is searching for him, likely as a way to track down Ezra Bridger, who went missing with Thrawn during the climactic battle over Lothal in Rebels. It definitely looks like she'll at least find one of them in this series.
Ahsoka calling Thrawn "the heir to the Empire" is no accident, either. Longtime Star Wars fans who are familiar with the now non-canon Legends continuity will remember that Timothy Zahn's Heir to the Empire was the novel in which Thrawn first debuted as the next big bad of Star Wars after the death of the Emperor. The fact that Ahsoka makes the reference here seems to indicate that Thrawn will occupy a similar role in the Mandoverse, the big boss of this particular bubble of shows, plus the new movie to be directed by Dave Filoni. We'll assume Thrawn is the villain of that film, too.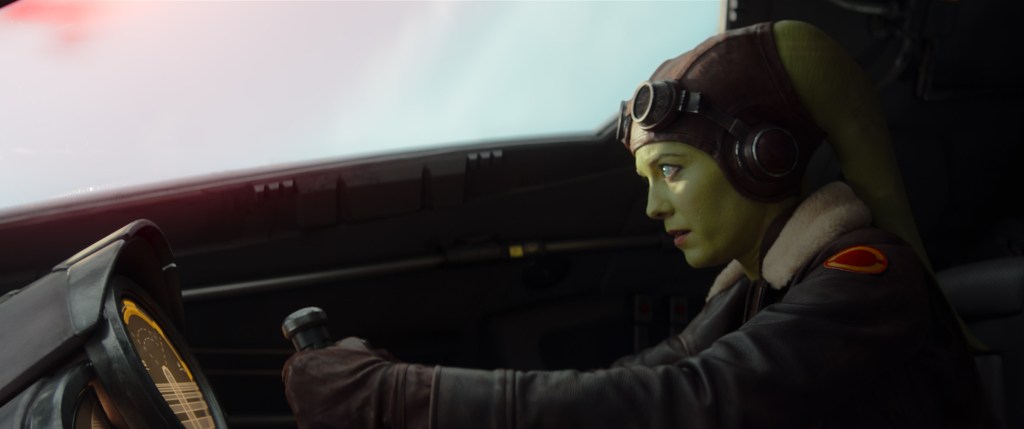 Mary Elizabeth Winstead as Hera Syndulla
We finally know who Mary Elizabeth Winstead is playing: former Rebel leader and now New Republic general Hera Syndulla. Rebels fans know Hera as a great hero who is fiercely loyal to her friends and the causes she fights for. She's also one of the best pilots in the galaxy, which is why the trailer introduces her in the cockpit of a ship, although that doesn't look like the Ghost?
Hera has a son named Jacen, but he doesn't pop up in this trailer. Jacen's father is of course the late Kanan Jarrus, the former Jedi Knight and Rebel who trained Ezra in the ways of the Force. If the search for Ezra is still on in Ahsoka, it's no surprise Hera is a part of it.
Natasha Liu Bordizzo as Sabine Wren
We already knew Natasha Liu Bordizzo was playing Mandalorian Rebel Sabine Wren, but we finally get a first look at the live-action version of the character. Rebels ended with an epilogue set directly after Return of the Jedi in which Sabine and Ahsoka reunited on Lothal. In the final scene, they agreed to search the galaxy for Ezra. But Sabine tells Ahsoka that "it's been a while" in this trailer and Ahsoka replies that "Things have changed." Did the trail go cold in the five-ish years between this epilogue and the events of the Mandoverse? Either way, it sounds like Ahsoka has a new lead.
One thing you might remember about Sabine is that she once wielded the Darksaber and was even the Mandalorian who passed on the blade to Bo-Katan Kryze before the Great Purge. Surely, we'll hear her thoughts on the things happening on The Mandalorian season 3?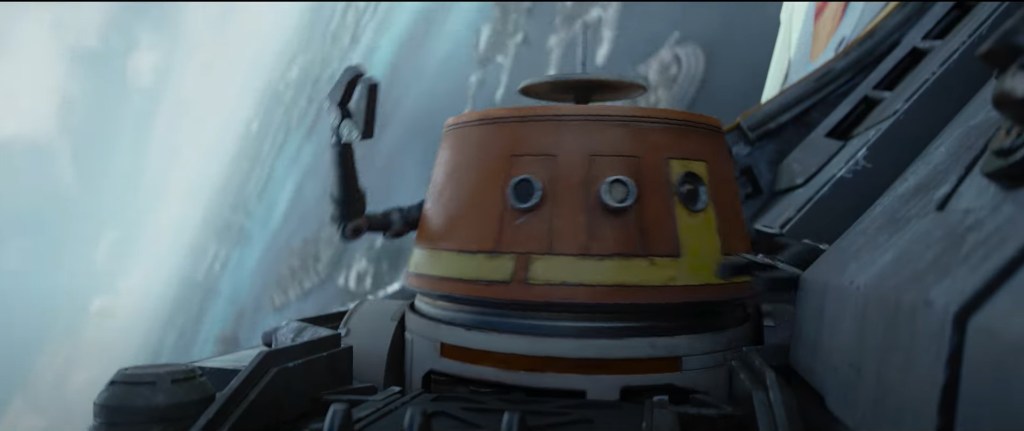 Chopper!
Yeah, that's very grumpy and sassy astromech droid Chopper in live action. It looks like he's still tagging along on adventures with Hera after all this time. (Probably against his will.) This isn't actually the first time we've seen Chop in live action — he made a cameo appearance in Rogue One.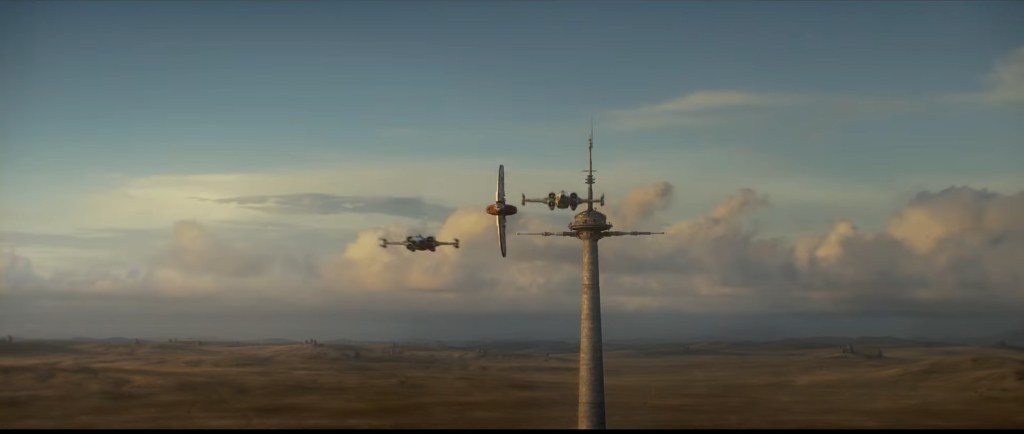 Lothal
At one point, we see Sabine looking out at ships from the watchtower on Lothal. This is of course Ezra's old home and where we last saw Sabine on Rebels. It seems she's also made it her permanent residence since the events of the animated series.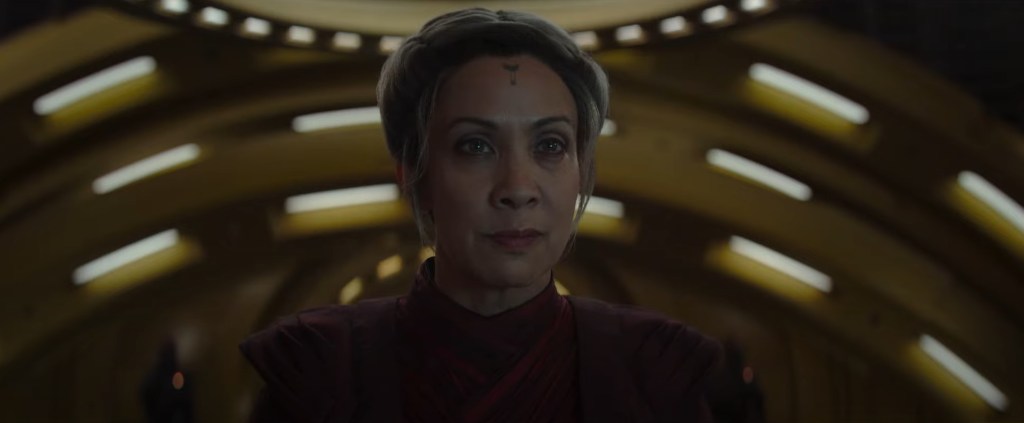 Diana Lee Inosanto as Morgan Elsbeth
Back to Morgan. We know she serves Thrawn and whatever is left of the Empire. It's no surprise she's catching up with the Grand Admiral now that she knows Ahsoka is after him. Morgan will likely be a major part of whatever plan Thrawn is devising for the Empire's big comeback.
Before we met her on The Mandalorian, Morgan worked for the Imperial Navy, sucking up resources from countless planets to help build the ships the Emperor used to subjugate the galaxy. Rumors making the rounds on the internet suggest there's much more to Morgan and the extent of her power than we've seen on screen so far. We won't spoil anything here, but there are some very juicy leaks out there…
Genevieve O'Reilly as Mon Mothma
Yes, that's Genevieve O'Reilly from the Prequels, Rogue One, and Andor reprising her role as Mon Mothma. Why is she back for Ahsoka? Well, the show takes place during the New Republic era of Star Wars, which means the Chandrilan politician now serves as the head of this galactic government. After the fall of the Empire, the Rebellion's foremost leader was elected as the first Chancellor of the New Republic and tasked with ushering in a new era of piece for the galaxy. We see Ahsoka reaching out to Mothma and other New Republic officials in the trailer, probably to warn them about Thrawn's looming threat or to ask them for help fighting the Imperial Remnant.
Ray Stevenson as Baylan Skoll and Ivanna Sakhno as Shin Hati
Thrawn and Morgan Elsbeth aren't the only villains dropping by for Ahsoka. There are also two lightsaber-wielding baddies played by Ray Stevenson and Ivanna Sakhno. Fans are actually debating whether the lightsabers used by these characters have red or orange blades. What do you think?
Anyway, we know Stevenson's heavily armored Force user is named Baylan Skoll, while Sakhno's character is Shin Hati. In the story, Baylan and Shin are master and apprentice in the dark side of the Force. Even if they're not using red lightsabers, they clearly look evil.
Although we once thought the Sith had been exterminated after the deaths of Palpatine and Darth Vader, we know from the Sequel Trilogy that the Sith Eternal still exists on Exegol. Are Baylan and Shin from that secret order? Or are they what remains of the Inquisitors? Since this show seems to be borrowing quite a bit from Legends, perhaps Baylan and Shin are meant to be the canon version of Dark Jedi, villains who aren't Sith but also don't follow the light side of the Force. In the old timeline, many Dark Jedi served the Imperial Remnant, including in Heir to the Empire…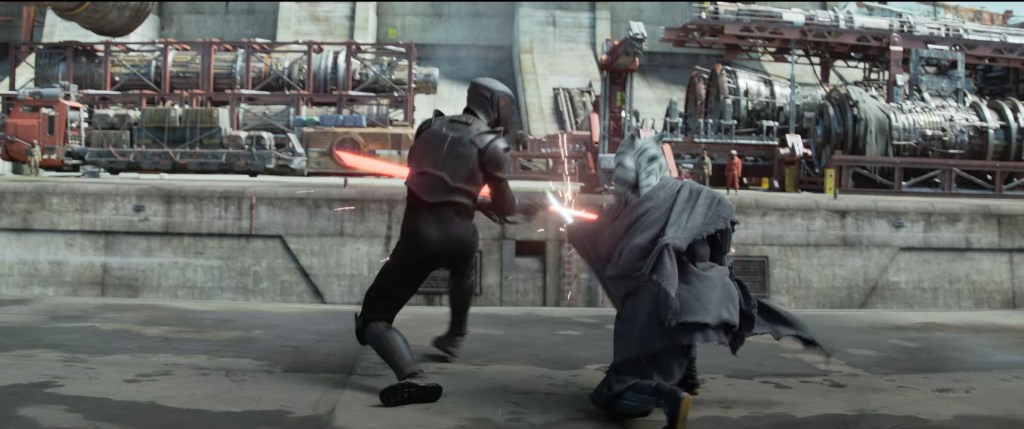 Dark Jedi and the Mara Jade Theory
Speaking of Dark Jedi, there's another dark sider in the trailer, one who challenges Ahsoka with the double-bladed spinning lightsaber of an Inquisitor. So is this a member of the Inquisitorius or someone else entirely?
Interestingly enough, it only took one Heir to the Empire reference from Ahsoka's mouth to get fans theorizing that Star Wars is about to bring Mara Jade back to canon. Legends of course remember Mara Jade as one the best characters ever created outside of the movies, a fierce warrior who once served the Emperor but then joined the Jedi Order and even married Luke Skywalker! Folks couldn't get enough of Mara from the moment she was introduced in the Zahn novel.
But Mara, like Thrawn initially, was erased from canon after Disney rebooted the timeline ahead of the Sequel Trilogy. That said, anything is possible in 2023. If Thrawn could be brought back to canon, why can't Mara Jade? Judging from Lucasfilm's big movie announcements, which cover a timeline that now includes eras called "Dawn of the Jedi" and "New Jedi Order" (both era names we've heard before) it seems like the studio is really on a mission to cater to Legends fans now.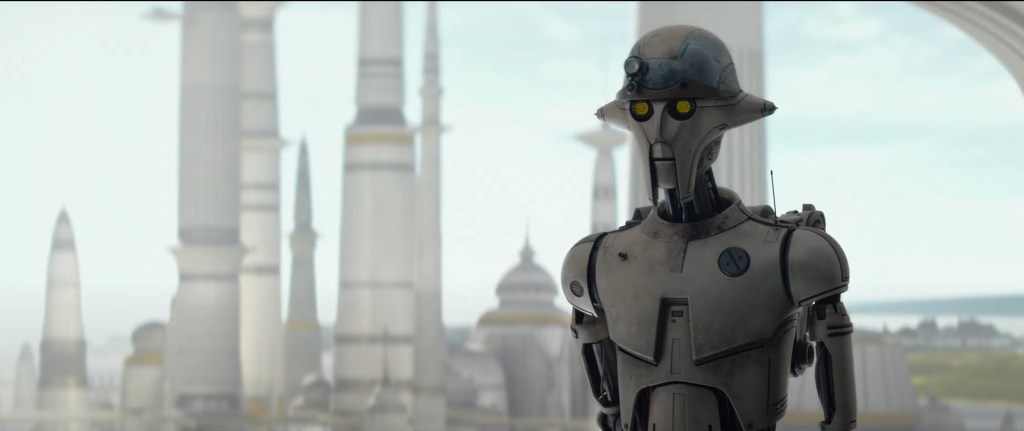 David Tennant as Huyang
David Tennant returns as the voice of Huyang, a lightsaber crafting droid from The Clone Wars. He says to someone off camera that "Perhaps it is time to begin again," which sounds to me like a bit of metafictional nod to the fact that Lucasfilm is bringing back so much of Star Wars' past on this show. Or maybe he's talking to our pal Ezra?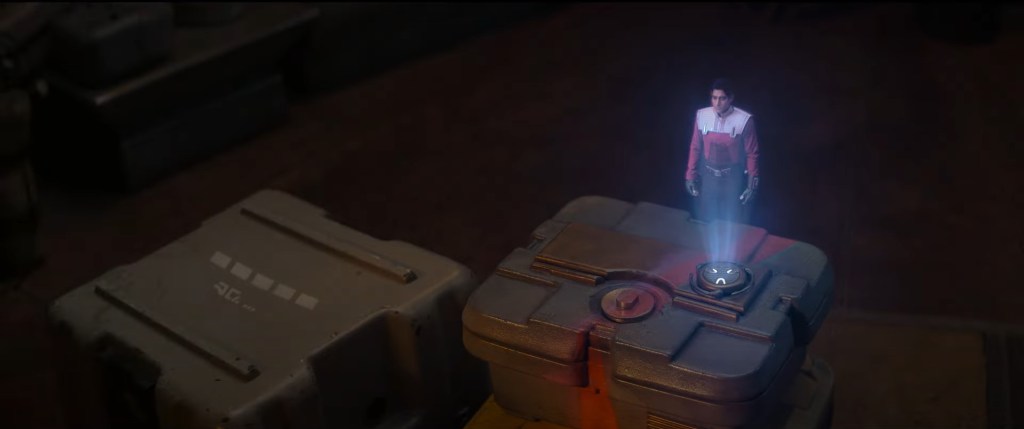 Where Is Eman Esfandi's Ezra Bridger?
We know Eman Esfandi has been cast as Ezra Bridger, but don't really get a look at him in the trailer beyond a hologram in Sabine's room. How big of a role will the character actually play in Ahsoka or is this more of a Luke Skywalker in The Force Awakens situation? The weekly "Will Ezra show up in this episode" predictions should be entertaining.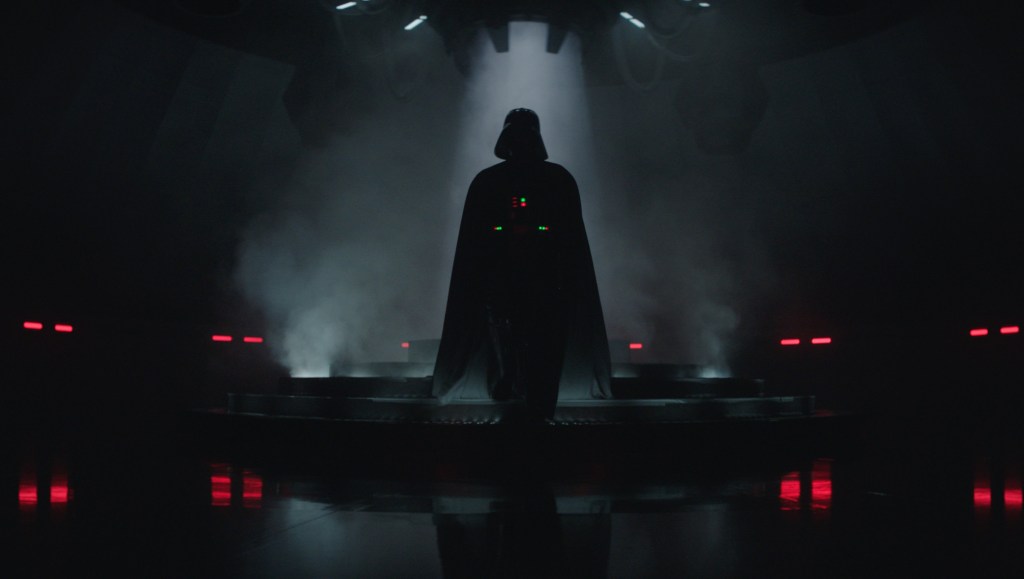 Anakin Skywalker/Darth Vader Is in Ahsoka
Finally, we just have to mention that it's long been reported that Hayden Christensen is reprising his role as Anakin once again on Ahsoka. You'll recall that Anakin was Ahsoka's master during the Clone Wars before she left the Jedi Order and he turned to the dark side. The two share a very important history that stretches across multiple eras of Star Wars, so it only makes sense that Anakin would show up on Ahsoka. The question is whether he'll show up as a Force ghost or perhaps even as Darth Vader in a flashback…
Ahsoka premieres in August on Disney+.