Features
The James Bond Movies' Biggest Changes to the Ian Fleming Books
When it comes to staying faithful to the Ian Fleming canon, the 007 films are all over the map.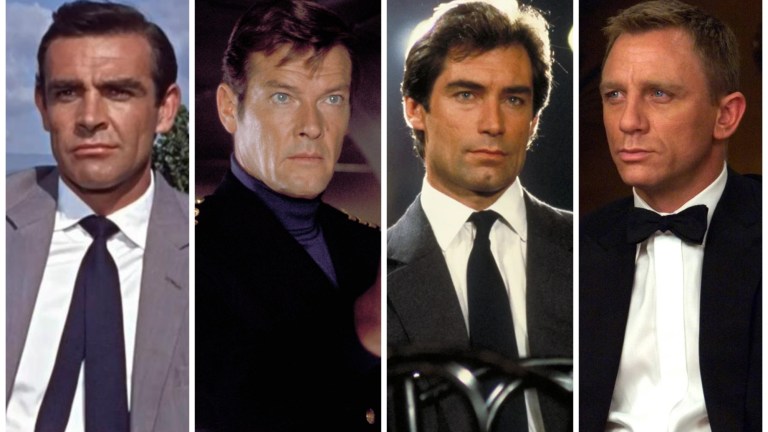 The James Bond film series has never been known for its fealty to the original Ian Fleming source material, which comprise 12 novels and two short story collections. There have since been other books too, more than two dozen, in fact, all written by different authors. But the movies have only glancingly touched on them. Although some of the initial 007 films stayed fairly faithful to the source novels, the franchise began to veer away from the Fleming tales by the mid-1960s, only intermittently returning to them.
Intriguingly, recent (if dubious) rumors have suggested that Eon Productions has reached out to Christopher Nolan about directing the next two films in the series, which would also introduce a new Bond, but there's no official word on what direction the property will take. There has been speculation that Nolan himself would like to go back to the books, period setting and all, and take a more faithful approach.
The problem that the Bond movies have had for a long time is that they compete with other action-heavy blockbuster IP and therefore must up their own game in terms of spectacle. The Fleming books are, by comparison, a bit more low-key and certainly of their time. While we await news of 007's next reinvention—including who will star, who will direct, and how exactly they'll put Bond back together again after he was blown to bits at the end of 2021's No Time to Die—it might be interesting to look back at the 25 films of the official canon and gauge just how closely (or not) they followed the original stories and whether there's ever been any rhyme or reason to it at all.
Dr. No / From Russia with Love / Goldfinger
With the rights to the first Bond novel Casino Royale unavailable, Eon producers Albert R. Broccoli and Harry Saltzman seemed to give up pretty quickly on any idea of filming the novels in order. In fact, they skipped the first four books entirely, instead filming novels number five (From Russia with Love), number six (Dr. No), seven (Goldfinger), and eight (Thunderball) more or less in sequence, flipping only #5 and #6. (This was done because Dr. No was the most recent bestselling release when the Bond films went into production.)
Nonetheless, those first four 007 films are all still relatively faithful to the books. Many elements of the novel Dr. No were retained while a handful of others were changed or discarded. Dr. No is working for the Russians in the book while in the movie he's an agent of SPECTRE—an organization that Fleming wouldn't introduce until his eighth novel, Thunderball. The movie Bond (Sean Connery) also does not fight a giant squid (damn!) nor does he kill Dr. No by burying him under a pile of bird guano (he throws him into a nuclear reactor instead).
The next two movies are also faithful to many aspects of the books, including the villains and their schemes, with the only major difference being that SPECTRE and its leader, Ernst Stavro Blofeld, are the unseen big bad behind the espionage subterfuge in From Russia with Love (as opposed to the actual Soviet intelligence agecny SMERSH). That second film also adds two chase scenes, a preview of the series' ongoing efforts to include more action. Goldfinger makes more substantial changes, such as killing off Tilly Masterson sooner, threatening Bond with a laser instead of a buzzsaw, and putting Pussy Galore (Honor Blackman) in charge of an all-female team of stunt pilots instead of burglars. Also as perhaps a concession to the American censors of the 1960s, Pussy's explicit (and problematic) status as a lesbian in Fleming's novel is only discreetly coded and implied in the film.
In fact, those early Bond films are typical of many film adaptations of popular books, sticking to substantial portions of the source material while making less significant changes along the way.
Thunderball / You Only Live Twice / On Her Majesty's Secret Service
The fourth film in the 007 series, Thunderball, actually stays pretty close to the book as well, echoing the first three films in that regard. Again, characters are added or changed (most notably the addition of ravishing SPECTRE agent Fiona Volpe), and some sequences play out differently, but the basic plot where Bond must stop SPECTRE from holding the world ransom with two stolen atomic bombs remains intact.
Thunderball, the novel, was the first of three Fleming books unofficially known as the "Blofeld Trilogy." As noted above, the book first introduces SPECTRE into the Fleming literary canon while the next novel, On Her Majesty's Secret Service, brings Bond face to face with Blofeld himself and leads to a shattering conclusion. The third part of the trilogy, You Only Live Twice, follows 007 to Japan on a mission of vengeance and a final confrontation with Blofeld that leaves Bond stricken with amnesia.
Yet Eon inexplicably flipped the production order of YOLT and OHMSS, forcing them to completely jettison the plot of the former and come up with an entirely new story. On top of that, YOLT was Sean Connery's last (at the time) appearance as Bond, to be replaced by George Lazenby for OHMSS, only for Connery to encore in the seventh film, Diamonds Are Forever. That lack of continuity took a further wrecking ball to what could have been a trio of powerful Bond films.
So instead of You Only Live Twice focusing on Bond seeking revenge on Blofeld for the murder of his wife Tracy at the end of On Her Majesty's Secret Service—something that hasn't happened yet in the films—the movie instead finds Bond coming face to face with his nemesis (Donald Pleasance), only in a secret base in a volcano from which Blofeld is launching a spacecraft to capture American, British, and Russian rockets. It's fair to say this is the beginning of major cinematic deviations from Fleming's source material.
Japan is still the setting, certain characters (Kissy Suzuki, Tiger Tanaka, Dikko Henderson) make it into the film, and Bond still, unfortunately, goes undercover as a Japanese laborer. But his infiltration of the Garden of Death—a castle filled with poisonous plants where Blofeld is posing as Dr. Guntram Shatterhand—and his final hand-to-hand fight with Blofeld are gone. Replacing a personal story of a devastated Bond's emergence from grief with a rather dull, sometimes silly string of (admittedly spectacular) action sequences made for one of Connery's (and the series') least memorable outings.
The film version of OHMSS, on the other hand, dialed down the gadgets and over-the-top action for what may remain the most faithful adaptation of the entire series. As in the book, Bond (Lazenby) tracks Blofeld (Telly Savalas) to a secret lab high in the Swiss Alps where he is plotting to unleash biological warfare on Great Britain. Along the way, Bond falls in love with Tracy (Diana Rigg), the troubled daughter of a European crime boss who helps 007. Bond foils Blofeld's plan, but the villain escapes and murders Tracy shortly after she and Bond are married.
The movie closely follows the book, right down to the final, shocking scene that ends with a weeping Bond cradling Tracy's dead body in his arms. It's one of the most emotional moments in a film series that has largely lacked them, although its power was pretty much frittered away with the next entry.
Diamonds Are Forever / Live and Let Die
The next two movies were transitional ones for the 007 franchise. They marked Sean Connery's I-mean-it-this-time exit from the series (although he donned the tux once more in the non-canon Never Say Never Again) and Roger Moore's arrival, which also precipitated a further slide into camp and comedy. Yet both start out as moderately faithful adaptations of their novels—the fourth and second in the Fleming canon, respectively—before swerving into newly made-up territory.
Because the film version of DAF now comes after the death of Bond's wife in OHMSS, the movie had to acknowledge that in some way – although never directly. It's more interested in re-introducing Connery, who rather jauntily tracks down and apparently kills Blofeld (now played by Charles Gray) in the pre-credits sequence. There's no mention made of Tracy's death, and 007 doesn't seem particularly grief-stricken. It's a wasted opportunity from producers more interested in getting back to the series' campier aspects.
For a while after that, DAF sort of follows Fleming's novel: Bond goes after diamond smugglers, disguised as one named Peter Franks and meeting characters such as Tiffany Case, Shady Tree, the gay assassins Wint and Kidd, and finally the Slumber brothers, the movie version of the novel's main villains, the Spang brothers. But once the film gets to Las Vegas, all bets are off: Bond discovers that the reclusive billionaire at the heart of the scheme, Willard Whyte, is being impersonated by Blofeld, who's building a massive space laser with the gems to threaten the world.
That's a far cry from Fleming's rather gritty crime thriller, and the film series followed a similar template for the next movie, Live and Let Die. Fleming's second novel put the British agent on the trail of Mr. Big, a Jamaican crime lord and voodoo practitioner who smuggles gold into America through his Harlem nightclubs to help fund Soviet intelligence operations in the U.S. Bond gains the trust of Solitaire, a young, virginal fortune-teller, and eventually battles Big in shark-infested waters.
The movie, Roger Moore's debut as Bond, utilizes at least the opening idea of the Fleming book, a gangster named Mr. Big running a smuggling operation, as well as some of the Harlem-based action. But it turns Mr. Big into an alter ego for Kananga (Yaphet Kotto), the dictator of a small island nation called San Monique who is running heroin into the States. The voodoo angle of the story is represented by a Kananga henchman named Baron Samedi (Geoffrey Holder), who may or may not be an actual supernatural being, a first (and last) for the Bond franchise.
Solitaire (Jane Seymour) gives up her charms to Bond as in the novel, but two critical scenes in the book—Bond pal Felix Leiter's mutilation by a shark and Mr. Big's plan to drag Bond and Solitaire over a coral reef with a boat—are absent, although they would turn up in later films. Instead we get an exciting if rather silly speedboat chase, another pursuit involving a double decker bus, and the infamous scene of Bond escaping certain death by running along the backs of crocodiles. The book is quite gripping and rather grisly; the movie, as you might gather, is not a high point in the series.
The Man with the Golden Gun
Moore's second outing as 007 was based on the 12th and last Bond novel that Fleming completed before his death in 1964, and it's where the movies departed almost completely from the published canon for years. Fleming reportedly did not have a chance to put the final polish on the book before his death, so it reads kind of rough, strangely appropriate for its rather rough story as well.
In the book, Bond returns to MI6 after having suffered memory loss in Japan but along the way he's brainwashed by the Soviets into attempting to kill M. Although M survives and Bond recovers, the former is not sure just how trustworthy his agent is anymore (this plot point would show up in the films Die Another Day and Skyfall). M sends Bond on a mission to Jamaica to take out the Cuban hitman Francisco Scaramanga, aka "the man with the golden gun," who has a number of criminal enterprises in the works with both American gangsters and the KGB.
The movie trashes almost everything except the villain's name and his trademark weapon. Christopher Lee plays him almost as an evil reflection of Bond, a refined, elegant man who makes his living as a killer yet indulges in the finer things in life. The book's Scaramanga is a thug, a crude psychotic who frequents bordellos and enjoys sordid sex shows. The film, on the other hand, takes place primarily in Hong Kong and Thailand, with Scaramanga both out to kill Bond and also sell stolen solar power technology to the highest bidder.
TMWTGG is widely considered one of the worst 007 films, but it's not clear if hewing closer to the novel would have saved it. It's weird tonally, with Moore still finding his way into the character, incorporates cringeworthy characters like the hapless Mary Goodnight (Britt Ekland) and the grating J.W. Pepper (Clifton James) from Live and Let Die, and is only redeemed by Lee's excellent performance. It's worth noting that Mary Goodnight is a much more significant recurring character in Fleming's books where she is Bond's secretary and closer to the ambiguous romantic work foil that moviegoers would associate with Miss Moneypenny. In any event, the Man with the Golden Gun bore little resemblance to the one in the book.
The Spy Who Loved Me
When Ian Fleming optioned most of the James Bond books to Eon Productions, one of his stipulations was that the producers could only use the title of The Spy Who Loved Me and nothing else. That's because Fleming's ninth Bond book hardly features 007 in it until the final third. The story is told from the perspective of a young woman who's working in a motel when two hoods arrive to burn it down on their boss' orders for insurance purposes. As they are about to rape and kill her, Bond shows up looking for a room and ends up saving her life.
The movie, Roger Moore's third as Bond and the 10th in the series, has, as Fleming requested, no relation at all to the book. Well, maybe a little: one of the hoods, a guy named "Horror," has steel teeth, a detail that showed up onscreen in the form of the assassin known as Jaws (Richard Kiel). Otherwise, the cinematic TSWLM is a loose reworking of the big screen You Only Live Twice, with a megalomaniacal supervillain named Stromberg (Curt Jürgens) hijacking American and Soviet nuclear submarines (instead of space shuttles) so that he can trigger a global war and start his own undersea kingdom (the two movies share the same director as well, Lewis Gilbert). Bond must team up with a beautiful Russian spy (Barbara Bach) to stop him.
Despite having no relation to the text, The Spy Who Loved Me is regularly considered the best of Moore's seven outings and finds the right balance of humor, action, and characterization. It also references 007's dead wife, which the three previous films went out of their way to avoid mentioning.
Moonraker
Ian Fleming's third 007 novel, Moonraker, is considered one of his finest. It devotes considerable space to character development for both Bond and M, offers up one of the series' best villains in wealthy industrialist Hugo Drax, and features an undercover agent named Gala Brand who for once does not fall into bed with our hero. The story follows Bond as he investigates a murder and other mysterious happenings at Drax's headquarters where he is building a nuclear missile for the defense of England. It turns out, however, that Drax is secretly a Nazi who plans revenge on Great Britain by firing his rocket into the center of London. (The idea of a vengeful foreign national disguised as an Englishman would also crop up in the films GoldenEye and Die Another Day.)
It's a good read, actually, and more the pity that almost none of it, save the title and the name of the villain, was used for Roger Moore's fourth outing as Bond (and 11th overall in the film series). While the film's Drax, played by Michel Lonsdale, has some pretty delicious lines ("Look after Mr. Bond. See that some harm comes to him"), the only remnant of the book's vicious Nazi is perhaps his desire to repopulate the Earth with a master race after killing everyone on the planet from space.
Gala Brand becomes CIA agent Holly Goodhead (who does sleep with 007) and the scene in which Drax tries to burn her and Bond to ash under the exhaust of the Moonraker rocket does make it into the film. So does Jaws, encoring from The Spy Who Loved Me, but he's more of a comic foil this time. Moonraker the movie is actually a decent if campy thriller until it heads into orbit where Bond and a squad of space Marines then engage in a laser battle with Drax's minions. That's where we usually start wishing that we could watch Bond reset the target for Drax's one lonely nuclear rocket instead.
For Your Eyes Only / Octopussy / A View to a Kill / The Living Daylights
Until Eon won back the rights to Casino Royale and was able to film that in 2006, Moonraker was the last Bond film to use the title of a novel, which meant that the producers began plundering the short stories instead. 1981's For Your Eyes Only, a return to a grittier style of Bond film, utilized the plots of two short stories, "For Your Eyes Only" and "Risico," both found in Fleming's first collection (also titled For Your Eyes Only).
The title story sends Bond on a mission to assassinate the man who killed a couple with whom M was friends, only to find that their daughter has gotten there first. In "Risico," 007 goes after a drug-smuggling operation but learns that the men he thought were respectively his ally and his enemy are actually the opposite. Both plots find their way into the movie, one of Roger Moore's best, along with the hunt for a naval targeting system. The keelhauling idea from Live and Let Die is also used here as the villain attempts to drown Bond and the woman by dragging them behind his boat.
Moore's sixth film, Octopussy, used the short story of the same name as background for the title character's late father while another short story, "The Property of a Lady," provided an auction scene for the film, which is otherwise a wholly original idea. Moore's last 007 film, A View to a Kill, takes its name and nothing else from the story. "From a View to a Kill," follows a young and green Bond as he takes out an assassin who uses a motorcycle to target his victims. No antics with Max Zorin, May Day, or Silicon Valley here.
As for Timothy Dalton's two outings as Bond, the first 15 minutes or so of The Living Daylights is based more or less on the short story of the same name, in which Bond frightens "the living daylights" out of a KGB assassin disguised as a beautiful cellist. The rest of the movie is a mish-mash of Soviet hijinks, arms dealing, and drug smuggling in Afghanistan. Dalton's second film, Licence to Kill, lifted Felix Leiter's grisly encounter with a shark from Live and Let Die and included a character named Milton Krest from the story "The Hildebrand Rarity," but was otherwise all new.
Casino Royale / Quantum of Solace
None of Pierce Brosnan's four films as James Bond—GoldenEye, Tomorrow Never Dies, The World Is Not Enough, and Die Another Day—had any significant connection to published 007 material. Yes, GoldenEye was the name of Fleming's Jamaica estate where he wrote the Bond books, and TWINE is the Bond family motto as revealed in On Her Majesty's Secret Service, but the stories aren't based on any Fleming texts at all. Only the much-maligned Die Another Day features a passing reference, with the villain Gustav Graves loosely patterned after both the literary Hugo Drax from the novel Moonraker and the title character of the first Bond novel not written by Fleming, Kingsley Amis' Colonel Sun.
When Daniel Craig inherited the role in 2006, it was a whole different ballgame. Eon finally obtained the rights to the first Bond novel, Casino Royale (of which a disastrous, non-EON Bond spoof had been made in 1967), and decided that the film would not only be largely faithful to the book (something not seen in years) but also serve as a soft reboot for 007 himself.
Although the movie opens with Craig's Bond earning his "00" certification with two kills invented entirely for the film, from there it proceeds into a faithful if updated reading of the source material. Bond tracks down a terrorist banker named Le Chiffre, who signs up for a high stakes Texas Hold 'Em game in Montenegro to win back his clients' money after he loses it in a failed stock shorting scheme foiled by 007. Bond gets into the game as well, accompanied by treasury agent Vesper Lynd (Eva Green), with whom he falls in love, even as several attempts on his life are made during the game.
In the book, Le Chiffre loses money belonging to the French Communist Party after investing badly in a string of brothels; it's easy to see why that would not quite work today. But that backdrop aside, along with an opening action scene and a closing shootout in a sinking Venice palazzo, Casino Royale does hit all the major points of the book, including the central game (although it's baccarat in the book), Bond's introduction to Felix Leiter, his growing relationship with Vesper, and her shocking betrayal and death.
Craig's next outing, Quantum of Solace, took the title of one of the few remaining unused Fleming short stories, in which the Governor of Bermuda tells 007 about the disintegration of a marriage, and nothing else, turning the film into a direct sequel to Casino Royale. The next three Craig films – Skyfall, Spectre, and No Time to Die also bore little relationship to the published canon, although Spectre introduced a very different version of Blofeld (Christoph Waltz) and the title organization, while NTTD featured a variation on the Garden of Death from You Only Live Twice, as well as Bond's "death" in that book (although that immediately turns out to be a fake out in the literary epilogue).
If the Craig era did one thing that arguably harkened back to Fleming, it provided a continuing narrative from film to film, something Fleming managed to do over the course of his 12 novels and nine short stories, but which the screen 007 has, for the most part, never quite accomplished.