Features
Ranking the Pierce Brosnan James Bond Movies
Pierce Brosnan brought James Bond out of the Cold War with flying colors, but is his era as 007 somehow underrated?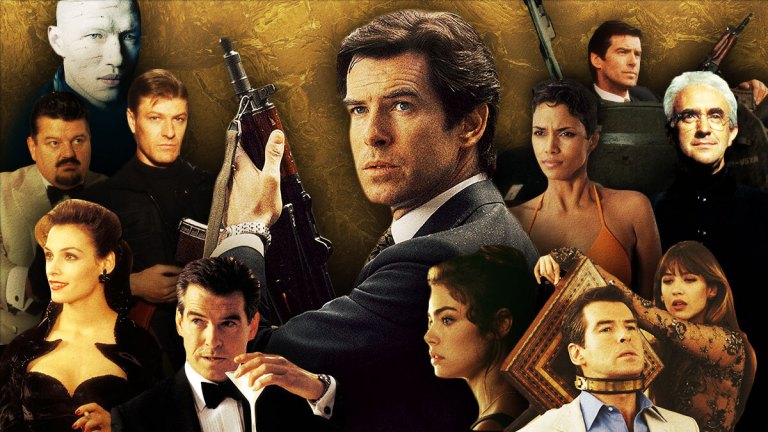 Diamonds might be forever, but James Bond isn't. At least not naturally. While the character has survived 60 years, the changing mores and attitudes of several generations, and multiple recastings, it is never a foregone conclusion that 007 will soldier on into the next decade. And in 1995, things looked particularly perilous for the character just as Pierce Brosnan slipped into the tuxedo.
Brosnan was, of course, famously cast as Bond before that moment, having been slated to appear nearly a decade earlier in The Living Daylights (1987). But due to a television contract, he was forced to drop out of a role that millions of television viewers thought he was perfect for. In the interim, the world changed. The Cold War that defined Ian Fleming's early spate of Bond novels, and certainly 007's post-World War II persona, had ended. The early '90s were an era of good feelings and dubious optimism, with conservatives opining we had entered "The End of History."
Some also similarly wrote that the world had outgrown Bond. After all, by the time GoldenEye was released in '95, it had been six years since the last James Bond movie. And while Timothy Dalton's truncated tenure has its admirers today, the underperformance of License to Kill in 1989 suggested mainstream audiences were unimpressed in the moment. Hence more than a half-decade past that, and in an era with of growing awareness of the menace of sexual harassment in the workplace, was it time to just retire this "sexist, misogynist dinosaur?"
As it turned out, it was the moment the franchise finally faced its critics head-on, going so far as to cast Dame Judi Dench as the new M to deliver the above rebuke of 007, word for word. She also poses a question to Bond: Are you just a "relic of the Cold War?" Brosnan spent his tenure proving quite the opposite, making Bond fresh, hip, and extremely '90s with his adventures focusing on the advent of new technologies in the dawning information age, and in a period of realignment among all the old adversaries. Brosnan made Bond relevant again.
Yet when folks largely think of his era, they recall not how it began but how it ended with one of the most notorious movies in the Bond canon. Die Another Day is still primarily seen as a hilarious juxtaposition to the next guy's moody reboot. But is there more to Brosnan's time than how it contrasts the 21st century 007? We revisited the Irish actor's quartet to find out…
4. Die Another Day (2002)
So as it turns out, Die Another Day isn't terrible—wait, wait, put the pitchfork down! You didn't let us finish our thought! Die Another Day isn't terrible… for the first act. Lousy Madonna songs notwithstanding, Brosnan's final 007 adventure begins well enough by pivoting away from the '90s relevancy debate of his previous movies and instead toward a wild adventure in the vein of Connery and Moore. And for the initial 30 or 40 minutes, it's mildly amusing as a campy throwback.
The opening sequence is certainly in line with Brosnan's previous three movies, with the Cold War warrior looking old-fashioned as he's captured playing spy games behind enemy lines in a communist leftover state, North Korea. However, after opening credits suggest the familiar naked silhouettes of women are Bond's fantasies as he's being tortured, Brosnan's Bond is released into a Connery-esque yarn with detours into Cuba and late day rendezvouses with bikini-clad vixens (Halle Berry, doing here a riff on Ursula Andress' big scene).
As a 40th anniversary lark, it's harmless, if faintly bland. Brosnan also looks more comfortable in the role than ever. Alas, somewhere between a sword fight tete-a-tete with the villain (a la Goldfinger) and the introduction of a car that turns invisible, it all goes off the rails. Most of that can be attributed to an incredibly tone deaf attempt to remake the worst elements of Roger Moore's Bond movies by way of a fatal overdose of corny puns, puerile dialogue, and world-ending megalomania worthy of a Joel Schumacher Batman movie.
By the climax of the film, director Lee Tamahori and the writers thought they'd taken Bond back to his roots, but 007 never looked more desperate than when a pixelated Brosnan was surfing on an unconvincing CGI tidal wave. And when he is fighting Toby Stephens' woefully misjudged supervillain to the death? It might as well be an episode of Power Rangers.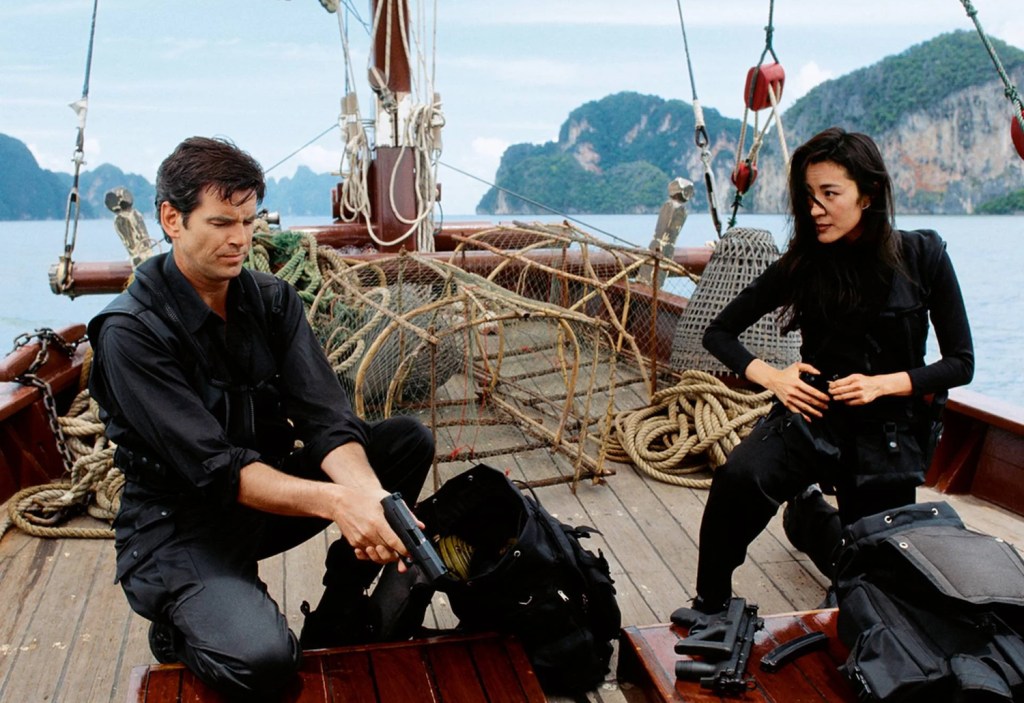 3. Tomorrow Never Dies (1997)
Some fans consider Tomorrow Never Dies to be the best Bond movie of the Brosnan era. In retrospect, it is the most traditional in its narrative (i.e. formulaic). As with You Only Live Twice (1967), superpowers are on the brink of war because a megalomaniac has secretly destroyed military vessels belonging to both sides—although this time it's the Bond franchise's fantasy version of the UK and China.
Thus what made TND feel unique in its heyday, and what has let it age extremely well, is that the megalomaniac was blatantly modeled after Rupert Murdoch. One year after Murdoch launched Fox News, Tomorrow Never Dies introduces us to Elliot Carver (Jonathan Pryce), an international media mogul who's also on the eve of launching his own cable news network, and who is so sinister a manipulator of current events that he can't settle for tabloid gossip and political smears; instead he decides to start making the news by manufacturing an international crisis with a body count.
It's an inspired motivation for a Bond villain who plays better a quarter century after seeing what Murdoch's empire has wrought. Pryce is also having a ball while chewing the scenery like it's a five-course meal. Unfortunately, the rest of the movie isn't quite able to keep up with the twinkle in his eye. Brosnan is more seasoned and relaxed in his second outing, adding an elegiac quality to Bond's world-weariness and fleeting moments of wrath. But the action directed by Roger Spottiswoode is workmanlike and often perfunctory outside of the scene where Bond remote controls his BMW from the backseat like a kid who just got a video game console for Chrstimas.
The film also has one of the greatest onscreen martial artists of the last 30 years in Michelle Yeoh as the movie's leading lady yet barely gives her anything to do. One imagines the producers were kicking themselves after she showed American cinema what they were missing out on in Ang Lee's Crouching Tiger, Hidden Dragon just three years later. Still, the motorcycle chase with Brosnan and Yeoh is neat.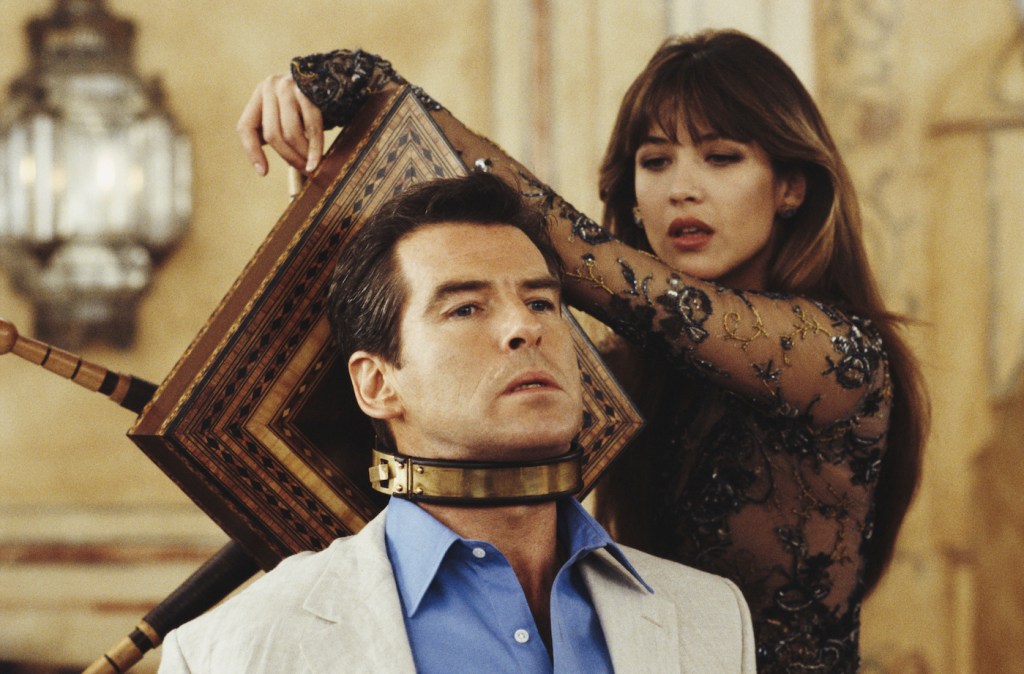 2. The World Is Not Enough (1999)
The World Is Not Enough is one of the more underrated Bond movies. It certainly has problems, but to date it remains the only 007 adventure wherein the main villain is a woman. More impressive still, Sophie Marceau's Elektra King is so convincingly sympathetic as a hostage/survivor who is in need of Bond's big manly protection that most audiences never predict she's actually the megalomaniac behind her father's murder during their first viewing.
Taking a page from On Her Majesty's Secret Service (1969), TWINE is at its best when it focuses on the tragic love story between James and Elektra, only here Bond is forced to realize he's in love with a sociopath. Brosnan and Marceau have chemistry, and Brosnan provides his most nuanced turn with a Bond who is as wry as Moore but still vaguely haunted behind that dashing exterior.
It's elsewhere, then, that the movie runs into issues. Casting Denise Richards as a nuclear physicist named Dr. Christmas Jones has become the stuff of infamy. And honestly, yes, it would've worked so much better if the producers stood by their rumored original choice, Monica Bellucci, since Richards is incredibly wooden and unconvincing as a physicist, although we'd point out her performance isn't any flatter than many fan favorite "Bond Girls" from the '60s and '70s. Meanwhile the movie's fake-out villain, Renard (Robert Carlyle), also fails to maintain audience interest during the climax after Bond has already executed Elektra in cold blood.
Even so, the scene where Bond shoots Elektra features Brosnan's best acting in the series, and was sold all the better because Dench's M acts as a silent witness. Throw in a crackerjack pre-titles boat chase sequence along the Thames and a solid shootout in a nuclear silo, and you have a Bond movie that's better than its reputation.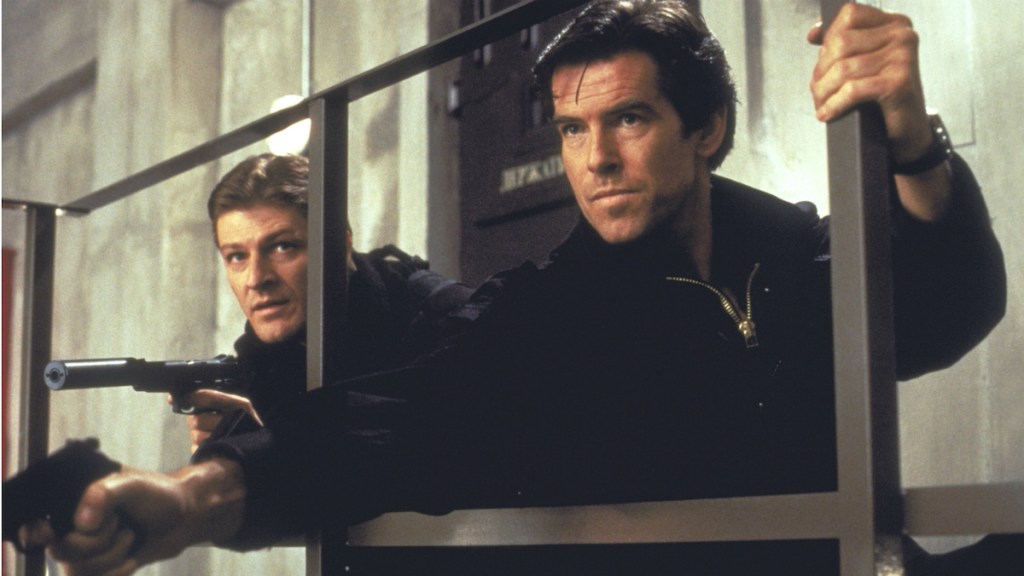 1. GoldenEye (1995)
Like this is a surprise? While Connery and Moore didn't find their perfect distillations of the Bond formula until their respective third outings, Brosnan came out of the gate roaring with an immaculately tailored thriller that can stand up alongside Goldfinger (1964) and The Spy Who Loved Me (1977). The movie's legacy only grew because of the N64 game it inspired, but the movie was already a formidable turning point for the Bond franchise years before that game's release. This is the one that saved the franchise for a post-Cold War world.
Beginning in 1986 with a mission behind the Iron Curtain, GoldenEye then flashes forward to the modern challenges which conspire against Bond on all fronts: his politics, his sexual conduct, and even his loyalty are called into question. Former KGB counterparts are now wealthy gangsters consuming (bad) American culture; the woman who attracts his attention, Natalya (Izabella Scorupco) is a computer hacker with vital expertise he can barely understand; and the villain is his old friend and MI6 doppelgänger who's thrived in a world without the old rules.
The movie also works because of how fastidiously prepared Brosnan is for this moment. His level of suave sophistication and urbanity is smoother than any other 007 actor, yet that unflappable coolness looks out of step with the world around him. Nonetheless, he doesn't quite brood about it (like the next guy); he just carries on with a stiff upper lip and a droll double entendre delivered with equal measures of Connery coldness and Moore whimsy.
Director Martin Campbell meets the performance with a tone that is initially bleak, with much of the action taking place in Russia, but the imagery and aesthetics warm as Bond proves his worth and finishes the tale in the sunny Caribbean. It also features two of the best villains in the franchise's history—Sean Bean as 006 and Famke Janssen as Xenia Onatopp, who enjoys the most memorable method of assassination since Jaws and Oddjob. Toss in one banger action sequence after another—with a tank chase through the real St. Petersburg acting as the pièce de résistance—and you have one of the best action movies of the '90s. It's god tier Bond-ing.