Features
On Her Majesty's Secret Service Is the Most Original James Bond Movie
A once underappreciated 007 adventure took big swings that the series never attempted before, paving the way for many since.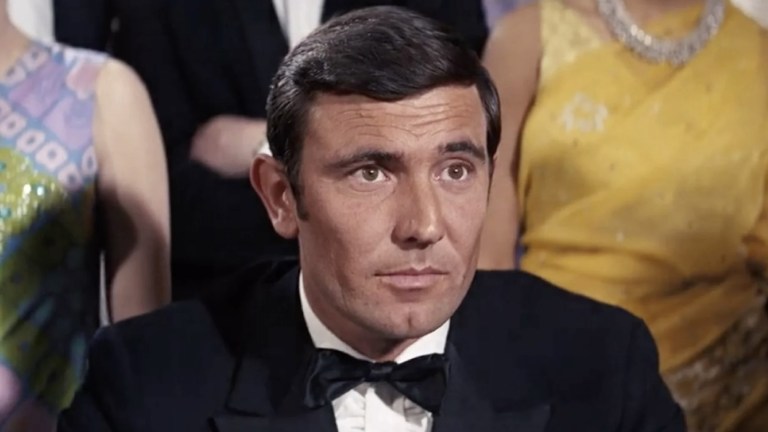 For a long time, On Her Majesty's Secret Service was the "lost" James Bond film. The sixth in the series, released in 1969, it came out at a time when tastes were changing and the initial Bond-mania of the mid-1960s had arguably peaked. It also didn't help matters that Sean Connery had left the role following the previous movie, You Only Live Twice, and that producers Albert R. Broccoli and Harry Saltzman decided to go with an inexperienced unknown from Australia, George Lazenby, as the new 007.
Although the film did reasonably well at the box office, with $82 million in total receipts, that was still a drop-off from You Only Live Twice and a fairly steep fall from the heights of Goldfinger and Thunderball. Add to that the fact that Lazenby left the series after finishing his one picture—despite being offered a long-term contract—and you have a movie that for a long time was sort of forgotten as the series grew in popularity again. It wasn't even played on television as much as the others.
Nowadays, however, OHMSS (as we'll refer to it from here on out) has been widely reappraised and is considered one of the best Bond movies, regularly landing in the top five or 10 of any list. While not quite seasoned, Lazenby does a more than decent job in his one outing, and he's backed up by a luminous, complex Bond woman in Diana Rigg and a salty, punchy villain in Telly Savalas. It's also a movie that, after the increasingly outrageous spectacles of Thunderball and You Only Live Twice, took 007 back to his roots for an adventure more faithful to the spirit of Ian Fleming.
OHMSS took a number of risks and pushed the series and character further in some ways than anything that came before it and many of the films after it. It also provided a template for a more three-dimensional Bond film that was directly referenced 52 years later in No Time to Die. Here are the reasons why OHMSS was James Bond's most daringly original film and his biggest roll of the dice… one came up with a 7.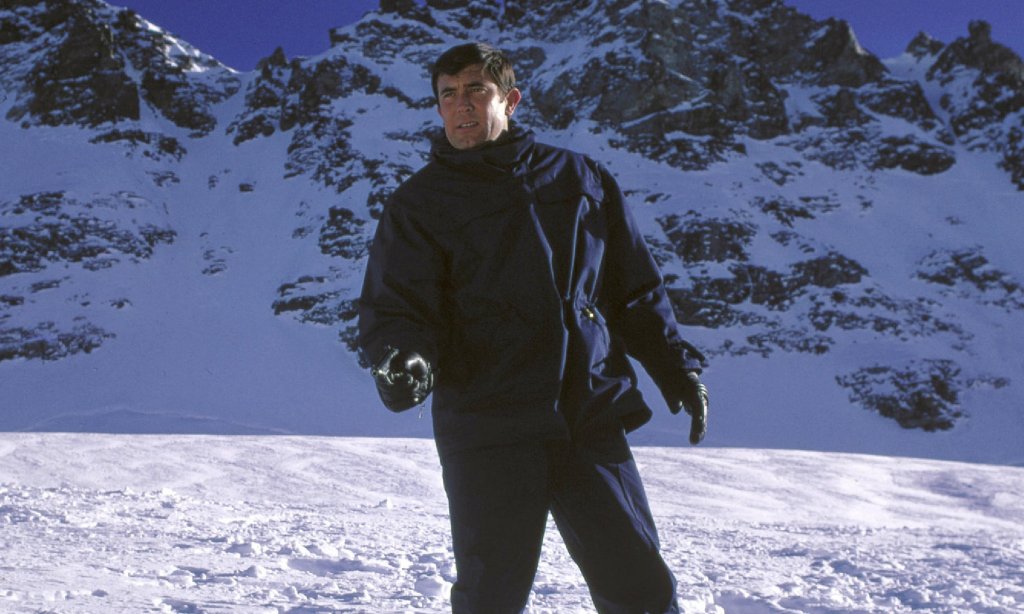 I Come From A Land Downunder
With one exception, all of the actors who have played James Bond on film have come from the British Isles, either the UK (Connery, Moore, Craig, Dalton) or Ireland (Brosnan). The one exception, of course, is OHMSS star George Lazenby, who hailed from New South Wales, Australia. While other Aussies (Finlay Light) and even some Americans (John Gavin, James Brolin) were considered for the role in the decades since, it's been pretty much settled in recent years that Bond should be British. Unless that changes, Lazenby's title as the one and only non-British or Irish 007 will remain secure.
The hiring of Lazenby also marked the first and only time that a completely inexperienced unknown won the role (29 years old when he filmed OHMSS, he also remains the youngest Bond to date). Every 007 before and after was relatively seasoned as an actor before they were hired, with varying degrees of fame or at least a modest public profile (Roger Moore was probably the biggest and most established "star" when he donned the tux). Lazenby acquitted himself pretty well for his very first real acting job, but the producers likely did not want to take that kind of risk again after he walked away.
There's A First Time for Everything
Not only did OHMSS feature the first 007 with absolutely zero prior acting experience, but it was also the first Bond adventure to utilize a first-time director. That man was Peter R. Hunt, but he wasn't exactly new to the process of making Bond movies: Hunt was editor on the first five entries, as well as a second unit director on Goldfinger, Thunderball, and You Only Live Twice, and producers Albert R. Broccoli and Harry Saltzman had long promised him a shot at the big chair.
He came through with flying colors: OHMSS moves swiftly through its lengthy running time, and Hunt's trademark quick cutting added real electricity to the action sequences that had been missing on the last two films. Most surprisingly, he proved adept at the character material as well, especially when it came to guiding the novice Lazenby through some of the more emotional scenes. Strangely, although he continued to direct and edit into the early 1990s, Hunt never worked on another Bond film again, even though he was reportedly offered several of them. He's also just one of two first-timers to be handed the 007 directing reins—the second was John Glen, who also worked as an editor and second unit director for the franchise until getting his big chance with 1981's For Your Eyes Only.
Length Does Matter
Peter Hunt's exceptional job at keeping OHMSS moving along at a quick clip hides the fact that, at two hours and 22 minutes, OHMSS was the longest Bond movie up to that point, with all of the previous films (save Thunderball at 130 minutes) running under two hours. In fact, OHMSS held the title until 2006, when Daniel Craig's Casino Royale clocked in at two minutes longer (Craig would later break his own record with first the 148-minute Spectre and then the nearly three-hour No Time to Die).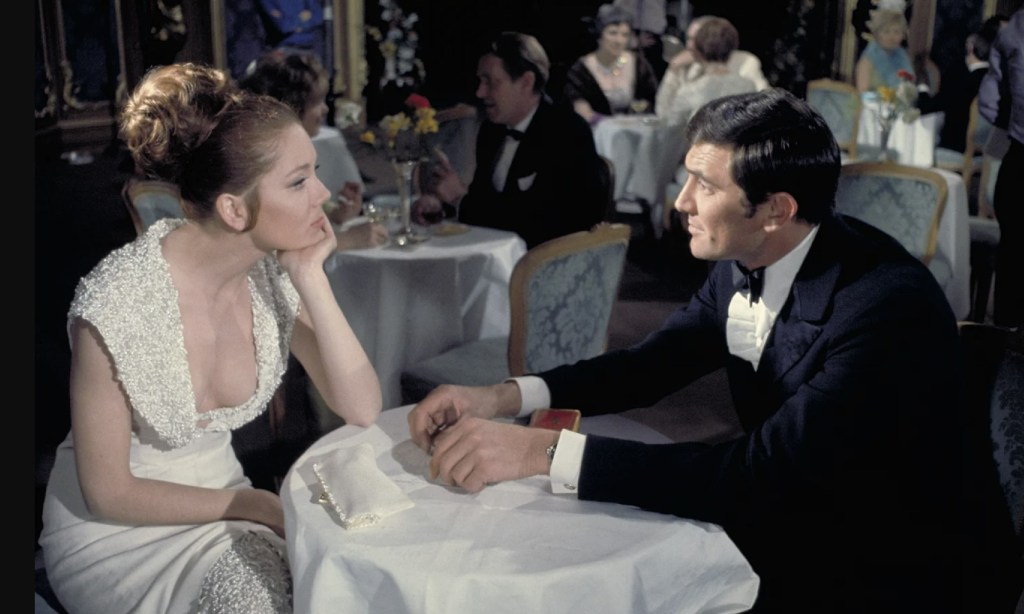 We Have All the Songs in The World
Starting with From Russia with Love, the 007 series settled into a pattern of having a main theme song, always with the same title as the movie and almost always played over the opening credits. OHMSS had the distinction of having two separate themes, each important to the film in its own way: the first was the instrumental theme composed by John Barry for the opening credits, a galloping, ominous bass-and-brass-driven stomp that remains unique in the franchise's history, and "All the Time in the World," a ballad sung by legendary jazz titan Louis Armstrong for the montage of Bond and Tracy falling in love.
In fact, the latter was the first Bond theme to not feature the title of its movie and to date the only to ever be re-used for a second movie, with "All the Time in the World" appearing over the closing credits of Daniel Craig's swan song, No Time to Die, which makes sense given the tragic endings that link both films.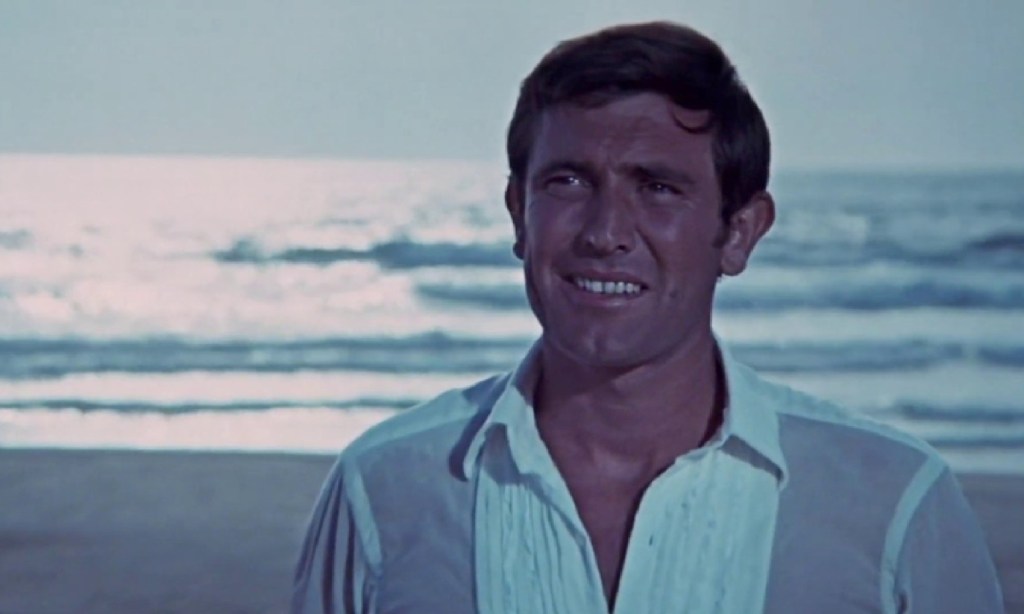 Breaks the Fourth Wall
In the pre-credits sequence of OHMSS, Bond rescues Tracy (the great Diana Rigg) from a suicide attempt before he is attacked by two thugs on his tail. He defeats them in a brief brawl, but rather than falling into his arms, Tracy escapes up the beach and takes off again. As Bond watches her go, he says with a smirk before looking right into the camera, "This never happened to the other fellow!"
While there are other references to the previous Bond pictures in the movie (images from the other films used in the credits sequence, Bond looking through souvenirs from those adventures in his office), this is a pure meta moment in which George Lazenby and the filmmakers acknowledge to the audience that they are watching a new James Bond. The series never broke the fourth wall before this and never has since; the closest other example would be Sean Connery winking at the camera at the end of the non-canon Never Say Never Again.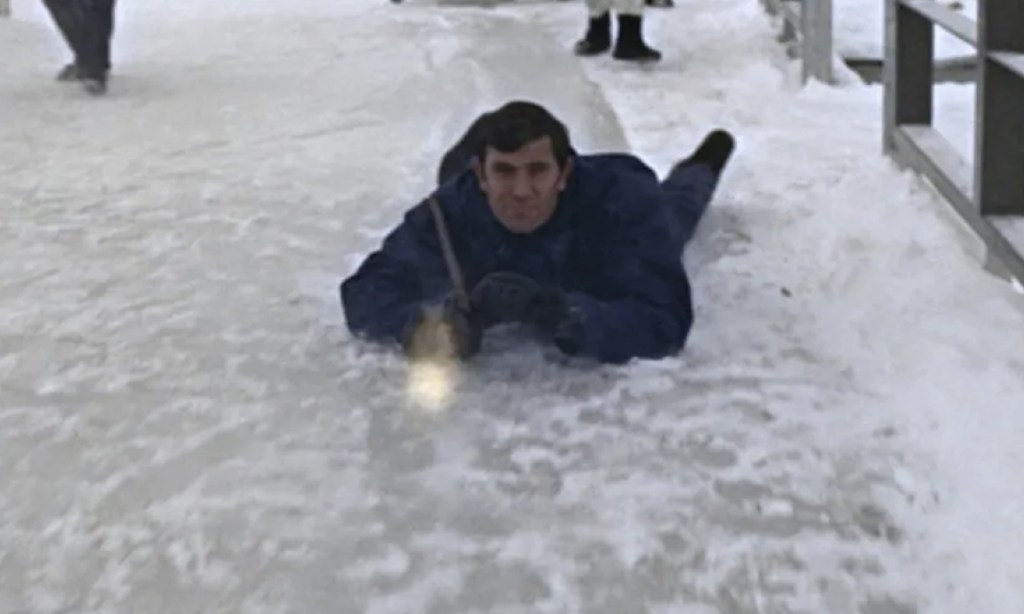 Faithfully Yours
While the first four Bond movies were reasonably faithful adaptations of the Ian Fleming novels, the fifth movie, You Only Live Twice, basically jettisoned the entire plot of the book on which it was based, save having Blofeld as the villain. With On Her Majesty's Secret Service, the producers, director Peter Hunt, and screenwriter Richard Maibaum deliberately set out to make the most accurate adaptation yet. And they did: OHMSS is remarkably close to Fleming's 10th 007 novel, and as noted in the home video documentary about the film, just about everything that happens in the book happens in the movie.
This ended up causing some major continuity issues with the films that came immediately before and after this one (more on that below), but alas, it also marked the last time until Casino Royale in 2006 that a 007 movie bore such a close resemblance to the book—and even that great film added some flourishes not found in the source material. By contrast, OHMSS already had everything it needed.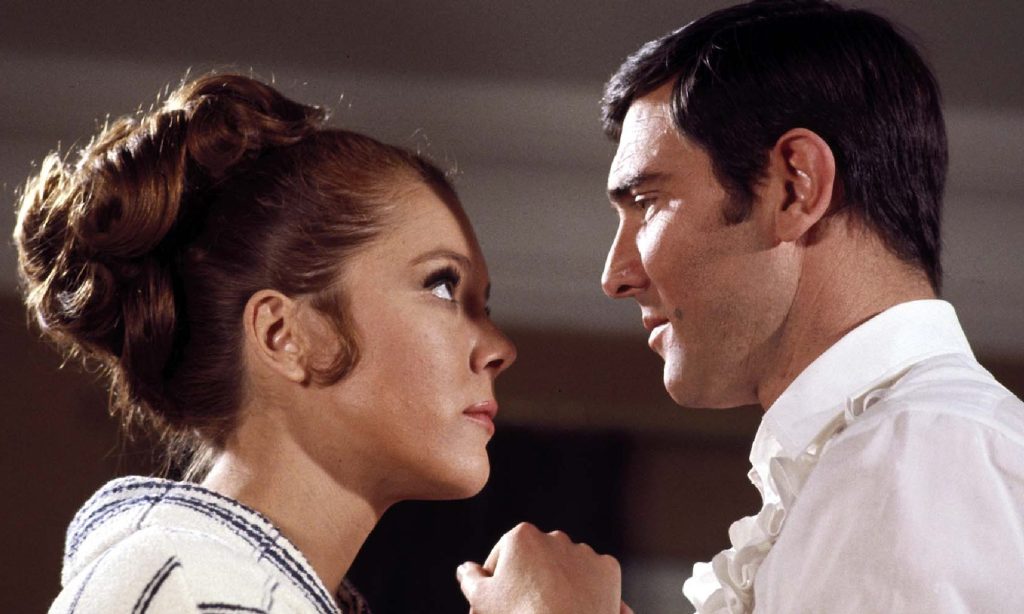 'I'll Never Find Another Woman Like You'
We all know the popular conception of "Bond Girls" or "Bond Women," as they later came to be known: they're beautiful plot devices, props, or arm pieces for 007 or the villain (usually switching sides from the latter to the former at some point), always sexually available to our hero, frequently in need of rescue, and in many cases sacrificed to Bond's greater mission. In the early films, one here or there would show some signs of agency (like Pussy Galore, despite her unfortunate name), but almost inevitably, if they survived the movie, they would fall into Bond's arms by the fadeout as his reward.
That all changed in OHMSS: for one thing, we meet Contessa Teresa "Tracy" di Vicenzo right in the opening scene of the movie where Bond does indeed stop her from drowning herself. But their blossoming romance, initially transactional in nature, before becoming real, is one of the two main narratives of the film, and Tracy herself is the most complex female Bond character seen up to that point (and arguably, since, although Casino Royale's Vesper Lind comes close). She's also quite capable of taking care of herself, can handle the wheel in a car chase, and even saves Bond's ass at one point. Tracy is a fully-realized character, which makes her ultimate fate even more distressing.
Do We Know Each Other?
Technically we first met 007's arch-nemesis Ernst Stavro Blofeld in From Russia with Love, but we only heard his voice and saw part of his body, which was the same way he was presented two films later in Thunderball. We (and Bond) only met the head of SPECTRE face to face for the first time in You Only Live Twice, where he was the movie's primary villain and played by Donald Pleasance. OHMSS was the first 007 movie to carry over the same central enemy from the previous film, with Blofeld once again front and center, only this time played by Telly Savalas.
This made for some bizarre continuity problems in OHMSS. For example, even though they met just one movie before, Blofeld doesn't recognize Bond at first because he's wearing glasses and a kilt (posing as Sir Hilary Bray). Aside from his bald pate, Blofeld himself obviously looks and sounds completely different; at least there's actually precedent for that in the books, where Fleming alludes to the master criminal using plastic surgery to change his appearance (which would also explain why he's played by Charles Gray in the next film, Diamonds are Forever). In any case, OHMSS marked the first time that 007 faced the same nemesis twice in a row, which wouldn't happen again until yet another iteration of Blofeld (played by Christoph Waltz) showed up in Spectre and No Time to Die.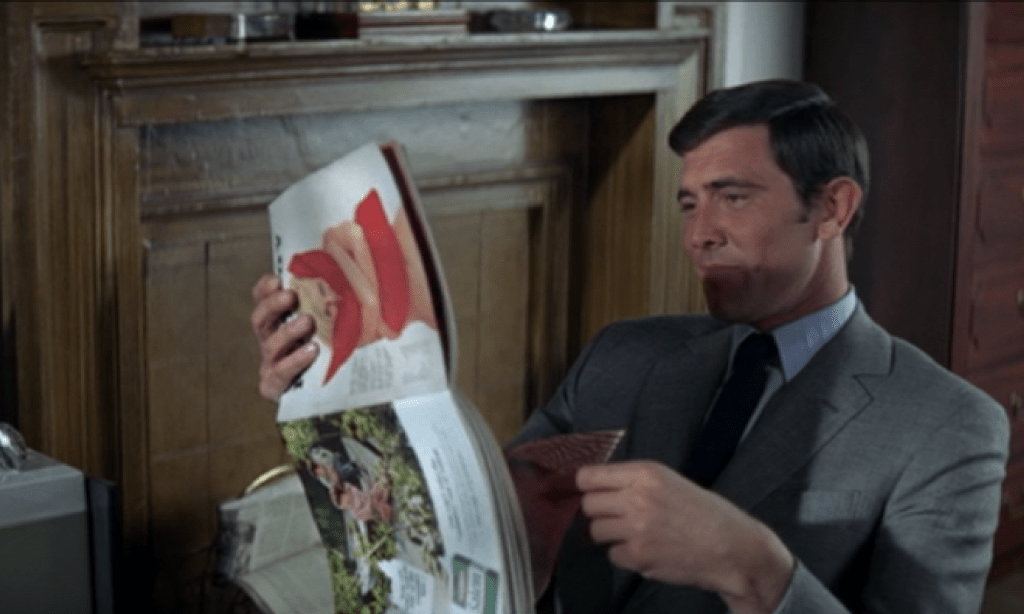 Boys with Their Toys
Each of the first five Bond films was bigger in scope than the one before it, culminating with You Only Live Twice, in which the villain launches a spacecraft from a base hidden inside a volcano to capture American and Russian manned rockets and start a world war. Following that, and coupled with the fact that it was going to introduce a new James Bond, OHMSS acted as a "reset" of sorts; the gadgets were reined in, the oversized sets and vehicles were set aside, and while Blofeld's plan still had global implications, it was designed to be enacted by sleeper agents and not spaceships or nuclear missiles.
Since then, every six or eight films, the franchise regroups in the same way. Following Moonraker, another (rather silly) space-based spectacle, there came For Your Eyes Only, still one of the most grounded and "realistic" installments in the series. After the antics of Pierce Brosnan's farewell in Die Another Day, which featured an ice palace, lasers, and most infamously, an invisible car, the series rebooted with Casino Royale, perhaps the grittiest 007 film since From Russia with Love. The Craig era ended in No Time to Die with the villain hiding out on yet another secret island and unleashing a nanobot weapon that targets people's DNA, so perhaps the next Bond will debut with an OHMSS-style reset as well.
Hitting the Slopes
While the five previous 007 movies had traveled to various exotic locales, ranging from Jamaica to Istanbul to Japan to, uh, Lexington, Kentucky, OHMSS was the first Bond film set in the wintry Swiss Alps, and the first in the series to feature a chase sequence on skis, a tradition that would continue in later films like The Spy Who Loved Me, For Your Eyes Only, A View to a Kill, The Living Daylights, and The World is Not Enough (Spectre also featured a chase down a snowy slope with Bond in a plane). Bond on skis became a reliable action trope over the years, and it was this entry that did it first. However, it also arguably did it best with Lazenby's Bond being genuinely frightened he was outmatched and about to die throughout the chase whereas the other 007s always treat such a sequence as another day at the lodge.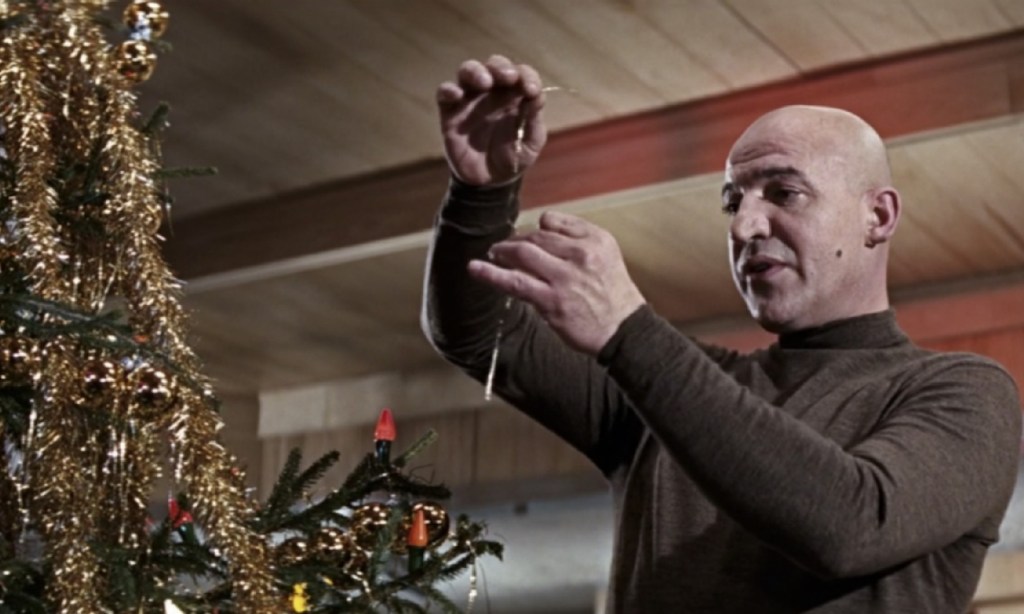 Merry Christmas, 007!
While the debate rages endlessly over whether Die Hard is a Christmas movie (it is), we can definitively report that OHMSS is the first and so far only James Bond movie explicitly set during the Yuletide holidays. After Bond escapes from Blofeld's lair, he skis directly into the town of Lauterbrunnen, which is decorated for Christmas, and finds himself in the middle of a holiday ice skating rink. We also see Blofeld trimming a Christmas tree (!) in his headquarters while each of the women deployed for his deadly mission are given a Christmas gift (featuring a deadly toxin) before the leave. Bond composer John Barry and lyricist Hal David also wrote an original song, "Do You Know How Christmas Trees Are Grown?," which was performed by Danish singer Nina and heard at several points throughout the film.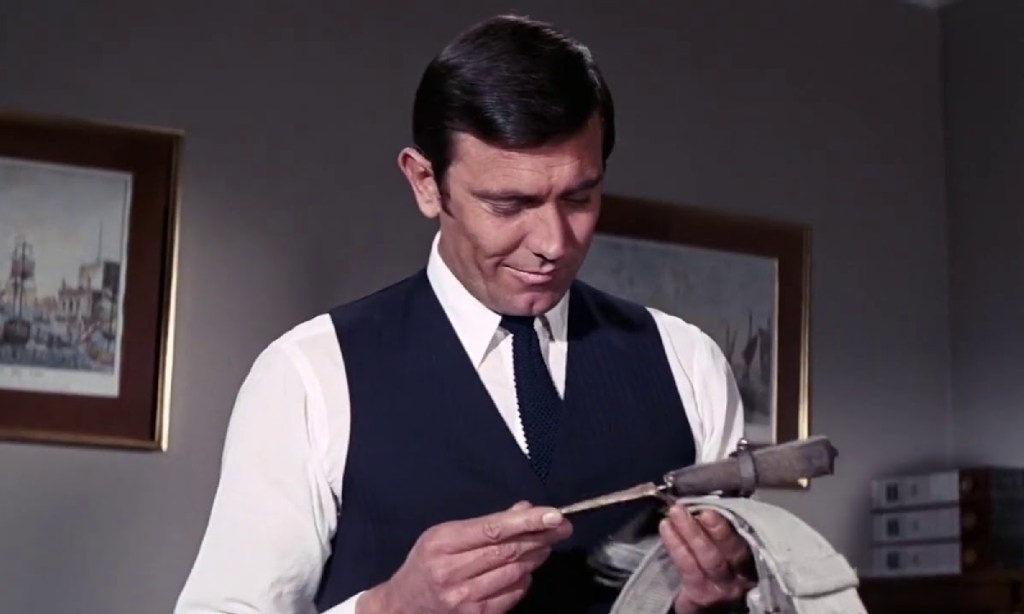 The First Time Bond Quits
When M removes Bond from actively pursuing Blofeld, 007 gets so frustrated and angry that he marches out of M's office and dictates his letter of resignation from the Secret Service to a shocked Miss Moneypenny. Thanks to her, however, the memo that hits the desk of "that monument in there" has been changed to a vacation request—much to the relief of Bond, who's already having second thoughts.
For the first five films in the series, no matter how much crap he goes through or how irritated it gets with his mentor M, you never get the sense that Bond is anything but intensely dedicated to his job, which is why his brief retirement comes as somewhat of a shock. Bond would go on to leave MI6 two more times in his film career – once when he goes rogue in License to Kill (which was originally titled License Revoked) and again at the end of Casino Royale, although that exit is short-lived too.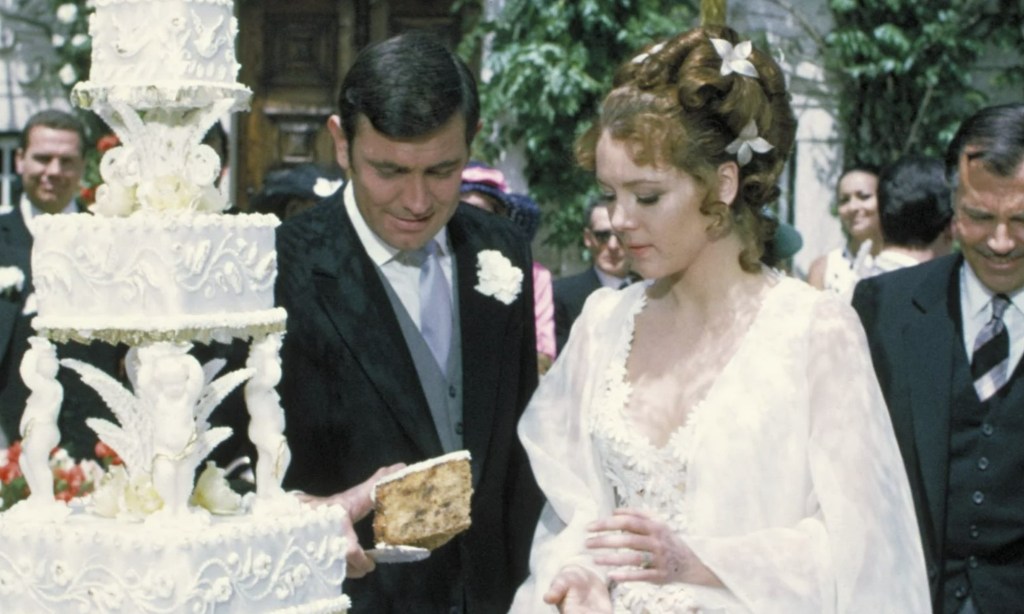 James Bond Gets Married
Up until the Daniel Craig era of 007 films, Bond was pretty much unchanged throughout his long career. Just about every film in the franchise before Craig took over (and insisted on developing the character further) ends with our favorite spy exactly where he was as a character at the beginning of the movie. While the films are driven repeatedly by Bond's need to complete his mission, defeat the enemy, and save the world/England, he himself is not transformed in any way.
Like so many other things that changed with OHMSS: Bond is given a genuine character arc in the film, going from the cocky, arrogant, promiscuous agent we know with a "bachelor's taste for freedom" to a man who's willing to give up the career that has defined him and marry the woman he has come to deeply love. It was likely extraordinary and even jarring for audiences to see this back in 1969, and it remains startling even now. The Bond we meet in OHMSS is shown as vulnerable, sensitive, and all too human—much closer, in fact, to the original Fleming character—but we didn't see him again for the better part of four decades.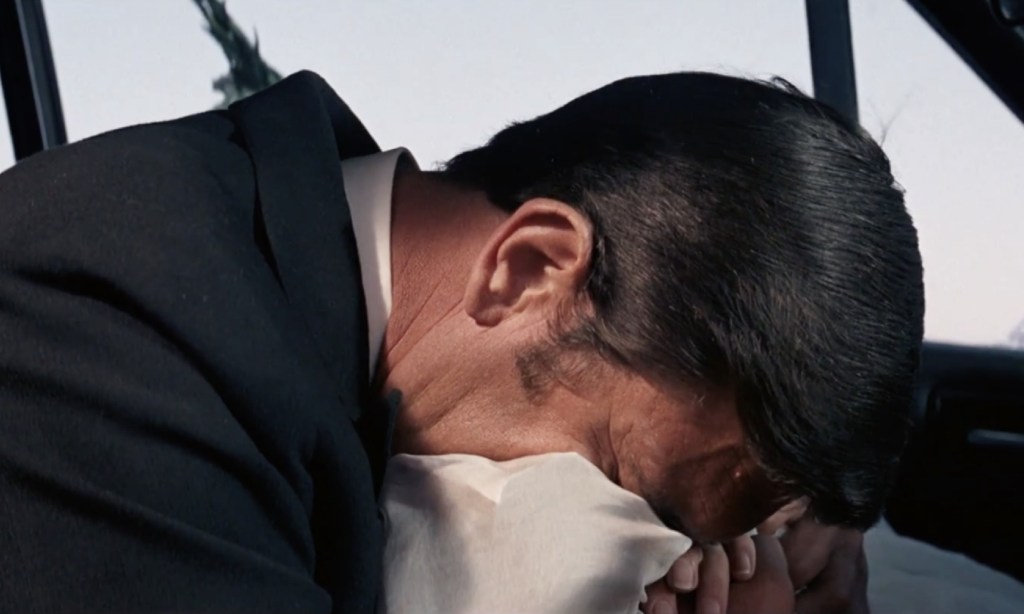 'She's Having a Rest'
There's never been an ending of a Bond film like OHMSS. Bond defeats the villain, saves the world, rescues the girl, and marries her. He then watches his entire new life crumble away in seconds as Tracy is gunned down in cold blood by henchwoman Irma Bunt from a car driven by a still-alive Blofeld. "It's alright," a stunned, grief-stricken Bond sobs with Tracy's bloody head in his lap. "It's quite alright, really. She's having a rest. We'll be going on soon. There's no hurry, you see. We have all the time in the world."
After five previous films in which 007 always decisively triumphed, we can't imagine what audiences at the time thought when they first saw this bleak finale. Whatever his faults as an actor, George Lazenby plays the scene absolutely beautifully. It's only because he's a new actor, with whom audiences didn't yet have the connection they had with Connery, that the scene isn't utterly devastating. But even with the onset of the Craig films—in which Bond lost Vesper Lynd (Casino Royale), held a dying M in his arms (Skyfall), and finally gave up his own life (No Time to Die)—the ending of OHMSS did it first and remains the most shattering ending to a Bond film to date.