Features
How Steven Spielberg's Love of James Bond Led to Indiana Jones
How much different would Hollywood be if 007 producers let Steven Spielberg make a James Bond movie. Would he ever have gotten the chance to make Indiana Jones with his pal George Lucas?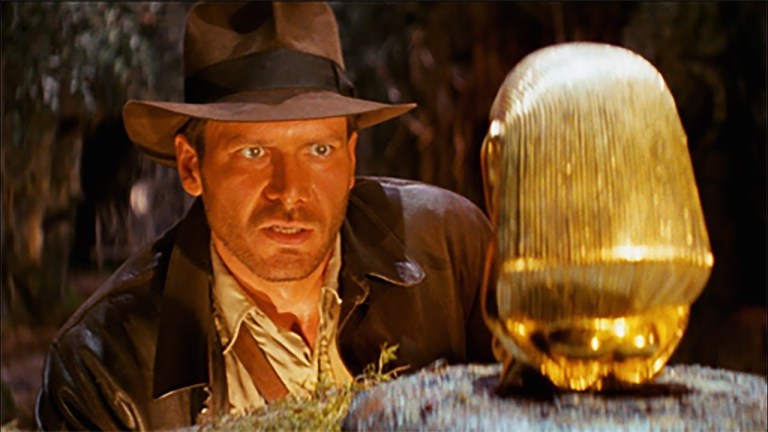 Picture if you will, a world in which someone would say no to Steven Spielberg. After all, the guy changed cinema with 1975's Jaws, creating the summer blockbuster, earning tons of money, and getting a Best Director nomination. But that's exactly what happened, several times when Spielberg begged producer Cubby Broccoli to let him make a movie about his childhood hero, James Bond. But after numerous rejections, Spielberg's best bud George Lucas came to him with another idea: a movie about an adventurer called Indiana Jones.
Spielberg's James Bond Mission
It's no surprise that Spielberg loves James Bond. As anyone who saw The Fabelmans can tell you, the director developed his remarkable cinematic sense not by going to film school but by replicating the images of movies he saw at the local suburban theaters. And few movies of that formative era were bigger in the minds of young men than the James Bond pictures. The first two Bond movies are relatively low-key affairs, but by the time a teenaged Spielberg saw Goldfinger in 1964 and Thunderball in 1965, the movies had become big-budget spectacles. So as soon as the success of Jaws raised his status in Hollywood, Spielberg thought he had a shot.
"I called up Cubby and offered my services but he didn't think I was right for the part," Spielberg told The Independent in 2016. Spielberg tried again a few years later, after the alien movie Close Encounters of the Third Kind made another splash at the box office. He also did get his overdue Best Director Oscar nod on that one
"[Once] again I tried to get on a Bond film, and now they can't afford me," he recalled in the same Independent interview.
To a modern moviegoer, the decision by Broccoli, who was by the then the solo head of Eon Productions, might seem ridiculous. Why would you turn down Steven Spielberg, especially right after Jaws or Close Encounters? Incredulity only increases when you look at the directors Eon did hire at the time, solid but unremarkable journeymen such as Lewis Gilbert and Guy Hamilton. But Broccoli had always taken seriously his role as curator of the Ian Fleming novels, and did not want to turn the markedly English franchise over to an American director. Nor, presumably, did he want an American "auteur" whose success commanded enough clout to demand more creative control than the producer. If there was an author who shaped the 20th century Bond movies, his name was Broccoli.
Adventure Has a New Name: Indiana Jones
For someone as passionate about film as Spielberg, the rejections likely came as a blow. So he did what any of us do when we get bad news: he confided in his disappointment to an old friend. In this case, that friend was George Lucas, who came to his buddy with an original idea during a mutual vacation the two took together to celebrate the release of Star Wars and the completion of Close Encounters, both of which came out in 1977. According to Far Out Magazine, Lucas listened to his friend's complaints about the Bond producer on a Hawaiian beach and responded, "Well, look, Steven, I've got a James Bond film. It's great—it's just like James Bond but even better."
Instead of trying to make a British hero to a producer and established formula's specifications, including with the lead role already cast with the middle-aged Roger Moore, Lucas and Spielberg doubled-down on their American roots, updating the adventure serials they loved as children, and designing the concept from the ground up. And the idea worked. Raiders of the Lost Ark lost to For Your Eyes Only were both released in June 1981, with FYEO being the Bond movie Spielberg was rejected on. And that Bond picture did solid business, opening at $6 million in the U.S. and grossing $55 million in North America (the then largest and most important moviegoing market). By comparison, Raiders opened to $8.3 million before grossing a staggering $212 million in the U.S. alone. That's about $710 million when adjusted for inflation. And by 1989 with Indiana Jones and the Last Crusade even roundly topped License to Kill in the UK box office.
Meanwhile Spielberg received his second Best Director nomination for Raiders of the Lost Ark at 1982's Oscars, where the film was also nominated for Best Picture.
Still, it's clear that Spielberg never shook his love of Bond, and worked references to the super-spy in his Indiana Jones movies. Indiana Jones and the Temple of Doom opens with a sequence right out of a Bond movie, complete with Indy sporting a crisp white tuxedo. More notably, Spielberg cast Sean Connery to be Henry Jones Sr. in The Last Crusade. As per the Beard himself, "Because James Bond is the father of Indiana Jones." But the pulls go deeper than that. Baddies shoot at Henry Jones Sr. with a Walther PPK, Bond's gun of choice, and Cate Blanchett channels From Russia With Love villain Rosa Klebb in Indiana Jones and the Kingdom of the Crystal Skull.
Steven Spielberg and the Mystery of the Lost Bond Movie
While it's hard to believe that anyone, including Spielberg, would trade the Indiana Jones franchise for a couple of different Bond movies, it's hard not to imagine what the great director could have done with the franchise. If Spielberg could have gotten the greenlight from Broccoli during his first shot, he would have been put on The Spy Who Loved Me or Moonraker, both of which starred Roger Moore as 007.
Although it certainly has its defenders, Moonraker usually falls to the bottom of Bond rankings, with The Spy Who Loved Me considered one of Moore's best outings. It is debatable if Spielberg's talents would have been best served improving TSWLM solid franchise programmer formula, or trying to save Moonraker's disastrous script. Even worse might have been Spielberg getting his shot after Close Encounters, which would have put him on For Your Eyes Only, a deeply uneven film starring a markedly older Moore. Certainly, Spielberg would have filmed the movie's oceanic action sequences better than eventual director John Glen, whose superb editing work on the franchise did not translate to strong direction.
But the biggest problem would have certainly been the guy who ultimately said no, Broccoli himself. Broccoli believed that protecting the franchise meant establishing a house style, which left little room for individual innovation. Spielberg may have done for-hire work early in his career on TV shows such as Night Gallery and Columbo, but such a strong hand would have likely diminished his creative spark.
In the end, it's probably best that Broccoli said no. Yes, Spielberg likely would have given us better versions of those Roger Moore films, but even the worst of the set has its fans. And no matter what you think about Indy's final outing, Indiana Jones and the Dial of Destiny, there's no denying that Spielberg and Lucas gave us one of the greatest heroes in cinema. Not bad for a runner-up.