Features
Barbie and Oppenheimer Box Office Numbers Prove Audiences Want New Kinds of Movies
The combined might of Barbie and Oppenheimer just obliterated expectations, posting the fourth biggest box office weekend in history. The rules have changed.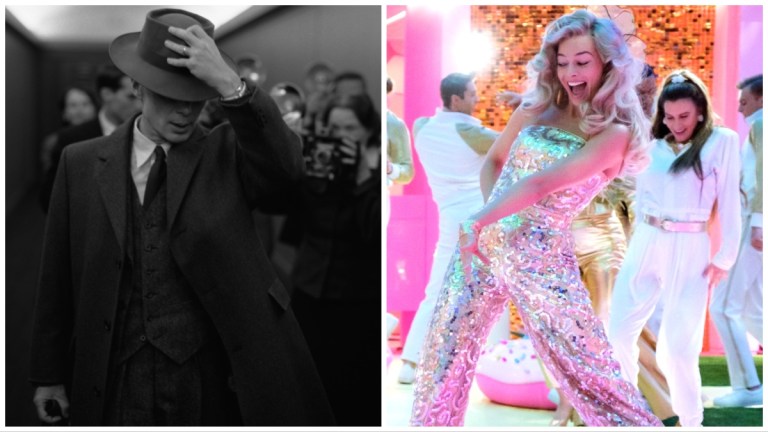 As Barbie and Oppenheimer looked on their collective good works, the pair must have sighed, "Now I Am Become Barbenheimer, the destroyer of industry excuses and conventional thinking."
That is certainly what it feels like the Monday morning after what was the most significant weekend of the year at the domestic box office. The twin releases of Greta Gerwig's Barbie and Christopher Nolan's Oppenheimer, two films likely pitted against each other because one studio was mad at the other for partnering with Nolan, has turned out to be the most consequential and illuminating example of how much the ground beneath Hollywood studios' feet is shifting in a post-pandemic world, and how traditional assumptions about what constitutes a "safe bet" need to change too.
As you've likely already heard, the combined and ultimately complementary appeal of Barbie and Oppenheimer has created a unique cultural moment where excitement over an alleged "meme" turned out to be real-life audience excitement for going to the movies. Both films obliterated their expectations going into the weekend with Barbie being expected by its studio to make somewhere between $80 million and $100 million (with prognosticators moving that field goal to maybe $130 million at the last minute). Meanwhile Oppenheimer was being pegged to make between $40 and $50 million, slightly down from Nolan's previous World War II epic, Dunkirk, which earned $50.5 million in 2017.
Both movies shattered those already rosy numbers. Oppenheimer posted a triumphant $80.5 million according to Universal Pictures while Barbie turned out to be the one to go nuclear, grossing an astounding $155 million domestically in its first three days, as per Warner Bros. Pictures. Yes, that's a record for a woman-directed film, surpassing Captain Marvel's $153 million in 2019. But it's also just plain old creative vindication for Gerwig and producer/star Margot Robbie, the latter of whom had faith in supporting an incredibly outside-the-box approach to an "IP movie" by making sure it had an actual directorial voice and artistic intent. The result is a movie that also opened at $337 million globally. Meanwhile, Oppenheimer is off to a rousing $174 million worldwide start.
When you combine both movies' box office, as well as everything else currently in theaters, it's the biggest weekend in July ever, and the fourth biggest, period. It's also an overdue opportunity for Hollywood to begin some serious self-reflection on its old conventional thinking.
Neither Barbie or Oppenheimer is technically a totally unknown "property." One is based on the most popular toy line in history, and the other is about one of the most famous (and controversial) scientists who ever lived. However, it isn't what they are which is striking; it's what they are not. Both films are highly ambitious swings from respected auteurs, neither follows a clearcut studio formula, and both have the good fortune to not be a sequel, prequel, remake, reboot, or "requel." As far as mainstream audiences are concerned, they're original novelties that offer something different from what the studio has been betting on as blockbusters for the last 20 years—and they're blazing past what studios have long assumed are their "sure-thing" blockbusters.
Consider that before this weekend, summer 2023 has been mediocre at best, and a warning bell about icebergs ahead at worst. Previously, the only two mainstream studio releases to meet expectations at the box office this summer were Guardians of the Galaxy Vol. 3 and Spider-Man: Across the Spider-Verse, both superhero movies and both sequels. However, one was a sendoff to a popular franchise that was ending (and one which previously posted bigger numbers in 2017), and the other a sequel to a 2018 movie that felt fresh in its own right.
Meanwhile, long-in-the-tooth franchise entries like Indiana Jones and the Dial of Destiny and Mission: Impossible – Dead Reckoning Part One fell below studio expectations, with Indy being particularly singled out as a flop given its staggering $295 million budget (which is a shame, I personally liked it). Warner Bros. put their entire weight behind The Flash, a superhero movie that cost anywhere between $200 million and nearly $300 million, depending on who you ask—far above what WB spent on Barbie—and was hyped to the press as the studio's best superhero movie since Christopher Nolan's The Dark Knight. That movie crashed and burned with a catastrophic $55 million opening, even with the nostalgic hook of Michael Keaton returning as Batman in all the trailers.
Conversely, Chris Nolan's actual new film this summer is a talky, gloomy, and intensely adult, R-rated three-hour epic about men sitting in rooms and pondering the end of the world. That film opened far bigger than The Flash/Batman 9.5, Indiana Jones 5, Mission: Impossible 7, Transformers 7, and Fast & Furious 10. Because, yes, even Vin Diesel's Toretto Family is in decline with May's Fast X opening at $67 million (far below either half of Barbenheimer). It then tapped out at $705 million worldwide, down a whopping 43 percent from The Fate of the Furious' $1.2 billion gross just two installments ago.
This weekend should sound like the penny dropping. Audiences want new things, and they especially respond to them if they're done well. And both Barbie and Oppenheimer proved to be home runs with a wide range of people, each garnering the coveted "A" CinemaScore from polled ticket-buyers.
When you broaden the scope to include the last 12 months at the box office, the portrait becomes clearer. While legacy sequel/requel Top Gun: Maverick overperformed in summer 2022, it gave no bounce to a seventh Mission: Impossible flick despite Tom Cruise's admirable commitment to in-camera stunts and support of cinemagoing. Meanwhile, the brand that was underwriting WB's fiscal years between 2016 and 2019, DC Comics, looks like it's in free fall with Black Adam, Shazam! Fury of the Gods, and The Flash flopping back-to-back-to-back.
Even the once invincible Marvel Studios has lost some of its airtight hold on audiences. Moviegoers no longer feel compelled to "see them all" in order to follow the story. They'll show up for Guardians or Spidey, but folks have no issue now about skipping the latest Ant-Man.
For the last decade-plus, a studio system increasingly beholden to Wall Street interests has attempted to mitigate risk by betting time and again on the same franchises and brands, year after year. For the entirety of the 2010s, audiences responded in kind, mostly showing up for the "events," even as those events became increasingly industrialized in their conveyor-belt-like construction. It's how Star Wars went from one of the most beloved sagas in cinema to a Disney brand with diminishing returns in theaters and more recently on Disney+. It's also how we've reached a point where two of the biggest bets of this summer were the respective fifth and seventh entries in decades-old franchises, with a star either older than 80 or 60 leading the adventure (and again, Ford was fantastic in his swan song).
It seems the corporate logic of "safe and familiar" is now hitting a wall. And it should be noted that Universal and WB recognized this to a certain degree. Universal aggressively courted Nolan for Oppenheimer, a film that on paper sounds like a holiday Oscar darling that will struggle to break even. Yet they marketed it like a summer blockbuster, and now it is one. Conversely, WB trusted Robbie enough to allow her to select a director and co-writer who would come with a specific view… and then the studio marketed the hell out of it.
The resulting takeaway seems to be if you give audiences something as distinct as Gerwig's Barbie, which still has brand familiarity but looks nothing like what Hollywood has marketed as an event film in at least a decade—including the fact that it's a comedy!—you can engender a groundswell of excitement unlike anything else we've seen in 2023.
Of course it could be easy to learn the wrong lessons from these box office performances. Mattel is already halfway there, convincing studios to create a shared universe based on its various toy lines; and it seems likely studios will soon try to recreate the novelty of counterintuitive films like Barbie and Oppenheimer sharing the same release date. However, the novelty wasn't just that the films were different tones, genres, or aesthetics; it was that they were two genuinely exciting concepts being told through the lens of highly ambitious filmmakers. Even the audiences who saw Barbie this weekend without knowing Gerwig's name probably could tell from the marketing that this did not come out of a factory like so many sequels and other modern IP movies.
If the next year-plus of superhero movies and studio tentpoles continue the trends of summer 2023, the studios should be thinking long and hard about whether their risk-averse algorithms have themselves become a risk for audiences desperate for originality—be it M3GAN or Barbie. They may also want to reconsider their claims that they can't meet the demands to pay writers and actors fairly. Because if they don't think it was the combined appeals of Gerwig's vision, and Robbie and Ryan Gosling's star power that turned Barbie into the biggest movie of the year, they're living in a fantasy land.