Features
Why Aqua's 'Barbie Girl' Isn't in the Barbie Movie
Aqua's hit song "Barbie Girl" seems like it would be a perfect fit for Greta Gerwig's Barbie Land, so why isn't the full song in the movie?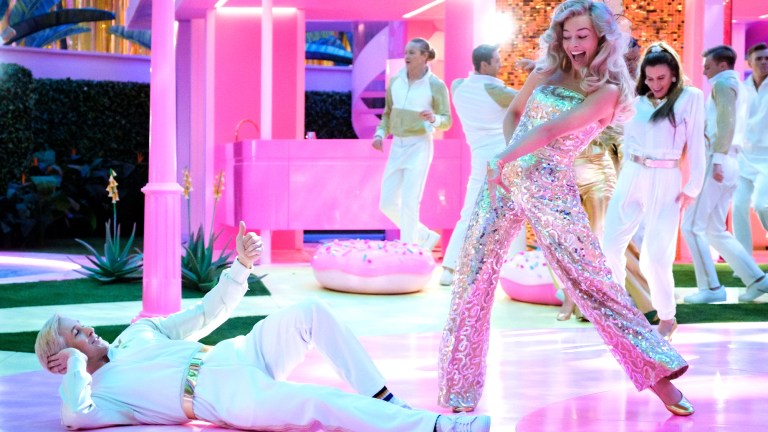 When Greta Gerwig's Barbie was first announced, many fans expected Aqua's popular song, "Barbie Girl," to be featured. With the song's upbeat tune and catchy lyrics, it seemed like a no-brainer for it to be included in the movie's soundtrack. However, this excitement was squashed in 2022 when it was definitively revealed that the song wouldn't be included in the movie or on the soundtrack.
The reason that "Barbie Girl" won't be in Barbie is more than just a licensing or rights issue though. Some of it has to do with the fact that Barbie's parent company Mattel sued the Aqua group for trademark infringement because of the song in 1997. Mattel was worried that the song would ruin the wholesome Barbie brand and one of their major complaints was that the music video "features the Ken doll dismembering the Barbie doll by pulling off her arm." A spokesperson for the company also reportedly said "Even if we found the lyrics acceptable, we would be filing this suit because the song was published and distributed without our permission and certainly without our notification. They are referring to this song as upbeat and fun, and it's really our belief that unlawful exploitation of another company's property for one's own commercial gain is neither upbeat or fun. It's theft."
Aqua's record company, MCA records, replied by saying that the song was parody and protected under the First Amendment, but that didn't stop the legal battle from lasting until 2002. Things got so heated between Aqua and Mattel that MCA eventually replied with their own defamation lawsuit due to things said by Mattel representatives during the lawsuit. Despite lasting for years, eventually both cases were dismissed by the United States District Court in California, which declared, "Mattel's statements were non-actionable hyperbole" and that the song is a parody, "poking fun at both her and the plastic values she represents." Mattel tried to appeal the ruling by taking the case to the Ninth Circuit and the Supreme Court, but both courts dismissed the case for similar reasons.
The judge presiding over both cases, Alex Kozinski said in his ruling that "the parties are advised to chill." And chill they did for a while. In 2009, Mattel even released their own version of "Barbie Girl" to launch their new line of Barbie Fashionista and Fab Girl Barbie dolls. Stephanie Cota, who served as senior vice president for marketing of Barbie at Mattel spoke about the company's relationship with the song by that time in an interview with the New York Times. She said "We were not always in love with one another," but Barbie has always been a part of pop culture. "The beauty of Barbie," she added, is that she gets "to kiss and make up."
While it's great that Mattel was able to finally embrace the song, it doesn't necessarily undo years of bad blood between them and Aqua. Ultimately, not using the song seems like a decision that Mattel made rather than Aqua forbidding them to use it. In an interview with Variety to celebrate the 25th anniversary of the song, lead singer Lene Nystrøm said that using the song in the movie may have been a little much and that it would be "cheese on cheese," but it doesn't seem like there's much ill-will toward Mattel or the movie. Fellow Aqua bandmate Søren Rasted even jokingly said, "We should say we turned it down. Ryan Gosling is not good enough!" Ultimately, Nystrøm totally understands why Mattel chose not to use the song, "but it's going to bring us a lot of attention, no matter what."
However, even though "Barbie Girl" won't be featured in its entirety, it seems to have always been part of Gerwig's plan to find some way to incorporate the song into the movie. Barbie star and producer Margot Robbie spoke about this with Rolling Stone, where she said, "I was like, 'Greta, how are we going to incorporate this song? We can't do a Barbie movie and not have a nod to Aqua's 'Barbie Girl.' It has to be in there.' And [Greta] was like, 'Don't worry, we're going to find a cool way to incorporate it.' "
That "cool way" turned out to be the song "Barbie World," which credits Aqua and features Nicki Minaj and Ice Spice rapping over a sizable sample of the classic song. "Barbie World" appears over the end credits of the movie and is on the soundtrack as an updated homage to "Barbie Girl." This musical loophole means that the spirit of the song is still part of the movie, even if it's not quite in the way fans were hoping for.