Features
Barbie vs. Oppenheimer Isn't the First Time Polar Opposites Have Faced Off in Theaters
Barbie vs Oppenheimer might seem like a uniquely weird bit of scheduling but it's happened before, and it was SPECTACULAR...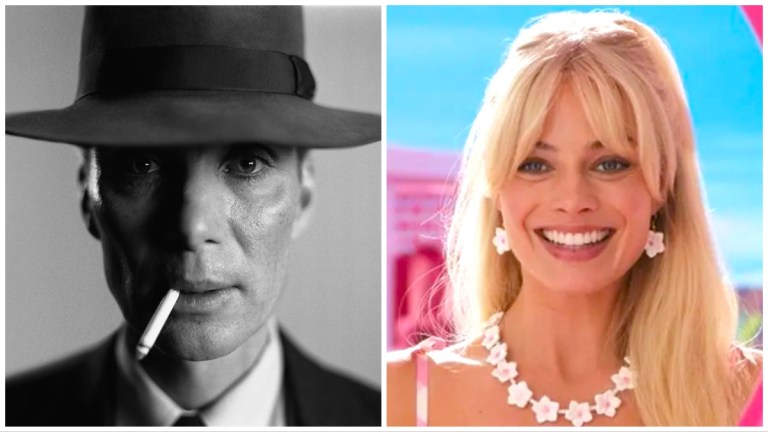 Rumor has it that Christopher Nolan is not thrilled with the idea of "Barbenheimer," an extremely online colloquialism which revels in the culture shock of seeing films like Barbie and Oppenheimer somehow exist in the same universe—never mind be released on the same day! Perhaps Nolan's apprehension is because he crafted a vast, pensive work about the birth of the atomic age and not one half of a TikTok meme. Or, more likely, there's probably some annoyance due to the likelihood of Warner Bros. dating Greta Gerwig's own hot-pink epic on July 21 as revenge for the Inception filmmaker breaking up with them after the studio horrified filmmakers in 2021.
Whatever the case, the opinions of the creators behind the mushroom cloud-sized phenomenon that is BARBENHEIMER are moot. The internet hype is now larger than them, spilling into the real world where folks are wearing Barbenheimer T-shirts on the streets, and one studio's attempt to punish another seems to have backfire, as both films are anticipated to perform on the higher end of their pre-release projections as many audiences are embracing the counter-programming fashion clash. If you got five hours to kill, I can personally attest there's never been a double feature like this.
However, as you partake in you and yours' own personal Barbenheimer festivities, we should each take a moment to pay respect to the odd box office pile ups of movie seasons past. After all, we've seen this same song and dance play out before—and practically on the same pink-and-black disco floor.
Aye, there have been other precursors to Barbenheimer, incidents where studios indulged in a bit of counter-programming, but serendipitously the most evocative precursor to the Barbenheimer phenomenon occurred on the same day as the release of another Nolan film—the biggest hit of his career, in fact. We're of course talking about the joyous double bill that is The Dark Knight and Mamma Mia! (Which henceforth shall be known as The Dark Mamma!)
Back in 2008, not only did we have a Nolan epic released against a woman-directed film that skewed toward a female demographic, but we had an almost identical division of film interests dropped by the same studios, only Nolan was then at WB, and Mamma Mia! was the Universal release. In the aftermath, two stone cold classics leapt (and skipped, and cha-cha'd, and lip-synched all the words to "Dancing Queen") into film history.
At the time, this was a traditional but canny move by Universal to release Mamma Mia! opposite another "boys with toys" superhero flick. Just the year prior, the also Meryl Streep-led The Devil Wears Prada opened on the same weekend as Superman Returns. Yet the storied legacy of The Dark Mamma! would be something else altogether grander.
Directed by Phyllida Lloyd, Mamma Mia! was viewed by Universal as an attempt to tap into the then nascent return of the movie musical. Just a few years earlier at the beginning of the decade, Moulin Rouge! (2001) and Chicago (2002) brought that long-dormant genre roaring back to BOFFO glory, with Chicago even winning Best Picture at the Oscars and a host of other awards. In the aftermath, there was a gold rush in adapting other Broadway hits like Chicago, with mixed degrees of success. Yet Mamma Mia! had an advantage the likes of Rent (2005) and The Phantom of the Opera (2004) could never hope for: It was a show wallpapered around ABBA music.
Yes, there was also a Mamma Mia! stage musical that played both West End and Broadway, but this show was first and foremost a glittering repackaging of the greatest pop hits of the Swedish supergroup's globally beloved 1970s pop song catalog. It was the next best thing to seeing an ABBA concert live, and hey, this one came with a story! Also unlike a pricey theater ticket, Mamma Mia! the movie offered the entire ABBA nation around the world the chance to see glitzy movie stars like Meryl Streep, Amanda Seyfried, Colin Firth, and, infamously, Pierce Brosnan skip along postcard-perfect Greek islands at sunset, dancing above the crash of the waves as they belted disco standards.
Did it matter if half of them couldn't actually sing the songs they were assigned? Well, to critics, yes. Absolutely. Brosnan, Firth, and Stellan Skarsgård's infamously limited vocal range, as well as a few curious choices of staging, made the already lightweight Mamma Mia! a punching bag for mostly male film reviewers. However, the damndest thing about it was… the movie wasn't made for them.
And the audience it was made for loved Mamma Mia!, which became a kind of wine mom pilgrimage in the summer of 2008, opening at a respectable $28 million in the third weekend of July. It was fractional next to Nolan's brooding and somber The Dark Knight, which turned Batman and the Joker into allegorical stand-in figures for the War on Terror. But even as The Dark Knight opened at $158.4 million, teeing the Nolan epic up for an extraordinary run at the American box office where it briefly became the second highest-grossing film of all time behind Titanic, it also did not upset the audience at all for Mamma Mia!, which likewise showed up in cinemas week after week, and month after month.
By the end of 2008, Mamma Mia! had earned an astonishing $609.8 million at the global box office. That's $851.5 million in 2023 dollars, more than the grosses of Guardians of the Galaxy Vol. 3, Fast X, or The Flash. It was behind The Dark Knight's clean $1 billion gross (back when that was a stunning figure for a summer blockbuster), but it still was the highest grossing movie in UK history at that time, and paved the way for a legacy that we'd argue has been more revered by its studio and fanbase. Consider that Universal waited 10 years to make a celebratory sequel in Mamma Mia! Here We Go Again! while Warner Bros. didn't even wait a respectful five years before rebooting Batman with Zack Snyder after Nolan was done with the character.
There is a lesson in these 2008 films' mutually assured dance party. Two films of wildly different sensibilities, style, and tone could open on the same day and over-perform for their genre expectations, each becoming a classic in their own right. And we guarantee with numbers like that, there was plenty of audience overlap. Most of Mamma Mia!'s so-called target demo could find Heath Ledger's Joker simultaneously exhilarating and disturbing, and only a man who was dead inside wasn't screaming "YES!" when Meryl asked the audience during the end credits of Mamma Mia!, "Do you want another one?!"
This was of course roughly the plan back in '08. While Universal was blatantly attempting to offer a "female-friendly" alternative to The Dark Knight, this was also a time where studios still invested in wide-ranging portfolios which fed a healthy diet of complementary interests. In truth, The Dark Mamma! Is not unique. 10 Things I Hate About You opened against The Matrix; Tomorrow Never Dies was opposite Titanic in 1997; and back in '94, we got Interview with the Vampire meets The Santa Clause.
The Barbenheimer phenomenon shows that excitement for variety and different flavors of the rainbow persists. This weekend many audiences will see a challenging film from a great auteur who will cause them to reconsider why their world looks the way it does. And what's great is that this describes both Oppenheimer and Barbie. The metric of which movie opens the biggest may have changed, but a large swath of the audience's desire to see both has not. So get out your dark slacks and pink tops, because, mamma mia, here we go again!