Features
The Best TV Shows For Taskmaster Fans
While we wait for Taskmaster's Series 15 release date, here are some similar TV treats to keep you entertained, including shows featuring previous cast members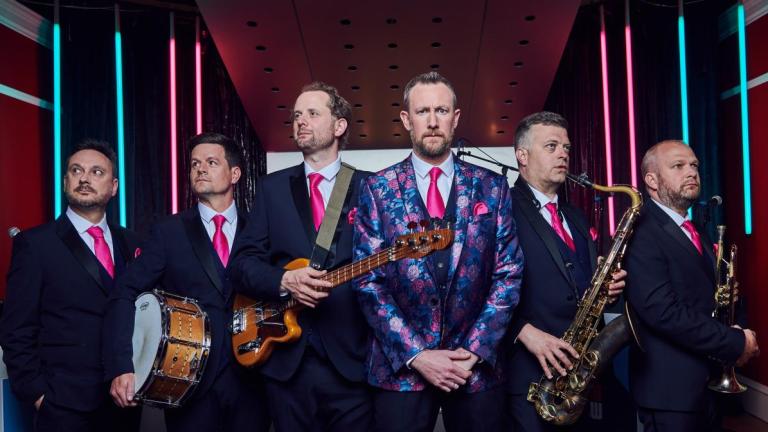 Taskmaster seems to be one of those magically perfect TV shows, but of course the root of its genius isn't magic at all: it's a whip-smart combination of Alex Horne's original format, the comedic force of nature that is Greg Davies in the role of the Taskmaster, and relentlessly good casting.
As we've said before, there's no such thing as a bad series of Taskmaster, and we're sure Series 15 (featuring Frankie Boyle, Ivo Graham, Jenny Eclair, Kiell Smith-Bynoe and Mae Martin) will be no different, but until it arrives, what should fans fill their time watching?
Take a look at these similarly delightful TV shows, including plenty featuring previous Taskmaster series alumni:
Man Down (Channel 4)
Starring the Taskmaster himself Greg Davies, this Channel 4 sitcom centres on his character Dan, a frankly terrible schoolteacher who is having an infinitely amusing midlife crisis. As you can see from the clip above, it'll please fans of Davies' scathing takedowns, with no mercy shown to man, (elderly) woman or child.
Davies wrote the four series assisted by fellow cast members and previous Taskmaster contestants Roisin Conaty and Mike Wozniak, who play Dan's friends Jo and Brian. It gets serious bonus points for featuring the legendary Rik Mayall, who played Dan's mischievous father in series one before his untimely death in 2014.
Mortimer and Whitehouse: Gone Fishing (BBC iPlayer)
Put simply, Bob Mortimer (a contestant in Taskmaster's fifth series) makes the world a better place, and nowhere is this more true than his heartwarming factual entertainment show with veteran comedian Paul Whitehouse, Gone Fishing. At first glance, it might look like a show about fishing, but you'd be dead wrong: it's more a fly-on-the-wall look at a joyful, reflective friendship between two men that provides as many poignant moments as genuine belly laughs. The epitome of a warm hug in TV show form, it's a pick-me-up you can go back to time and time again.
Outsiders (Dave)
We've yet to see David Mitchell compete in Taskmaster (something we're extra keen on so we can compare his performance to his wife Victoria Coren-Mitchell, a Series 12 contestant) but his factual entertainment show Outsiders is sort of what Taskmaster would be like in the wild. Pairs of comedians compete in survival-themed challenges with invariably funny results – and Outsiders gets bonus points for the fact that nearly all of the comedians that have featured so far are former Taskmaster contestants. These include Phil Wang, Kerry Godliman, Joe Wilkinson, Jessica Knappett, Jamali Maddix and – as you can see from the video above – Lou Sanders and Ed Gamble.
GameFace (Channel 4)
If you fell in love with watching Roisin Conaty being adorably bad at things in Taskmaster Series 1, her sitcom GameFace will be right up your alley. Her character Marcella is what millennials might call a 'hot mess': a broke, out-of-work actress with a sketchy-at-best love life, but this depressing premise is dealt with surprisingly warm-heartedly, and in amongst the laughs GameFace sensitively deals with big topics like addiction and loneliness. 
Starstruck (BBC iPlayer)
Series 9 alumnus Rose Matafeo created and stars in this screwball comedy about a Londoner who has a one-night stand (and subsequent unlikely relationship) with a famous movie star, played by Nikesh Patel (The Devil's Hour). It's witty, sweetly awkward and romantic, and very easily bingeable.
We Are Not Alone (UKTV Play)
From the creators of Ghosts, We Are Not Alone is a one-off feature-length comedy that explores what would happen if an alien race took control of Earth, with hilarious consequences. A superbly clever script and stellar cast creates plenty of proper laugh-out-loud moments, and includes former Taskmaster contestants Mike Wozniak and Joe Thomas, who provides a particularly stand-out performance as a lovably dim-witted alien called Greggs.
Ghosts (BBC iPlayer)
While we're at it, if you haven't actually seen Ghosts yet, what on earth is wrong with you? This joyous sitcom about a couple who inherit a haunted house is a masterclass in ensemble comedy that's greater than the sum of its considerably talented parts, with memorable characters, a deliciously funny script and genuinely feel-good vibes throughout. It stars Series 11 Taskmaster contestant Charlotte Ritchie and soon-to-be Series 15 cast member Kiell Smith-Bynoe, with other Taskmaster-related cast members including Lolly Adefope, Katy Wix and Bridget Christie. Like all good comedy, however, Ghosts is also relatable enough to give you the odd gut punch to the feels, but that just adds to the charm.
This Way Up (Channel 4)
Series 5 contestant Aisling Bea wrote and starred in this very funny sitcom about a woman recovering from a nervous breakdown, which also stars Bad Sisters' Sharon Horgan. While there are laughs aplenty, the strong characters also deliver some poignant moments, and there's a guest appearance from former Taskmaster champion Lou Sanders as a psychic called Fran.
Car Share (Prime Video, Apple TV, Sky Store)
If you didn't catch Peter Kay's glorious comedy Car Share the first time around, it's well worth a watch – and even if you've seen it, it's definitely good enough to revisit. This unique series from 2015 is almost entirely set in a car on the daily commute of supermarket workers John, played by Peter Kay himself, and Kayleigh, played by Taskmaster Series 8's Sian Gibson. Over the course of two warm and effortlessly funny series, their relationship grows from relative strangers participating in a car-share scheme to the firmest of friends, and you get the sense the show was as fun to film as it is to watch.
The Horne Section TV Show (Channel 4)
Okay, this one's obvious, but if you haven't enjoyed Alex Horne's new sitcom, now is the time to catch up. Horne plays a fictionalised version of himself, frustrated at being Greg Davies' little assistant, who wants his own late-night talk show featuring his real-life band, The Horne Section. As well as Taskmaster's own Greg Davies and former contestant Desiree Burch, The Horne Section TV Show also features a very funny Georgia Tennant as the withering Channel 4 exec who accidentally commissions the show.