Features
How Taskmaster's International Remakes Put Their Own Bonkers Twists on the UK Original
Moustaches, a female Taskmaster, cameos by Greg Davies... here's how Denmark, Finland, Sweden and more have adapted the UK show.
Little Alex Horne is slowly convincing the entire world to make comedians do daft things for the Taskmaster, and we very much approve. There are currently seven international Taskmaster series running, while a handful of other attempts at international remakes finished after one season, and the newest iteration, Taskmaster Australia, is due to launch in 2023.
When you watch clips of the international versions, they are generally recognisably Taskmaster, from the red-carpeted stage and the clinical white room in the Taskmaster house to the graphics and Horne Section soundtrack. It's all so comfortably familiar that – if you watch a version with subtitles – you quickly forget the contestants are speaking a different language altogether. 
But there are some key differences, from the show's format to each different country's cultural quirks, that give Taskmaster's international versions their own unique flavour.
Here's a rundown of all the active international Taskmaster remakes:
Le Maître du Jeu (Canada)
The most recent addition to the Taskmaster international family, Le Maître du Jeu translates as 'The Game Master', and began airing in Canada in September 2022. The Taskmaster is charming film star Louis Morissette, and his assistant is actor and improv aficionado Antoine Vézina. 
You'll spot some familiar tasks in the trailer, including painting a picture of a horse while riding a horse, putting the yoga balls on the mat at the top of the hill, and some very messy watermelon eating:
Indeed, unlike most other international versions, all of the tasks are adapted from UK versions, which might take a little of the spontaneity out of it if the contestants have seen the original.
While none of the contestants are familiar to a UK audience, they look like an absolute riot, especially Quebec comedian Christine Morency.
Stormester (Denmark)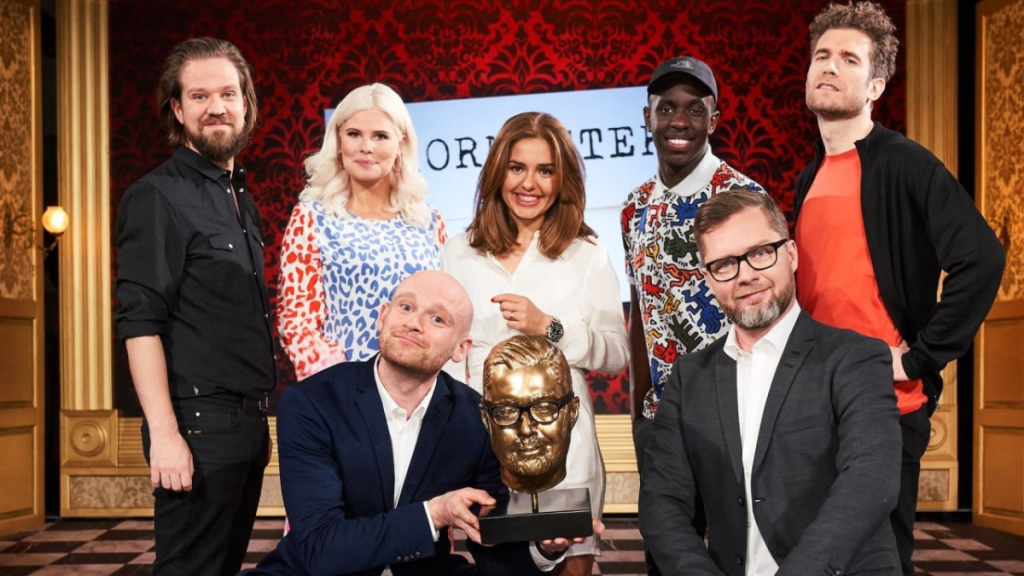 The Danish version of Taskmaster has been going for six series. Stormester means 'Grand Master', and this role is fulfilled by standup Lasse Rimmer, who has also hosted the Danish version of Jeopardy! His 'little Alex Horne' is comedian and Youtube star Mark Le Fêvre. 
The format of Stormester has some notable differences to the UK original: there's no Prize Task, with contestants instead taking it in turns to bring in a prize each week, and they also don't have pre-filmed team tasks, although they have occasionally had live team tasks. And instead of a separate festive special with a new cast, each season airs a Christmas special featuring the most recent season's comedians.
As the clip below shows, the assistant Mark gets as much of a rough time as poor Alex Horne, and the contestants relish teasing him:
(The task here is: 'Hide the coconut from Mark. The coconut must be inside the square. The most well-hidden coconut wins.')
Suurmestari (Finland)
Suurmestari is Finnish for 'Grand Master' (or 'Stormester' if you're Danish, as we've just learned) and has run for three seasons so far. Jaakko Saariluoma is the Suurmestari here, an actor and presenter who also fronts a popular Finnish sketch comedy show called Putous, which has also featured his assistant, actress Pilvi Hämäläinen.
The set and music has a very different vibe to the UK Taskmaster – more contemporary and 'trendy' – but there are much bigger differences than that: the show only has four fixed contestants, with a fifth guest competitor each week, and there are no team tasks at all.
In the below task, contestants have fifteen minutes to 'impress the professor of theoretical physics', not quite the Mayor of Chesham but it'll do:
Taskmaster NZ (New Zealand)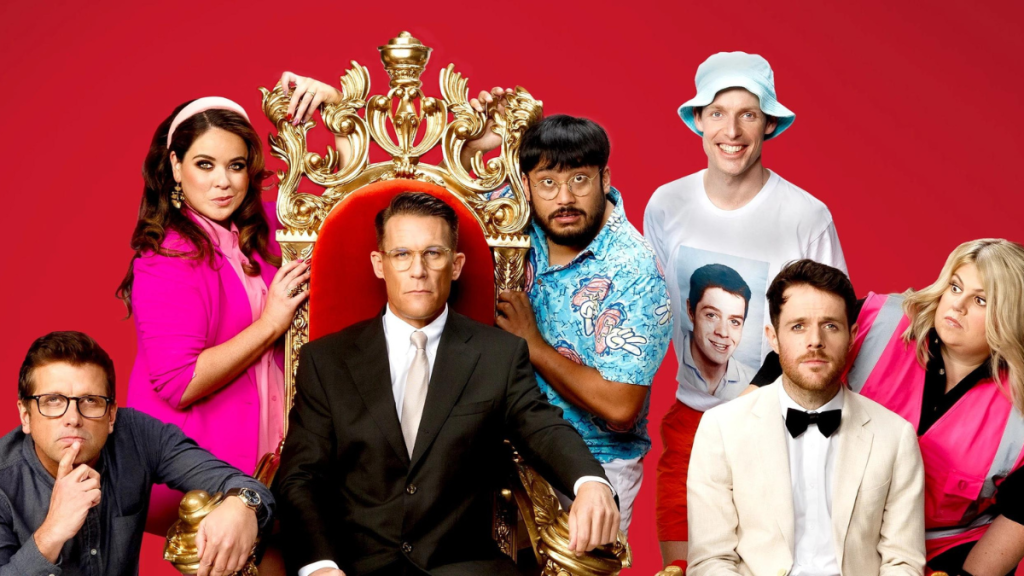 There've been three series of the New Zealand Taskmaster, hosted by media personality and breakfast radio host Jeremy Wells, with standup and comedy musician Paul Williams as his assistant.
The format of the show is basically identical to the UK version, and has also featured some of the same tasks, such as the milk bottle task we saw our Series 14 contestants complete a few weeks ago:
Taskmaster NZ sometimes include celebrity cameos in tasks – for instance a politician and an athlete – and there's even been an appearance from a certain Mr Greg Davies:
Kongen Befaler (Norway)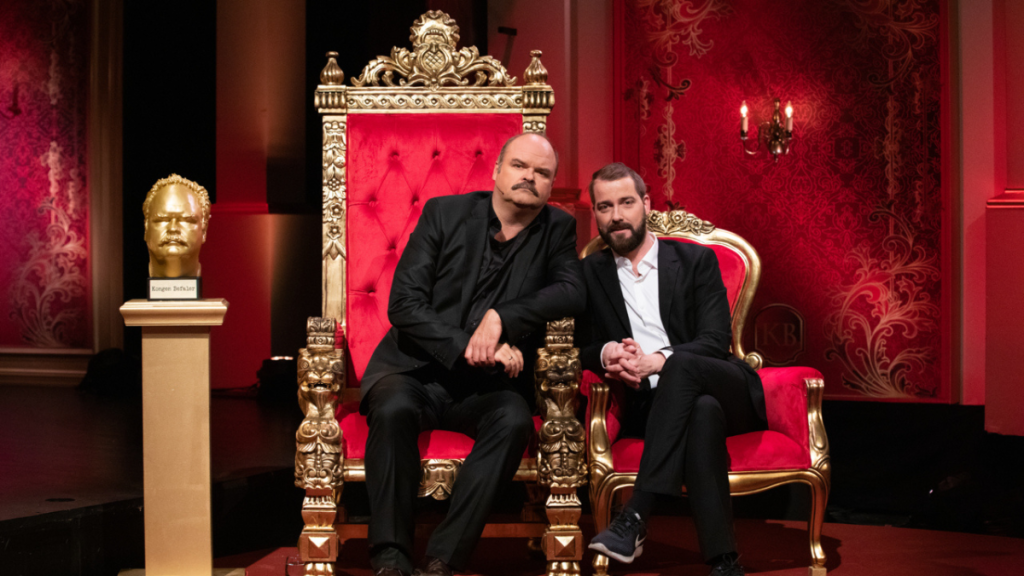 Norway wins instant points for its title, as Kongen Befaler translates very grandly as 'the king commands', which is apparently also the Norwegian name for the game 'Simon Says'. The Taskmaster here is comedian and world's greatest moustache-haver Atle Antonsen, with actor Olli Wermskog as his assistant, and the show has had seven series so far.
Kongen Befaler has some fascinating differences from the UK Taskmaster, which give it quite a different vibe from the original show. As well as more standard format changes, like no team tasks or tie-breakers (contestants with equal scores become joint winners), there's a lot more happening in the studio. For instance, the Prize Tasks prizes aren't just shown on screen, they're unveiled from under a red cloth, as you can see here (the category is 'something that is too long'):
Contestants also present their artwork from creative tasks in the studio too. Another really interesting change is that contestants are much more connected to their private lives during the tasks. For instance, in this task – where contestants must try not to blink for as long as possible – we see them calling home to rearrange plans, and even driving home via a McDonalds:
Bäst i Test (Sweden)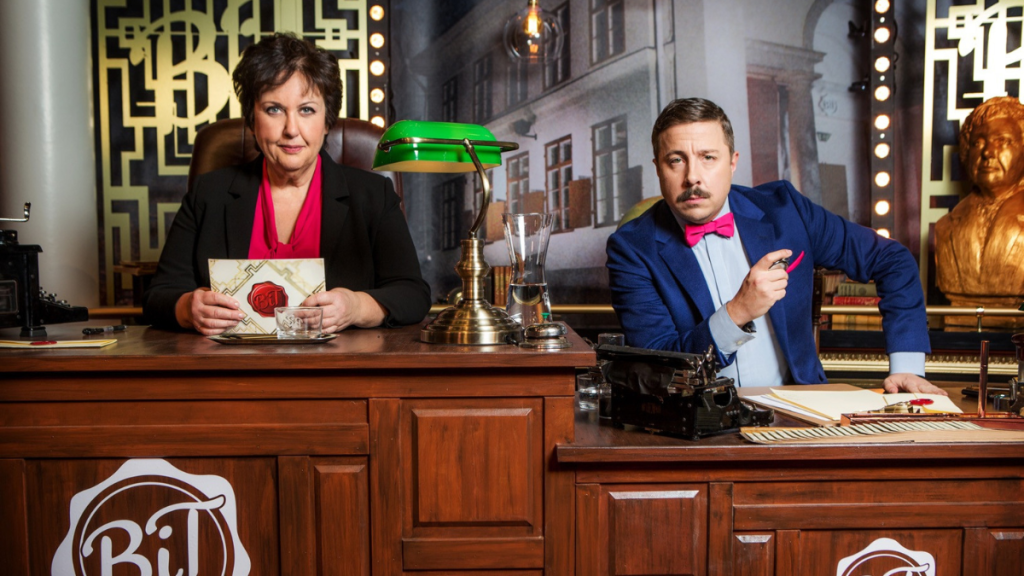 We finally get a female Taskmaster in the Swedish version, hooray! Actress and comedian Babben Larsson is the Taskmaster in Bäst i Test (which translates as 'Best in Test'), and her assistant is comedian and presenter David Sundin. The show has been running for seven series.
Now buckle in, because the differences in the Swedish version of Taskmaster are wild and various. Firstly, the set definitely has its own look: in some series, the contestants sit on big sofas instead of lined up in chairs, and the hosts sit at desks, with David's desk being comically small compared to Babben's.
Like the Finnish version, there are four fixed contestants and a weekly guest competitor, and the guest competitor will sometimes be the worst performing fixed contestant from the previous series, given a chance at redemption. The four fixed contestants compete in team tasks, with the guest contestant earning points for correctly predicting the winning team.
From series three the Prize Task was replaced with a weekly joke prize picked by the producers. But one of the weirdest differences is that often the final scoreboard won't match the points we saw being awarded during the episode! That's because the Swedish version records extra tasks for insurance purposes and includes those results in the episode score, and only airs these tasks in a bonus episode at the end of the series.
Bäst i Test also repeats UK tasks, such as this team task where Babben has to guess which contestant is making the noise:
While there's currently no set place to view full series of these international Taskmaster versions, there's good news on that front: Alex Horne has confirmed that the plan is eventually to feature all the international series on the Taskmaster SuperMax+ streaming service. Until then, you can get all your international Taskmaster facts from this excellent fansite.
Taskmaster Series 14 is currently airing on Channel 4 on Thursdays at 9pm in the UK.