Reviews
We Are Not Alone Review: Ghosts' Naughtier, More Grown-Up Sibling
The latest fab comedy from the team behind Ghosts makes alien invasion look... fun?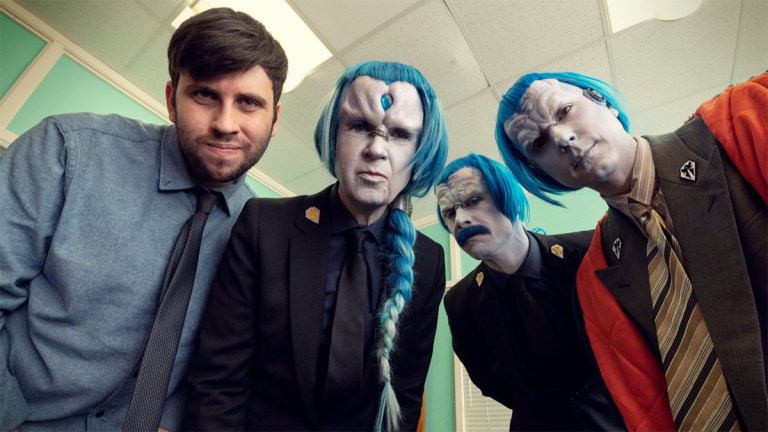 If you thought We Are Not Alone was going to be the kind of comforting comedy you get from Ghosts (it's written by two of Ghosts' creators, Ben Willbond and Laurence Rickard) you'll quickly find out you're wrong. The opening scene, in which the main character Stewart (Declan Baxter, Flatmates) ends up suddenly covered in his best friend's innards after he gets crushed by an alien messaging device, is a pretty big clue that this is a departure into a slightly more grown-up territory.
This new feature-length Dave comedy doesn't waste any time: we're straight into the action, discovering Earth has been invaded and conquered by the Gu'uns, a blue, large-foreheaded alien race with Very Big Guns. The Gu'uns don't muck about – their takeover has included blowing up New Zealand, nixing everyone's mobile phone signal and blasting the Chancellor of England into space (so it's not all bad news), and in a brief appearance from comedian Miles Jupp as a familiarly bumbling, posh Prime Minister we learn Great Britain is now called Territory 78.
Then we meet the aliens and discover they are, of course, hilariously human. The duo put in charge of England – a wickedly funny double act of Getting On's Vicki Pepperdine as 'good cop' Trater and Man Down's Mike Wozniak as 'bad cop' Gordan – are typically incompetent leaders, assisted by the wonderfully nice-but-dim, almost feral Greggs, a show-stealingly glorious performance by The Inbetweeners' Joe Thomas. Willbond and Rickard also take excellent supporting roles as hapless guards. The Gu'uns enlist the help of Stewart to help get the humans on side, much to the humans' instant disgust, putting him smack bang in the middle of the action.
Willbond and Rickard appeared to have approached writing We Are Not Alone with a crucial question at the front of their minds: how would an outsider react to all the utterly batshit things we humans have come to accept as normal? The Gu'un's problem, as we soon discover, is they just don't appreciate humanity's capability to be monumentally stupid. They've spent decades searching for a planet with a breathable atmosphere after their own was swallowed by their sun, so are baffled when they discover cars – 'your favourite mode of transport literally pumps out poison' – they're gleefully amused by our obsession with 'colourful paper' (money), and when Trater discovers where milk is from she politely requests a coffee 'without anything issued from the teat of a living mammal.'
There is so much humour packed into We Are Not Alone it really feels like they were ruthless with the script: there's simply not a line wasted. From wry observations on the general daftness of human behaviour to clever digs at politics (Wozniak's character has 'had enough of experts'), plus superb physical comedy like the world's naffest fight between Stewart and Greggs, it's just one big laugh after another. For such a confidently funny production, it feels like the forays into more scatalogical humour (erection jokes, and the fact that when humans hear the aliens' real names they literally shit themselves) almost undermines just how clever the rest of the show is.
The rest of the ensemble is another masterclass from Rickard and Willbond in how to make a cast even greater than the already sizable sum of its parts. Corrie's Georgia May Foote is charming as the gutsy, no-nonsense pub landlord Elodie, who we discover is in cahoots with the Anti Alien Alliance, an 'equal opportunities militia' fronted by the fantastically ridiculous Bruce Mackinnon (The Duchess), whose plan to defeat the aliens sounds uncannily similar to the plot of Star Wars. Sherlock's Amanda Abbington plays another AAA member, a deeply unlikeable former Defensce Secretary that seems at times to be trying to do a very bad Margaret Thatcher impression.
The plot seems to be rattling along towards a climax via a hilariously woeful battle between the aliens and the AAA over an as-ever catchy soundtrack, so it's quite a shock when We Are Not Alone comes crashing to a halt without a whiff of a resolution. Just before kicking a sofa cushion in disgust, we get a hint they might just be lining us up for more episodes, and Ben Willbond has confirmed the show is a pilot for a full series. Let's hope it gets picked up, or that could be an awkward end for an otherwise triumphant effort.
If Ghosts is comedy with a warm hug, We Are Not Alone is comedy that playfully jumps out at you from behind a cupboard. There's just a bit more threat and menace to it, a bit more at stake, but the same instant connection with original, lovable characters. Will it go on to be as big a success as Ghosts? It feels like it at least deserves a chance.
We Are Not Alone is available to stream on UKTV Play.