Features
Taskmaster's Mike Wozniak: Saluting the King of Our Hearts
Tick tock, it's Wozniak o'clock! Taskmaster series 11 may be over, but one contestant will forever have a special place in our heart.
Contains spoilers for the Taskmaster series 11 finale
The suit. The 'tache. The smile. The preternatural speed with which he's able to snatch a marshmallow from an opponent using a pair of kitchen tongs. There's a great deal to admire about Taskmaster series 11 contestant Mike Wozniak, so admire him we will. Right here. Starting now. Tick tock: it's Wozniak o'clock.
Who is Mike Wozniak?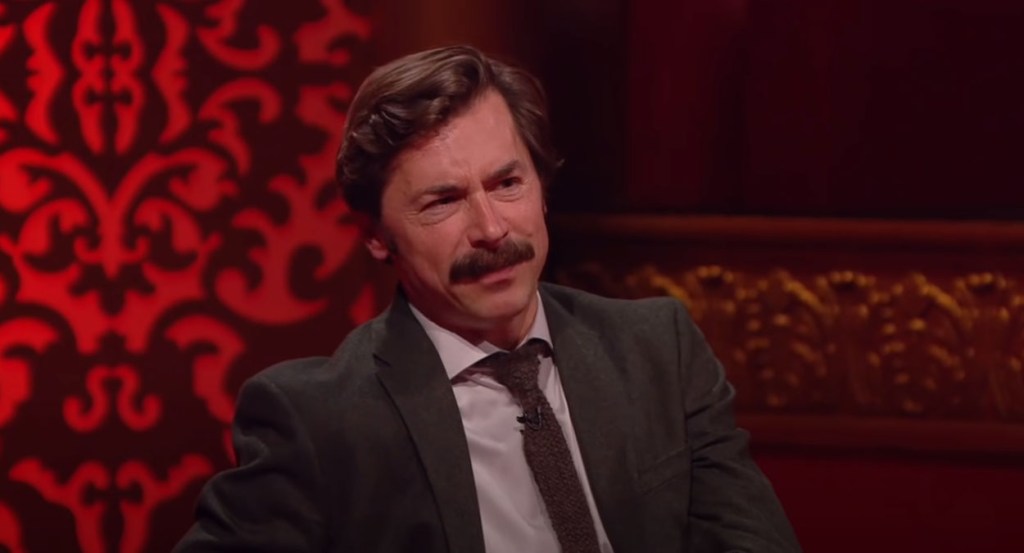 He's an absolute bloody milk guzzler, that's who.
Like Harry Hill, Graham Chapman, Graeme Garden and Paul Sinha before him, Mike Wozniak trained and worked as a doctor before becoming a stand-up. Healthcare's loss was comedy's gain. His 2013 Edinburgh Fringe show, in which Wozniak played an outmoded light entertainer, received a Best Comedy Show nomination.
On the subject of Edinburgh, series 11 isn't Mike Wozniak's first Taskmaster experience. Before he developed the format for television, Alex Horne performed a version of it with comedian contestants as a live Edinburgh Fringe show in 2010. The winner of the stage version? Mr Mike Wozniak.
TV-wise, Wozniak played strait-laced financial advisor Brian in Greg Davies' Channel 4 sitcom Man Down, opposite Davies and fellow Taskmaster contestant from series one, Roisin Conaty. All four series of that weird delight are available to stream in the UK on Netflix, so hurry along and watch. Among many other things to recommend it, Man Down's first series features a brilliant performance from Rik Mayall as the scheming and sadistic father to Davies' character, one of Mayall's final screen appearances before he passed away in 2014.
Wozniak also appeared in Kevin Eldon's much-missed sketch show It's Kevin, several episodes of Drunk History: UK, played various parts in 2015's Walliams & Friend, and starred in Dave original comedy Dial M For Middlesborough, alongside former Taskmaster contestants Johnny Vegas and Sian Gibson. Podcast-wise, see him interviewed by series 10 champion Richard Herring in his RHLSTP podcast (always worth listening to) back in January 2020 here, or stream his new collaboration Three Bean Salad, with fellow comedians Henry Paker and Benjamin Partridge here.
Mike Wozniak's Best Taskmaster Moments
"It's an absolute casserole down there"
In Taskmaster history, there are a chosen few; special contestants hand-picked to perform tasks set for them and them alone. Mark Watson, Joe Lycett, Josh Widdicombe, Mel Giedroyc… and in series 11: Mike Wozniak.
Often, the individual tasks are set for the most genial contestants, as an attempt to get under their skin. Mike Wozniak's task did that in a most surprising, discomfiting and literal way. His task was to "Fart. Fartest wins." Starting off with no gas in the tank, Wozniak tried a few primary school brewing positions to "massage the inner Mike", but to no avail. Then later on in the day, he felt success on the horizon and delivered an unsatisfyingly wet 'sproot'. The flatus had gone through. Task? Tick. But that's not all that went through. Skip to 3:36 for the moment of truth (though you might wish you hadn't.)
"It might be sensing my creeping sense of dread"
This episode one task was the moment the nation started to think they liked the cut of Mike Wozniak's jib. Given the choice of a scooter, bicycle or hoverboard which which to deliver a stack of plates to Alex, he went for the latter, no doubt anticipating futuristic speed and agility. Instead, we were treated to the sight of a man in a carefully contrived posture progressing at roughly the speed of a paper boat floating on a puddle. The helmet and kneepads only made it better, as did the optimistic hoverboard instructions to "come on, buddy" and "mush, mush, mush." Skip to 2:27 for the Wozniak joy.
"For the next five minutes, it's easy street"
Greg Davies hits the nail on the head here with the observation that that nothing seems to faze Wozniak. Given the task of blowing up a balloon until it's bigger than his head, gift-wrapping said balloon and then eating three dry poppadoms while saying the word 'metronome' after every tick of a metronome, he's in. No questions asked sir. That's all part of the joy of Wozniak, who never gripes or protests about the various humiliations required of contestants on the show, and is only ever grateful to be there. You can take his points away, but what you can't take away is that he's had an absolutely lovely time. Skip to 1:18 to see him do just that.
"Tick tock, it's tough guy o'clock"
This finale reveal is up there with Josh Widdicombe's 'Greg' tattoo as a Taskmaster classic. The prize task for the series 11 final was to bring in something that made the contestants look tough. Charlotte Ritchie went for a leather cap (to be worn backwards). Jamali Maddix went for a baseball bat with a nail hammered into it. Lee Mack went for a coat-hanger. Sarah Kendell went for a rucksack filled with apocalypse supplies. Mike Wozniak though, showing a commitment to the premise that deserves a tear-filled salute, went for an extreme makeover that turned him from geography teacher to Thunderdome gladiator. What a man, what a man, what a man, what a mighty good man.
Taskmaster series 11 is available to stream now in the UK on All4