Features
Why Taskmaster Fans Need to Watch The Horne Section TV Show
Little Alex Horne plays a fictionalised version of himself in his new sitcom, alongside his comedy band, Georgia Tennant, Desiree Burch and more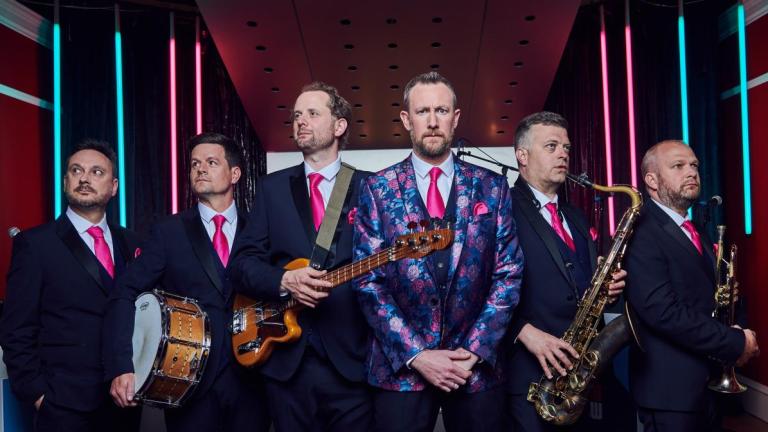 You can get a double dose of Alex Horne on your TV tonight, as his brand-new six-part sitcom The Horne Section TV Show premieres on All4 today (Thursday, aka Taskmaster day).
Horne will be playing a fictionalised version of himself, who tires of being Greg Davies' little assistant, and decides to pitch his own late-night music chat show on Channel 4, featuring his band The Horne Section, to be filmed at his chaotic home.
Irreverent and sometimes surreal, the humour is self-aware and silly, with the lovable blend of comedy and catchy music that The Horne Section is known for. It's a little bit scrappy and homemade, but benefits from not taking itself too seriously, and grows in confidence over the first three episodes as it carves out its own identity.
Desiree Burch is excellent, high-energy fun as the frustrated producer, Greg Davies' particular brand of petulant, egotistical hilarity is in full force, and Georgia Tennant's brilliantly withering, wine-loving TV exec is a welcome return of the wry humour we enjoyed in Staged. But it's Alex Horne that rightly shines, with laugh-out-loud one-liners delivered in his usual understated way.
The Horne Section TV Show Cast
Alongside Alex Horne and his real-life comedy band The Horne Section, you'll see appearances from Greg Davies and John Oliver (also playing comedic versions of themselves), plus comedian and former Taskmaster contestant Desiree Burch as Alex's wife's friend Thora, who gets strong-armed into being the new show's producer. Doctor Who's Georgia Tennant plays the self-involved Channel 4 exec Ash, with Camille Ucan (The Emily Atack Show) as her reluctant researcher, Lucy. Celebrity 'guests' on the show include Martin Kemp, Doctor Ranj Singh and Anneka Rice.
What is The Horne Section?
Alex Horne has fronted musical comedy band The Horne Section since 2010, and they've performed at the Edinburgh Festival and toured the UK several times. In TV-land, they've appeared on shows like 8 Out of 10 Cats Does Countdown, The Last Leg and Never Mind the Buzzcocks. If you watch Taskmaster, you'll also certainly have heard them: The Horne Section provides the show's theme tune.
This isn't the first time they've had their own TV show, though: as well as Christmas special The Horne Section Christmas on Sky Arts in 2015, they recorded a one-off show called The Horne Section Television Programme for Dave in 2018.
They also had a show on BBC Radio 4, Alex Horne Presents the Horne Section, from 2012 to 2014.
If you've seen these appearances, you'll probably know most of their best-loved comedy songs, like 'Grandaddy' and 'Is It The Police?', and these will also feature on The Horne Section TV Show.
The Horne Section Podcast
They took to audio once again in 2018 when they released The Horne Section Podcast, a combination of musical daftness and celebrity guests, including comedians and former Taskmaster contestants like Mike Wozniak, Daisy May Cooper, Rose Matafeo, Nish Kumar and Katherine Ryan.
It quickly took off: as well as becoming one of Deezer's top 10 streamed shows in 2018, it was nominated for Best Comedy Podcast at the 2019 British Podcast Awards.
You can stream The Horne Section TV Show on All4 from this Thursday and on Channel 4 from 17th November.