Features
15 times Bob Mortimer made the world a better, brighter place
Wherever Bob Mortimer pops up, he scatters joy. To mark the return of Mortimer And Whitehouse: Gone Fishing, here's him doing that…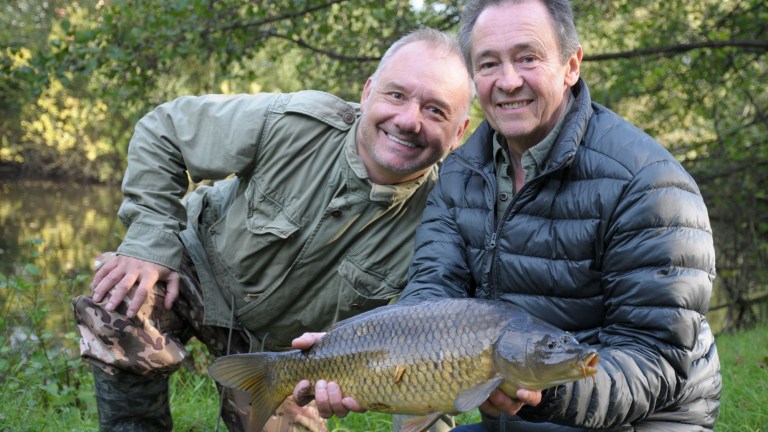 Vic and Bob are inviolable. As a pair, they've given us untold delights. Characters, stories, songs, sitcoms, dances, spoofs, silliness, the best gameshow that ever existed … all a product of their madly inventive comedy minds. Together, they're perfect. Apart?
They're still splendid – Jim Moir as an artist and Bob Mortimer as a podcaster and amateur fisherman. To celebrate the return of Bob's other TV double-act, Mortimer And Whitehouse: Gone Fishing, starting on Friday at 8pm on BBC Two, Den Of Geek presents just some of the many times Bob Mortimer has turned up unscripted and sans Vic on TV and made the world a brighter, funnier place, including…
When he played darts for Comic Relief as Bobby "Carpets" Mortimer (2015)
"It's just through my love of carpets, really."
The darts world wasn't ready for Bobby "Carpets" Mortimer, who emerged for the match wearing a suit of carpet armour, playing exuberant air guitar with a roll of polyester short-pile.
When he fought Les Dennis in a charity boxing match (2002)
"Don't be punching him in the arse when he runs away."
Les "The Blonde Bomber" Dennis might have had three stone on our man Bob "The Woodpecker" Mortimer back in 2002, but, as coach Barry McGuigan said at the time, Bob's "got good athletic prowess. He can bang." Yes he can, and Amanda Holden wasn't happy about it. (The actual fight's from 12:40)
When he brought up Cilla Black's boob on Loose Women (2019)
"Cilla was rock-solid"
At the end of a respectably earnest account of his life-changing triple heart bypass and a genuinely touching paean to his friendship with Paul Whitehouse, Bob had to bring up his life-saving encounter with Cilla Black's boob (from 5:30)
When he was Top Gear's star in a reasonably fast car (2019)
"I am a sinner!"
How fast was Bob Mortimer when he took part in Top Gear's 'Star in a reasonably fast car' test track lap? Irrelevant, he deserves to be top of the leaderboard for his commentary on discount pies and pasties alone. In the end, Bob ended up underneath Frankie Dettori, and there's nowhere he'd rather be.
When he was the celebrity chef on Sunday Brunch (2017)
"We've got oil and water, both trapped in containers so they don't spread."
Simon Rimmer welcomed Bob to prepare a dish of venison with cabbage, prunes and chestnuts for Gok Wan and Louisa from X-Factor, which he did ably while explaining the Polish trend for classy lasses keeping a cabbage in their handbag.
Additionally: if the thought of a video titled 'Sunday Brunch: Bob Mortimer's Whisk Fail' doesn't tickle you pink, then you're in the wrong room, friend.
When he rowed Sue Johnston into Fantasy Football League on a gondola (1994)
"Last time you came on, Bob, you'd just bought Chris Kiwomya."
A clip largely included to make you feel as though you're ageing faster than that chap who choose poorly in Indiana Jones And The Holy Grail. Notable mostly for Bob's youth, his gondolier's hat, and calling his fantasy football team The Beg Tets.
When he was bitten by the same fox as Tony Mortimer from East 17 (2018)
"A little gnarled cashew, I suppose."
On The Big Fat Quiz Of Everything, Bob reveals what kind of nut he'd slip into Anthea Turner's pocket and explains the rules of cock-a-lottie.
When he knew what the WD in WD-40 stood for (2011)
"I think we shall phone Dr King."
And won 75k for charity on Who Wants To Be A Millionaire School's Out, with his son Harry. Bob takes charity quiz appearances quite seriously, so you won't see a lot of laughter in this clip, just stone-cold quizzing.
When he made custard with Ross Noble
"If I'd have known it was as sensational as this, I'd have worn a trilby"
Yes, yes, Bob and Ross Noble assault the pedestrians of Tunbridge Wells with custard guns, but the really good bit is how delighted Bob is by the sight of the big catering milk at about 3:12.
When he named the Cats Protection's rescue cats
"I've been naming cats and pretending to sell the cat names for a couple of years now."
Sergeant Walnut. Crackers McKnackers. Fond Margaret. Bob Mortimer's gift for naming cats is prodigious. Here, he uses his powers for good by supporting a real cat charity.
When it wasn't him calling Iain Lee's talkRADIO phone-in to talk about Buttery Clive (2017)
"He's from a notorious family of butterers"
It wasn't Bob, it was Keith. All five calls. Your man Keith.
When he met his nemesis by Middlesborough Town Hall (2012)
"And your fire engines aren't safe"
As host of the 2012 Never Mind The Buzzcocks festive special, Bob introduced the world to Mogatron and his unusual line in threats and jeers. Merry Christmas!
When he ate expired chicken flavouring in a German museum (2019)
"A thousand bananas!"
With Richard Ayoade on Travel Man's Hamburg edition, Bob had the opportunity to taste some out-of-date e-numbers in the German Food Additives Museum, and he did not refuse. Also enjoyable: the delight on his face around 1:10 when he hears the phrase "morning sausage."
Everything he did and said on Taskmaster series five
"Can you turn your arse towards me?"
The sausage and pork pie presentation unit (to encourage his children to eat the cheaper meats), the special cuddle with Alex Horne, the backwards toilet design for which he attracted cash money investment from Hollywood's Christian Slater, the poo he donated to Sally Phillips … Taskmaster series five was at least twice as glorious thanks to his presence.
Everything he does and says on Would I Lie To You?
"But it also had, in a little cage, a hand lion"
Getting a Bob Mortimer episode of Would I Lie To You? is like getting the factory mishap full-finger of chocolate in a Kit-Kat – one of the very best surprise events life can offer. If you've a spare 50 minutes today, you could do worse than watch this compilation with your lunchtime sandwich.
Mortimer And Whitehouse: Gone Fishing starts on Friday the 2nd of August at 8pm on BBC Two.