Features
The Super Mario Bros. Movie's Overwhelming Success Offers Lessons to Hollywood
The Super Mario Bros. Movie's box office triumph is a reminder that studios have been ignoring and undervaluing family audiences for the last few years as they've chased streaming.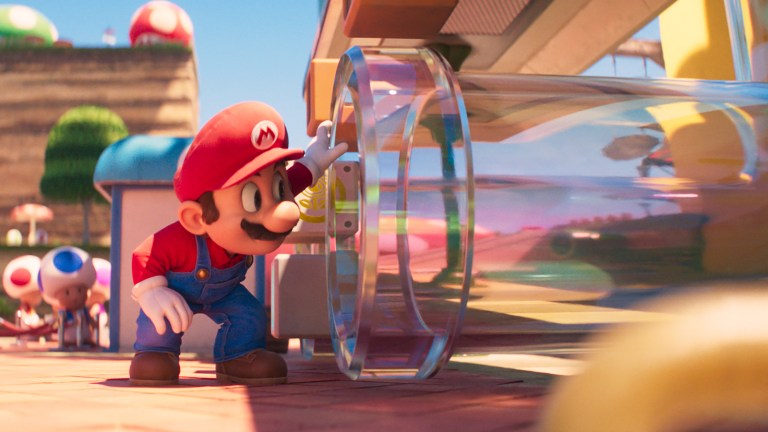 Despite having several plumbers on hand, there were no leaks at the box office this holiday weekend for The Super Mario Bros. Movie. The eagerly anticipated Illumination Entertainment adaptation of Nintendo's flagship video game franchise arrived like a AAA gaming event in cinemas, with the picture overperforming on its opening day, grossing an astounding $31.7 million on Wednesday, April 5, well before most families even began taking time off. This number would pave the way for a record-setting opening weekend of $377 million worldwide, the highest five-day debut for any animated movie ever, with The Super Mario Bros. Movie also taking an astounding $146.4 million over three days and $204.6 million over five days in the U.S.
In other words, as far as moviegoers (and Universal accountants) are concerned, it's a-Mario time!
It's a triumphant turn of events for Universal, Illumination, and Nintendo, particularly as the latter has been gun-shy about licensing its characters to Hollywood studios in the nearly 30 years since the infamous debacle of 1993's live-action Super Mario Bros. However, the emerging lesson from the 2023 iteration's success is perhaps less a matter of how such a thing happened, and more of… why isn't it happening more?
When The Super Mario Bros. Movie debuted last week, it marked the first time in nearly four months that a film squarely aimed at families with young children debuted at the multiplex. An entire fiscal quarter came and went this year where the only option for families who didn't want to take their kids to PG-13 superhero flicks or Dungeons & Dragons was Puss in Boots: The Last Wish, a film which opened way back during the weekend of Christmas 2022. And while the belated Puss in Boots sequel opened soft in the gargantuan shadow of Avatar: The Way of Water—grossing only $12.4 million over that holiday weekend—it also opened to rave reviews and word of mouth among the families who saw it.
Hence, almost as miraculously as Avatar's week-to-week holds, Puss in Boots grew in its second weekend by 35 percent when it grossed another $16.8 million at the North American box office. Afterward it had the mildest of drops, too, often below 20 percent each week, and even growing by another seven percent once, week-on-week, during the doldrums of January. Tellingly, with no real family film competition until The Super Mario Bros. Movie, Puss in Boots: The Last Wish was able to leg out for months, earning $185 million domestically and $480 million worldwide.
Between Puss in Boots' quiet over-performance and The Super Mario Bros. Movie's deafening one, an emerging question seems to be posed for Hollywood studios: Where are the other family movies?
Once generally considered a staple of the moviegoing landscape—as well as a solid way to introduce a new generation to the joys of gathering in a darkened theater—family films have joined many other genres since the pandemic on the backburner for studios. The obvious glaring exception to this rule is Disney, whose entire brand is borne from family entertainment.
Yet while the Mouse House has received a lot of scrutiny in recent months due to the seemingly diminishing returns of the MCU at the multiplex in the post-pandemic years (with glaring exceptions like Spider-Man: No Way Home and Doctor Strange in the Multiverse of Madness), that has been small potatoes when compared to its specifically family-oriented entertainment. Admittedly, the multigenerational appeal of movies from the company's famed animation houses, Walt Disney Animation Studios and Pixar Studios, is that they usually appeal as much to adults as children, yet both demos were in scarce supply last year for the theatrical releases of Pixar's Lightyear and WDAS' Strange World, which earned $223 million and $73 million, respectively (the latter of which arguably helped seal former Disney CEO Bob Chapek's fate).
But it turns out those box office failures may not be completely indicative of the market for family movies. While it was likely a mercy for social-distancing families in 2020 that Disney released Soul straight to Disney+ during the holidays, and also put Frozen II and Onward on the same service at the beginning of the lockdown in spring 2020, Disney continued to treat its original animated films as fodder for Disney+ all the way into 2022. This included putting WDAS' generally well-liked Raya and the Last Dragon on Disney+ (behind an extra paywall) the same day it opened in theaters in spring 2021, and not putting Pixar's Luca in theaters at all that summer, even as the company began releasing its superhero movie content to theatrical.
Hindsight is of course 20/20, but it is a striking contrast to compare Disney's strategy of treating animated and family entertainment as strictly Disney+ content for almost three years—which is half the life of a six year old—with that of studios like Paramount which held Top Gun: Maverick in a vault for two full years and until it was deemed safe enough to have a robust box office runway. Granted, those are very different audiences, but Universal did the same thing with Minions: The Rise of Gru. That film, also a project from Illumination Entertainment, was intended to release during summer 2020. After the COVID-19 pandemic, however, Universal pushed the Despicable Me prequel first to summer 2021 and then summer 2022.
Once there, Minions: The Rise of Gru became the first animated movie to gross over $100 million in its opening weekend in the U.S. after the pandemic. The Super Mario Bros. Movie is now the second. Conversely, Pixar's Toy Story spinoff starring Chris Evans as Buzz Lightyear opened a few weeks before The Rise of Gru and flopped miserably.
There are lessons in this. While Universal and Illumination delayed their biggest animated project for two full years, Disney under Chapek's leadership put all its eggs in the streaming basket, sending even Pixar's Turning Red straight to Disney+ in the U.S. in March 2022, the same month families far too young to see The Batman or Morbius had nothing at the theater. In effect, Disney also conditioned families and their children to treat new animated Disney movies as Disney+ content. Kids who were too young or barely recall seeing Frozen II and Toy Story 4 in theaters four years ago were not incentivized to do it for new movies, especially with original concepts like Strange World—the last WDAS original movie, meanwhile, was Encanto and that became a massive hit on Disney+ after it premiered there less than a month following a limited theatrical run.
It's also worth noting both Mario and Minions are based on beloved intellectual properties. This is arguably also true of Puss in Boots, although the first installment opened 12 years ago. So it is possible that family entertainment is skewing increasingly toward franchises in a post-pandemic landscape. Thus it may seem prudent that Disney has announced a bounty of new animated sequels like Toy Story 5 and Frozen III.
With that said, the fact remains family audiences were more or less ignored for the last four months by studios. This is partially the result of the conventional wisdom that families no longer like going to the cinema, an idea derived from Disney's distinct struggles. Yet as also hinted by the positive returns we saw in the last few months for mid-budget studio efforts like M3GAN, Cocaine Bear, Creed III, Scream VI, and John Wick: Chapter 4, an interesting transition might be afoot.
With the first quarter of 2023 over, CNBC reported last week that the total box office revenue for the first three months is down 25 percent from Q1 2019 (the last "normal" year for the box office before the pandemic). Depending if you want to see the glass as half empty or full, this can be perceived as good or bad news. It's still down, but it's up from last year, with 2022 lagging an even steeper 34 percent behind 2019.
However, something worth considering is that the major Hollywood studios had 24 wide releases in Q1 2019. Conversely, Q1 2023 only had 18 wide releases—i.e. 25 percent fewer wide releases. As with nearly every year for the past decade, risk-averse studios have released fewer theatrical films (a trend going back long before the pandemic) as more resources are poured into "four-quadrant" blockbusters.
But the funny thing about the first quarter of 2023 is that the four-quadrant blockbusters (the superhero movies) either flopped (Shazam! Fury of the Gods) or underperformed (Ant-Man and the Wasp: Quantumania). The mid-budget adult-skewing movies, meanwhile, almost all over-performed in February and March. And the first family movie released at all in this period, The Super Mario Bros. Movie, looks closer to a tidal wave as it lands in cinemas.
It would seem audiences, including families, are starved for new films that appeal specifically to their interests or needs, as opposed to the last decade's emphasis on a one-size-fits-all abundance of studio moviemaking. While family audiences apparently still prefer movies based on a familiar franchise or brand like Mario, they're still being underserved in this regard.
One even wonders if the complete abandonment of live-action family entertainment for most of the last decade was also smart. Lyle, Lyle, Crocodile also overperformed under the radar last year, grossing $104 million globally off a $50 million budget. And Greta Gerwig and Margot Robbie's Barbie, which is based one of the most popular toy brands in history, is currently trending through the roof on social media after the latest trailer revealed modern families are A-OK with two Kens wanting to beach off.
Family entertainment, like so many other genre interests, has been malnourished since the pandemic, and The Super Mario Bros. Movie just suggested that's leaving money on the table.