News
Barbie Trailer Has the Cast and Fans Ready for a Beach Off
Simu Liu, Issa Rae, Dua Lipa, Will Ferrell, Ncuti Gatwa, Michael Cera, John Cena, Hari Nef, Scott Evans, Alexandra Shipp, and more are now living in a Barbie World.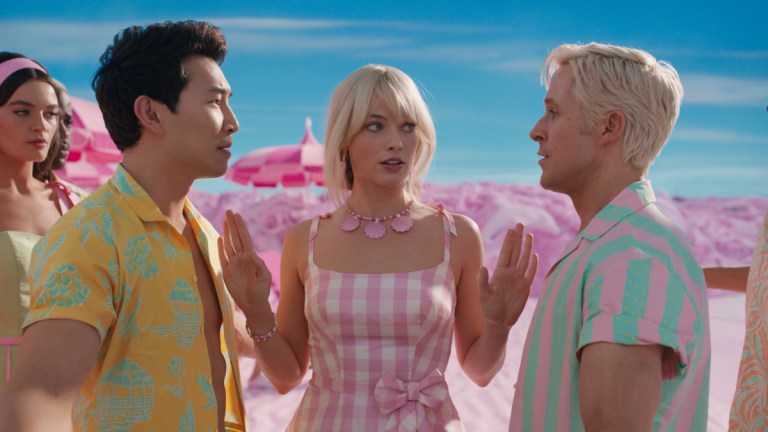 Nearly four months after our first teaser of Greta Gerwig's Barbie, which promised a nigh Kubrickian epic in a shade of pink, Warner Bros. has at last dropped a full trailer for the movie. And while it just stops short of putting Aqua's classic "Barbie Girl" over the proceedings (sadly, bad legal history between the band and Mattel make it unlikely the song will ever appear in the movie), the first real look at Margot Robbie and Ryan Gosling in the new film confirms they are definitely living in a Barbie World.
And they're inviting you to go party.
What's intriguing about the trailer, still appropriately scored to the sounds of the Beach Boys' "Fun, Fun, Fun," is that other than revealing most of the cast is playing variations on the Barbie and Ken archetypes—literally modeled after actual toys Mattel has sold over the years under the Barbie umbrella—we still don't know a whole lot about the film's story. It's set in a pink fantasia called "Barbieland" where Eiffel's Emma Mackey and Shang-Chi's Simu Liu are also Barbie and Ken with different hair colors, and Promising Young Woman director Emerald Fennell apparently plays Barbie's one married friend, Midge, but other than that we just know they enjoy their days rollerblading and sunbathing on a pink beach… at least until things devolve into an all-out "beach off!" (Seriously, the culture has changed when WB can get away with Liu saying "I'll beach both of you off at the same time" in a family movie trailer.)
With that said, the fact that Robbie and Gosling's Barbie and Ken are ultimately seen driving toward a sign that reads "Real World This Way" suggests there is more going on in Gerwig's film than meets the eye. And we'll point out the businessman Robbie's Barbie eventually confronts—played by a very un-beachy Will Ferrell—lives in an office not rinsed in pastel colors. Could Barbie be going to meet her maker? Perhaps.
While we wait to find out, here's what folks are saying after watching the trailer!
As you can see from the trailer above, the Barbie cast is absolutely stacked. Margot Robbie and Ryan Gosling are joined by Simu Liu, Kingsley Ben-Adir, Ncuti Gatwa, and Scott Evans as other versions of Ken, while Issa Rae, Alexandra Shipp, Emma Mackey, Ana Cruz Kayne, Ritu Arya, Nicola Couglan, Dua Lipa, Kate McKinnon, Hari Nef, and Sharon Rooney play alternate Barbies. Will Ferrell, Helen Mirren, Emerald Fennell, Michael Cera, Jamie Demetriou, Connor Swindells, America Ferrera, Ariana Greenblatt, Rhea Perlman, John Cena, and Marisa Abela round out this absolutely insane ensemble.
Barbie opens on July 21.