Features
It's a Great Time for All Genres at the Box Office EXCEPT Marvel and DC Movies
The first quarter of 2023 has been bountiful for many types of studio movies, but not the superhero genre. Is a sea change occurring?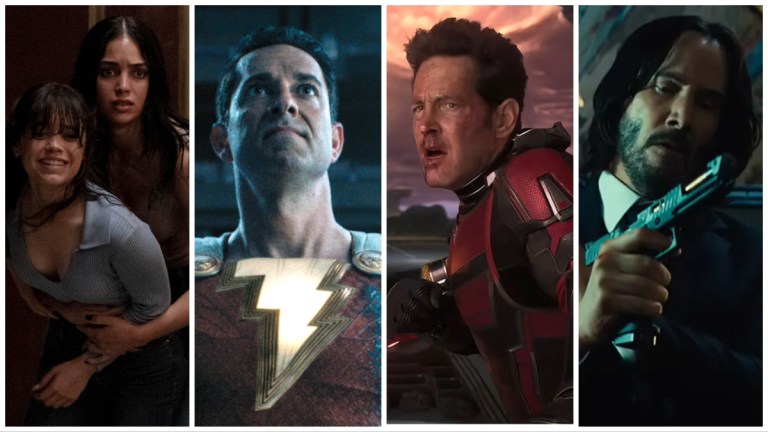 Four weekends into March 2023 and it's become a familiar narrative. A long-running movie franchise just debuted its latest entry, and instead of feeling tired or repetitive, the new chapter turned out to be a genuine winner with audiences and critics, receiving some of the best reviews in its saga and, more importantly, the biggest box office bow the series has seen to date (at least when not adjusting for inflation).
This past weekend, that film was John Wick: Chapter 4, which just opened to an astonishing $73.5 million, exceeding its tracking going into the weekend by more than $10 million and bounding past a previous franchise-best, which was John Wick: Chapter 3's $56.8 million debut in 2019. Not bad for a series that started in 2014 with a mere $14.4 million in its first weekend. However, we've been seeing this phenomenon all month.
Over the last several weeks, Creed III, Scream VI, and now John Wick 4 not only opened at the highest numbers of their respective franchises, but blew past the rosiest tracking projections by studios and analysts. On the surface, this seems as obvious as gravity, with franchises still being king for cinema attendance. But sandwiched between these three films—and several other success stories from the first quarter of 2023—is one glaring exception; a film that defies modern Hollywood wisdom about everything needing to be a franchise or, better yet, part of a shared cinematic universe. Between these releases lies the cautionary tale of Shazam! Fury of the Gods.
With all respect to the actual quality of the DC sequel (some of us even thought it was pretty good), the box office for Shazam 2 has been such a debacle that the aftermath is still playing out in public via the trades and their anonymous sources (and sometimes online by way of actors' social media accounts). Here is a failure that's no orphan considering how much blame is getting passed around. In a time when Scream VI can open at $44.5 million, toppling the high end of industry projections around $38 million, the fact Shazam 2 couldn't even scrape the basement floor of WB's own expectations at $35 million (well beneath the first Shazam's $53 million opening) borders on disastrous.
We've written about the unique confluence of issues that contributed to Shazam 2's failure, however the movie is not alone. In fact, if we broaden the scope out to the whole first fiscal quarter of 2023, superheroes movies at large are having a rough go of it. In February, Ant-Man and the Wasp: Quantumania initially looked like another success story for Marvel Studios. In spite of dire reviews that took to task the third Ant-Man movie's visual aesthetic (or lack thereof) and exhausting narrative formula, the pic opened to $106.1 million, nearly 30 percent up from 2018's Ant-Man and the Wasp, which premiered to $75.8 million. Another win for Disney, right?
Not so fast. It turns out critics weren't the only ones largely burned by or burned out on Marvel's bag of tricks. While Ant-Man 3 opened huge, it also dropped like a stone, falling an eye-popping 69.9 percent in the North American box office. Its second weekend gross of $31.9 million is almost identical to the 2018 movie's second weekend take of $29 million. It also marks the seventh MCU flick since 2021 to drop north of 65 percent in its second weekend (a dubious feat none of the pre-Phase 4 Marvel movies accomplished).
As of press time, the film's box office run is winding down with a current cume of $464 million, more than $150 million less than Ant-Man and the Wasp back in Phase Three. In other words, it's perhaps not shocking that Disney is rethinking Marvel Studios' current strategy.
There are of course factors and narratives that could be applied to both pictures' struggles, not the least of which is that moviegoing habits are still in a state of flux during these post-pandemic years. Huge drops, even for Marvel, is the new normal, as goes this rationale. However, while superhero movies were the undisputed king of the hill for almost the entirety of the 2010s, and certainly when Spider-Man: No Way Home proved in 2021 that younger moviegoers did not fear Omicron nearly so much as trade reports suggested, an unexpected trend has emerged over the last 12 months.
The three biggest global hits of last year were all franchise films, but none of them were superhero movies, and all enjoyed second weekend drops below 60 percent. Avatar: The Way of Water, Top Gun: Maverick, and Jurassic World Dominion each cleared $1 billion and towered over even Marvel's biggest event, a feat which, when excluding the pandemic year of 2020, only happened twice in the last decade: 2017 and 2015, years when Disney had Star Wars movies to take the crowns in a period before that franchise's fandom was defined by division and toxicity. By contrast in the 2020s, Star Wars has largely been relegated to Disney+ streaming content which according to third-party services have endured a diminishing number of viewers over the last four years; meanwhile Marvel has also flooded Disney+ with TV shows that saw interest erode by the time She-Hulk and Ms. Marvel rolled around this past summer.
Hence what makes the first quarter of 2023 so remarkable. The studios with the biggest superhero libraries—Disney and WB—pivoted hard toward streaming due to the strategies of previous corporate regimes (both of which imploded in 2022). Conversely, the studios that still invested in maintaining some degree of variety in their theatrical portfolios have seen success. While franchises across a range of genres—horror, action, and sports—had a great March, Universal Pictures also recently saw sequential wins in the horror genre with original titles like M3GAN, Knock at the Cabin, and Cocaine Bear, two of which veered toward the kind of campy "niche" most studios have eschewed in wide releases in recent years. Meanwhile Sony Pictures' A Man Called Otto, a modest feel-good movie about aging that starred Tom Hanks, quietly grossed $109 million on a $50 million budget.
When taken as a whole, do these numbers paint an emerging sea change, a paradigm shift where the long whispered about (and in some quarters dreamed of) "superhero fatigue" has taken root?
Possibly, but I wouldn't be so hasty as to jump to that conclusion. This May's Guardians of the Galaxy Vol. 3 will almost certainly be one of the leading lights of the 2023 box office with fans long eager to see how James Gunn will end his bizarre and beautiful corner of the Marvel Cinematic Universe. And while other 2023 superhero films will therefore be better tea leaves to view the future—including WB's The Flash, Blue Beetle, and Aquaman, and Disney's The Marvels—three of those are, like Shazam! Fury of the Gods, relics of a WB strategy for DC that has publicly been abandoned and arguably left out to dry. Which is to say, Gunn and Peter Safran's stewardship of the DC Universe will remain impossible to evaluate until 2025, even if these '23 films all sink (and c'mon, The Flash has two popular Batman actors in it).
Nonetheless, a change is certainly happening, and one that Disney's once and future CEO Bob Iger has already signaled they're trying to reverse. In the rush to buttress streaming services like Disney+, or HBO Max in the case of WarnerMedia, little consideration appears to have been paid about the risk of oversaturating the market with content. One might say it was too much of a good thing with regards to having six MCU movies, seven Disney+ shows, and two Marvel TV specials between 2021 and 2022. Another way to consider it is that it might've been too much of the same thing. For general audiences, two fairly standalone MCU movies in 2014 was a novelty; a Doctor Strange in the Multiverse of Madness whose enjoyment is dependent on if you watched WandaVision, or an Ant-Man and the Wasp: Quantumania that demands Loki homework, is an exhaustion.
Iger has tacitly appeared to concede the folly of his predecessor (and one-time heir), former Disney CEO Bob Chapek, by announcing there will be fewer MCU Disney+ shows going forward and wondering aloud in front of a microphone if "you really need a third and a fourth [movie] for instance? Or is it time to turn to other characters?" Meanwhile DC Studios heads Gunn and Safran have at least created the perception that they're taking a stick of dynamite to the current DC cinematic universe in order to start fresh.
While I'd hesitate to call this proof of superhero fatigue, the top executives that act as keepers of superhero IP are publicly signaling to their investors that they're pivoting for a reason—the market is clearly changing. And that's a good thing.
It's been a dreary spring for superhero movies, but it's a ray of sunshine to see audiences embrace other genres that do not use capes. Drama, action, and even inspirational dramas targeting Baby Boomers are all showing signs of vitality again. And while horror has remained the one genre besides superheroes to stay reliably healthy in the post-pandemic landscape, the fact subgenres as different as slashers, horror-comedy camp (M3GAN), and even glorified B-movie schlock (Cocaine Bear) can make money is an encouraging sign that moviegoers are craving something superhero movies have largely avoided over the last decade: variety.
We're not quite at the point where a post-pandemic renaissance is emerging. All of March's biggest hits are franchise films, Tom Cruise "saved Hollywood's ass" with a (deliriously great) legacy sequel in 2022, and most of the audacious or challenging adult dramas nominated for Best Picture last year flopped in their theatrical release. Still, the Best Picture winner was a startlingly fresh sci-fi action-comedy-oddity called Everything Everywhere All at Once, and it made an extravagant amount of money for an indie that's impossible to quantify in a sentence.
A shift appears to be occurring, and with it superhero movies are no longer sucking up all the oxygen in the industry or at the box office. And it's possible, plausible, even, their studios will never be able to fully reverse this trend. Thank goodness.