Reviews
Shazam! Fury of the Gods Review: Orphaned DC Superhero Makes Case to Stick Around
Shazam! 2 has plenty of heart to carry it over some rough spots, even as the franchise faces an uncertain future in the new DCU.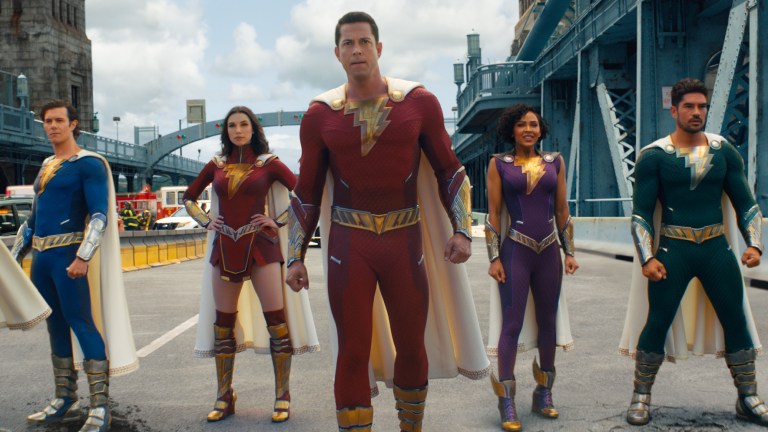 Poor Shazam. Its production and release hampered by COVID and now seemingly lame-ducked by the arrival of a new regime to run DC Studios, the big red-suited lug's second movie, Shazam! Fury of the Gods, finally makes its lonely stand in an effort to tap into the good will generated by his 2019 big-screen debut and, perhaps, plead its case to keep this off-brand DC franchise going.
We say off-brand because when the first Shazam! came out, it was a fun, funny, family-oriented, brightly-colored antidote to the ponderous, dark, heavy-handed edgelord theatrics of the Snyderverse that dominated DC for nearly a decade. It had heart, its stakes were relatively small, and its hero was much more relatably human than the brooding bro-dudes and psychotics we had gotten used to from the DCEU.
So on one hand, we're pleased to say that Shazam! Fury of the Gods has more of the same — humor, heart, and the terrific family dynamics of the Shazam superhero family and their human counterparts – and that the film also, for the most part, offers up some lively action and visual razzle-dazzle. But it also suffers from a rather shopworn and at times incoherent plot, along with an overstuffed, overlong finale.
Director David F. Sandberg is back from the first film, along with writer Henry Gayden (joined this time by Fast and Furious scribe Chris Morgan), and most of the cast, including of course Zachary Levi as Shazam (who curiously still doesn't adopt the name initially) and Asher Angel as his human alter ego, Billy Batson. The rest of Billy's foster siblings/superhero family return as well, with Grace Caroline Currey replacing Michelle Borth as both versions of Mary Bromfield.
The new additions to the ensemble are also the drivers of its plot: Helen Mirren, Lucy Liu, and Rachel Zegler (West Side Story) play the Daughters of Atlas – Hespera, Kalypso, and Anthea, respectively – a trio of ancient gods who are accidentally freed from captivity in another realm and arrive on Earth. They plan to both avenge their father and retrieve the powerful but now broken staff of the Wizard (Djimon Hounsou), which gave Billy and his family their powers but can take them back as well.
There are other aspects to the plot and the villains' plan as well — including a golden apple and yet another campaign to reconfigure the Earth to suit their desires — that fly by in exposition dumps that don't really make much sense (don't take my word for it – ask Helen Mirren herself). Mirren and Liu are game (and so is the appealing Zegler, although she seems a bit too fresh-faced to be playing a seasoned immortal deity), but their storyline has that "been there, done that" feeling.
No, what keeps Shazam! Fury of the Gods afloat for its 130-minute running time is the repartee and genuinely heartfelt performances of both Levi and Angel, as well as their interactions with Mary, Freddy Freeman (Jack Dylan Grazer/Adam Brody), Eugene Choi (Ian Chen/Ross Butler), Pedro Pena (Jovan Armand/D.J. Cotrona), and Darla Dudley (Faithe Herman/Meagan Good). Freddy and Pedro in particular get a few more emotional beats to play, but their overall superhero family chemistry remains the sweet-natured heart of this franchise.
As for our title hero, Levi retains the excellent balance of charisma, determination, and immaturity that made him such a perfect fit for the role in the first movie, although the character's arc of dealing with self-doubt and reluctance this time out also feels a bit familiar and somewhat undercooked. There's also a subplot about Billy aging out of the foster home that doesn't get enough time to fully develop either.
But even with the movie's flaws, we can't help but enjoy watching Levi and his co-stars — both the young and superhero versions — as they bounce off each other, bravely contend with the new movie's increasingly frenetic scenario, and even screw up a few times (the local news media calls the team "the Philadelphia Fiascos"). In that sense, the Shazam saga continues to hew closer to the more down-to-earth heroes of the MCU than the pantheon of all-powerful demigods of the DC canon.
Sandberg and his team also come up with some impressive set pieces (including an opening scene on a collapsing bridge) and visuals that, while not necessarily eye-popping, are a lot more consistent and effective than the work we've seen lately from that other superhero universe. There's a dragon here that blows away the sloppy fire-breather in Shang-Chi and the Legend of the Ten Rings, for example, as well as a slew of nicely-rendered homages to the mythological monsters of the legendary Ray Harryhausen.
Some of these individually notable accomplishments do get lost in the overly busy third act, which comes to the kind of explosive, over-the-top, lightshow-run-amok climax that has gotten tiring in not just superhero movies, but in seemingly all blockbuster movies in recent years.
There is an emotional layer to the movie's climax that works well, thanks to the impassioned performances from Levi, Grazer, and several of the others. But that impact gets undermined a few moments later by a scene that feels like it was tacked on in reshoots and which also features a cameo that has already been inexplicably revealed in the movie's most recent TV spots. We don't know what this character's appearance means for the future — and neither does anyone else involved in the shoot, we suspect — but as nice as it is to see this person, the whole thing feels awkward.
There are also two bonus scenes during the end credits, which we won't reveal here, but we will say that the second one certainly points the way for a Shazam 3, which we would very much like to see but probably won't. With the DC film/TV universe now in the hands of James Gunn and Peter Safran, who are mapping out a major reboot, we don't know if there's room for Shazam, Billy Batson, and company in their plans going forward. Although Shazam! Fury of the Gods doesn't quite stick the landing, it would be a shame if this superpowered, lovable family was forced into early retirement.
Shazam! Fury of the Gods opens Friday (March 17) in theaters everywhere.