Reviews
M3GAN Is Horror Fans' 2023 Must-Have Holiday Item
Chucky and Annabelle, you better get out of here. M3GAN has arrived.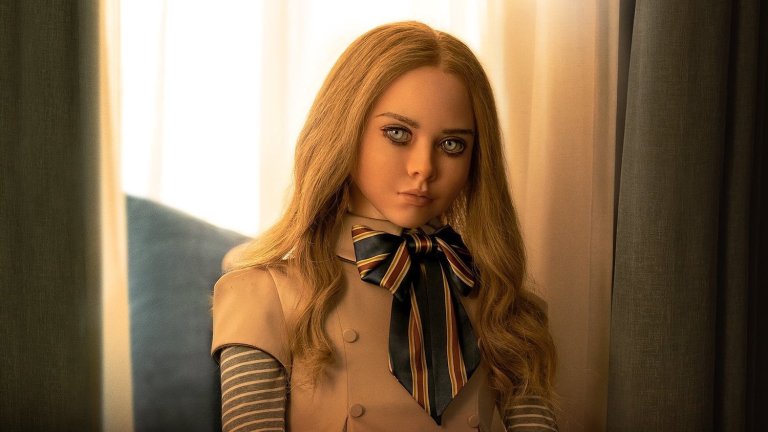 The beginning of the year is typically Hollywood's dead end. After a feast of holiday season blockbusters and late-arriving Oscar hopefuls, January is the hangover; the demonstrable dumping ground where studios cast off the dregs that didn't work or the C-list fodder that's used to fill in the cracks of a fiscal year report. In other words, a wide release after New Year's Day is supposed to be a death sentence.
M3GAN defies all that conventional wisdom puffery. Hitting the screen like an Elmo-sized disruptor that's eager to break low expectations, this intentionally campy update of the "killer doll" subgenre kicks 2023 off with a jolt of frothy horror mischief, if not necessarily high art. And as produced by filmmaker James Wan, who also provided the story and concept of M3GAN, this seems to be by design since the latest movie about a homicidal plaything fits comfortably alongside the Wan-directed Malignant from 2021 where the core terror was arguably more hilarious than horrifying.
M3GAN goes much the same way while also offering a distinctly 21st century riff on the type of thrills that kept their tongue placed firmly in the cheek during the heyday of schlocky genre glory, the 1980s. That comparison is obviously welcomed by Wan and M3GAN director Gerard Johnstone, who happily dive into the same sandbox as Child's Play, which introduced the world to the cherubic Chucky doll and his killer wisecracks in 1988. But it also feels a piece with the shenanigans involving killer security robots patrolling shopping centers in 1986's Chopping Mall or the loaded political satire of John Carpenter's They Live (1988) wherein a dollar bill secretly reads, "THIS IS YOUR GOD."
M3GAN is likewise here to do two things: chew bubblegum and slay with her TikTok-ready dance moves. And she's all out of bubblegum.
That dance is made possible within the narrative by Gemma (Allison Williams), a robotic engineer and toymaker who's hellbent on designing the ultimate gift for affluent children everywhere: a doll whose A.I. has the response time of Amazon's Alexa and the learning curve of HAL 9000. What could go wrong?
It turns out a lot after Gemma's sister and brother-in-law die in a freak car accident, leaving Gemma's little niece Cady (Violet McGraw) an orphan. Forced to live with an aunt who doesn't know how to talk to kids, nor has an inclination to do so given her professional pressures, Cady is lonely and isolated in the new house. That is until Gemma decides to connect with the child through her invention. Unable to convince middle management that there's a market for a doll that will cost more than most parents' SUVs, Aunt Gemma makes Cady her guinea pig by beta testing the M3GAN prototype (Amie Donald in movement, Jenna Davis in voice) at home.
Cady and M3GAN bond instantly, and before long it's hard for neighbors to even recognize this is a child and her toy, as opposed to a child and her friend—or perhaps her guardian as Gemma lets M3GAN assume ever more parental duties to Cady, as well as the responsibility of making sure the child is safe. From everyone.
The allegorical elements hardwired into M3GAN are hard to miss. In an increasingly technological world where parents navigate and debate how much screen time to allow their children, as well as fret whether Siri will take on the role of teacher and role model, here is a parable wherein a legal guardian all but surrenders those duties to an app. Gemma's poor instincts for parenting, as well as her fluid grasp on technological ethics, is a bit akin to watching Dr. Frankenstein design gorilla grip features for his Monster and then place his little brother's neck in its palm. The dangers are self-evident, and yet M3GAN's protagonists reveal less common sense than 10-year-old Cady in recognizing them.
Of course it could be argued that's as much a feature as a bug in this model, with M3GAN not inaccurately alluding to the blithe way we surrender our autonomy, and even the minds of children, to screens and cloyingly named digital services that are happily designed to turn every minute of attention into dollar signs. But no one who steps into a theater this weekend is seeing M3GAN for the metaphor about the broken homes we've built out of plexiglass and silicon chips; they're here to watch M3GAN burn the house down.
And as a movie monster for the iPad age, M3GAN is ferocious. Whereas both Chucky and Wan's own Annabelle creation from The Conjuring movies were (mostly) prosthetic monstrosities invented in a studio to unsettle and disturb audiences, M3GAN is actually built from several performances, with Donald offering physical fluidity that runs counterintuitive to the "jerky killer doll" cliché, and Davis providing a vocal performance that never leaves the sing-songy range of a My Little Pony episode. There is still a lot of effects work being done to suggest an eerily uncanny valley to M3GAN's plastic countenance—one that often narrows its eyebrows in darkly amusing ways when someone besmirches her or Cady's aptitude—but its in service of creating what might actually be a child's dream toy, right down to its social media-ready foxtrot.
It's also inside the uncanny valley where M3GAN turns out to be most comfortable. While the film's narrative applications are a bit on the plastic nose, relying on heavy-handed dialogue to tease out that Aunt Gemma and her toy are becoming something of a bickering pair of parents over Cady's wellbeing, the picture's camp impulses place the film shrewdly in the territory between frightening and farce. It never loses that delicate balance.
When M3GAN reaches into her coding and wifi connection to find the lyrics of Dave Guetta and Sia's "Titanium," all in order to sing Cady a mournful lullaby about how "you shoot me down, I won't fall, I am titanium!" you too will be left weeping… from your cackles.
M3GAN is in U.S. theaters now and premieres in the UK on Friday, Jan. 13.