Features
The Scariest Moments in James Bond Movies
We revisit the moments when James Bond's big screen adventures left us shaken and stirred with fear!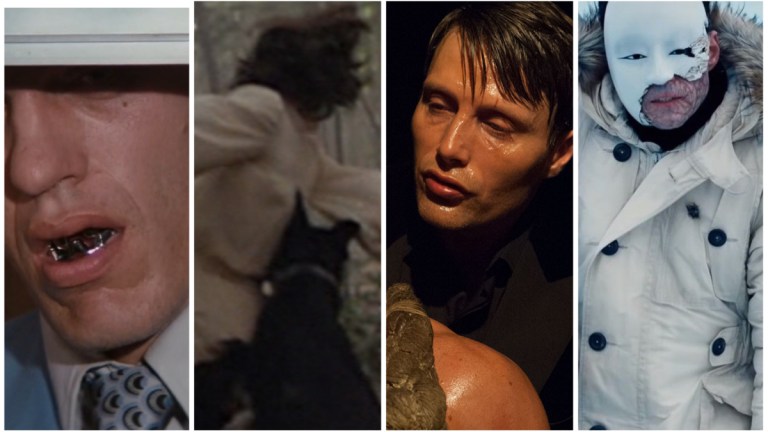 There must be few things more daunting to a filmmaker than taking on the mantle of directing a new James Bond movie. Bond movies are cinema's equivalent of a Philippe Petit-level highwire balancing act. Over 25 films, fans have carved out an understanding of what they expect from 007. There must be action, adventure, romance, and a dash of comedy. Yet for all the expectations surrounding the world's most famous secret agent, the recipe isn't set in stone; in fact, it's forever evolving.
Where once Bond might have been defined by the wry humor and slapstick gags of Roger Moore, the more modern 007 of Daniel Craig played it straight. Bond has been known to take forays into the world of science fiction, either in an attempt to match box office rivals like Star Wars or in an attempt to address the concerns of an ever evolving technological world.
However, good Bond movies possess another ingredient often overlooked when discussing the franchise's enduring appeal: the ability to scare. Like Steven Spielberg and Indiana Jones, Bond movies deploy scare tactics to heighten the drama and add a sense of danger to proceedings. When it works, it can result in some of the most iconic moments in the history of 007. But even when it doesn't, the resulting misfires often live long in the memory, in part because of the terrifying and often bizarre scenarios they present. Here are 10 iconic James Bond scares.
Dr. No's Arachnophobic Nightmare
Bond has faced many fearsome adversaries during his 25-film career, but few have compared the one featured in his very first outing, Dr. No (1962). During an investigation into the death of an MI6 Station Chief in Jamaica, Sean Connery's Bond uncovers a conspiracy involving the deliberate disruption of the American space program.
Fearing that 007 knows too much, the film's titular villain Dr. No (Joseph Wiseman) dispatches a henchman to eliminate Bond using a deadly tarantula. What follows is every arachnophobic's worst nightmare with Bond waking to discover the spider crawling up his arm. It's a nerve-shredding sequence and one that had fans checking under their duvets for years to come.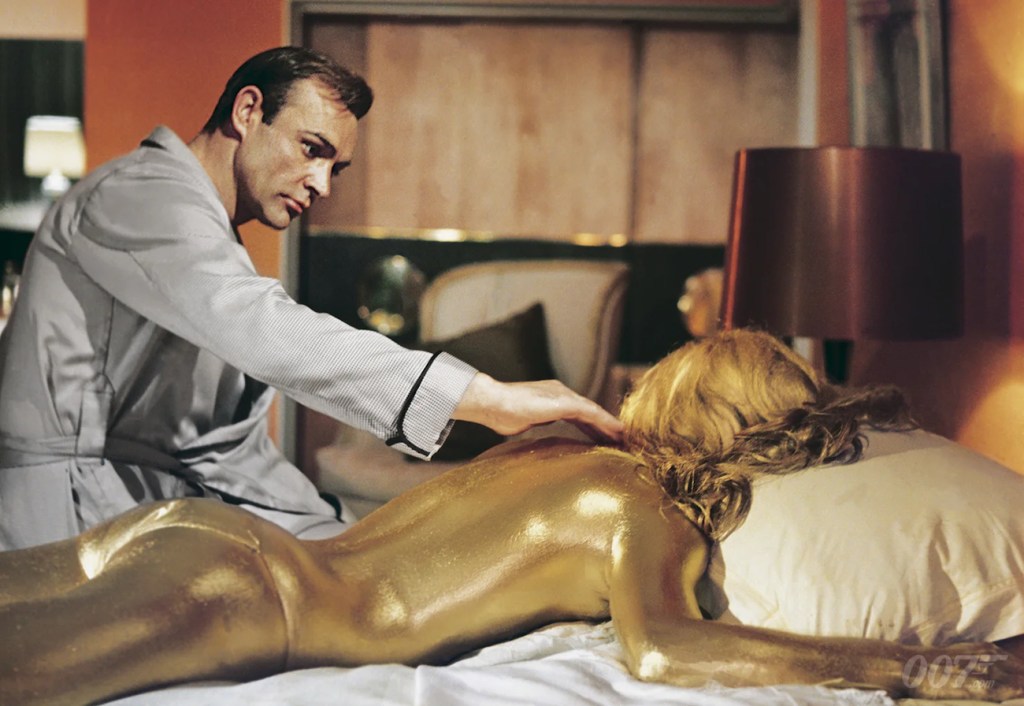 Jill Masterson Paints the Town Dead in Goldfinger
1964's Goldfinger ranks as arguably the most iconic movie in the storied history of 007, partly down to the menacing specter of Auric Goldfinger (Gert Frobe). The exploits of his razor sharp-hatted henchman Oddjob (Harold Sakata) may provide plenty of nightmare fuel, but another moment highlights what a dangerous and depraved adversary his boss is.
Having discovered Goldfinger using his employee Jill Masterson to cheat during a high-stakes card game, Bond succeeds in derailing the scheme before seducing Masterson. Her boss does not take kindly to this though. Masterson is thus murdered by having her body covered in gold paint and dying from skin suffocation. Bond finds her body in an iconic movie moment. More than living up to the name Goldfinger, the murder feels like something out of a high-concept serial killer movie.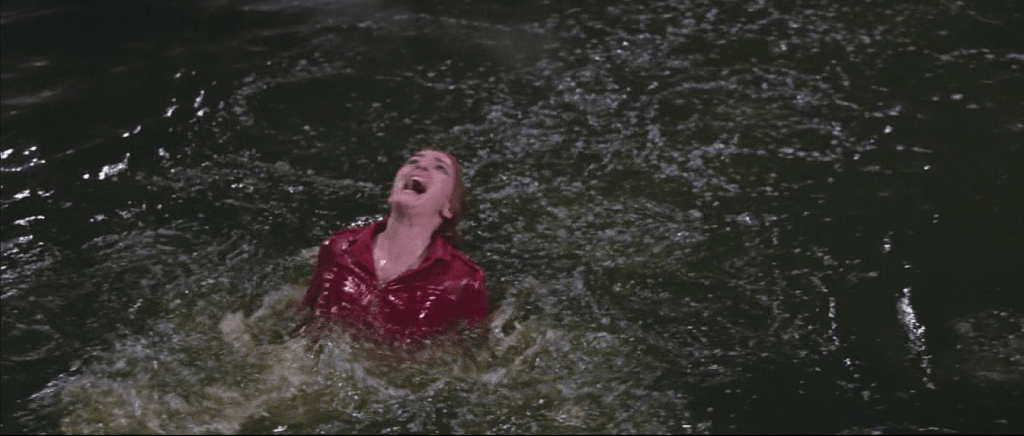 Blofeld Serves Helga Brandt To the Piranhas in You Only Live Twice
The second animal-related entry on this list comes from Connery's fifth outing as Bond and a film that perhaps best captured the menace of 007's long-time adversary Ernst Stavro Blofeld. Donald Pleasance excels in the role of the Bond supervillain but remains largely unseen during the terrifying scene in which he dispatches with henchwoman Helga Brandt (Karin Dor) after she fails in her attempts at eliminating 007.
Though it might be the stuff of Austin Powers parody by today's standards, the moment Pleasance's Blofeld dropped Dor's character down into a pool of ravenous piranha remains as unsettling now as it did back then.
Dr. Kananga's Inflated Ego In Live and Let Die
Plenty of fans of Live and Let Die (1973) might plump for one of the many scenes involving the film's terrifying voodoo priest Baron Samedi (Geoffrey Holder) as being among the most scary, but it's the fate handed to Bond's main adversary, San Monique dictator Dr. Kananga (Yaphet Kotto), that still stands out today.
Though Kotto's villain may not be worthy of any leniency, his death still feels like something out of a hellish version of Charlie in the Chocolate Factory with Bond forcing Kananga to swallow a compressed-gas pellet from a shark gun that causes his body to inflate and explode. The fact this happens on camera only adds to one of the most surreal scares in the entire franchise.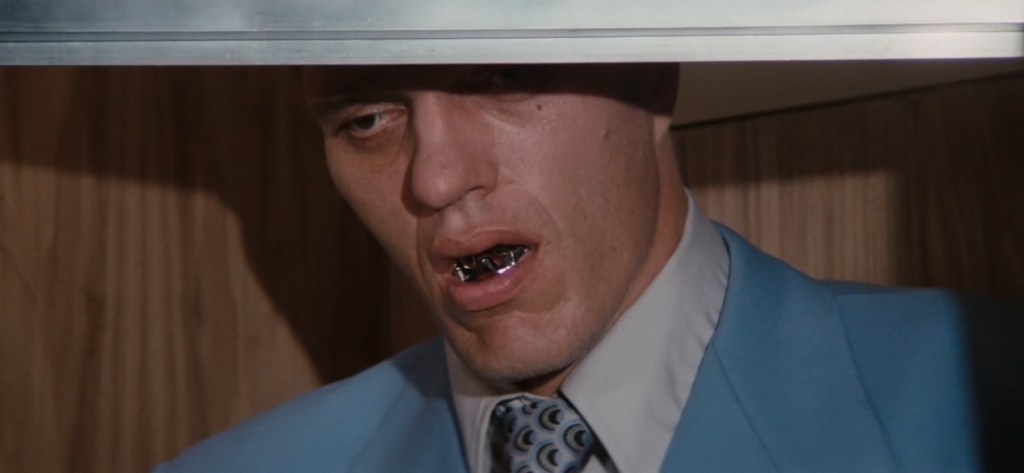 Jaws Takes His First Bite in The Spy Who Loved Me
Moonraker (1979) may have turned Richard Kiel's metal-mouthed assassin into something of a comedy character, but 007's first encounter with the henchman known simply as "Jaws" in The Spy Who Loved Me (1977) was nothing to smile about.
A ruthless, unstoppable killing machine, Bond gets a firsthand look at Jaws in action during an eerie chase sequence around the Pyramids of Giza where they are both in pursuit of middleman Aziz Fekkesh, who is involved in the main villain's shady business dealings. But before Fekkesh can divulge exactly what he's embroiled in, he's killed by Jaws, dispatching the loose end with one bite of his razor sharp teeth to their neck. It wouldn't have looked out of place in a Dracula film.
Corinne is Fed to the Dogs in Moonraker
There's plenty to dislike about Moonraker's outlandish premise, but in Michael Lonsdale's Hugo Drax, the film does boast a villain to rival some of the franchise's very best. He features prominently in one of the movie's standout moments.
Having discovered his personal pilot Corinne Dufour (Corinne Cléry) has been aiding Bond, Drax invites her to the grounds surrounding his country estate before informing her she's been let go—in every sense of the word. But rather than collect up her things in a box, Drax instead tells her to simply "run" before dispatching his ravenous dogs to deal with her. A grim fate awaits that the film follows like this were a Gothic horror movie.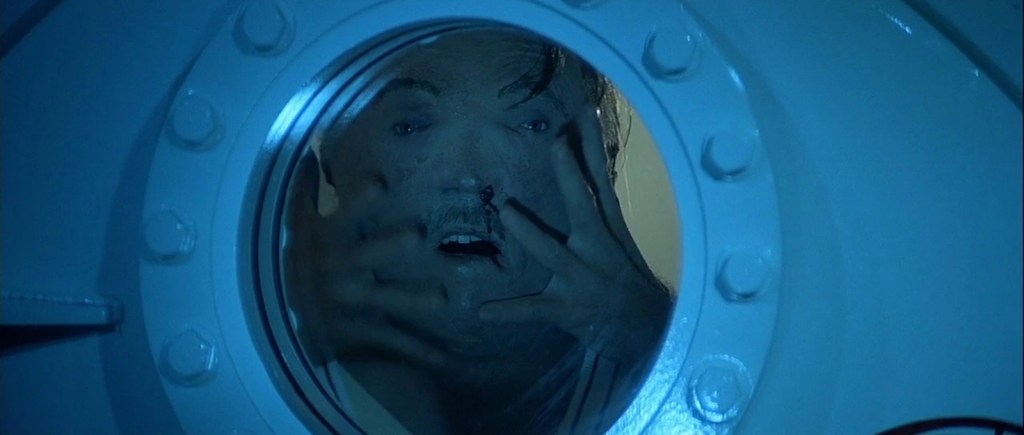 Milton Krest Feels the Pressure in License to Kill
Given its status as the darkest Bond entry in the entire canon, it's not an exaggeration to say you could create a list of 10 different scary moments from what was to be Timothy Dalton's second and final outing as 007. From Felix being fed to sharks to one intense case of immolation, there's a reason 1989's License to Kill became the first Bond movie to receive the dreaded PG-13 rating. The film's standout scary moment comes with the punishment meted out to henchman Milton Krest (Anthony Zerb) by his boss, ruthless drug kingpin Felix Sanchez (Robert Davi) that no doubt left many young fans suffering sleepless nights.
Framed by Bond for stealing from Sanchez, Krest ends up being shut in a decompression chamber. Sanchez eventually cuts the oxygen cord to the tank resulting in Krest, quite literally, exploding as a result of the decompression.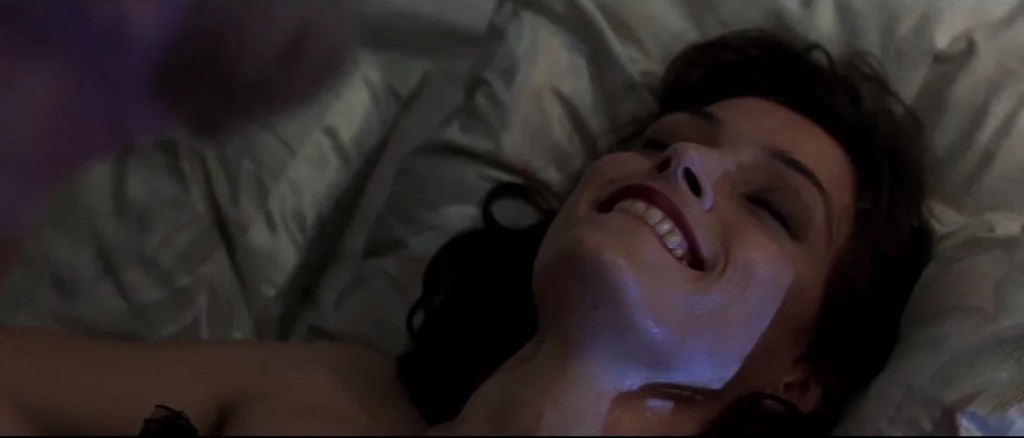 Xenia Onatopp Claims Her First Victim in GoldenEye
Pierce Brosnan's first Bond outing came toward the tailend of an era that saw erotic thrillers dominate the VHS market. Films featuring femme fatales lethally dispatching male suitors proved to be the order of the day at video rental stores around the world.
Things might have begun to move on by the time GoldenEye arrived in 1995, but there was still a hint of Sharon Stone to Famke Janssen's villainous assassin Xenia Onatopp, a psychotic lust murderer capable of crushing men to death once they get between her thighs.
That terrifying ability is perfectly showcased when she succeeds in luring Canadian admiral Chuck Farrell back to her boat before killing him during sex. While it's a ludicrous idea, the scene in which Farrell, played by Billy J. Mitchell, begins to struggle is not for the faint of heart.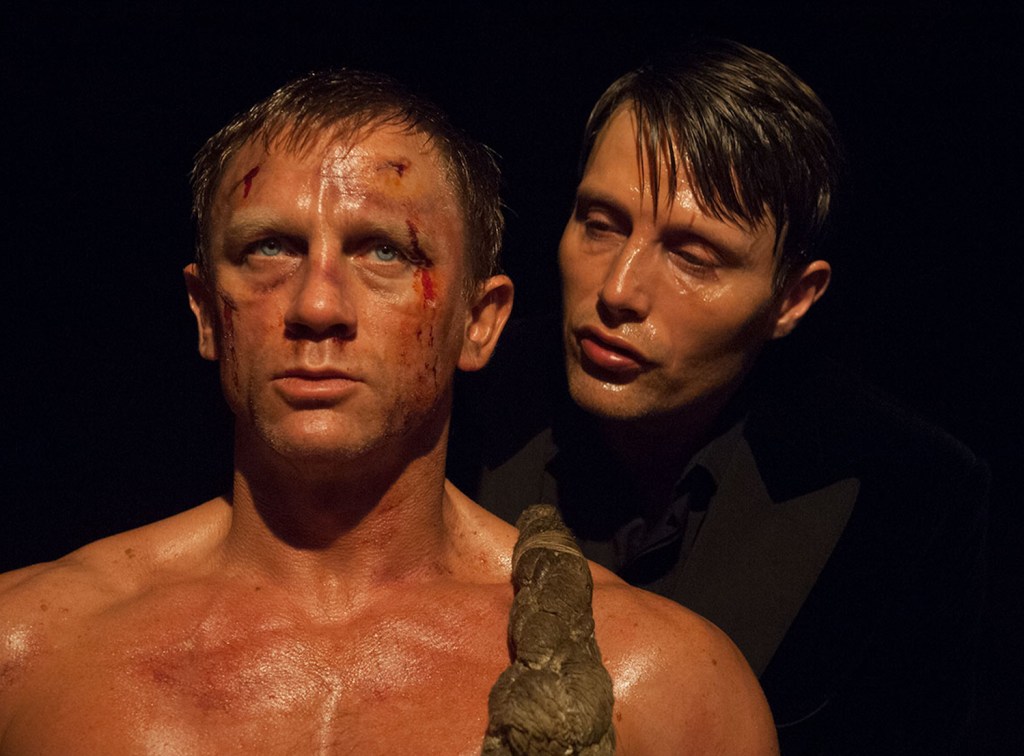 Le Chiffre Puts 007 Through the Ringer in Casino Royale
Craig got his Bond tenure off to an electric start thanks to the electrifying Casino Royale, with director Martin Campbell distilling a little of what made Matt Damon's Jason Bourne films great into the 007 formula. The pace of chase scenes became more frantic, which was bolstered by the shaky handheld-camera approach. Meanwhile fight scenes were bloody, drawn out brawls to the death. Campbell showcased the brutal, ugly side of life as a suave secret agent.
This approach extended to what happens in the event Bond is captured. While previous films like Goldfinger depicted 007 as narrowly escaping being cut to pieces by a laser, when Craig's Bond is captured by Mads Mikkelson's Le Chiffre, it's a far more brutal experience. Stripped naked and tied to a chair, Bond soon sees his genitals shattered with a carpet-beater by Le Chiffre. As a horrific sequence that shares more with Eli Roth's Hostel than anything Bond related, the beating only stops when Le Chiffre is shot dead by the mysterious Mr. White (Jesper Christensen).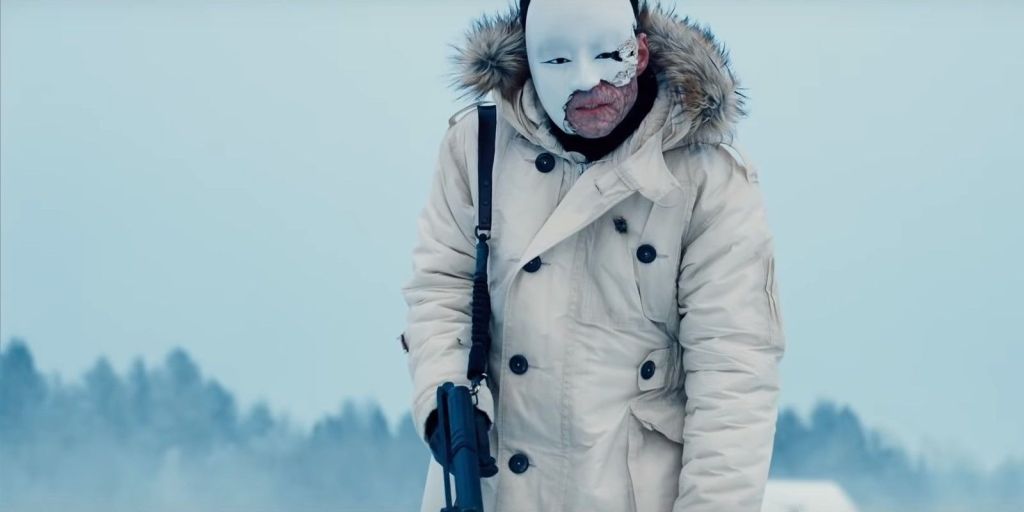 No Time To Die's Nightmare Prologue
As Bond openings go, No Time To Die (2021) took things in an even darker direction than the one established in his four previous outings with the action focusing on the childhood trauma of Léa Seydoux's Madeleine Swann as she witnesses her mother murdered by Rami Malek's Lyutsifer Safin.
Pursued across a vast frozen lake by Safin, Swann ends up falling into the icy depths before, in a wild twist, being pulled to safety by the assassin who chased her. It's the kind of sequence that's usually found in a brooding Scandinavian detective series rather than a 007 movie, but it's a strikingly effective prologue that has your heart racing from minute one and sets the tone for much of what follows.