Features
Disney+ Christmas Movies for Kids: The Best Family Films to Watch this Holiday Season
We look at the best Christmas movies to watch with the family this holiday season on Disney+!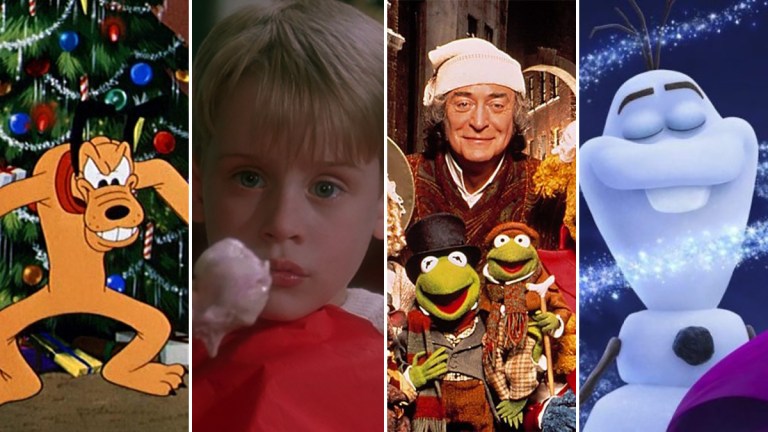 It's the time of year when you can't enter a store without hearing those familiar holiday jingles as your shopping soundtrack. With many families reducing their gatherings this year, it's a good time to snuggle up, stay in, and share some Christmas movies with your kids. Here are some of the best that Disney+ has to offer.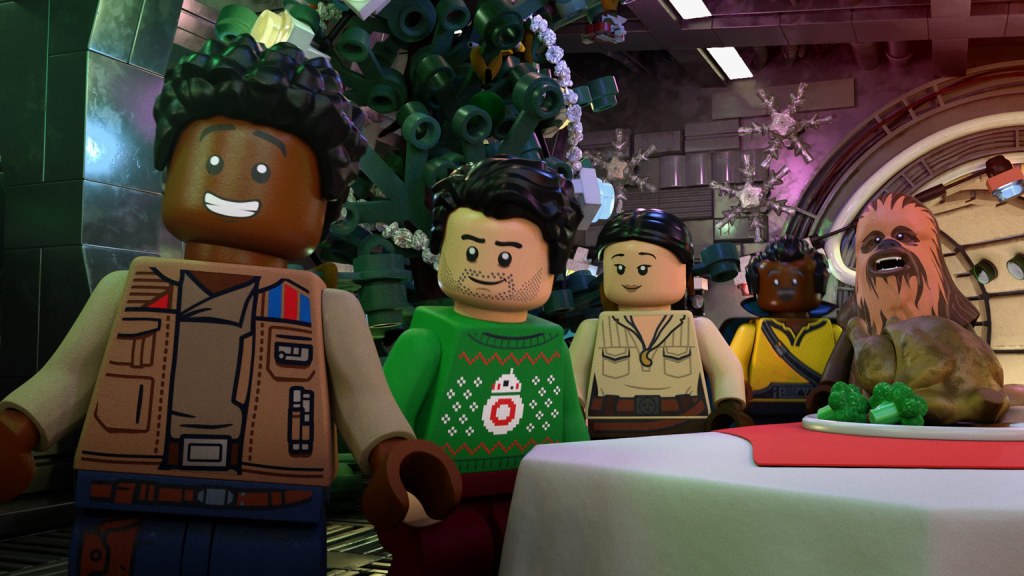 Lego Star Wars Holiday Special
This season's brand new holiday special features the cast of the Star Wars Sequel trilogy celebrating Life Day. Rey feels she's failing Finn as his teacher in the ways of the Jedi, so she seeks out an ancient technique at an old temple—which sends her through Star Wars history, witnessing moments in the training of Anakin, Luke, and Obi-Wan. When Darth Vader follows her from the second Death Star, chaos ensues, and a chase through the various Star Wars properties—including The Mandalorian—brings her back into conflict with Kylo Ren, once again with Luke Skywalker at her side.
Meanwhile Poe, Finn, and Rose host a Life Day celebration with Chewbacca's family on Kashyyyk. The nods to the original (and deservedly maligned) Star Wars Holiday Special are sure to delight viewers who suffered through those very long two hours. While a rendition of "Jingle Bells" in Huttese will entertain, it's Finn finally getting his Jedi training that makes this special really standout. Now, if only we could see that in live-action…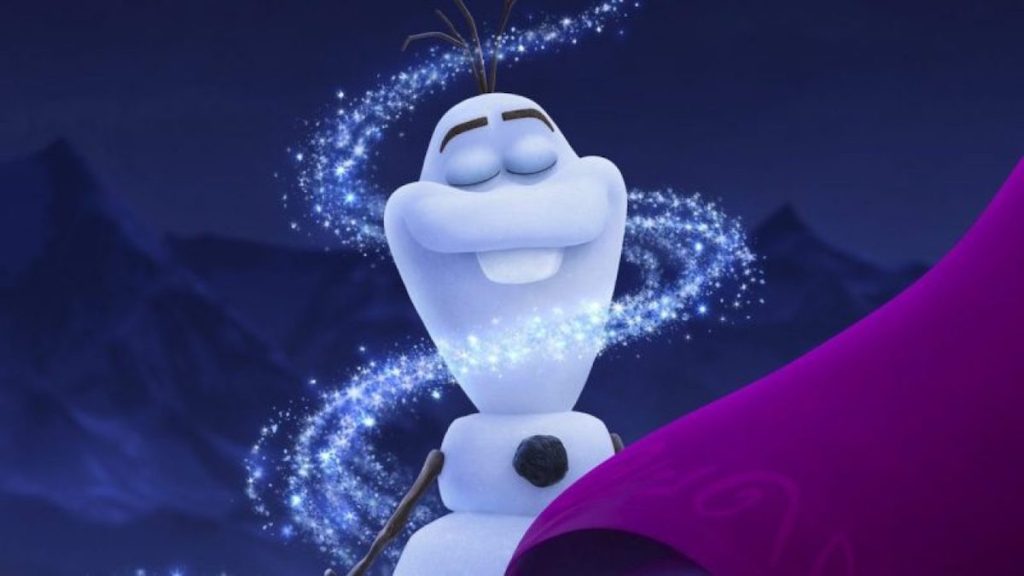 Once Upon a Snowman
Also new to Disney+ this season is a new short featuring everyone's favorite snowman, Olaf. This new tale is set during the events of Frozen (also streaming on Disney+, along with its sequel and its previous holiday short "Olaf's Frozen Adventure"). After Elsa creates Olaf and continues up the mountain, Olaf is left wondering who he is and what he's supposed to do with himself. He's also after a nose, but when he arrives at Oaken's (where viewers get a quick glimpse of Anna, Kristoff, and Sven), there are no carrots left.
Various nose possibilities reveal how Olaf came to love summer, and why the wolves ended up running after Kristoff's sleigh. If you're planning a full family movie marathon, these four related films and shorts will make for a fun event! Top it off with the Arendelle Castle Yule Log as a background for your family celebration.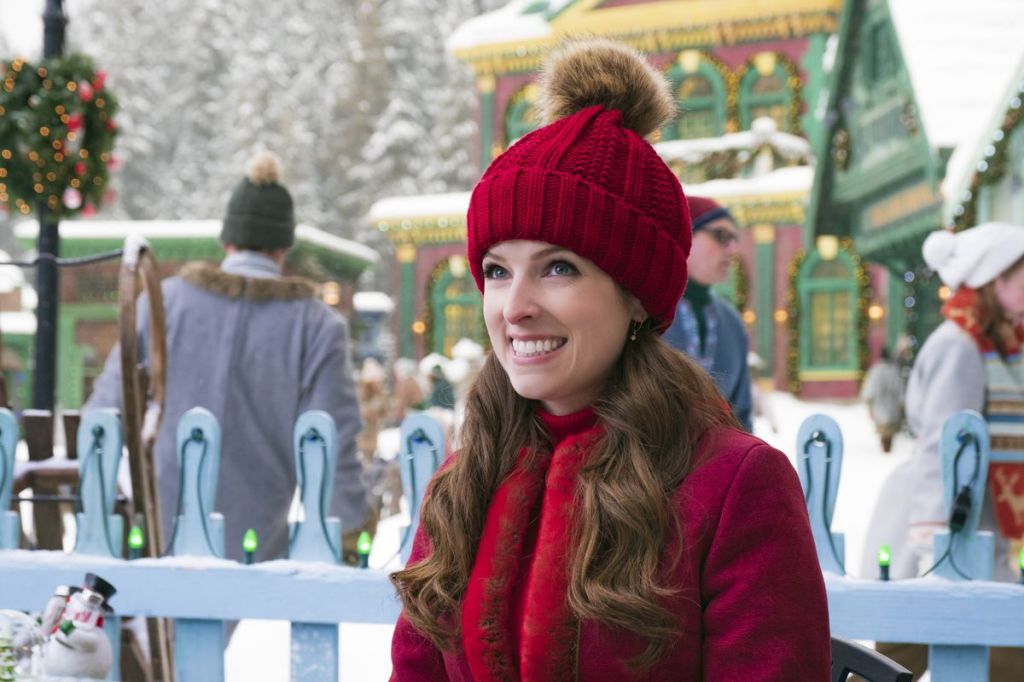 Noelle
When Kris Kringle is ready to retire, his son Nick plans to take over—but when he can't handle the pressure, it's up to his sister, Noelle (played by Anna Kendrick) to save the day. Originally slated for a movie theater release, Noelle instead became one of the first original films to be released straight to Disney+ when the streaming service debuted in 2019. While the film has gotten mixed reviews, Anna Kendrick as a female Santa is enough fun to make a great family movie night.
On Pointe
Missing your chance to see The Nutcracker live this year? Disney+ is taking viewers behind the scenes with this brand new, unscripted series. Over six episodes, the show follows ballet dancers auditioning and preparing for the performance of The Nutcracker in New York City. Episodes start streaming on Dec. 18.
The Nutcracker and the Four Realms
If the behind-the-scenes of the ballet doesn't fill your Nutcracker craving, you can also stream The Nutcracker and the Four Realms, starting Dec. 4. This twist on the original ballet features a young Clara traveling to a land her mother created where toys are brought to life. The Sugar Plum Fairy convinces Clara to go retrieve a key from Mother Ginger, who is at war with the other kingdoms, so that the other realms can be safe. With plenty of nods to the original ballet, the fantasy features music from and inspired by Tchaikovsky's famous score.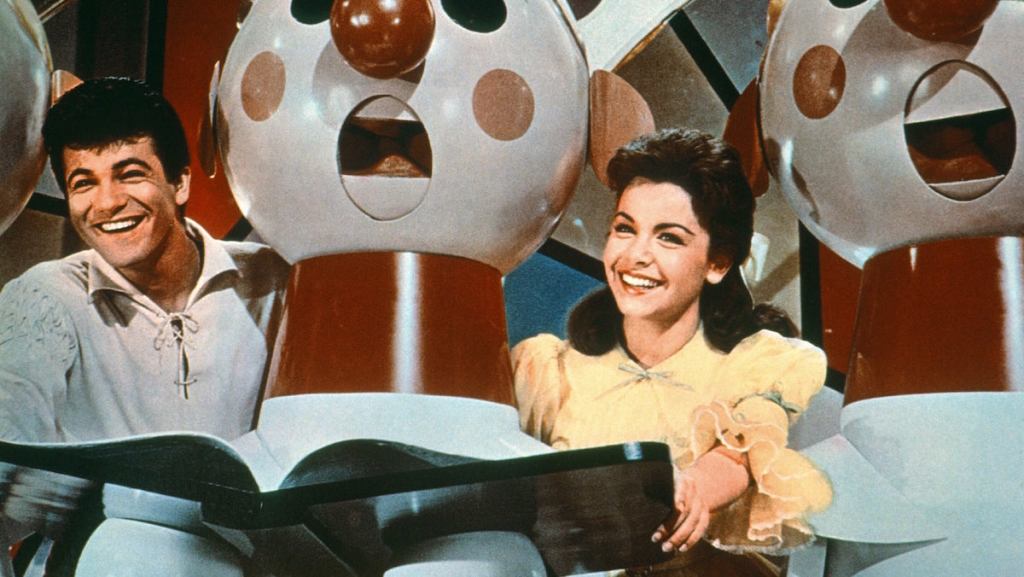 Babes in Toyland
For another film full of toy soldiers, the classic Babes in Toyland is an option that parents may remember with either full nostalgia or terror—in no small part because it's one of the creepiest family Christmas movies this side of The Nightmare Before Christmas (also streaming on Disney+).
The strange plot features a pair of lovers who are separated by a villainous wretch who wants the woman for his own bride. When the lovers end up in Toyland, they end up offering to help the Toymaker, whose toys have been destroyed. The Toymaker has also made a shrink-ray, but when the villain gets control of it, it's the hero who gets cut down to size. It's a strange film that may or may not hold up well to the test of time (some stereotyped references to the Romani people definitely do not hold up). But it's an old classic that may be enjoyed by a new generation.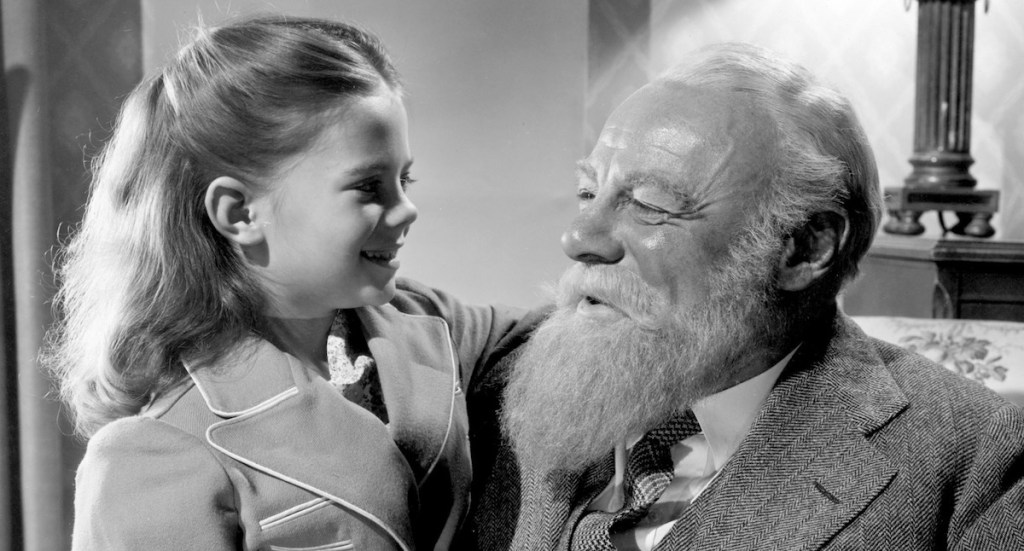 Miracle on 34th Street
Fewer films are as classic as Miracle on 34th Street, which, as another Den of Geek writer pointed out, is as much a Thanksgiving classic as it is a Christmas film. In the movie, the real Kris Kringle (Edmund Gwenn in an Oscar winning role) is hired as Macy's Santa and ends up spreading goodwill and cheer despite the commercial nature of his position.
The woman who hires him, Doris (Maureen O'Hara), has raised her daughter, Susan (little Natalie Wood), not to believe in fairy tales, so when Kris tells Susan he is the real Santa, she worries that he's mentally ill; but Doris' neighbor, a lawyer named Fred (John Payne), has more faith, and ends up representing Kris in a case to prove he is the one and only Santa Claus. While there have been remakes of this film, the old 1947 classic, which is the version available to stream on Disney+, still stands out as a Christmas favorite.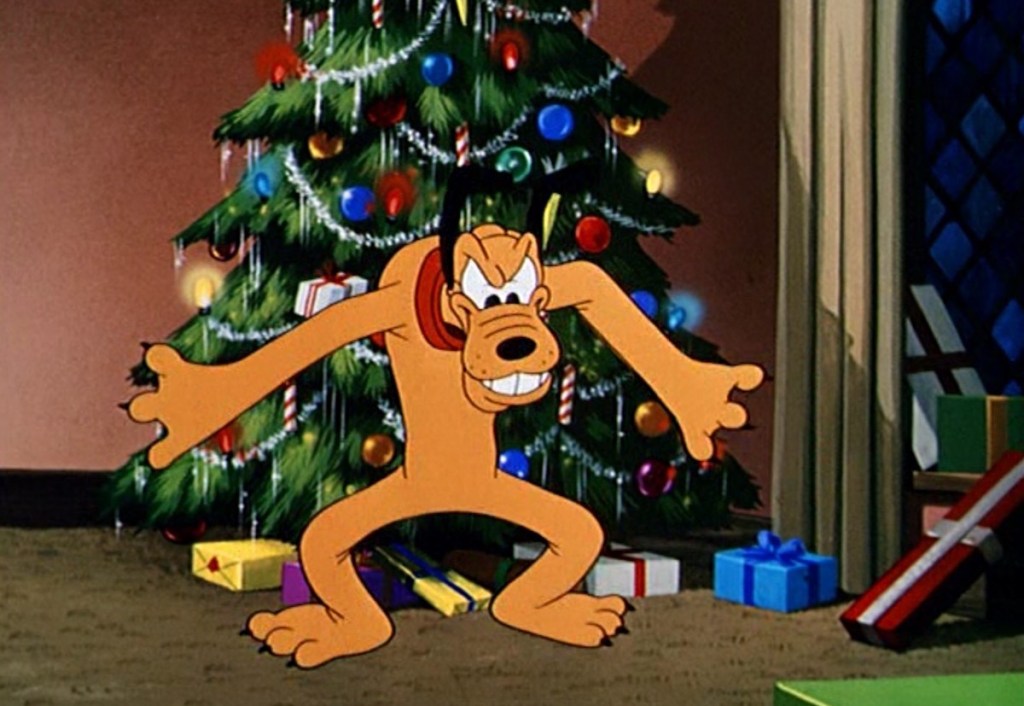 Pluto's Christmas Tree
Speaking of holiday classics, this 1952 short is another familiar feature, with Pluto vying for Christmas Tree superiority against Chip and Dale. Although it's always fun to root for those two rascally chipmunks (who were such great characters they went on to star in their own Disney afternoon show, Chip and Dale's Rescue Rangers, also available on Disney+), Pluto's need to protect his Christmas with Mickey is really relatable. Of course it ends with the message that sharing makes the holiday more worthwhile, and everyone wins.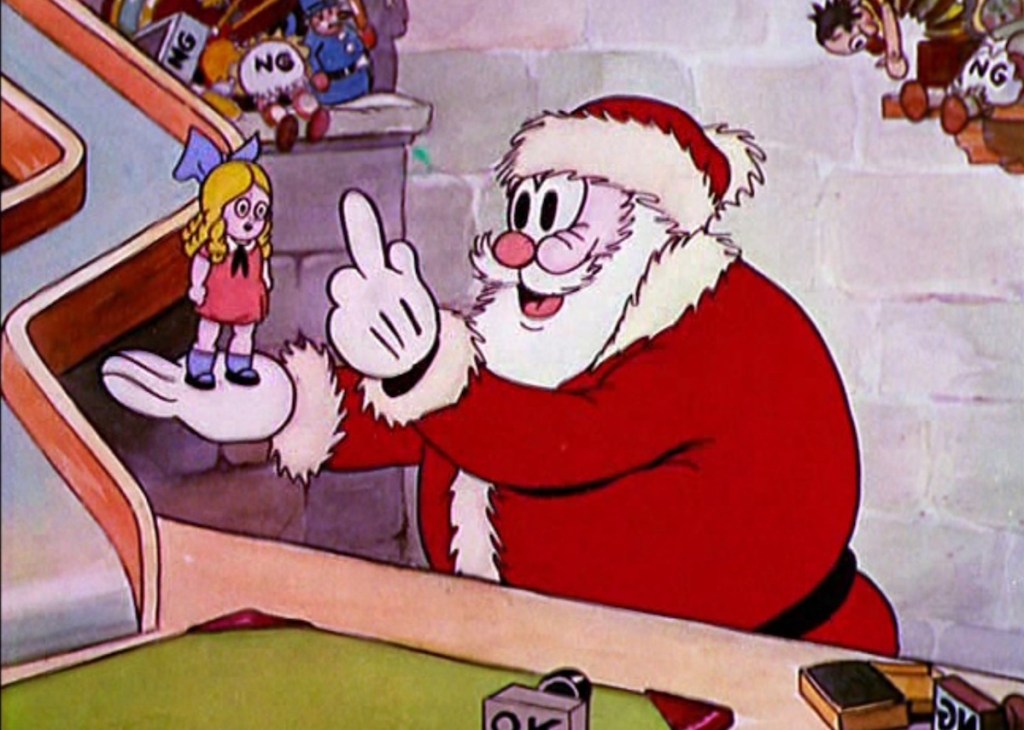 Santa's Workshop
For an even deeper dive into Disney's collection of animated shorts, this 1932 celebration of Santa and his elves features some wonderful bass voices and elves reminiscent of Snow White's dwarfs. The assembly line work is clever, with dolls getting their curly hair because the elves scare them with spiders, and checkerboards painted with checkered paint. Because it was made in the 1930s, it does feature outdated depictions of gender and some ethnic stereotyping among the toys, but it's interesting to see how far Disney's animation has come since those early years!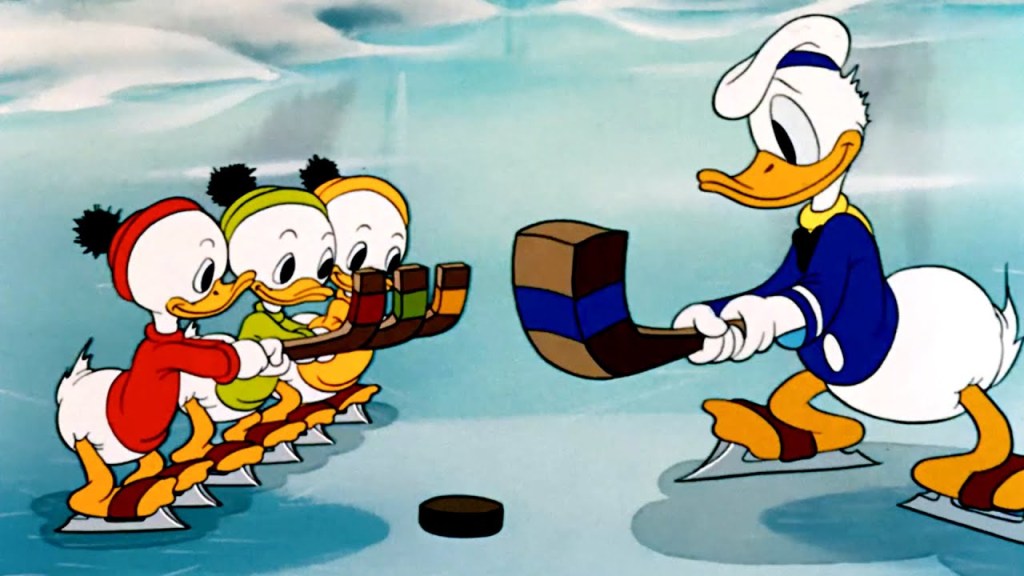 Winter Sports Shorts
Though technically not holiday titles, Disney has made several animated shorts featuring winter sports over the years. "Mickey's On Ice" is an ice skating story where Mickey shows his skills on blades, and Donald's prank on Pluto goes awry (warning: there are depictions of tobacco products).
"Donald Duck Hockey Champ" pits Donald against Huey, Dewey, and Louie in a hockey game that quickly becomes an extreme sport. The boys are brattier here than their Duck Tales incarnations, and the cartoon violence rivals Looney Tunes, with plenty of wacky antics and draw laughs. The Art of Skiing is classic Goofy, featuring his typical attempts to follow the narrator's advice (and fail completely).
Mickey's Once Upon a Christmas
In 1999, Disney collected some of their newer shorts into a holiday special just over an hour long. Huey, Dewey, and Louie wish every day was Christmas and have a Groundhog Day style learning experience in "Stuck on Christmas." The second short, "A Very Goofy Christmas," features the Goof Troop version of Goofy with his son, Max, celebrating their holiday together with all the expected mishaps. Max struggles with the idea that Santa might not be real—and nearly ruins Christmas for both of them.
"The Gift of the Magi" is a retelling of the O. Henry story, in which both Mickey and Minnie give up something precious to give the other the perfect gift. Each of the shorts runs about twenty minutes—almost long enough to be a special on their own—and short bridges, presenting each one as a present beneath a Christmas tree, provides the segues between them.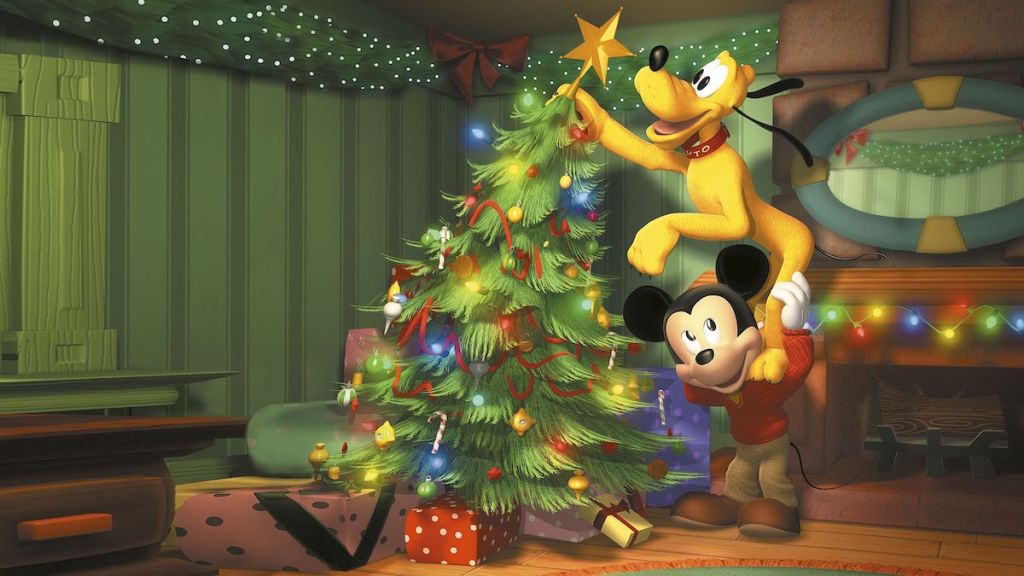 Mickey's Twice Upon a Christmas
This 2004 special moves from the traditional 2D style of animation for Mickey and his pals, depicting them closer to their styles in Mickey Mouse Clubhouse. Like Mickey's Once Upon a Christmas, this collects several shorts as well. "Belles on Ice" pits Minnie and Daisy, who are best friends, competing for the spotlight in their figure skating performance. "Christmas Impossible" shows Huey, Dewey, and Louie first ruining Christmas for Donald, Daisy, and Scrooge, then ending up at the North Pole to save it.
"Christmas Maximus" features a Christmas between Goofy and an adult Max, who brings home his girlfriend for the holiday. "Donald's Gift" features a Donald bah-humbuging his way through the holiday, but eventually discovering that bringing people together is the way to find the Christmas spirit. Finally, "Mickey's Dog-gone Christmas" is another Pluto and Mickey story, but when Pluto almost ruins Chirstmas, he has to go all the way to the North Pole to make things right—and seeing Pluto flying with reindeer is sure to please!
Prep and Landing
One of Disney's newer animated Christmas specials is the Prep and Landing series, in which high-tech elves have to save Christmas for everyone. The original special features two elves—a grumpy veteran, Wayne, upset to be passed over for promotion, and an idealistic rookie, Lanny—whose mission goes awry. In the sequel, Prep and Landing: Naughty vs. Nice, Wayne and Lanny return to recover specialized North Pole technology that has fallen into the hands of a naughty kid hacker. The mix of spy adventure and traditional Christmas elves is clever, and these computer animated films make a nice counterpoint to the more traditional 2D specials.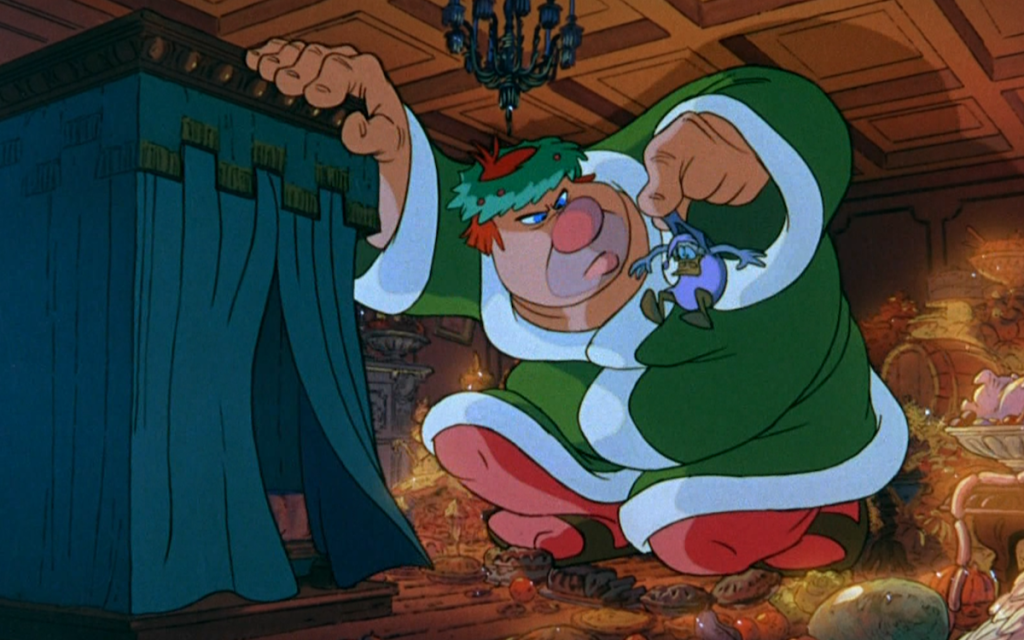 Mickey's Christmas Carol
While Charles Dickens' classic A Christmas Carol has been told in many versions, and Ebeneezer Scrooge has been played by many actors, one of the most memorable of these is the version with Mickey Mouse as Bob Cratchitt, and Scrooge McDuck playing his namesake. The special, which runs 26 minutes, first debuted in 1983, so the nostalgia for children of the eighties runs very high. It's also just a fun adaptation, particularly because there's no character more perfect to play Scrooge than Scrooge!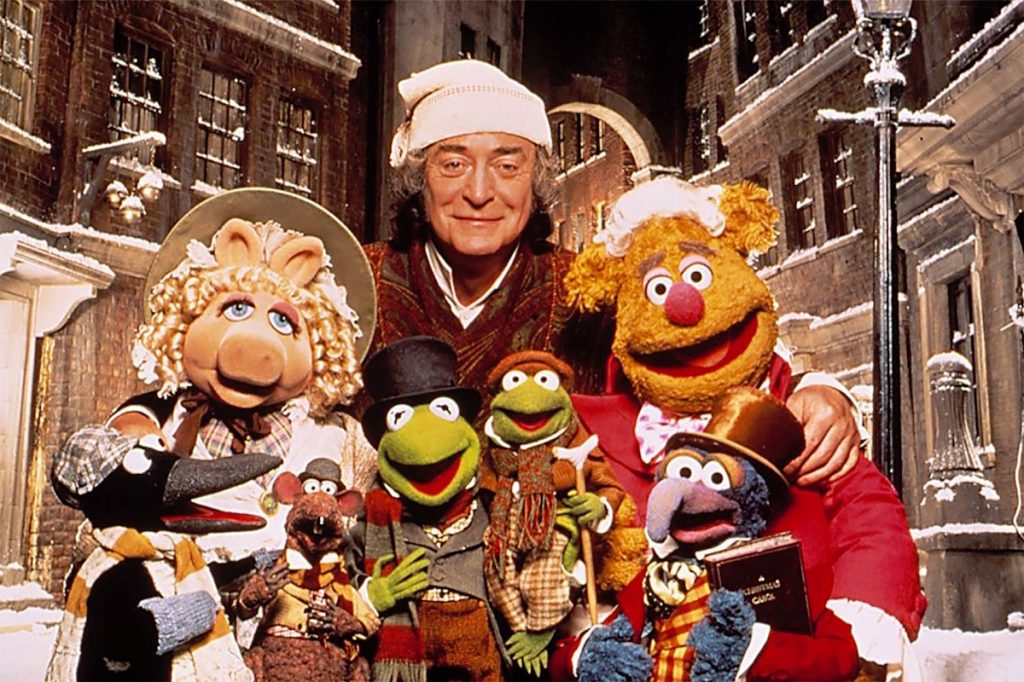 The Muppet Christmas Carol
It just isn't Christmas until Kermit, Gonzo, and the gang sing "Wherever You Find Love, It Feels Like Christmas." In this version of Dickens' classic, Gonzo plays Charles Dickens himself, narrating events, while Kermit and Piggy play the Cratchitts, and Robin, Kermit's nephew, plays an excellent Tiny Tim. The human cast here, led by Michael Caine as Scrooge, is also excellent, and the mix of Muppety humor and optimism fits the classic story perfectly.
A Christmas Carol (2009)
For an all-human version of the Dickens classic, Jim Carrey's A Christmas Carol rounds out the Disney+ retellings. Here, Carrey stars (in heavy CGI and motion capture) as Ebenezer Scrooge, with Colin Firth as his cheerful and Christmas-loving nephew, and Gary Oldman as his beleaguered clerk Bob Cratchitt. Other members of the cast include Cary Elwes, Bob Hoskins, and Robin Penn, making this one a star studded adaptation.
Home Alone
The Home Alone reboot may be a topic of heavy debate, but the original is up on the streaming service in all its nostalgic glory. The story is about a boy, Kevin, who is accidentally left at home by himself in the chaos of the annual huge family Christmas trip, and who ends up defending his home from burglars (through Looney Tunes level violence and Rube Goldberg-like traps).
Kevin's adventures continue the next year when he manages to get on the wrong plane for the family vacation in Home Alone 2: Lost in New York. (A third installment, Home Alone 3, features a different child also outsmarting a gang of criminals, and doesn't take place at Christmastime.)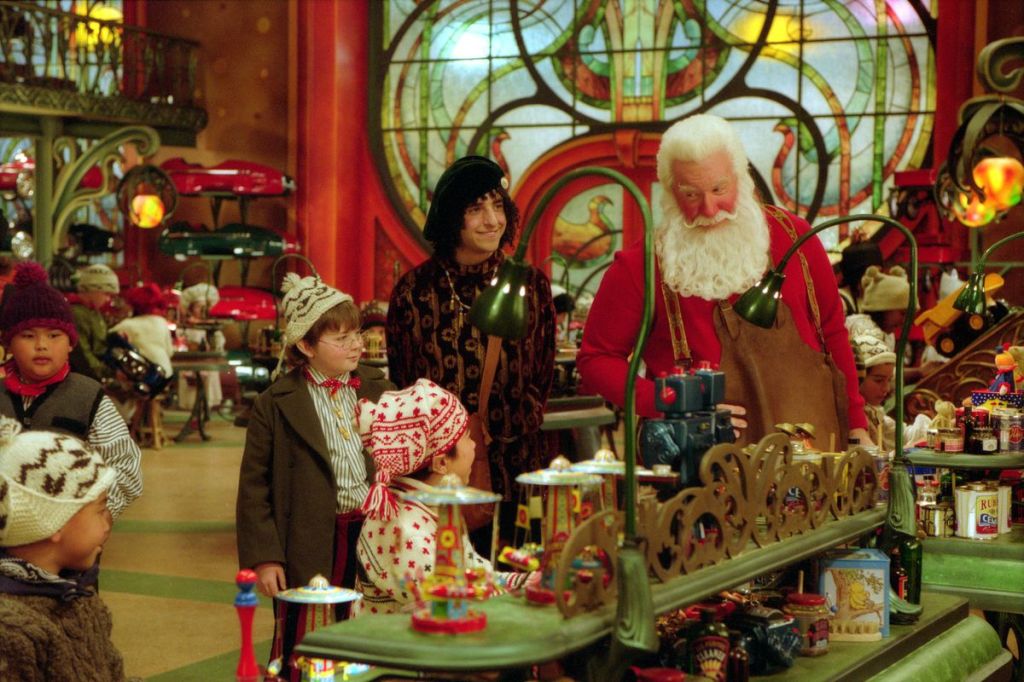 The Santa Clause
Fans of the Toy Story franchise may recognize Buzz Lightyear in the voice of the man who becomes Santa in this series of films, starring Tim Allen. When Santa Claus falls from Scott Calvin's roof, Scott has to put on the suit and take on the mantle of Santa, much to his son Charlie's delight. Scott then has 11 months to put his affairs in order before he comes to the North Pole full-time—but it's going to take Scott that long to accept that it isn't all a dream. Allen returns as Santa in The Santa Clause 2 and The Santa Clause 3: The Escape Clause for a possible Santa-centered movie marathon.
Other Holiday Celebrations
While Disney+ doesn't feature any films for holidays other than Christmas, two Disney series feature episodes of other holidays celebrated at this time of year. In Even Stevens season 1, episode 15, the characters celebrate one "Heck of a Hanukkah." The Proud Family celebrates the "Seven Days of Kwanzaa" in season 1, episode 11. Viewers can hope that this will expand to full on feature films in the future, but for now, these specials do offer a little diversity for the holiday season.