Features
Frozen 2: 'Show Yourself' Song Was Almost Cut from Movie
Disney Plus' Into the Unknown docuseries candidly shows the production process… and how struggles over Elsa's "Show Yourself" song almost got it cut eight months before release.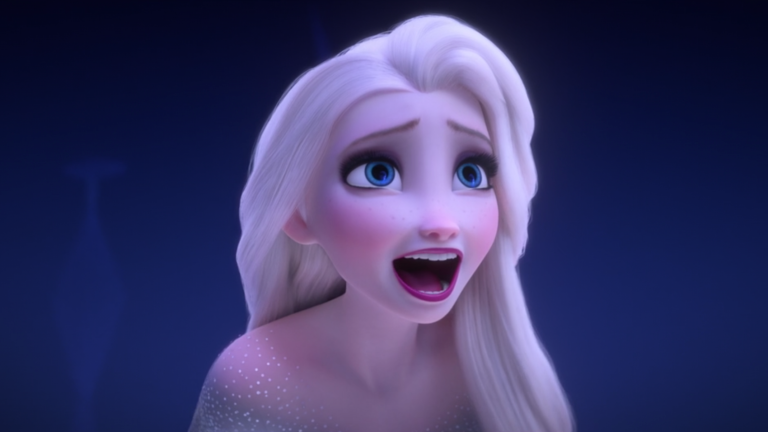 For many Elsa fans, it's the highlight of Frozen 2. Inside of Ahtohallan, a river of memories that's been frozen into a glacier of ice, Queen Elsa of Arendelle finally confronts the truth about her past, her family's history, and her own soul. And she does it all while singing an empowering anthem. Yet even with Idina Menzel's highest of high notes, the song is unlike "Let It Go" due to a melancholic undertone about Elsa facing the ghosts of her family's legacy and accepting her full identity.
The scene is preferred by many over the more straight-forward attempt to recapture "Let It Go," aka "Into the Unknown," including apparently Menzel herself, who previously hinted she would've liked to see Disney campaign "Show Yourself" for Best Song at the Oscars. It didn't work out that way, but then as we now know the birthing process of "Show Yourself" was not particularly easy for anyone involved. Into the Unknown: Making Frozen 2, a new docuseries on Disney+, details this at length, including how the song was almost cut from the movie.
It's a surprising revelation, especially since the tune's spiritual growth in Elsa's character is what her arc builds to throughout Frozen 2, and was what songwriters Kristen Anderson-Lopez and Bobby Lopez were most excited about tackling in a sequel when directors Jennifer Lee and Chris Buck approached them.
"We've never seen that for a woman, growing up, to know you have the answers within you," Lee said during a virtual press conference earlier this week. She was speaking about how no Disney Princess movie from her childhood was about the heroine discovering true self-realization, as opposed to true love. "I know early on, for you Kristen, it was the one thing coming in where [we said] if we could ever do something like that for Elsa, it would mean so much."
Anderson-Lopez agreed, recalling, "Frozen 1 was trying to open the lens of true love to include familial love. The thing I was so excited about when Jenn and Chris, and [producer Peter Del Vecho] came to us to do Frozen 2 was looking at 'could we open the lens to finding your own power?' Finding, without needing anybody, that moment, especially for a woman when they know, 'This, this is my purpose in life. This is what I have to say.' [For that] to feel like true love too and put that into the movie [was exciting]."
It's thus a credit to how candid these same filmmakers are in the documentary when their disagreements over "Show Yourself" are laid bare. The narrative arc for the first three episodes of Into the Unknown is essentially a back and forth during virtual story meetings over "Show Yourself," rising until the song was almost removed from the movie.
With cameras in Walt Disney Animation Studios in California viewing Lee, Buck, Del Vecho, and other filmmakers discussing problems with the song while other documentarians are watching it from Anderson-Lopez and Lopez's perspective in their Brooklyn apartment, we're given a glimpse into the one song the Lopezs obviously did not want to be deleted from the movie, as well as the story difficulties that arose when there was a disagreement about what the song is even about.
In the final film, Elsa arrives at Ahtohallan and sings that she realizes she's home because the voice she hears in her head is the spirit of her mother… I think. To this day, there is still some debate among viewers as to whether the voice calling her to Ahtohallan was actually her own internal voice since she is the "Fifth Spirit of the Forest." But perhaps that lingering confusion among fans is due to the final months of production when the filmmakers themselves disagreed about who that voice is.
"I have to say I'm a little confused," co-production designer Michael Giaimo said about the song in the second episode of Into the Unknown. "It's so dense. I'm looking for something linear."
At the same story meeting producer Del Vecho almost whispered under his breath he thought it was musically clunky, even as he mentions that he doesn't want to "second guess Bobby." And finally before a big uncomfortable virtual call to Brooklyn, directors Lee and Buck all but said they wanted the song drastically rewritten from scratch.
"To me it wasn't adding up," said Buck. "It's not emotionally adding up. I'm not feeling anything. And then I turn on 'Let It Go' and I'm like 'I feel it, I'm into it.' I have to turn this on again and go 'ugh.'"
Lee agreed by wondering if "What if this song is 'I'm home' and not 'show yourself?' I just feel like the hook is wrong… [and] you almost have to change the song if you change the hook."
While the documentary does not make it exactly clear how the scene would've played in its original vision, we do get to be the fly on the wall when Lee pitches over a Zoom call to the Lopezs the idea of Elsa finding a glacier in the mist and realizing "I'm home." While the Lopezs accepted cutting multiple songs in both Frozen and Frozen 2—the documentary even shows never before heard audio of Sterling K. Brown's one song that got deleted from the sequel—they seemed crestfallen about this particular proposal.
"The problem is anything that's 'I'm home, I'm arriving' is really like 'Let It Go,'" Anderson-Lopez told Lee in the same conference call. "If we know it needs to be 'I'm home,' we'll write 'I'm home.' … But if it doesn't and we just write a boring song like 'I am home,'" she then trails off.
After the call, Bobby was even more unsparing about the idea of the disembodied voice calling Elsa simply being Ahtohallan itself.
"I don't know about that whole pitch of she gets there and she sees a glacier and she suddenly realizes, 'It isn't a person it's a glacier,'" Lopez said to his wife and the documentarians. "'It's like a singing glacier!' I don't think it's going to make any sense."
This tension rose until a storyboard version of Frozen 2 is presented to other Disney Animation filmmakers eight months before release. This is part of every animated movie's process, which then gives way to a marathon nine-hour "story session" where the other artists and filmmakers air all of their problems and praise for the project in question. It's clearly grueling and going in, it seemed like the fate of "Show Yourself" hung in the balance. Or as animator Mark E. Smith said, "[It] feels like the patient is on the operating table but we've got one last shot at bringing it back."
Luckily for fans of "Show Yourself," the song was embraced by other Disney alum, even as no one was really sure yet who the voice is that is calling Elsa. Ultimately, the ending decision was made to keep the song and make it a duet between Elsa and her lost mother (voiced by Evan Rachel Wood).
"I think the key with cracking 'Show Yourself' came with us finally making a decision about the voice," Lee said in the doc. "Bobby and Kristen actually went back and put a reprise of the lullaby and we all agreed definitively that we're going to answer the voice is the mother."
The end result is obviously the emotional climax of Elsa's story in the movie, and one that many might argue is essential. By singing to her past, and literally letting her hair down fully, Elsa reaches an emotional epiphany that is stronger than the admittedly hazy plot mechanics of the movie's third act. And it's something half a year later, and with $1.5 billion in box office, that the filmmakers can now look back on as a creative success.
"We got scared for a while that we couldn't pull it off, because people would go, 'I don't know how to visualize something so internal,'" Lee reflects during this week's press conference. "It took the whole journey for us to do so, I think, but [we got it done]."
Meanwhile the voice of Elsa herself, Idina Menzel, complimented how candid all parties involved were in the Into the Unknown documentary, as well as how impressive it is their creative process can be so open to collaborative give-and-take. After more than 20 years on Broadway, she can attest that isn't always the case.
"What I loved watching this was how vulnerable Jenn and Chris, or Chris and Bobby, would make themselves in these creative processes," Menzel said. "I mean just knowing as actors getting on a stage and doing what we do, it's just so terrifying to bring ideas and have to sit there and have all those people in a room criticize it. You guys are so brave to do that and throw your heart in it, and to remain open, and to allow the work to keep progressing… you support each other in such a beautiful way that I don't think is always the case in a lot of projects I've been a part of. And it's such a really good example to see in this documentary."
Fans can see for themselves by watching Into the Unknown on Disney+ now.