Features
How Darlene Love Brings the Holiday Spirit and Soul to The Christmas Chronicles 2
The airport singer in The Christmas Chronicles 2? That's none other than the legendary Darlene Love!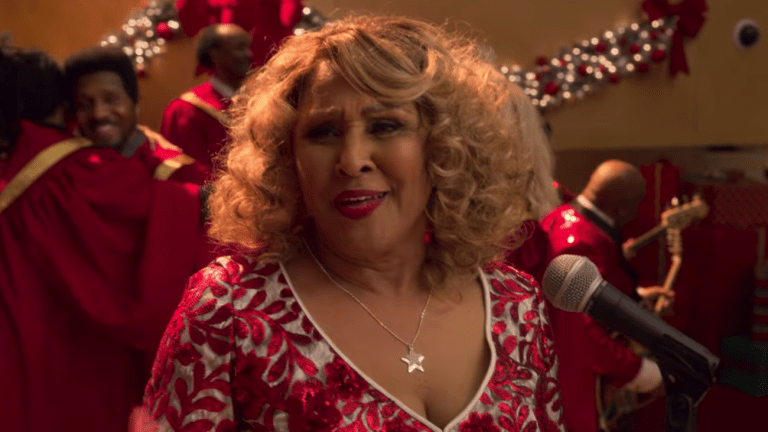 Spoiler Alert: Santa Claus blows a mean sax.
The high point of Netflix's The Christmas Chronicles 2 comes at its least festive moment. The young and grieving teen Kate Pierce (Darby Camp) is mistaken for a runaway and taken away by airport authorities–while being lost in time–all the flights on Logan International Airport's big board turn from hour-long delays to outright cancellations, and joy in that small part of Boston drops to 7 percent. People are all up in each other's grills, nerves are frayed, and complimentary hotel stays are not going to cut it. They are not a merry bunch. If ever there was a time for a holiday miracle, this would be it. Only now, when things are at their darkest, does a flustered ticket agent named Grace (Darlene Love) reach for the public address microphone–and deliver "The Spirit of Christmas."
Darlene Love may have the grace to carry a sleighful of holiday cheer but, as the song says, "You can't change the world alone, sometimes you need a little help." The rock and roll icon who has become an evergreen voice of Christmas decades ago pages Santa Claus (Kurt Russell), who is on hand to offer his full support. Too jolly to provide merely a baritone backup, Santa pulls an alto sax out of his bag for a spirited solo.
Darlene didn't just bring the spirit of Christmas. She brought the soul, the Disciples of Soul to be specific. In fact, the new gospel-infused holiday tune was written by Steven Van Zandt, and backing was done by his long-time band, along with two members of one of his other groups, Bruce Springsteen's E. Street Band.
Van Zandt and his Disciples of Soul backed Love when he produced and wrote songs for her 2015 album, Introducing Darlene Love. The title was ironic, as Love had been in the business long enough to be an institution. She didn't only have her own hits with her group The Blossoms, they sang back-up vocals on iconic rock and roll classics like the Ronettes' "Be My Baby," the Crystals' "Da Doo Ron Ron," and Frank Sinatra's "That's Life," as well as songs by Elvis Presley, Sam Cooke, the Righteous Brothers, Dionne Warwick, and Luther Vandross.
Van Zandt is also a very versatile support player. He had Tony Soprano's back when he played consigliere Silvio Dante on The Sopranos, and he backed Russell when the actor belted out "Santa Claus Is Back in Town" in the original 2018 Christmas Chronicles. Both holiday films were directed by Chris Columbus, who directed Home Alone 2: Lost in New York (1992), which also just so happened to feature Love singing a Van Zandt number, "All Alone on Christmas." That tune has since become a Christmas standard of its own, even appearing unironically in another Christmas movie classic, Love Actually.
But then you're never alone on Christmas if you have Love, and she's been a voice of the holiday since 1963 when she sang "Christmas (Baby Please Come Home)." Written by Ellie Greenwich and Jeff Barry, and co-credited to Phil Spector, the song was part of the compilation album, A Christmas Gift for You from Phil Spector. It was released as a holiday single on the same day President John F. Kennedy was assassinated and didn't make the charts. Spector released it again for the 1964 holiday season, but the tune again didn't make it down many more chimneys.
Love had a string of hits during the 1960s, including "He's a Rebel," "The Boy I'm Gonna Marry," and "He's Sure the Boy I Love." But the song "Christmas (Baby Please Come Home)," recorded in a decorated studio even though it was 100 degrees outside, only played a muted part in any Christmas playlists.
That all changed when David Letterman christened Love as the "Christmas Queen." In 1986 Love played herself in the off-Broadway jukebox musical Leader of the Pack. Paul Shaffer, who was the musical director of NBC's Late Night with David Letterman, played Spector. The night after Letterman saw the show, he brought joy to the Worldwide Pants production audience, announcing he'd just seen a show with the greatest Christmas song he'd ever heard.
Backed by The World's Most Dangerous Band, Love performed "Christmas (Baby Please Come Home)" on Letterman's show every December from 1986 to 2014. She only missed one year, 2007. When Letterman left networks in 2015, Love took the tradition to ABC's The View where she continues to pour on the cheer.
The song topped Rolling Stone's 2010 list of "The Greatest Rock and Roll Christmas Songs." Since 2016, "Christmas (Baby Please Come Home)" has been on the Billboard Holiday Airplay chart every year. It hit No. 29 the first week of January in 2020. You can hear it in Goodfellas, right after Robert De Niro's Jimmy Burke tells his crew not to spend their Lufthansa Heist money in one place.
A veteran live performer, Love also takes "Christmas (Baby Please Come Home)" on the road. Every year from the middle of November until early January, the singer performs "Love for the Holidays" shows across North America and Europe. This year, Love will stream her "Love for the Holidays" spectacular. Filmed in November at New York City's Sony Hall, the concert will be available online via ShowClix on Dec. 5 at 8pm. The proceeds will be gifted to theaters and arts institutions which have been affected by the coronavirus pandemic across the country.
The Christmas Chronicles 2 is available on Netflix.