News
Upcoming TV Shows and Movies Back in Production After the Strikes
From Stranger Things season 5 to Deadpool 3, Hollywood is getting back in gear following the conclusion of the SAG-AFTRA strike.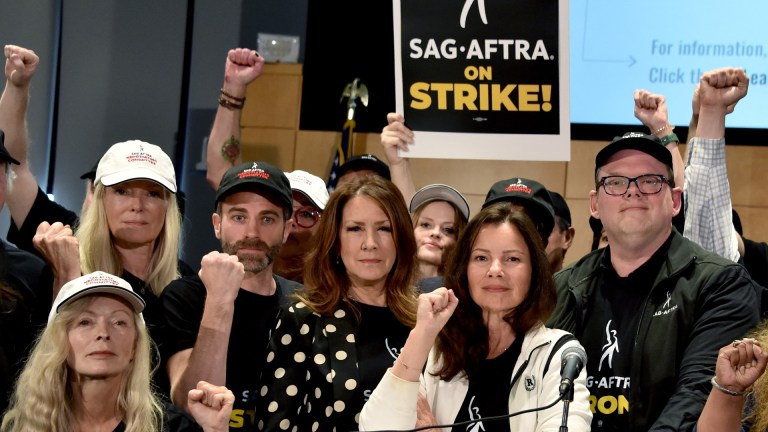 OK it's really over now. Like for real. As of 12:01 a.m. PT on Nov. 9, the SAG-AFTRA actors strike has officially concluded…just over a month after the WGA writers strike came to an end. The acting guild has reached what it says is an "unprecedented" one billion dollar agreement with the Alliance of Motion Picture and Television Producers (AMPTP) that includes streaming participation bonuses and protection against the use of A.I.
There will be ample time in the weeks to come to pore over the details of SAG's new contract and celebrate what is surely a monumental win for labor in the United States. For now, however, we can all rest assured hat Hollywood is getting back to work and we're about to see some of our favorite movies and TV shows again.
Following the end of the writers strike, we presented a list of the TV shows that would be able to reopen their writers' rooms. But as you might have now realized, there's a world of difference between writing something and actually filming it, the latter of which cannot be done without actors. With the production trinity of the writers, actors, and directors guild now back in play, the entertainment industry can truly get down to business. So let's get our bearings and figure out what will filming again soon.
What follows is a comprehensive catalog of all the TV shows and movies that will be able to get back to work soon.
Television
Unless otherwise noted and linked, information sourced for TV production returns come from Deadline, USA Today, Cinemablend, ABC News, and The Independent.
Network TV Shows Filming Again
Network television is a unique beast in the entertainment landscape. Thanks to a super tight production schedule, network dramas and comedies were among the first entities affected by the dual strikes and as such they'll be among the first ones to make it back to air.
Deadline (linked above) has a thorough and helpful breakdown of how the network TV season might look this year. The upshot of it all is that, due to the upcoming holiday breaks, most shows likely won't make it back until February or March and when they do they will churn out abbreviated 10-13-episode seasons. These shows include:
– All Law & Order series (~13-episodes each)
– All FBI series (~13-episodes each)
– Grey's Anatomy Season 20 (~10-episodes)
– Ghosts Season 3 (~10-episodes)
– CSI: Vegas Season 3 (~10-episodes)
– 9-1-1 Season 7
– Criminal Minds: Evolution Season 2
– NCIS Season 21
– Night Court Season 2
New network series will require more lead time with most premiering later in 2024 and maybe even 2025. These include:
– High Potential (ABC)
– St. Denis Medical (NBC)
– Dr. Wolf (NBC)
– Rescue: Hi-Surf (Fox)
– Matlock (CBS)
– Poppa's House (CBS)
Stranger Things Season 5
Of all the studios in AMPTP, Netflix has to be the one breathing the biggest sigh of relief following the conclusions of the strikes. The premier streamer quite simply needs the final season of its biggest hit Stranger Things and it needs it fast. Stranger Things season 5 was set to begin filming before the dual-strikes interrupted it. The writing team, led by showrunners The Duffer Brothers, was able to get back to work following the resolution of the WGA strike. Now that the SAG strike is over, Deadline reports that filming on Stranger Things season 5 is set to begin within a couple of weeks.
The Boys Season 4
Even before the SAG strike ended, The Boys season 4 seemed to be on the horizon. Prime Video even promised a 2024 release and unveiled some first look posters on Nov. 7. Thanks to a post-strike message from showrunner Eric Kripke, we now understand why Amazon was so confident the show could be back soon. It seems as though there really much else for the actors to finish here.
Yellowstone Season 5
Paramount Network has announced that the final episodes of Yellowstone will air in November 2024. With SAG back in the fold, the drama should be able to meet that timeframe now. It remains to be seen, however, if disgruntled star Kevin Costner will return.
Andor Season 2
Andor season 2 was just weeks away from completing production when the SAG strike arrived. Now the Disney+ Star Wars spinoff should be able to get rolling again soon.
The Last of Us Season 2
Prior to the writers strike, The Last of Us showrunners Craig Mazin and Neil Druckmann had season 2 of the post-apocalyptic HBO series all outlined out and ready to go. Presumably they got some actual scripts written when the writers strike resolved but actual filming might be a little ways away.
Severance Season 2
Severance reportedly ran into some production issues even before the strikes began. Hopefully those are resolved as the second season of Apple TV+'s spooky work drama should be able to pick up filming again soon.
Daredevil: Born Again
Marvel's Disney+ reboot of its Netflix Daredevil franchise has reached a bit of a standstill. Reportedly, Marvel chief Kevin Feige wasn't pleased with the direction of the first attempt at the show and is restarting production with new showrunner Dario Scardapane and new directors Justin Benson and Aaron Moorhead. Any future delays for the series certainly won't have the strikes to blame.
The Penguin
Max's Penguin-focused The Batman spinoff series starring Colin Farrell suspended filming shortly after the SAG strike began. It should be among the first comic adjacent productions able to get back to work.
The Handmaid's Tale Season 6
The Handmaid's Tale season 6 had not yet begun filming yet when the strikes began but should be able to do so soon.
Cobra Kai Season 6
Cobra Kai season 6 had not yet begun filming yet when the strikes began but should be able to do so soon.
Wednesday Season 2
Wednesday season 2 had not yet begun filming yet when the strikes began but should be able to do so soon.
Completed Shows Premiering Soon
Of course, even before the strikes were resolved, Hollywood was able to complete some series and get them on the schedule. Here is a list of upcoming shows that weren't affected by either strike and will be releasing soon:
– True Detective Season 4 – Jan. 14 on HBO
– Masters of the Air – Jan. 26 on Apple TV+
– 3 Body Problem – January on Netflix
– Fallout – April 12 on Prime Video
You can find our full schedule of upcoming U.S. TV releases here.
Movies
These are some of the big movie productions that will be able to get rolling again:
Deadpool 3
While the actual date when the Merc with a Mouth sequel resumes production is unknown, every indication appears to be that shooting will be imminent. When the Deadpool 3 production paused this past July, shortly after it was revealed Hugh Jackman's Logan would be joining Ryan Reynolds' superhero in the iconic yellow and blue Wolverine costume, the film was reportedly about halfway through production. And given the state of other Marvel films slated for next year that hadn't even gone before cameras when the strikes hit, this made Deadpool 3 an especially major priority for Marvel Studios. Which is why it's pretty reassuring that Ryan Reynolds posted the below message on Instagram earlier Thursday morning. With an image of his dog in a proper Deadpool onesie, Reynolds promised, "Coming with the movie, Summer 2024." So we suppose it's time for maximum effort.
Beetlejuice 2
Another film that is sure to make its summer 2023 release date with a return in front of cameras is Tim Burton's long-discussed Beetlejuice 2. According to Deadline, the Ghotest with the Mostest sequel incredulously only had two days left of filming before the SAG-AFTRA strike brought things to a halt. With such a small amount of time left, and Warner Bros. undoubtedly anxious to meet their Sept. 6, 2024 release date (if not perhaps earlier), it seems likely production will be wrapped up soon. This seems further apropos since in addition to featuring Michael Keaton and Winona Ryder returning to their iconic roles, the film also features Jenna Ortega who has several other projects lined up to begin production shortly, including one below….
Gladiator 2
A film that was already a month into production when the SAG-AFTRA strike brought things to a halt last July, Ridley Scott's long rumored sequel to Gladiator is actually happening and, more tellingly, has refused to move off its Nov. 22, 2024 release date. Furthermore, the sets the film has built in Morocco, Malta, and the UK are still standing, and production is expected to resume ASAP. The film sees Scott follow up on his Oscar-winning 2000 movie by following the gladiatorial exploits of Lucius, the nephew of Joaquin Phoenix's dastardly Emperor Commodus in the original film. In the sequel, the now adult would-be emperor is played by Paul Mescal of Aftersun. The film also stars Denzel Washington, Pedro Pascal, and Connie Nielsen returning to the role of Lucilla.
Venom 3
Unlike the films above, this superhero sequel had not actually begun rolling before cameras when the SAG-AFTRA strike began. However, Sony Pictures demonstrated confidence the strike was coming to a close when they announced they were moving Venom 3 to the release date of Nov. 8, 2024 only a few days ago—in other words less than a year from right now. So expect things to start moving fast. The film features Tom Hardy returning to the role of Eddie Brock/Venom and also has Juno Temple and Chiwetel Ejiofor signed on to appear. It will also be the third Venom film helmed by a new director, in this case Kelly Marcel making her directorial debut after working on the screenplays of the first two Venom films, as well as Fifty Shades of Grey.
Juror No. 2
An actual non-sequel to immediately benefit from the end of the SAG-AFTRA strike is Clint Eastwood's next film. According to the same Deadline report mentioned earlier, the film only had a dozen days left in production when the strike began last summer. In a change of pace, the film seems to offer a modern morality play when a juror in a high-profile murder trial is faced with an ethical dilemma about how to decide another soul's fate. The film marks a reconciliation between Eastwood and his longtime home studio, and stars Nicholas Hoult, Toni Collette, Zoey Deutch, and Kiefer Sutherland.
Death of a Unicorn
A film that not so much benefitted from the end of the SAG-AFTRA strike as it did the inception of it, we thought it worth noting one film that just wrapped production in the shadow of the labor disagreement. As Alex Scharfman's directorial feature debut, the film is an apparently dark comedy about what happens when a father and daughter need to grapple with the fact that they ran over a unicorn on the interstate. It sounds like a fine A24 subject matter, which is why the film was able to go into production as the strikes delayed both Beetlejuice 2 and Wednesday Season 2. As a consequence indie tastemakers A24, which reached an understanding with the WGA and SAG-AFTRA that allowed them to keep working, was able to put this film into production with Jenna Ortega and Paul Rudd as the aforementioned father and daughter. The film also stars Will Poulter, Richard E. Grant, and Téa Leoni.
Check out all of the upcoming movies still releasing in 2023 here.