Features
The Boys Teases a Major Season 4 Plotline
The Boys season 4's first look suggests a political storyline that may tie in to a Homelander arc from the comics and real-world events.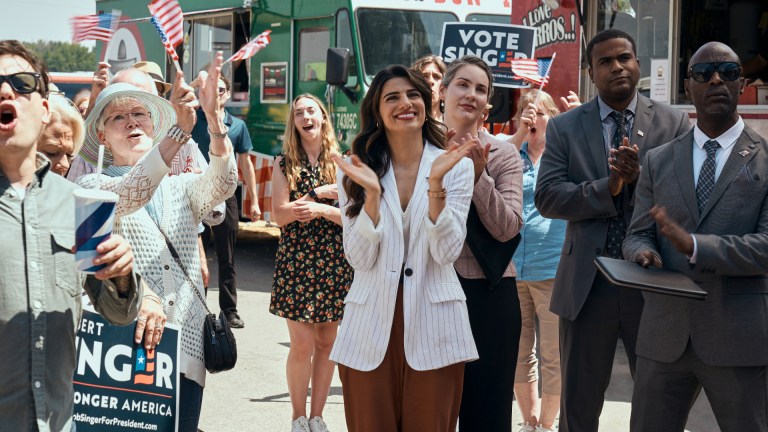 This article contains spoilers for the Gen V finale and The Boys comic.
With the bloody first season of Gen V now over, Amazon Studios has released first look posters for the next chapter in this universe, The Boys season 4. Season 3 of The Boys and Gen V have both been building toward an important presidential election, and these images hint at who may end up winning.
The images are simple – the first shows Homelander (Antony Starr) standing triumphantly as confetti rains down upon him while the second shows Butcher (Karl Urban) staring down at the aftermath of the celebration, clearly disappointed in the results.
Their respective reactions likely mean that Robert Singer (Jim Beaver) and Victoria Neuman (Claudia Doumit) won the election. Even though Neuman has been outwardly pushing for supe reform, she made an alliance with Homelander at the end of season 3 that included her ousting her own adopted father, Stan Edgar (Giancarlo Esposito), from Vought and giving over Ryan's location in exchange for Homelander getting rid of Singer's VP frontrunner, Lamar Bishop (Graham Gauthier), and supporting her candidacy. Homelander is on board with this plan, and even sends the Deep (Chace Crawford) to kill Bishop in his swimming pool.
Other than gaining more unchecked power for themselves, it's unclear what the endgame of this alliance is, especially where Homelander is concerned. Gen V showed that the Supe Lives Matter supporters, who are clearly on Homelander's side as his trial goes forward, are against Neuman being in the White House. Since she's still trying to keep her powers a secret, they see her as another human that wants to limit their potential.
However, a look at the comics may hint at an even more sinister reason for Homelander's look of triumph. Even though The Boys has diverged greatly from its source material, one of Homelander's major comic arcs would still tie in with how Homelander has been depicted in the series. In the comic "Over the Hill With the Swords of a Thousand Men," Homelander stages an insurrection on the White House and Pentagon that first appears to be backed by Vought, but is later revealed to be a coup of Homelander's own creation.
The Boys has never shied away from making Homelander and his supporters as similar to a certain reality show host/former president and his rabid fan base as possible. With Homelander's ongoing trial and the growing Supes Lives Matter movement, a supe-led insurrection based on the results of his trial and/or the election isn't entirely outside the realm of possibility. Since Homelander is pushing the narrative that Cate (Maddie Phillips) and Sam (Asa Germann) are the saviors of God U and not the ones who took over the campus, he could be taking them under his wing and preparing them for a larger-scale version of what went down in the Gen V season finale.
In the comics, the president Robert Schaefer and his VP Victor Neuman (sound familiar?) are killed shortly after they take office, and the show could see something similar happen to Singer in order for Neuman and/or Homelander to take control of the White House for supes. If Singer gets killed in a supe insurrection, but Neuman miraculously survives to succeed him, that would certainly make for a convenient transition of power. And if Homelander ever oversteps their agreement? Well Neuman now has Dean Shetty's (Shelley Conn) supe-killing virus at her disposal to keep him in line.