Features
How a Writers Strike Undid One of the Worst James Bond Movies
As a new writers strike grinds Hollywood to a halt, we recall when the last one did the unthinkable: It left James Bond shaken and stirred.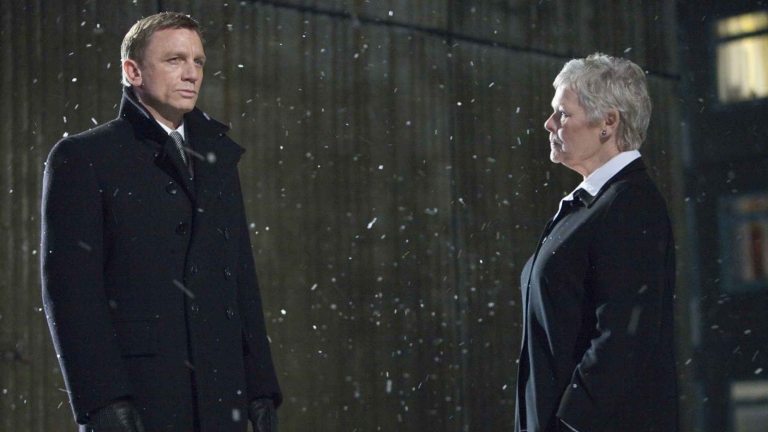 Michael G. Wilson, the longtime producer of the James Bond movie franchise and co-steward of the 007 brand (alongside his half-sister Barbara Broccoli), always had a clear vision for the film that would follow Casino Royale. Kind of. While audiences only realized how great Daniel Craig was in the tuxedo after that ambitious reboot landed in cinemas in November 2006, the filmmakers long recognized they were making something special. So even as Casino Royale was still in pre-production, Wilson took longtime Bond scribes Neal Purvis and Robert Wade aside to make sure that the next Bond movie would spring smoothly out of Casino Royale's ending.
If you don't recall, Craig's debut as 007 recreated the bitter denouement from Ian Fleming's 1953 novel, with Bond realizing the woman he loved, Vesper Lynd (Eva Green, onscreen) was dead, and that she had betrayed him due to blackmail by a hidden enemy. "The job's done, the bitch is dead," Bond tersely mutters, unconvincingly posing as a tough guy misogynist who doesn't care about Vesper.
But Bond movies being Bond movies, the film version doesn't end with Vesper's betrayal of her country, and Bond's betrayal of her memory. Instead we get a snappier, crowd-cheering moment: the man who seemingly orchestrated her blackmail, the enigmatic Mr. White (Jesper Christensen), returns to his chateau by Lake Como, only to get a bullet to the kneecap.
And in October 2005, a full year before Casino Royale's debut, Wilson brought Wade and Purvis aboard to get cracking at once so that the follow-up would cleanly pick up where they left off. Enter an opening sequence where Bond intentionally lets Mr. White go in the Italian city of Siena. From there, he follows the fiend into the bowels of a secret organization ruled over by a man called Dante, who's built an international inferno that includes Vesper's ex-lover (who feigned his kidnapping) as a top lieutenant.
This was the earliest idea for the movie that became Quantum of Solace. And any audience familiar with that 2008 film will know that other than staging an early scene in Siena, it bears almost no resemblance to the movie Wilson eventually produced. Which is to say a lot changed in the writing process between inception and production… the most crucial aspect of which was the writers strike that lasted from late 2007 to February 2008.
So as we are now at the beginning of another long (and needed) pause in Hollywood production, with the Writers Guild of America going on strike in 2023 to demand fairer treatment in the age of internet streaming, it seems fitting to look back on how vital writers are… particularly on films that went into production without finished scripts.
That's what happened to Quantum of Solace, which began second unit photography in the summer of 2007 before the latest draft by Paul Haggis (who also polished the dialogue and character work in Casino Royale) was finished. In fact, the case could be made that Haggis never actually finished what was intended to be the final draft of Quantum of Solace.
In December of that year, he told The New York Times, "The script did arrive two hours before the writers walked out." He also claimed at the time that director Marc Forster was relieved because at last he had "a script I can shoot."
Producer Broccoli remembered it differently more than a decade afterward, however. While being interviewed for Apple TV+'s retrospective on Craig's tenure as 007, Being James Bond, the producer said, "We basically started shooting without a script, which is never a good idea. But the script was turned in, and I remember the writer who turned the script in picked up his check and then picked up his placard and stood outside the studio striking. We were kind of screwed, and we all had to muddle in and try and make the story work."
That recollection feels more honest given the inherent problems with Quantum of Solace. Not so fondly regarded by Craig, who in one 2021 podcast referred to the movie as "a shit show," the 22nd James Bond film entered that early drafting process in 2005 with the hope of beating the then-potential 2007 writers strike. It didn't succeed.
This was of course also a different time for the Bond franchise. When the series was created, original Bond producers Cubby Broccoli and Harry Saltzman were turning out a new 007 flick nearly every year of the 1960s, most of which starred Sean Connery. And when George Lazenby did controversially take over the role for Connery in '69, it was only two years removed from the previous entry, You Only Live Twice (1967).
By the 1990s, the resuscitated Bond franchise of the Pierce Brosnan era was turning in new installments every two years between '95 and '99, and then with only a three year gap between The World Is Not Enough (1999) and Die Another Day (2002). After a four-year hiatus (fancy when that seemed like a long break for the series?), Broccoli and Wilson's Eon Productions was eager to keep the Craig films churning quickly, with what eventually became called Quantum of Solace essentially beginning pre-production before cameras on Casino Royale even rolled.
However, the process backfired when neither Purvis and Wade's early drafts or Haggis' arguably unfinished rewrite, were able to get in under the wire to anyone's satisfaction. Consider this: Even after the script was "finished" in November 2007, the picture wasn't even titled Quantum of Solace until Wilson selected (or settled for) this obscure turn of phrase from Fleming in January 2008. By then they were on their own.
The actual film likewise feels like a collection of compromises or half-developed ideas in its finished form. Before the strike, Haggis was even trying to convince the Bond producers to introduce the concept of Vesper Lynd having a child whom Bond discovers (an idea that might have echoes in 2021's No Time to Die). The plan was aborted, but the resolution of Bond's grief over Vesper runs almost in parallel, and isolation, of the film's main plot, which involves an impenetrable conspiracy about somehow stealing the water rights from the nation of Bolivia.
By Craig's own later admission, the finished film is the result of him and director Forster attempting to write it amongst themselves while they were shooting.
In a 2011 interview, Craig said, "On Quantum, we were fucked. We had the barebones of a script and then there was a writers' strike and there was nothing we could do… So there was me trying to write scenes—and a writer I am not." He added, "Me and the director were the ones allowed to do it. The rules were that you couldn't employ anyone as a writer, but the actor and director could work on scenes together. We were stuffed. We got away with it, but only just."
Some viewers might argue they never fully got away with it. Quantum of Solace matches Spectre (2015) as the worst reviewed installment in Craig's oeuvre as Bond, as per the review aggregate site Rotten Tomatoes, and QoS frequently winds up at the bottom of polls and rankings of the entire 007 canon (including our own). It is an ungainly story that never found its proper footing. It might also be telling that afterward, Eon would let years and years pass—including a whopping six between Spectre and No Time to Die—before rushing a 007 film in front of cameras again.
This also remains a cautionary tale about how important writers are in the creative process. And in an era where the industry increasingly is attempting to turn the profession into a part-time hustle where writers on an international hit Hulu series can still find themselves driving Ubers for executives around Hollywood, something probably needs to change.