News
BBC Deletes Doctor Who Series 14 'Spring 2024' Release Date
A mistake, an assumption, or simply too soon to say?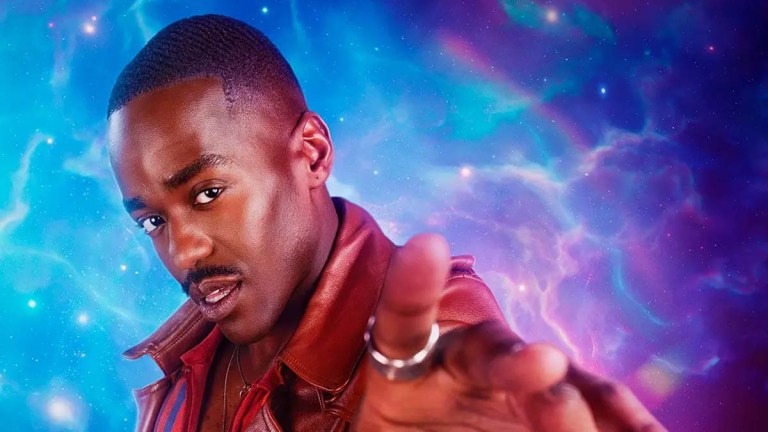 It sounded great, didn't it? Three hour-long Doctor Who anniversary specials in November, a Christmas (not just "festive") episode, and a new season starting much earlier than many had assumed it would. That was the announcement made on Tuesday August 22 by this post on the Culture section of the BBC's website, as reported (and screen-grabbed) by multiple online outlets.
The original BBC statement read as follows:
"Three hour-long special episodes of Doctor Who will be available from November 2023, with a Christmas special dropping in December and a new season in Spring 2024."
Go to the same page today, Thursday August 24, and the same statement currently reads:
"Three hour-long special episodes of Doctor Who will be available from November 2023, with a Christmas special dropping in December."
After the Spring 2024 release date was seized on and widely reported online, someone's been in with the digital scissors and snipped it out (screengrab below).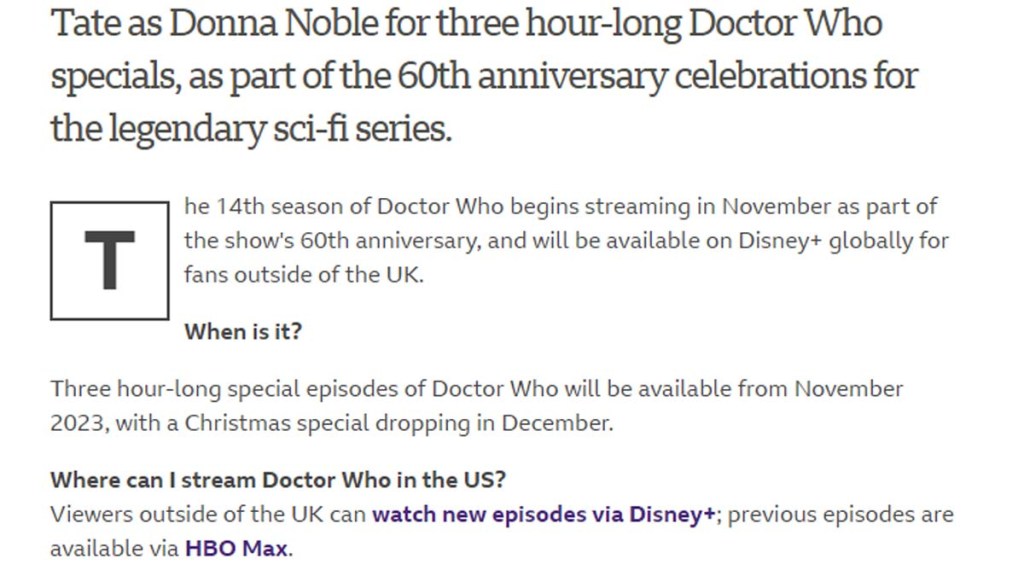 There are a couple of possible reasons that's happened: either the original post was inaccurate and written based on an unconfirmed assumption, or alternatively, Doctor Who series 14 is indeed planned to air from Spring 2024, but that news wasn't supposed to have been made public yet.
It seems likely, judging by the intricate pre-publicity cryptic clues and teaser campaigns already run for Doctor Who's return, that the show's bosses wouldn't have wanted news as momentous as the new series release date to slip out in such unadorned style. (They'd surely have preferred to bake the date into a cake and hidden it in an eagle's nest at the peak of Yr Wyddfa for the first lucky fan who solves a series of Instagram-based clues to retrieve.) If so, then the deleted statement may well be confirmed at a later date, just with more razzamatazz.  
If Spring 2024 is eventually confirmed as the show's return date, that would be in keeping with returning showrunner Russell T Davies' tradition. All four of Davies' Doctor Who series had either a March or April start-date on BBC One, as well as Christmas Day specials rather than the recent "festive" New Year's Day trend.
Filming wrapped in July 2023 on series 14's eight new episodes, which are now in post-production. Joining Ncuti Gatwa and Millie Gibson as the Doctor and companion Ruby Sunday will be: Bonnie Langford returning in the role of companion Melanie Bush, Jemma Redgrave as UNIT's Kate Lethbridge-Stewart, Indira Varma as the mysterious "Duchess", Aneurin Barnard as sinister politician Roger ap Gwilliam, plus musician Jonathan Groff, drag and Broadway star Jinkx Monsoon, Am I Being Unreasonable's Lenny Rush, and many more.
Before all that, three hour-long 60th anniversary specials ('The Star Beast', 'Wild Blue Yonder' and 'The Giggle') starring David Tennant, Catherine Tate, Neil Patrick Harris, Yasmin Finney, Ruth Madeley and more will air on BBC One and Disney+ in November 2023.
And as for the officially stamped series 14 release date, we await word from the BBC and Disney+.
Doctor Who returns to BBC One, BBC iPlayer and Disney+ in November 2023 for the 60th anniversary episodes.