Features
Doctor Who's New Villain: Who Is Jinkx Monsoon?
She's already conquered Drag Race and Broadway – now Jinkx Monsoon is coming for The Doctor as their "most powerful enemy yet". Here's all you need to know.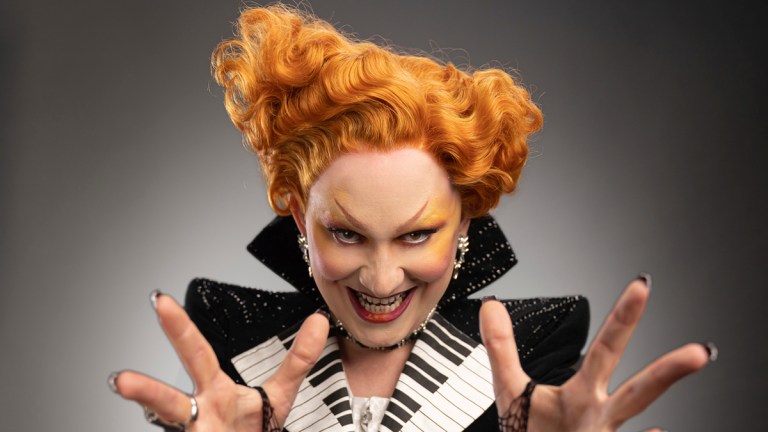 Warning: this article contains spoilers for Drag Race Series 5 and All Stars 7
The day Doctor Who announced Jinkx Monsoon was joining the Series 14 cast in 'a major role', social media went into an excited meltdown. The official announcement tweet got almost as much engagement as the 60th anniversary trailer and the video of Jodie Whittaker's shock regeneration twist:
While there's certainly crossover between their two fandoms, one of the great things about this casting is it will introduce a new audience of fans both to Doctor Who and Jinkx. Frequent visitors to this site probably know a fair bit about the former, but here's your handy primer to all things Jinkx Monsoon:
Jinkx First Won Our Hearts on RuPaul's Drag Race
"I am Seattle's premier Jewish narcoleptic drag queen" Jinkx pronounced in the first episode of RuPaul's Drag Race series 5, and that pretty much sums up the quirky-but-clever comedic style that ultimately saw her crowned America's Next Drag Superstar.
While there were some on-screen clashes with other contestants who didn't seem to appreciate her kookiness and lack of pageant polish (and sometimes even mocked her narcolepsy), it was this vibrant individuality and quick wit that saw Jinkx stand out from the crowd and become a fan favourite.
She wowed the judges with her spoof perfume advert ("Delusion – convince yourself"), her extravagant theatrics in the faux Latin telenovela acting challenge, and her memorable impression of the eccentric socialite Little Edie in the Snatch Game (the Drag Race version of Blankety Blank, or Match Game as it's known in the US).
Then Jinkx Won Drag Race… Again!
In 2022, Jinkx Monsoon became the first drag queen to win two seasons of Drag Race when she was crowned the champion of the show's seventh All Stars series (where some of the most memorable queens from previous seasons return to compete again).
Among her many highlights – including a savagely witty but NSFW Roast performance – was her iconic impression of Judy Garland in the Snatch Game (see above), which was an instant viral sensation thanks to its pure comic genius. 
Like Judy Garland, She's No Stranger To Musical Theatre
Before coming to fame as Jinkx, they (real name Jerick Roman Lamar Hoffer) studied musical theatre and began their career in Seattle's theatres, appearing as Moritz in the rock musical Spring Awakening, Angel in RENT, and Velma in Hairspray.
Post Drag Race, she also released two studio albums, The Inevitable Album and The Ginger Snapped.
Then, in January 2023, Jinkx Monsoon made history by becoming the first drag queen to perform in a major Broadway musical, as she joined the cast of Chicago as Mama Morton for a sell-out eight-week run.
Next Stop… The TARDIS!
Although her character is as yet undisclosed, we know that Jinkx will be playing a "major" role in Series 14, and when Doctor Who released pictures of Jinkx in costume they described her as "the Doctor's most powerful enemy yet":
While the only official word from showrunner Russell T Davies on the news is:
"In a galaxy of comets and supernovas, here comes the biggest star of all. Jinkx Monsoon is on a collision course with the TARDIS, and Doctor Who will never be the same again!"
Davies also hinted in a recent Instagram post that this "spectacular" role was six months in the making, and there will be more details in next month's Doctor Who Magazine:
We'll keep you posted.
Doctor Who returns in November for its 3-part 60th anniversary special starring David Tennant and Catherine Tate, before series 14 launches with Ncuti Gatwa in the TARDIS.