Features
Best TV Comedies on Hulu Right Now
The roster of TV comedies on Hulu is deep, diverse and most importantly, hilarious.
Editor's Note: This post is updated monthly. Bookmark this page and come back every month to see what excllent TV comedies are being added to Hulu.
Updated for March 2020. 
You can see a complete list of new Hulu releases here.
The list of the best TV comedies on Hulu is essentially the list of the best TV comedies available for streaming anywhere, period. Every streaming service has its advantages and for Hulu, TV comedies certainly reign supreme.
Hulu has a staggering amount of good TV comedies from a diverse array of sources. In addition to hosting its own originals, Hulu has half-hour comedies from what seems like virtually every network in existence. It also includes classics from way back when like I Love Lucy to recent classics like Seinfeld to "now" classics like Rick and Morty.
Check out the list of best TV comedies on Hulu and let us know what we missed. With a roster this deep, we're bound to have missed something.
Seinfeld
Fun fact: did you know that Julia Louis Dreyfuss' Elaine doesn't appear in the Seinfeld pilot? You probably knew that because every single fact about Seinfeld is known. It's one of the most re-run, studied, poked at, watched, investigated TV shows of all time.
Still, I didn't know it until I watched the pilot recently. And that's the fun thing about Seinfeld. It's one of the most-watched and "studied" sitcoms of all time but at the end of the day it's also still a great, uproriously funny show about nothing. You've already seen approximatley 1,000 rerun episodes. Why not start it from the beginning on Hulu?
Archer
The first thing you notice about Archer is the animation. It's beautiful, classy and perfectly fitting for its hihg-minded spy comedy premise. Then you watch a little more and realize the animation almost doesn't even matter. Archer is highly verbal and completely hilarious.
It's like a radio play that somehow made its way to television. Thank God it did because when Archer is on, there are few other comedies that can touch it in terms of sheer laughter. If I had to teach a class on comedy to burgeoning comedy writers, an exploration of season one's "Skytanic" would be the final test.
Saturday Night Live
Live from New York it's Saturday night! And you're alone on your couch in need of something to binge (you're a total loser, btw). Why not begin an ambitious binge watch of one of TV's oldest and most important franchsies? Saturday Night Live began way back in 1975 featuring eventual comedy megastars like Bill Murray and Chevy Chase.
Since then it's been the axis of the entire comedy world. Generations have relied on SNL for their dose of political humor and Hollywood has relied on it to fill out the casts of its various high-budget comedies. Thanks to Hulu you can now revisit any era of the show whenever you want.
Brooklyn Nine-Nine
Brooklyn Nine-Nine is just a delight. It's the story of a Brooklyn police department and the goofballs who populate it. Goofballs like Andy Samberg's excitable Jake Peralta or Andre Braugher's hilariously stoic Captain Holt.
It comes from Parks and Rec and The Good Place creator Michael Schur and is yet another prime example of the kind of happy workplace comedies Schur can pretty much do in his sleep by this point. It's a perfectly bingeable, low-maintenance watch that's only available to stream on Hulu.
Black-ish
Half-hour comedies are currently fluorishing across televisoin. Unfortunately, the old head networks have had a hard time keeping up with teh arms race. Thank God for for Black-ish then, a whip-start, truly funny and worthwhile sitcom available for a wide audience on ABC.
Anthony Anderson and Tracee Ellis Ross star as the patriarch and matriach of a middle-class, suburban Black American family. The show deftly and hilariously covers all the anxieties and pratfalls of that situation – the concept of feeling only "black-ish."
It's Always Sunny in Philadelphia
It all started with $200 and a camera*. FX and FXX's flagship comedy is now 12 seasons in and on pace to break multiple TV show longevitiy records after the most inauspicious of beginnings. It's Always Sunny has lasted for so long for a simple reason: it's very, very funny.
Creators Rob McElhenney, Charlie Day and Glenn Howerton understand both humor and character. And their mastery of each has created a hilarious show where a group of terrible people continue to make one antoher's lives a living hell with their hare-brained schemes and general ignorance. This is truly one of the best TV comedies Hulu…and TV.
*Charlie Day has since claimed that even that $200 budget number for the pilot was inflated. It really cost closer to $0.
Community
Community really is the perfect brainchild of its creator, the, let's say, mercurial Dan Harmon. It's brilliant, empathetic, inconsistent, strange and hilarious. Harmon produced one good season of the show then followed it with two amazing, near pitch-perfect seasons before his clashing with NBC got him fired and led to a terrible season 4.
Then he came back for a good season 5 before finishing it all with a decent season 6 on Yahoo Screen. Hulu has all six seasons available to stream and when all watched in succession the episodes present an interesting case study on the vagaries on network TV politicking…not to mention a tremendously funny experience.
Angie Tribeca
Ever wish Airplane were a TV series? Well it is. It just happens to be called Angie Tribeca and have nothing to do with airplanes or airports. Angie Tribeca comes from creators Steve and Nancy Carell and airs regualrly on TBS. It has perhaps the most unique sense of humor in all of television: childish, playful, punny and weird.
This bizarre series starring Rashida Jones in the title role as a detective has never encountered a pun that it didn't immediately wrestle to the ground and make sweet love to. This makes the show it's own strange beast, different from almost any other comedy on TV but a perfectly pleasant watch all the same.
The Mary Tyler Moore Show
When Mary Tyler Moore passed away in early 2017, many tributes rightfully praised her show for opening up new avenues in both television and comedy for women.
The Mary Tyler Moore Show deserves all the credit in the world for that but let's also not lose sight of how astonishingly funny and ahead of its time the show is. Watch The Mary Tyler Moore Show for yourself on Hulu and marvel at how well the humor translates to a modern era.
Key & Peele
Sketch shows are excellent binge streaming material. Don't like the current sketch? Just wait 5-10 minutes and there will be another one you might enjoy. Not liking sketches shouldn't be a frequent issue you come across with Key & Peele, however.
Keegan Michael Key and Jordan Peele's Comedy Central sketch show is remarkable in its consistency. Sure, there are plenty of viral-friendly comedy hits but each and every episode features surprisingly few duds. Watch them all and then let yourself become hopelessly attached to your favorite skit like I am with continental breakfast.
Frasier
Who eats tossed salad and scrambled eggs anyway? Frasier is kind of like the platonic ideal of half-hour '90s sitcoms. It's smart, funny and just kind of moves along as a leisurely pace. Kelsey Grammar more than has a handle on his radio psychiatrist character Frasier Crane after depicting him for the better part of two decades.
Frasier is the perfect show for people who enjoy Friends but wish the characters enunciated more clearly and had a more expanded vocabulary.
South Park
It's hard to remember life without South Park. Comedy Central's longest-running series began way back in 1997 when gas cost….actually gas prices are kind of reasonable again so the $1.29 1997 gas price isn't that astonishing. Still, South Park is among as old an important a TV institution as we have.
Trey Parker and Matt Stone have moved on to other things and other mediums as they continue their EGOT destruction of the media landscape. Thankfully, the creative duo still have room in their heart for the highly political comedy about four kids in a quiet Colorado town.
The Mindy Project
Of all the cast members of The Office, Mindy Kaling has continued the strong TV comedy tradition the best. Kaling both starred on and wrote for The Office and her deep understanding of TV comedy is apparent. The Mindy Project is admirable in its experimention. When something isn't working, Kaling and the writers change it.
When something is working, they expand upon it. The Mindy Project lives up to its title in interesting, unexpected ways. It's like Mindy Kaling's comedy thesis and it's brought her more than a passing grade.
I Love Lucy
I Love Lucy is still flat out funny in ways that very few black and white comedies are able to be with modern audiences. Lucille Ball's debut show feels shockingly modern for something from the '50s. And that's because I Love Lucy in many ways created the format of the TV sitcom.
Lucy lives a hectic, entertaining life with her husband Ricky Ricardo (Ball's real-life partner Desi Arnaz) and the half-hour episodes are perfect vehicles for Lucy's wild physical humor.
The Last Man on Earth
Ok so Will Forte's character Phil in The Last Man on Earth really isn't the last man, or human being, on Earth. Still it's an apt title for a comedy that deals heavily with loneliness and isolation. For the amount of time that Phil alienates his fellow apocalypse survivors, he may as well be the last man on Earth.
The Last Man on Earth is a smart, incredibly ambitious comedy from the minds of Forte and current comedy-writing superheroes Phil Lord and Christopher Miller. Bless these brave souls who though "You know what could be funny? The near complete and utter annihilation of mankind." And they were right.
Broad City
For awhile there it looked like every single Internet series was going to find its way to traditional television. This, of course, was from the dark days of humanity in which we didn't realize that most things on the Internet were garbage and should be avoided at all costs. Thankfully, Broad City made the jump from the web to Comedy Central and it turned out to definitively be not garbage.
Abbi Jacobson and Ilana Glazer's series about two young women doing their thing in New York is wickedly funny and intelligent. It's one of the rare series that depicts Milennials doing their own Milennial thing without coming across as condescending or outright annoying.
Parks and Recreation
Ahhh Parks and Rec, where to even begin? The story of Pawnee parks and recreation department deputy Leslie Knope (Amy Poehler) is one of TV's best ever stories, let alone comedies. The Michael Schur-created Parks and Recreation is a love letter to TV. Pawnee is like a live-action Springfield and the show creates a full, believable world despite a limited network budget.
And in that world is a host of likeable and hilarious characters doing their best to better their community and only occasionally succeeding. Calling Parks and Rec TV comfort food may seem like a slight to one of the smarter comedies of the decade but it's accurate all the same.
The Venture Bros.
Rick and Morty fans are currently going through a pain that fans of its Adult Swim cousin The Venture Bros. know all too well. It takes a long time to finish an animated TV show. The time spent is almost always worth it.
The Venture Bros. is one of the shows that helped put Adult Swim on the map as a place for seriously good comedy, animated or otherwise. The show is kind of an updated take on Johnny Quest and follows the titular bros and their weird family and their many schemes that almost undoubtedly always fail.
You're the Worst
You're the Worst is barely a comedy. Ok, that's not fair. It's a half-hour comedy and a wonderfully funny one. But it's also an empathetic exploratoin of deeply flawed, damage people. And when you think about it – is there any other kind of person?
That might not make You're the Worst seem like the friendliest binge-watching experience but don't let that hold you back. The story of Jimmy (Chris Geere) and Gretchen (Aya Cash) falling in and out of love and how it effects the rest of their lives it's certainly worth your time.
Scrubs
It's weird to think of Scrubs as an old classic now but that's what it is. It's a brightly-colored, fun, thoroughly modern show that came out way back in 2001 when Netflix was still only sending DVDs to consumers in red envelopes.
Scrubs is the story of Dr. John (J.D.) Dorian and his struggle to become a doctor. He meets plenty of helpful allies along the way with even a villain or two. Scrubs is a damn near perfect binge watching experience. It tackles serious issues of life and death within a hospital environment and J.D.'s wacky daydreams with equal skill.
Party Down
Thank God Party Down found a streaming home somewhere because it deserves to be rattling around an Internet streaming service or two for eternity. It's a show about struggling actors and writers who moonlight for a catering business. Each episode takes place at a different party the Party Down crew is catering. Party Down was watched by virtually no one when it came out on Starz in 2009.
Since then it's gained a second life on Hulu where its 20 episodes can be streamed. This one is about as close to a must-watch as they get. It features a shockingly great cast, whip-smart humor and maybe even a feel or two.
Peep Show
Peep Show is technically a "high-concept" undertaking. The show exclusivley utilizes point of view shots, making the viewer feel as though they are a part of the scene. It's an interesting technological tactic for a comedy and it pays off huge. More importantly, the content of the show itself is flat out hilarious.
Mark (David Mitchell) and Jez (Robert Webb) are co-dependent friends who share a flat in London. Their complete inability to do…well, anything normal gets them into situations that are completely over their head. Peep Show is another comedy gift from Great Britain in the vein of Spaced.
The Office (U.K.)
If you've yet to see the original U.K. version of The Office, rectify that situation immediately. Ricky Gervais' bleak and hilarious look at office life remains caustic and vital many years after its debut. The U.K. version is far, let's say, darker than the American one.
There are still general lessons that coworkers can be a second family, warts and all but that's often superceded by the vague sense that Wernham-Hogg (the show's paper company equivalent of the U.S.'s Dunder Mifflin) is really hell and boss David Brent is the inappropriate, attention-starved demon sent to torture us all.
Happy Endings
Happy Endings could have been a terribly-written show and no one would have noticed. It's not terribly-written thankfully but if it were, there would have been no way to tell as the main cast is so, so, so good. Happy Endings is like a modern update of Friends only the friends are way too close to one another.
Ostensibly the show was supposed to be about how friend groups interact when one mutual friend leaves another mutual friend at the altar on their wedding day. That was pretty much scrapped from the get-go in favor of following these strange people's even stranger adventures across Chicago.
Rick and Morty
There is no such thing as limits on Rick and Morty. It's animated, so there's less of a concern about budgeting when it comes to things like sets or special effects. And its sci-fi concept about a mad scientist grandfather and his impressionable, long-suffering grandson means that creators Justin Roiland and Dan Harmon really get to spread out, narrative and comedy-wise.
Thankfully they are up to the task. Rick and Morty is among the funniest shows on television and occasionally a wonderful sci-fi adventure.
The Eric Andre Show
Do you like talk shows but think they could be a touch more…oh, I don't know, batshit insane? Then The Eric Andre Show is the show for you.
Eric Andre stars as the titual Eric Andre as he hosts his own low-budget public-access cable style talk show and just generally makes everyone around him uncomfortable.
Bob's Burgers
Fox's animation block has been a wonderful outlet of creativity ever since The Simpsons debuted way back before the dawn of man. Loren Bouchard's Bob's Burgers might be the sweetest and all-around funniest animated comedy to come around for Fox's Sunday night since…maybe ever.
Bob Belcher (voiced by animation voiceover maestro H. Jon Benjamin) lives in a little seaside town and sells burgers. That's about the extent of the plot. But the Belcher family that includes his wife, Linda, daughters Tina and Louise, and son, Gene, finds a way to make every week interesting as they try to keep the business open.
Baskets
Baskets is another one of those completely hilarious half-hour comedies that's barely a comedy. Baskets is so funny because it plays everything so unexpectedly sincerely. Zach Galifianakis stars as both Chip Baskets, a failed clown who must return home to Bakersfield, and his wildly successful brother, Chip.
Louie Anderson stars as the Baskets' mother (yes, mother), Christine. Baskets is certainly bizarre at times. It alternates between Galifianakis' characteristic broad and sarcastic comedy on a dime. At the same time, it's really a funny, absurdist look at a family in small-town America.
The Simpsons
With the amount of staggeringly good comedies on Hulu it can be easy to overlook the paterfamilias of all TV comedy: The Simpsons. The Simpsons was here long before us all and it will be here after we're gone.
Give it a watch to reconnect with some of your old Springfield favorites. Or just keep up and watch new episodes as they're added.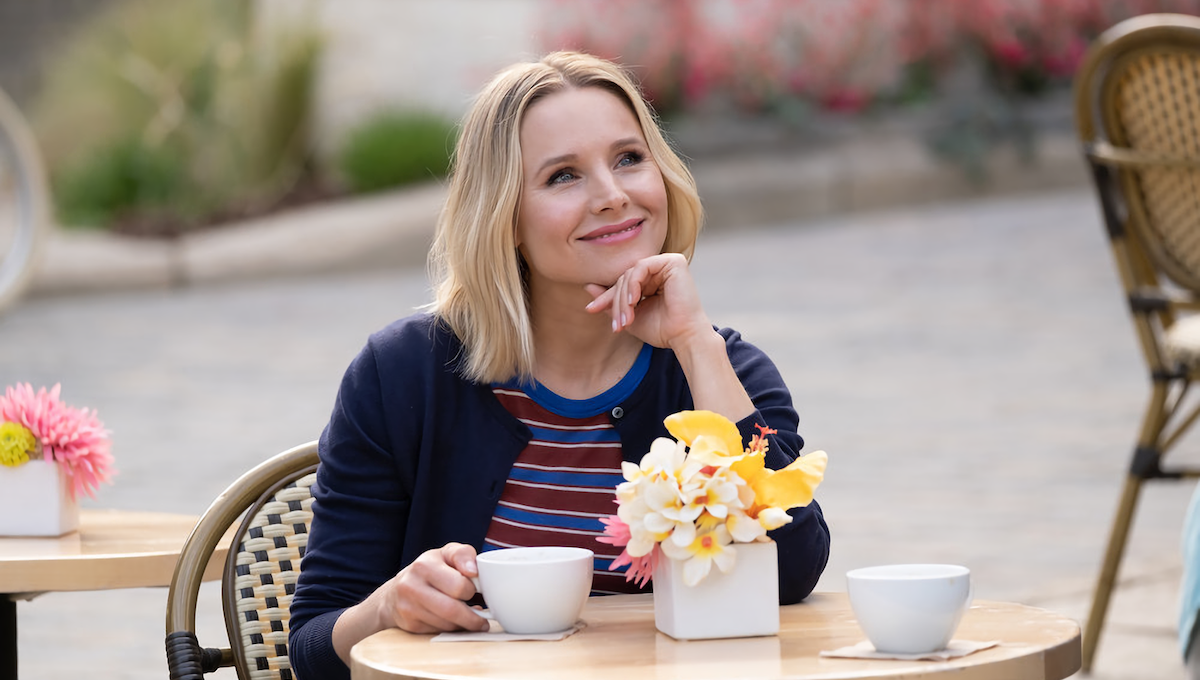 The Good Place
A lot of the appeal of The Good Place can be simply explained by that delightful screenshot above. Yes, staying loyal to the Cleveland Browns is going to get me into heaven. The Good Place is the newest comedy from the brilliant comedic mind of Michael Schur (The Office, Parks and Recreation).
It's a story of mistaken identity – that in this case has cosmic implications. Eleanor Shellstrop (Kristen Bell) dies and goes to heaven where she meets the dapper, excitable architect of her afterlife neighborhood Michael (Ted Danson). Problem is – heaven has the wrong Eleanor Shellstrop.