Features
Best American TV Comedies of the Last 15 Years
Den of Geek's contributors and readers choose the best of the best TV comedies from the past 15 years.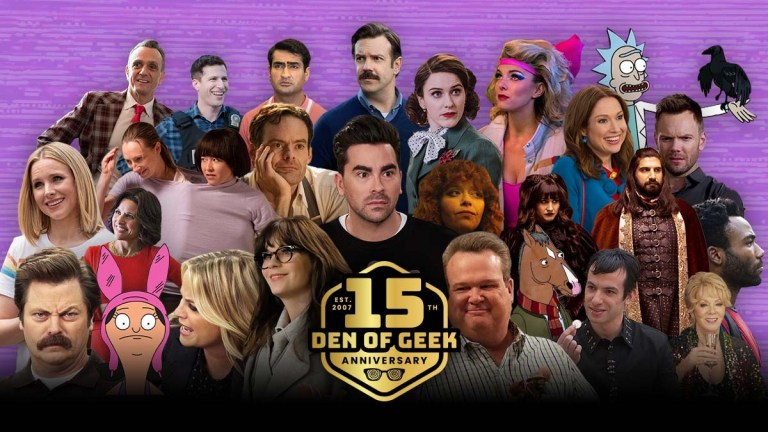 To celebrate Den of Geek's 15th anniversary, we've been compiling lists all year that celebrate the best of pop culture over these last 15 years.
A collection of Den of Geek contributors and you, dear reader, have voted on everything from the best sci-fi video games to the best Marvel movies. It's all been good fun, but with this our latest batch of voting we're tackling our biggest challenge yet: comedy.
Comedy, as it turns out, is quite subjective. As our friends over in the Movie section have already discovered, folks have some strong opinions about what does and does not make them laugh. Thankfully, strong opinions are exactly what we're looking for.
The past 15 years have been particularly kind to comedy on TV, so we wanted to honor that with not one but two lists of the best comedy TV shows of the last decade and a half. Below you can find our choices for the best American shows (and a Canadian show or two popular enough with American audiences to be considered eligible). Bear in mind that only shows that premiered within the past 15 years are eligible, meaning anything with a release date prior to 2007 (30 Rock, The Office, etc.) won't make the list. And over here you can find our choices for the best British TV comedy shows.
Read on for our (and your) selections but also know that this was our closest voting endeavor yet. Only four total "points" in our point system separated the top four. If you feel so inclined, you could probably consider selections four through one as a four-way tie for first!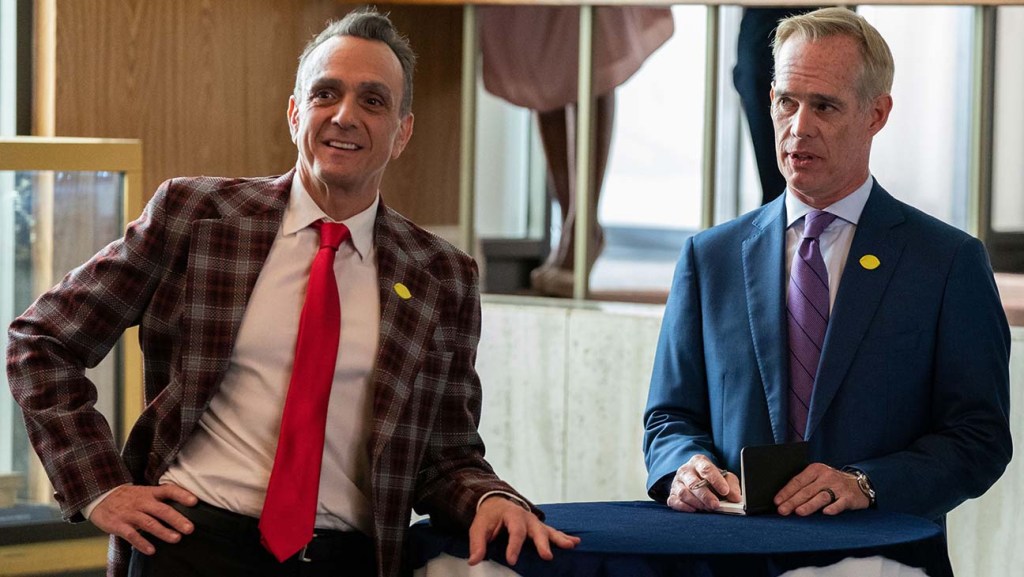 25. Brockmire
There's nothing quite like baseball. While most other team sports follow a predictable format of two squads assembling on a rectangle to get to the other side and accomplish some goal, baseball is pure geometric madness. To someone who has never heard of a sport before, baseball must look like some sort of arcane ritual in which the town gets together with their bats and balls to pray for a bountiful summer harvest.
Brockmire is one of the best baseball stories ever…and one of the best TV comedies of the past 15 years because it offers up a central character that embraces all of the sport's strange contradictions and superstitions. Starting as a one-off joke for a Funny or Die video, alcoholic baseball announcer Jim Brockmire is actor Hank Azaria's best creation. After torpedoing his career with a on-air rant about his cheating wife, Brockmire does everything he can to crawl back to respectability by continuing to narrate the sport he loves so much. The journey he goes on through four seasons (including a dystopian flash forward to a climate apocalypse in the show's final year) is both immensely satisfying and completely hilarious. – Alec Bojalad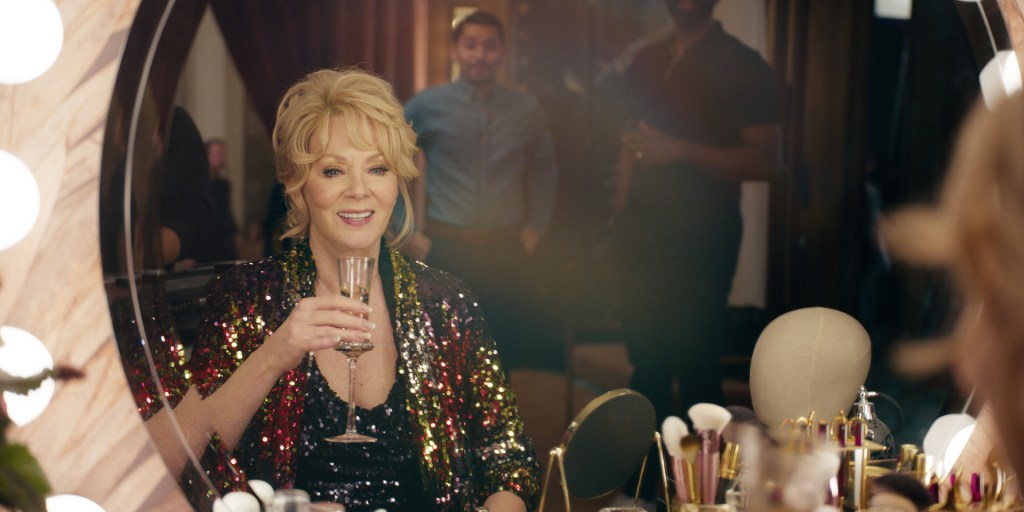 24. Hacks
Sometimes a good comedy is about finding the right casting choice and then letting everything else fall into place. Such is the case with HBO Max's hilarious Hacks, which existed for a long time on the streamers' slate as "Untitled Jean Smart Comedy." Created by Broad City alums Lucia Aniello, Paul W. Downs, and Jen Statsky, Hacks operates under the principle that Emmy award-winning actress Jean Smart (Frasier, 24, Fargo, Watchmen, and so many other things) was ready to lead her own comedy project. And that principle was entirely correct.
Smart plays Deborah Vance, a legendary Las Vegas stand-up comedy diva who is looking to connect with a younger crowd. To that end her management brings in millennial comedy writer Ava Daniels (Hannah Einbinder) to punch up her act. The relationship between Deborah and Ava forms the emotional and comedic core of Hacks, creating a cross-generational dynamic that is wildly entertaining to watch. But make no mistake: this is a Jean Smart party and we're all invited. – AB
23. Review
With social media, the old phrase "everyone's a critic" has never been more true, but nobody is a critic like Review's Forrest MacNeil, who makes it his task to review life itself. Ever wonder what it's like to get struck by lightning? Get addicted to drugs? Get divorced? Well, Forrest, played by the great Andy Daly, is willing to experience these things for you and rate them on a five-star scale. Obviously, this is a funny premise for something short-form, but how does it sustain itself as a 30-minute show?
Well, Forrest's extreme commitment to his life's work leads him down a road of self-destruction. As Forrest's life descends into chaos due to his desire to review everything under the sun, existential questions about the meaning of life and what would drive someone to this outlandish behavior arises. It would be sort of sad if it wasn't insanely funny. – Nick Harley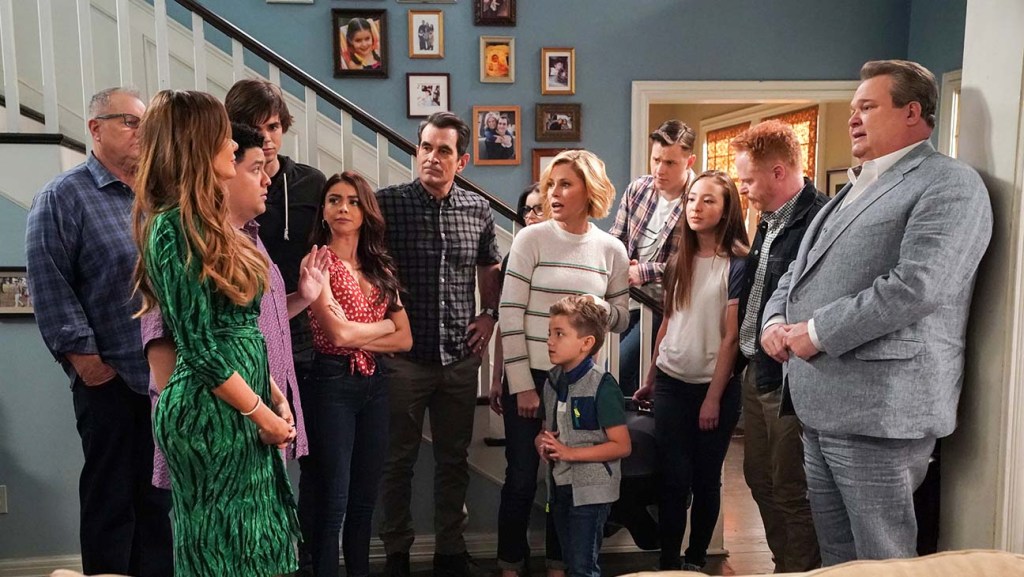 22. Modern Family
The many accolades Modern Family has received over the years, including 22 Primetime Emmy Awards speak for themselves. Modern Family was to the 2010s what Scrubs, Friends, or The Cosby Show were to the previous decades: an eight-plus season juggernaut of a sitcom that became part of the culture. With its interview-style, fourth-wall-breaking look at the extended Pritchett family, audiences essentially watched the show's kids grow up, from baby Lily (Aubrey Anderson-Emmons) becoming a teenager to adolescent Haley (Sarah Hyland) becoming a parent to twins.
Under patriarch Jay Pritchett (Ed O'Neill), the family did everything together, with son Mitchell's (Jesse Tyler Ferguson) gay partnership evolving as same-sex marriage became legal outside to the show and daughter Claire's (Julie Bowen) family of five providing plenty of drama through their drastically different personalities. In many ways, saying goodbye to Modern Family in 2020 felt like parting with longtime friends who are moving away, and essentially that's how the show itself ended, too, with everyone moving on but staying as close as ever before. – Michael Ahr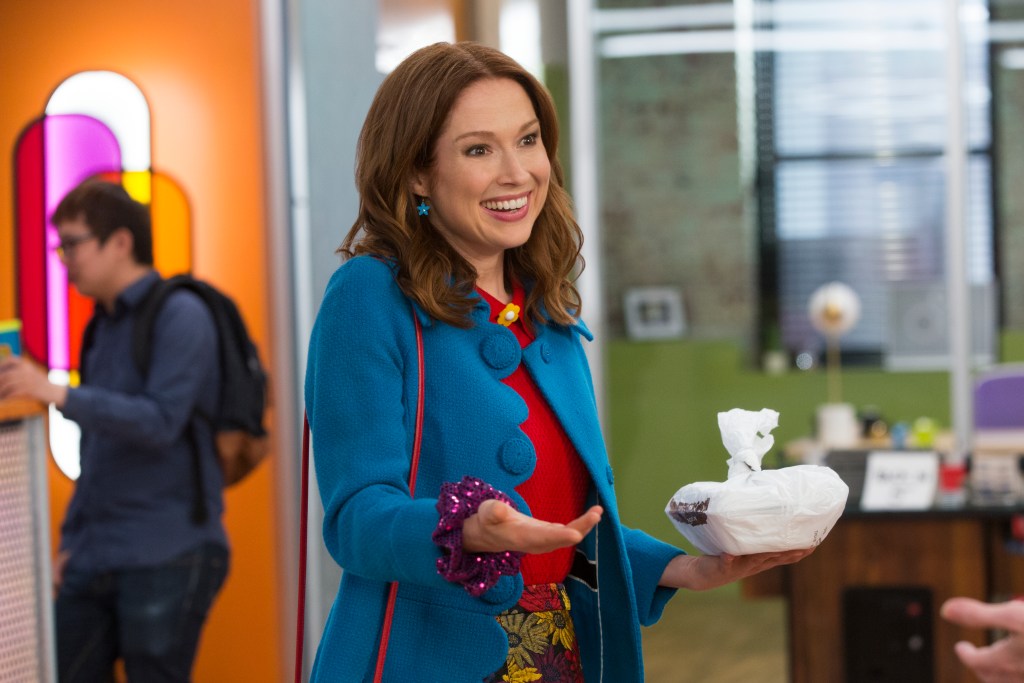 21. Unbreakable Kimmy Schmidt
"Unbreakable! They're alive, damn it. Females are strong as hell." Every time you hear those charmingly dated autotuned lyrics, you know you're about to watch an episode of one of the most delightful comedies of the past 15 years. Unbreakable Kimmy Schmidt comes from the legendary TV comedy duo of Tina Fey and Robert Carlock. After stewarding the all-time classic 30 Rock (which, let's be real: would have been at the very top of this list if it premiered one year later) for NBC, the pair opted to try something a bit lighter for Netflix.
Unbreakable Kimmy Schmidt has a similar comedy sensibility to 30 Rock but with the rough edges sanded off. The eternally ebullient Ellie Kemper stars as Kimmy Schmidt, a young woman from the Midwest who was kidnapped by an evil reverend and forced to live in an underground bunker for 15 years. Upon being rescued, Kimmy decides to move to New York to live her dreams. There she befriends struggling actor Titus Andromedon (Tituss Burgess) and their landlord Lillian Kaushtupper (Carol Kane). From beginning to end, Unbreakable Kimmy Schmidt is pure comedy gold. – AB
20. Silicon Valley
A comedy about the bizarre technocrats in Silicon Valley would appear to be low-hanging fruit. In fact, there's a hypothetical version of HBO's comedy Silicon Valley out there in the multiverse that snags that low-hanging fruit and devours it episode after episode until the metaphor juices runs down its chin (sorry for the imagery). Thankfully, the version of Silicon Valley that we got understood how to satirize the seemingly unsatirize-able God complex of the tech CEOs while also telling a thrilling, hilarious story alongside it.
Silicon Valley follows the adventures of little tech startup that could, Pied Piper. When Richard Hendricks (Thomas Middleditch) creates Pied Piper, he intends for it to be a simple music identification app. Tucked within it, however, is a completely revolutionary data compression algorithm that sets him and his team down a Facebook-like journey that will shake the very foundation of the internet itself. There's a lot of ugliness in this Mike Judge-created series that delves into the seedy, protein shake-drinking, young blood-transfusion-slurping underbelly of the valley. But amid all that is also an unbelievably satisfying central story that takes more twists than a detective novel and culminates in one of the better comedic series finale of the past few decades. – AB
19. Pen15
A nice gimmick is usually welcome when it comes to comedy. And as far as gimmicks go, few TV comedies have a better one than Hulu's hilarious and poignant Pen15. In this series, co-creators Maya Erskine and Anna Konkle star as fictionalized versions of their middle school selves. This means that two adult actresses in braces act alongside a whole school full of actual children with nobody pointing out how weird the whole thing is.
It's a hilarious visual to be sure, but you'd be surprised at how quickly you look past it when watching the show. Because Pen15 is much more than its central gimmick. It's above all else a funny and at times touching exploration of what it means to be a teenager. Erskine and Konkle are both superb in their respective roles. And through two seasons of 25 total episodes on Hulu they help craft one of the best and most intimate looks at one's middle school years that can be found on television…or anywhere else.
18. The Marvelous Mrs. Maisel
Not since Gilmore Girls has Amy Sherman-Palladino made such good use of her patented rapid-fire comedic dialogue. One could even argue it works a thousand times better in The Marvelous Mrs. Maisel, especially when the titular character, played by Rachel Brosnahan, interacts with her upper class Jewish family. Not to mention, the New York comedy scene, which is at the heart of the journey of self-discovery for Miriam "Midge" Maisel fits the delivery as well.
There's a very modern feel to The Marvelous Mrs. Maisel, even though it takes place in the 1950s and '60s. In particular, the show's views on sexuality feel particularly relevant to today and weave a thematic thread throughout the proceedings. The series may be about Midge's amazing talent and her struggle to make a name for herself, but it's also about the members of her family finding their place, with a special MVP award for Alex Borstein, who plays Midge's self-appointed manager. – MA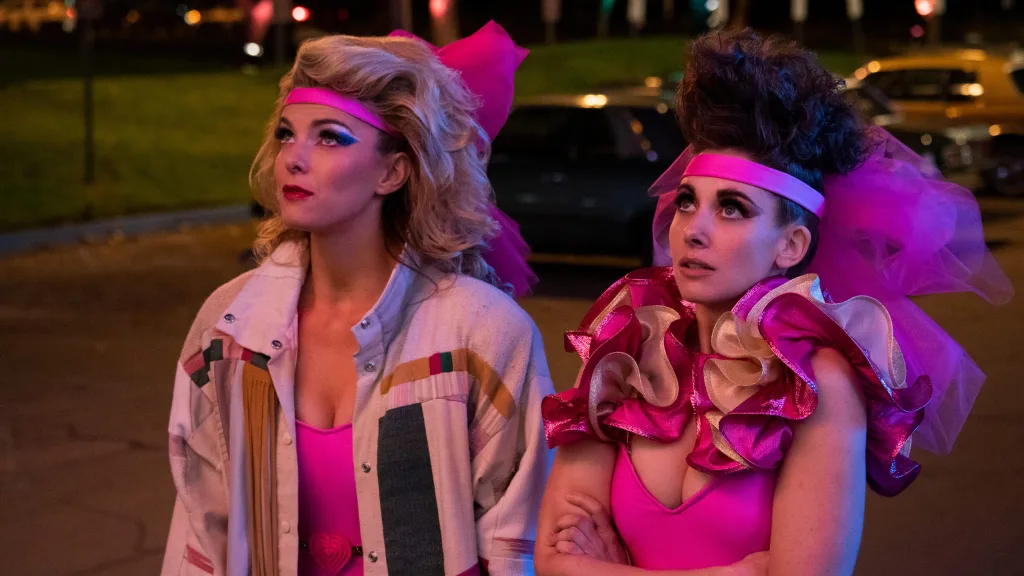 17. GLOW
Based extremely loosely on the real-life professional wrestling promotion Gorgeous Ladies of Wrestling (or, you guessed it, G.L.O.W.), Netflix's GLOW was far more than just a send-up of '80s wrasslin' tropes or even the "A League of Their Own but in the squared circle" that the first season seemed to be teeing up at first. GLOW wove a beautiful meditation on friendship in all its complicated forms in even as it celebrates all of the inherent ridiculousness of pro wrestling, and took something on the order of a dozen characters on wonderful, quirky, inspiring journeys over the course of its three seasons. While there was not a weak link in that ensemble cast, it was all anchored by Betty Gilpin's astounding turn as the company's top face, "Liberty Belle."
GLOW was sadly taken from us too soon when a fourth season was unceremoniously canceled after it had been renewed. GLOW deserved better, but then again, maybe it's appropriate that we never got to see these hard luck characters get the closure they deserved. After all, unfulfilled hope and the promise of what could be are the bedrock of all great underdog stories, and GLOW remains one of the greatest in recent memory. – Mike Cecchini
16. Russian Doll
Fifteen years…what a concept! Science fiction is often deployed in a dramatic context – because the secret workings of the universe is Very Serious Business. Increasingly, however, comedies have challenged their drama counterparts' sci-fi hegemony. And no show in the recent past does so better than Russian Doll. This half-hour comedy series co-created by and starring Natasha Lyonne takes well-worn sci-fi tropes and makes them feel fresh in the story of one woman's strange, repetitive journey of self-discovery.
In season 1 of the Netflix series, Nadia Vulvokov (Lyonne) dies on the day of her 38th birthday, only to "loop" back right to the bathroom of her birthday party. She quickly discovers that she won't make it very far past that moment before dying again and ending up right back where she started. Season 2 then ups the ante by introducing honest-to-goodness time travel via the 6 train in Manhattan. Through all the timey-wimey shenanigans, Russian Doll remains a grounded, entertaining experience thanks to its good sense of humor and the truly excellent performance from Lyonne at the show's center. – AB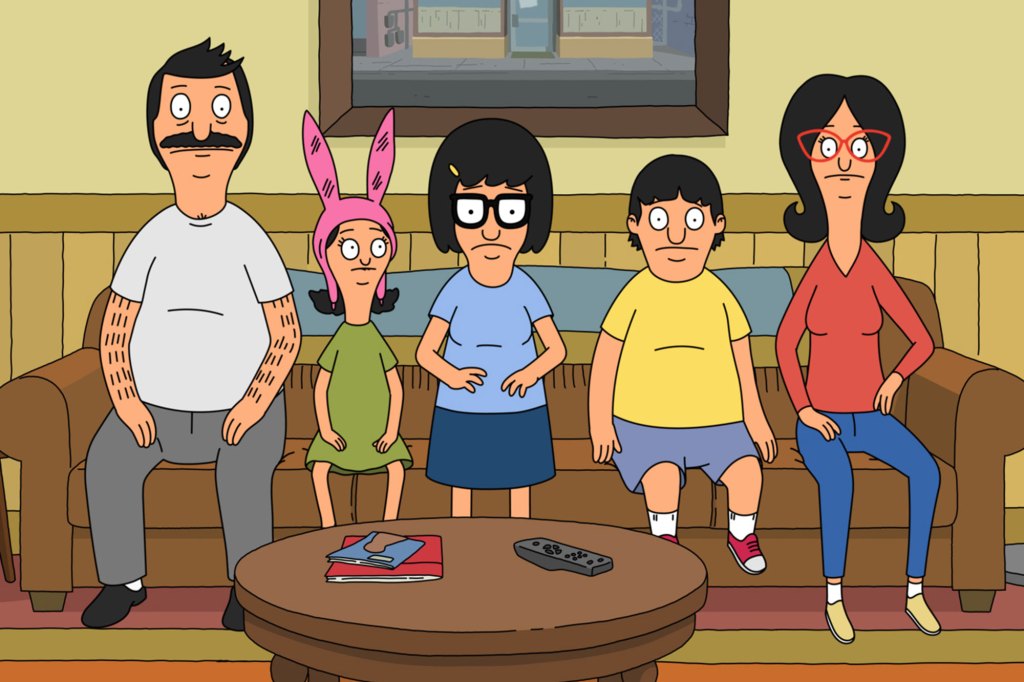 15. Bob's Burgers
Remember when The Simpsons was good? That's Bob's Burgers, an animated half-hour comedy on Fox about a working class American family of loveable weirdos. Created by Loren Bouchard, with a voice cast including H. Jon Benjamin, Dan Mintz, Eugene Mirman, John Roberts, and Kristen Schaal, it's an oddball and oddly sweet show that you'd be a fool to skip over on the schedules. Though there are yards and yards of episodes (well over 200, plus a feature film on the way), the quality hasn't dimmed.
Bob's Burgers is about the Belcher family's respective attempts to keep their restaurant business afloat (Bob), live laugh love (Linda), look at butts (Tina), become his generation's Shakira (Gene) and force the world to kneel to her cruel dominion (Louise, nine years old). They're joined by a genuinely great and often surprising guest cast of cult comics and big-name stars in stories with jokes and often, pathos. The real star of the show though? That's the songs. Stay to the end credits for some of the toe-tappingest ditties you've ever heard about goats with two butts, getting Beefsquatched, and poking dad's jiggles. – Louisa Mellor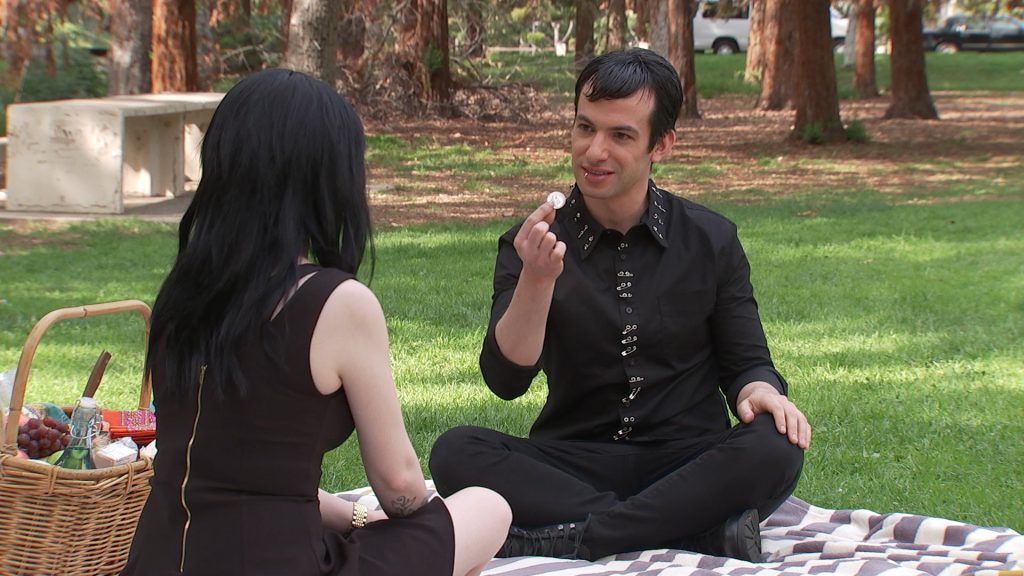 14. Nathan For You
Nathan For You's premise is right there in the intro: absurdist comedian Nathan Fielder helps struggling small-business owners by giving them new ideas to turn their businesses around. What Nathan doesn't tell these businesses is that his ideas are seriously out-of-the-box. For instance, he convinces a frozen yogurt stand to advertise and sell a "poop" flavor to bring in curious customers, or he transforms a struggling coffee shop into a Starbucks replica protected by parody law.
If the show was just watching Nathan hatch and execute his whacky ideas, it would still be funny, but the series goes the extra mile by turning the real Nathan Fielder into "Nathan Fielder," a more awkward, isolating version of himself who's weirdly confident in his business acumen, but is actually motivated to help business owners by his desire to connect with other people. Nathan is desperate for romance, or even a friend, and he carries his quest to find connection throughout the series, with hilarious results. Nathan For You expertly blends the dramatic reality elements of series like Bar Rescue with Andy Kaufman-like cringe comedy, creating something truly unique and most importantly, hilarious. It transcends a normal prank or reality show by offering real, poignant observations about human nature. Now that's good business. – NH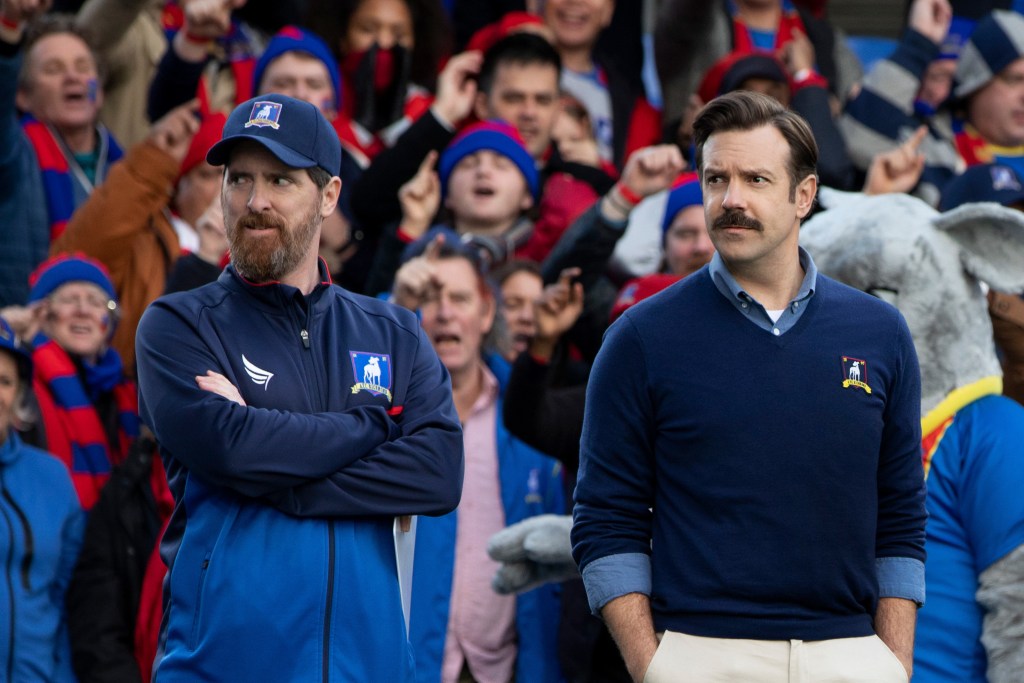 13. Ted Lasso
Sometimes you watch comedies to laugh uproariously; sometimes you're seeking a deeper, even illuminating satire about the human condition; and sometimes you just want to spend time with likable characters who make you smile. And that's the real secret of Ted Lasso, which is the television equivalent of a warm, cozy holiday sweater giving you a hug. Anchored by Jason Sudeikis' unassuming mustache and his ability to convey cornball sentiment with the sincere earnestness of a Frank Capra movie, Ted Lasso really achieves the sitcom ideal of convincing millions of folks they're spending time at the pub with old friends. There's Juno Temple's Keeley, the unsinkable pop star-turned social media manager; actor/showrunner Brendan Hunt's Coach Beard, an enigma wrapped in strangely charismatic facial hair; and of course Roy Kent (Brett Goldstein), living proof that "fuck," "shit," and "wanker," can all be synonyms for "I love you."
The unlikely Apple TV+ flagship launched out of an NBC ad campaign, Ted Lasso sounds like one of Sudeikis' old SNL setups: a happy-go-lucky American optimist agrees to become the manager for a professional football (soccer) team in the UK despite knowing nothing about the game. It's a riff on the thin plot of Major League where the team's new owner, here played by a magnificent Hannah Waddingham, is setting Ted up to fail. But the brilliance of Ted Lasso is that for all its use of archetypes and sports movies conventions, there's a real affection for these characters, including their interior mental health. Waddingham is not a villain, but rather the superb counterweight to Ted's sunshine, and the yin and yang of their always evolving relationship is at the center of how such a simple show can cultivate such complex emotions from its audiences. It's a heart-to-heart with your best mates. – David Crow
12. BoJack Horseman
I don't know if it's the nitrous and bath salts talking, but I think BoJack Horseman may stand forever as the most profoundly realistic representation of the period from 2007 to 2022 on TV. Sure, it's animated, and stars a talking horse, but it is us, and it is forever now. BoJack Horseman is the most brilliantly complicated character ever played by Will Arnett, remember him in your thoughts and prayers. He is a Mr. Ed-type who can't afford his accustomed style of living off the residuals of his soul.
Past his prime and out to stud, BoJack clumsily circumnavigates the modern landscape of celebrity, tripping on the #metoo movement, galloping over cancel culture, and planning a comeback. Princess Carolyn may never balance work and home life, but the series perfectly aligns comic and dramatic narratives into an emotional rollercoaster of depressing hilarity. Loaded with amazing repartee, one of the best episodes is a half hour soliloquy and another doesn't let Bojack speak at all. It's gone now, but don't fret, we may never unsee "The View From Halfway Down." – Tony Sokol
11. Rick and Morty
Listen, I hate to break it to you, but love is just a chemical reaction to compel animals to breed. It hits hard, and fades. But you can always subscribe to Hulu or HBO Max to rekindle your love for Rick Sanchez and his grandson Morty Smith. Loosely spoofing Back to the Future, they viciously break the cycle of Doc Brown and Marty McFly. One is the most intelligent super-genius in the Central Finite Curve of any known universe. The other is a traumatized tagalong who wants to curl into a fetal position. Both are voiced by Justin Roiland. Family Guy may have a higher ratio of obscure cultural references per frame, but Rick and Morty isn't afraid to make your brain bleed.
"Nobody exists on purpose, nobody belongs anywhere, everybody's going to die. Come watch TV," Morty advises, and he's not the smart one in the dysfunctional Smith family, unless he is and just coexisting with himself until he grows into his nihilistic, alcoholic, morally bankrupt counterpart. But don't think too hard, Rick and Morty is already science fiction's most self-explanatory comic self-examination. It is also an in-depth skewering of philosophy, technology, and what the Bird People call the endless "wubba lubba dub dub." So celebrate. After all, weddings are basically funerals with cake. – TS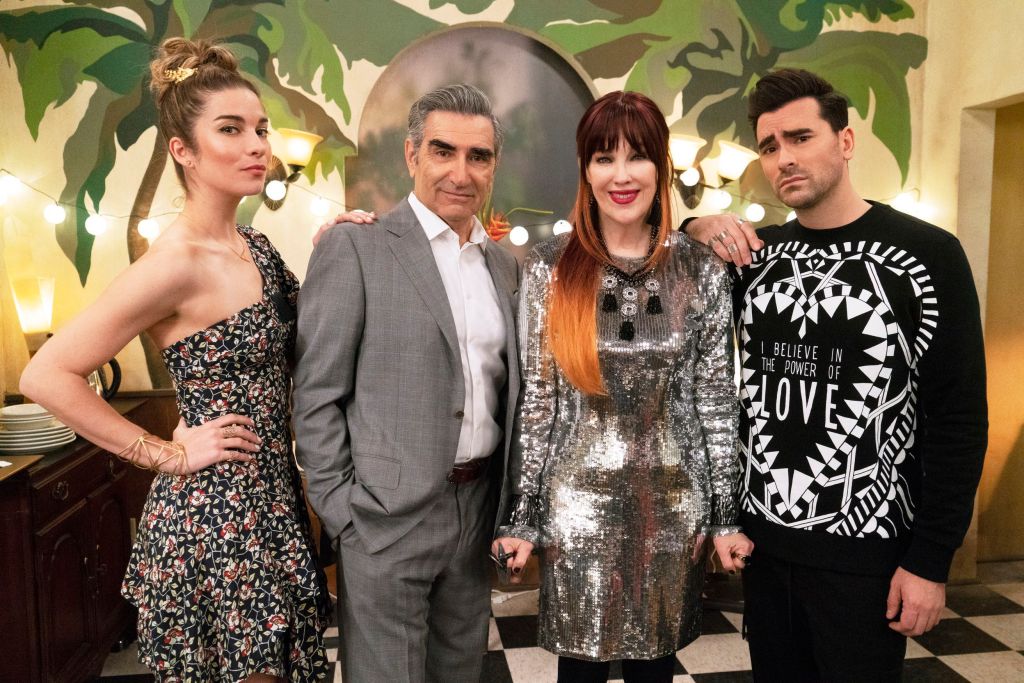 10. Schitt's Creek
The premise of Schitt's Creek may seem familiar at first. The Rose family, stripped of their wealth, is forced to reside in an ironically named town they purchased as a joke in flusher times. The fish-out-of-water comedy is like the reverse of The Beverly Hillbillies, and the spoiled rich folk adjusting to small town life is reminiscent of Arrested Development. What Schitt's Creek has that these shows don't, however, is character growth and genuine heart, and the show only got better with every season, anchoring the laughs with deeply felt emotion.
Sure, it started out with the locals in the titular town coming across as faceless weirdos from the Rose family perspective, but while Moira (Catherine O'Hara) began as an aloof matriarch and her daughter Alexis Rose (Annie Murphy) started out rather shallow, Schitt's Creek allowed the characters to learn from their environment without changing them at the core. The show even concluded on its own terms, giving the Roses – and David (Dan Levy) in particular – a happy ending. – MA
9. New Girl
There are a lot of sitcoms like New Girl, in which a quirky woman in her early 30s moves in with three male roommates as they all try to navigate dating and life in Los Angeles. However, New Girl became one of the definitive hangout comedies of its era due to the off-the-charts level charms of its core cast. Zooey Deschanel, Jake Johnson, Max Greenfield, and Lamorne Morris are so funny and naturally likable in their roles that it became hard to decipher where their character started and the real people ended.
Credit creator Liz Meriwether and her writing team for wisely incorporating the cast's natural strengths and personalities into the characters and letting the actors riff and rely on their authentic chemistry. It was always fun when a new guest star, usually a romantic interest of one of the core four, entered the mix and altered the dynamics of the loft. New Girl also featured one of the best will-they-won't they pairings with Deschanel's Jess and Johnson's Nick, where their friendship, romance, breakup, and reunion felt natural and earned. A lot of the shows on this list have elaborate hooks or concepts, but New Girl proves as long as you have the right cast, you don't need much else for a winning comedy. – NH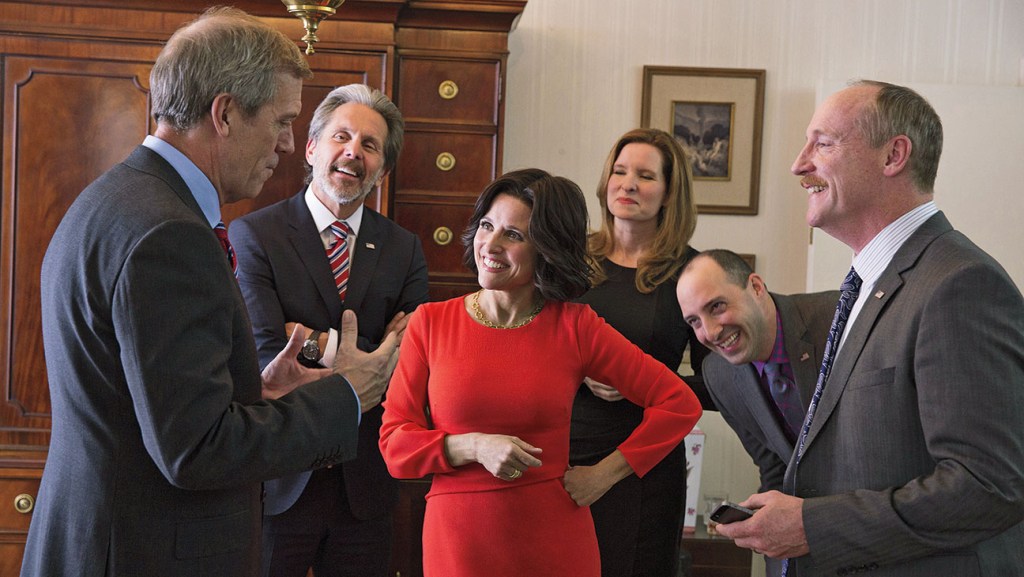 8. Veep
President Selina Meyer only held the top office of the country for a short while, but Veep's seven-year state of the union message is one of TV's true history lessons. Anyone who even briefly considers a life in politics is horrible, but only the truly heinous claim the top prize. An American version of creator Armando Iannucci's BBC's political satire The Thick of It, Washington has never been played so openly dirty and with such eternal immediacy. The political cycle moves fast, and most topical series lose their bite with time, but Veep veers so far into the cynical darkness it is still both shocking and effective.
HBO has a tradition of turning anti-heroes into beloved figures going back to The Sopranos, and everyone is a villain in the Beltway offices of Veep. Julia Louis-Dreyfus puts teeth in an already vicious character, and does it with criminally callous disregard and deeply moving immersion. The series was nominated for an Emmy each season it ran. Louis-Dreyfus won so many Outstanding Lead Actress in a Comedy Series' Emmys for the part, she had to be put on a do-not-nominate list. – TS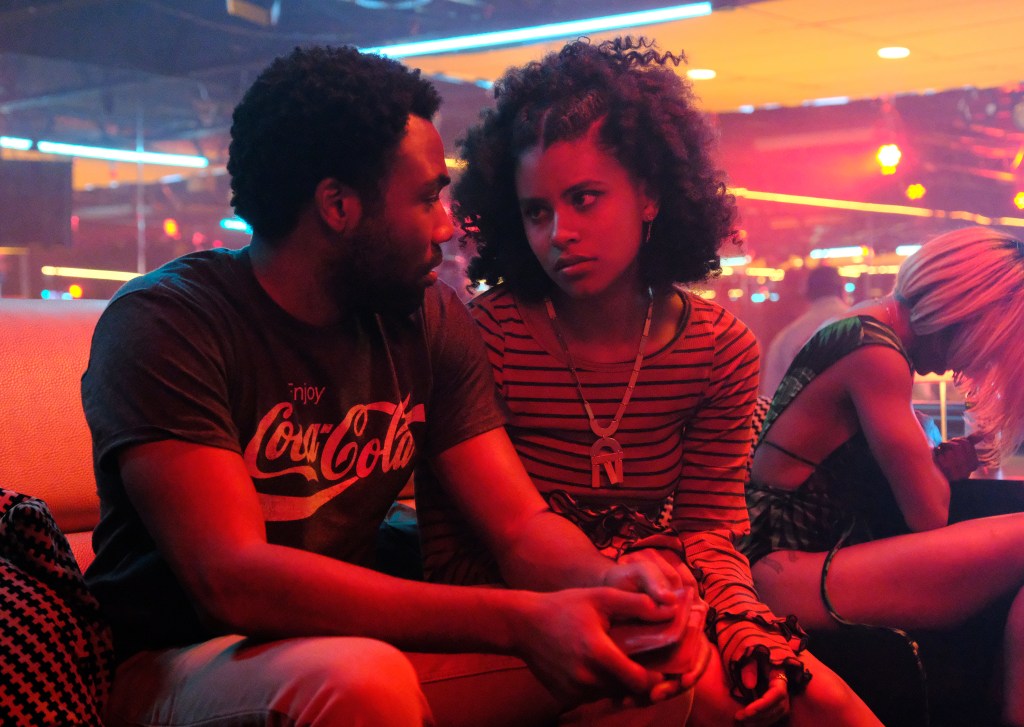 7. Atlanta
Donald Glover's series about an aspiring rapper and his cousin-turned-manager easily could have played things down the middle, focusing on the fickleness of fame and hip-hop culture, and that show would have likely still been successful. Hell, Dave, which airs on the same network with a similar premise, basically is that show. But thank goodness Glover strived for something more arty and idiosyncratic. Atlanta takes its music business premise and infuses it with intelligent observations about race and America, Lynchian surreality, and go-for-broke absurdity.
Each episode moves in such unexpected ways that when, say, a Black Justin Beiber or an illegally housed alligator pop up, you don't know whether to laugh or ponder the deeper meaning. Don't get it twisted though; just because Atlanta is brainy and odd doesn't mean that it isn't laugh-out-loud funny, it just may take a repeat viewing for the off-kilter jokes to land. Atlanta is a wild, weird, and fiercely funny show, but don't be surprised when it pops up on our best drama series list too. – NH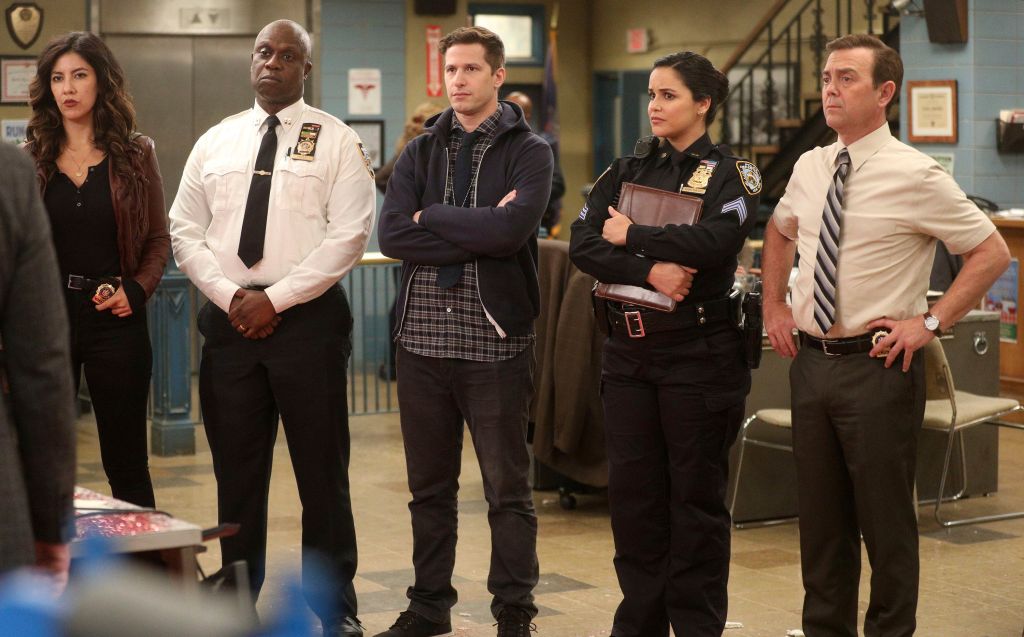 6. Brooklyn Nine-Nine
READERS' CHOICE
Brooklyn Nine-Nine is the best New York boro-based cop comedy since Barney Miller. They busted murderers, took down cartels, burned the fire department, and still have time for erotic Die Hard cosplay. Starring Saturday Night Live's Andy Samberg as Detective Jake Peralta, but overseen by Andre Braugher's Captain Raymond Holt, the English language cannot fully capture the depth and complexity of the ensemble. Interdepartmental pissing matches turn every word into a workout, and Sergeant Terry Jeffords (Terry Crews) is ready to flex at a moment's notice. Detective Rosa Diaz (Stephanie Beatriz), the Robocop of the squad, gave up gratuitous violence for perfectly-timed edibles. Gina Linetti (Chelsea Peretti) was the human form of the 100 emoji, except at her desk. Amy Santiago (Melissa Fumero) is enthusiastic, ambitious, and certifiably obsessive in her compulsion for perfection. 
Desk jockeys Detectives Michael Hitchcock (Dirk Blocker) and Norm Scully (Joel McKinnon Miller) were legendary investigators before their careers got stuck in the wing slut sauce. Detective Charles Boyle (Joe Lo Truglio) is ever-hopeful, ever-helpful, and forever annoying. Any pairing, or tripling, within the cast, could put the smiley faces on crime scene chalk outlines of modern policing. The series was canceled by FOX, rescued by NBC, and took a hiatus out of respect to the murder of George Floyd. Brooklyn Nine-Nine touched on sensitive issues with integrity and empathy, but never forgot to be funny. – TS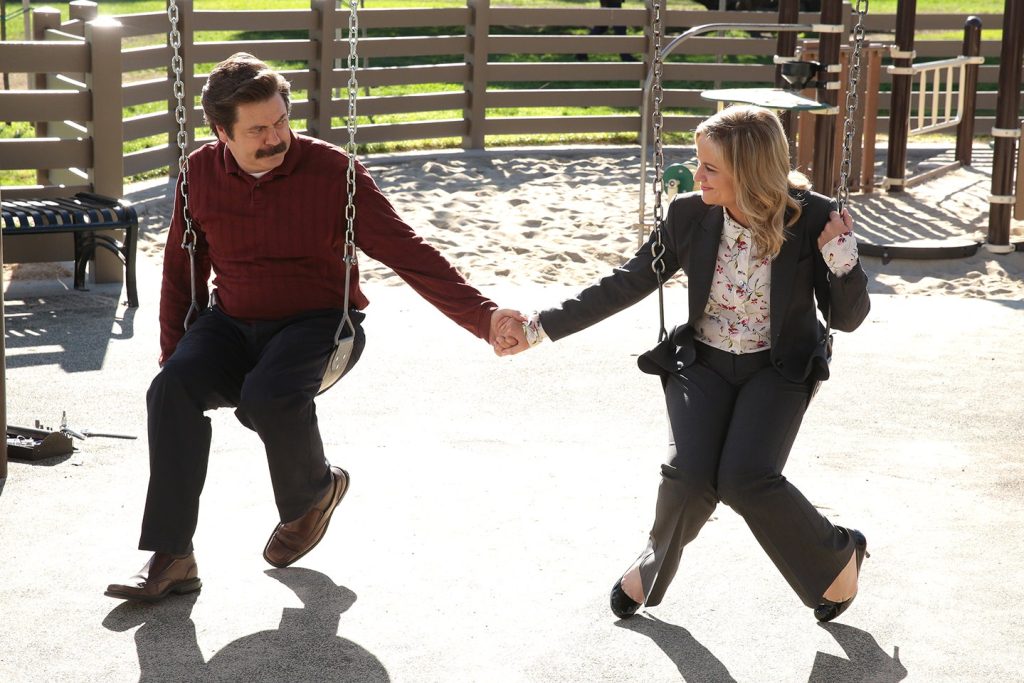 5. Parks and Recreation
What started as an attempt to capitalize on The Office's faux-documentary style eventually evolved into an earnest, goofy workplace comedy about the power of optimism, community, and friendship. Parks and Rec's civil-minded cheeriness now feels like a dated relic of the Obama era, but Amy Poehler's Leslie Knope remains a fan-favorite character for her restless determination and sometimes grating, but always thoughtful passion for making her city a better place to live.
More than just its sunny outlook, Parks and Rec endures due to the strength of its ensemble; any number of its characters could be paired up for a B or C plot for fresh and always winning results. Also, like The Simpsons, Parks created a rich world filled with ancillary supporting characters that scored big laughs with every repeat appearance. And whenever the show did dip into cringe or misanthropic comedy that was so prevalent during its era — be it at Jerry or Eagleton's expense — it always hit harder due to how opposed it felt to the show's warm, gooey center. Parks and Recreation is truly a special sitcom that proves being big-hearted and compassionate can still be funny. – NH
4. Barry
Barry was great television from its opening moments. But, tell us the truth, did anyone expect it to truly become one of the most captivating shows on TV when you watched that first episode?
Barry is one of the best uses of my personal favorite TV format these days: genre-adjacent TV comedy with high production values in 30 minute episodes (of which there are several other prime examples on this list).
Barry quite literally has it all. Action? Yes. (Dry) laughs? Absolutely. (Awkward) romance? You know it. Tension and suspense? Enough to probably even make Vince Gilligan think maybe they should chill. All that and the single most delightful character on TV in Henry Winkler's Gene Cousineau? How dare they. – MC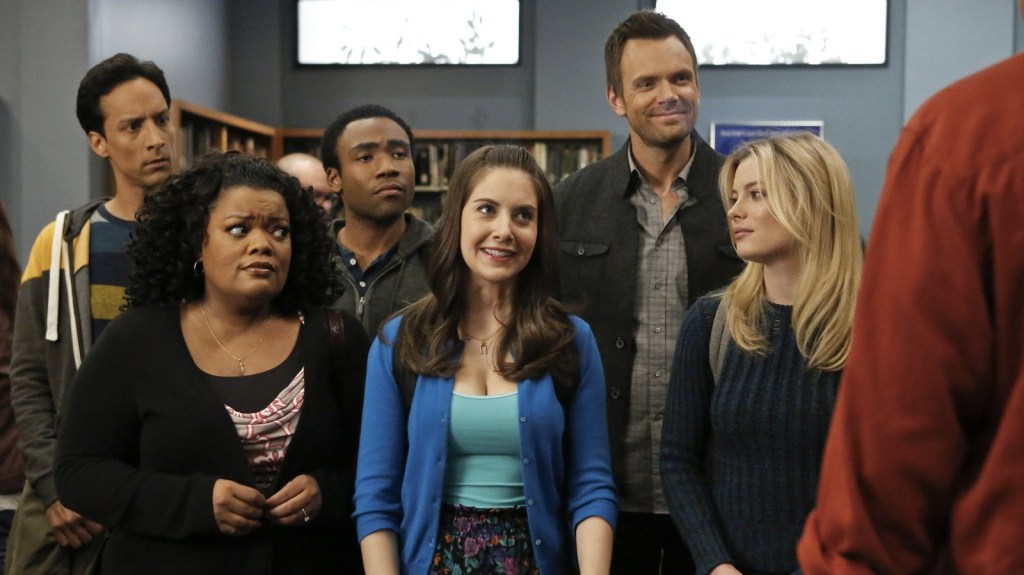 3. Community
By rights, Community is a show that should never have existed. Chances are many an NBC executive said exactly that as the series skated through cancellation bubbles by the skin of its teeth for five seasons (all while bleeding major talent) before finally being ignominiously consigned to Yahoo! Screen. And yet, through all this adversity, the network sitcom with the allegedly simple premise about good-looking oddballs forming a study group at a community college turned out to be one of the funniest, most creative, and visually rewarding television comedies ever produced. Hence even more than a decade after the first season, fans still devour its intricate mythology and cling to the slogan of #SixSeasonsandaMovie.
The brainchild of Dan Harmon in his pre-Rick & Morty days, much of the ambition, and perhaps some of the despair, that marked that animated success can be found in a more conventional format here. Community is certainly a more upbeat premise, always finding genuine fondness for its collection of lunatics, but the series' increasingly freewheeling ambivalence about appealing to everyone (read: lowest common denominator) and eagerness to swing for the fences in nearly every single episode which would change genre, tone, and even lighting and character continuity is the definition of "niche." But that niche loved the fourth wall breaks, the self-aware deconstructions, and the ensemble's gameness to riff on everything from Law & Order to Ken Burns' Civil War documentary (sometimes in the same episode).
Perhaps it was a case of the candle that burns brightest also burns fastest, but the series wasn't long for this world and never quite replicated the controlled chaotic brilliance (read: madness) of its first three seasons as it went on. But the real testament of its quality is the talent that came out of it to rise even higher after the fact: Donald Glover, Alison Brie, Gillian Jacobs, Joel McHale, Yvette Nicole Brown, Ken Jeong, Jim Rash (who won an Oscar for screenwriting while on the series), and the perpetually underrated and multi-talented Danny Pudi. Even Marvel's the Russo Brothers and Fast and Furious' Justin Lin can claim this series as a major career touchstone. To which we say… cool. Cool, cool, cool. – DC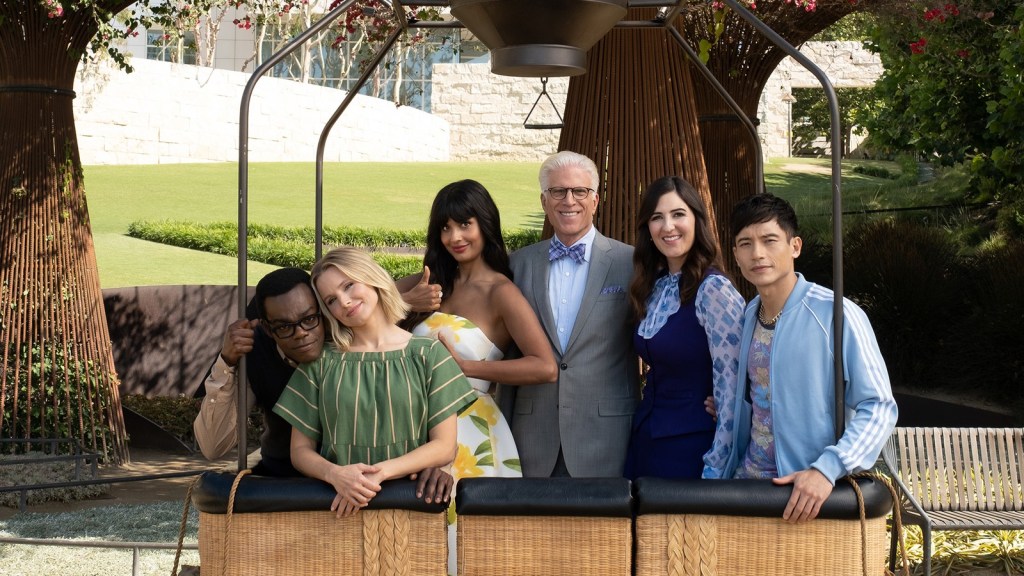 2. The Good Place
Existentialism and moral philosophy were never this funny and probably never will be again! Michael Schur brought together just the right cast for his exploration of the afterlife in The Good Place, including Kristen Bell as Eleanor Shellstrop, a new resident of the non-denominational heaven who discovers she doesn't belong there, and Ted Danson as Michael, the celestial architect of the supposed paradise.
Along with Bell's trademark cute-and-crass delivery, The Good Place introduced us to the likes of D'Arcy Carden as Janet, the "not-a-robot" artificial assistant in the afterlife, and William Jackson Harper as Chidi, the indecisive student of ethics who steers the rehabilitation of Eleanor. Each season shifted the paradigm of the afterlife, but the show always stayed grounded and undeniably hilarious, from the banal evil of the "bad place" demons to the pop culture quips that many characters were known for. The Good Place is one of a kind! – MA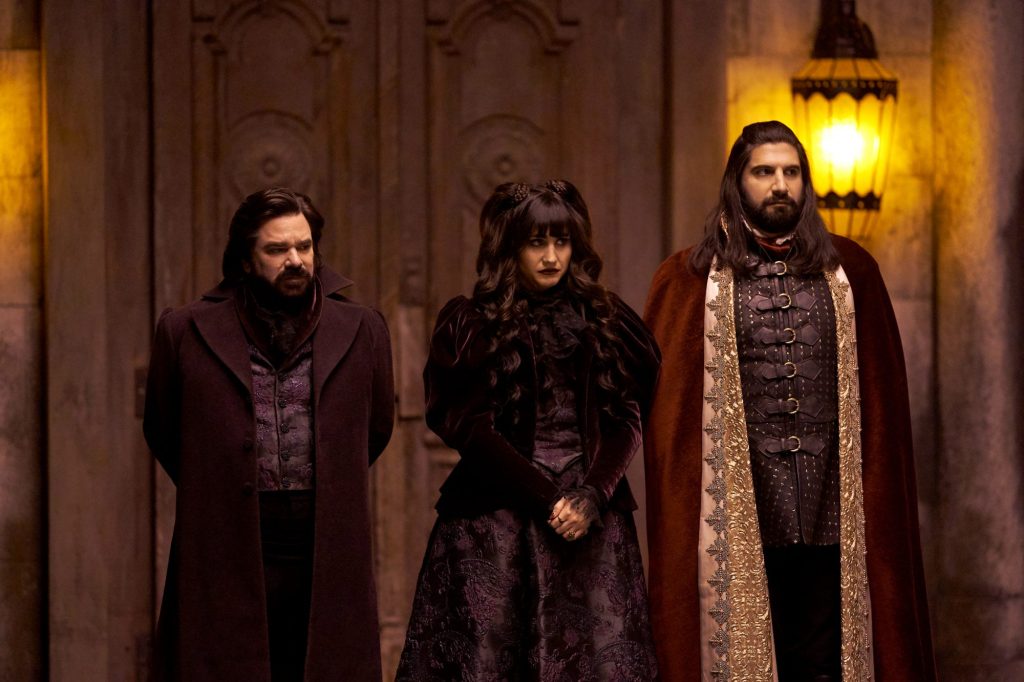 1. What We Do in the Shadows
History is riddled with the corpses of unsuccessful TV spinoffs/loose adaptations of successful comedy movies. For every MASH there are plenty more Ferris Buellers. And while there are no shortage of memorable horror comedies on the big screen, it isn't a format that has had its moment on the small screen…until recent years.
From its impossible-to-choose-a-favorite core cast to its incredible assortment of guest stars, What We Do In The Shadows outlives what might otherwise have been a one-joke premise in the wrong hands. But the true brilliance of What We Do In The Shadows is how even as it gives reality TV the merciless mocking that it deserves, it's also a stunningly competent example of it and a loving send-up of every single element of the very concept of the pop culture vampire. It takes its own mythology and internal logic deathly seriously, and every episode is packed with tributes to and loving inversions of pop culture vampire lore. A modern classic destined to endure for eternity.
American TV shows also receiving votes (in descending order): Search Party, Archer, Master of None, Baskets, Harley Quinn, The White Lotus, Letterkenny, The Other Two, Eastbound and Down, Xavier: Renegade Angel, Mythic Quest, The Last Man on Earth, Kim's Convenience, Broad City, One Day at a Time, American Vandal, Happy Endings, Monk, Party Down, Superstore, Insecure, Only Murders in the Building, A.P. Bio, Miracle Workers, Ghosts, Girls, Delocated, Don't Trust the B—- In Apartment 23, The Righteous Gemstones, Resident Alien, The Paul Reiser Show, Cougar Town, Black-ish, Solar Opposites, Big Mouth, Dave, You're the Worst, Schmigadoon!, Californication, Louie, Angie Tribeca, Detroit's, The Middle, Atypical, Chuck, Web Therapy, The Big Bang Theory, Avenue 5.